Kris Joseph takes over for sloppy Orange
November, 25, 2011
11/25/11
9:46
PM ET
NEW YORK -- Naturally, the biggest basket of the game came on a bank shot.
Correction: Naturally, the biggest basket of the game came on a bank shot that
Kris Joseph
didn't even call.
How else should a game in which the Orange's offense offered all the predictability and reliability of airline travel end? Certainly not with a bold guarantee that the jumper from the elbow would go in.
"We played 40 minutes of good defense and 35 minutes of horrendous offense,'' Syracuse coach Jim Boeheim said.
For once, the acerbic coach wasn't being sarcastic.
He was being kind.
Syracuse won its third NIT Season Tip-Off title over a better-than-expected Stanford team,
69-63
on the back of its defense and despite its offense. The Orange coughed up 21 turnovers, most of them unforced errors, and never had any sort of rhythm or flow to their game.
This was more helter-skelter than poetic, as SU's defense created 35 points via either fast break or off turnovers. Its halfcourt offense, meanwhile, produced only 34 points.
[+] Enlarge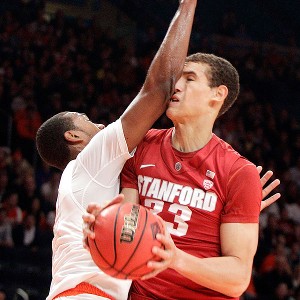 AP Photo/Richard DrewAt times the game was sloppy and hard to watch, but Syracuse and Stanford did put on a great finish.
"We weren't patient at all,'' Cuse senior guard
Scoop Jardine
said. "If we would have calmed down and ran our sets, definitely a lot of our turnovers would have been cut down. We have to be patient and trust in our offense and trust in each other, and it will be better down the stretch.''
At this point of the season, though, you take your victories -- even the ugly ones -- where you can.
The Big East, the league that gave us 11 NCAA tournament teams last season (including the national champion), did its best imitation of the Pac-12 on Friday. Connecticut completely collapsed in surrendering a 17-point second-half lead against Central Florida, Cincinnati lost at home to Marshall and Villanova was beaten in every facet of the game in a double-digit loss to Saint Louis.
Mix in Pittsburgh's stunner at home to Long Beach State, West Virginia's defeat at the hands of Kent State, the train wreck currently known as South Florida and Notre Dame's two losses in Kansas City (compounded by the news that
Tim Abromaitis
is gone for the year with a torn ACL) ... and, well, Syracuse's ugly win looks like a masterpiece.
Truth is, the Orange also might have beaten the best team in the Pac-12 by the time it's all over. That might be like being the prettiest of Cinderella's stepsisters, but it counts. The Cardinal, a team stuffed with freshmen and sophomores, manhandled Oklahoma State on Wednesday and barely blinked in the face of a pro-Syracuse Garden.
"I found out a lot about our guys,'' Stanford coach Johnny Dawkins said. "I think we can be pretty good. We're still a developing team, but that's something that excites me about what I saw tonight, the level of competitiveness. At times I didn't think we executed as well as we would like, but those are things we have to improve on.''
Boeheim has his talking points going forward, too.
The offense is an issue that needs to be addressed -- ideally before next Friday when Florida and its potent offense (the Gators average 85 points per game) come to the Carrier Dome -- but certainly before Big East play gets under way. The coach admitted his schedule was at least in part to blame.
Prior to Manhattan, the Orange feasted on a heavy dose of New York appetizers, gobbling up Fordham, Manhattan, Albany and Colgate in such lopsided fashion that Syracuse looked like a better offensive team than it was.
The Orange outscored those first four teams by an average of 30 points per game and then came to the Garden, where they ran into a haymaker in good defensive teams such as Virginia Tech and the Cardinal.
The chasm of victory closed to almost nothing.
"The one thing I can say in defense of my team, we had four easy games and I just don't think it prepared us,'' Boeheim said. "Nobody that we played could defend us at all. We could just pass and go.''
Against Stanford, they could barely pass without issue.
But as bad as Syracuse's offense was, its defense was that good. The Cardinal fared no better than the Orange, turning it over 24 times and clawing for each of their points.
And just when the Cardinal appeared primed to be the upset flavor of the day -- upping their lead to eight with just less than seven minutes to go -- Syracuse kicked its defense into an even higher gear. Boeheim called in the big dogs, going full-court press against a Stanford team that had zero wiggle room. With 6:14 left, Dawkins was already down to his last timeout.
[+] Enlarge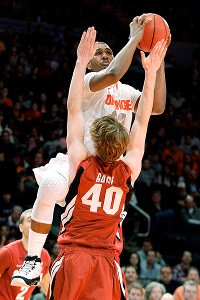 AP Photo/Richard DrewKris Joseph went into beast mode in the closing minutes of Syracuse's comeback win.
The combination of Syracuse's frenetic defense and the Cardinal's temporary panic led to five Stanford turnovers in those final six minutes and allowed the Orange to slowly chip away at the deficit.
After
Chasson Randle
missed on a pull-up in the paint,
Dion Waiters
grabbed the rebound and pushed Syracuse's tempo. He got the ball to Joseph, finding the hot hand on an otherwise cold offense.
Not that Joseph had been hot long. For much of the game, he fared no better than his teammates, scoring six points in the first half and going scoreless in the first 13 minutes of the second.
Finally with 7:09 to play, he hit a jumper, opening up the mini-floodgates that would lead to his 18 points, a most outstanding player award and his team's win. Joseph scored 12 points with the game on the line, none bigger than his jumper in front of his bench with 2:53 to play.
The ball banked in, giving the Orange back the lead 61-60 with 2:53 to play.
Syracuse would never trail again.
"That's one of those things, your friends ask you and you said you did call it,'' Joseph said, smiling. "But I didn't.''
No worries.
On this night, no one would have believed him anyway.