Jordan Taylor finally wins one at the Barn
February, 10, 2012
2/10/12
1:43
AM ET
MINNEAPOLIS -- All evening,
Jordan Taylor
just smirked.
When his four first-half 3s found the net. As an awkward reverse layup in the second half did more damage to the hometown team he rejected after high school. When his teammates swarmed him following the No. 22 Badgers'
68-61 overtime victory
against the Gophers on Thursday night.
On the postgame podium. Outside the visitors locker room. The grin never left the Minnesota native's face.
He'd waited four years to smile here.
"I love playing. I've struggled a little bit from the field this year so to have the ball go through like that was definitely fun, especially at home," Taylor said after he'd recorded 27 points (including 5-for-9 from beyond the arc) and three steals in the victory.
Taylor, a former Minnesota prep star, had never defeated the Gophers at Williams Arena.
Thursday night was his last opportunity to secure a victory over his hometown-turned-rival school.
He initially downplayed the stakes.
And then, he talked about the family members who'd come from Cleveland to watch him play. And the 16 tickets he'd personally distributed. And the 50-plus family members and friends who'd found their own.
"It means something to me. It definitely does, coming back," he said. "I've got a ton of family here, a ton of friends. To be able to win at the Barn, it's special to me."
Taylor didn't disappoint his fans.
He scored 14 points in the first half after going 4-for-4 from beyond the 3-point line. He hit a crucial 3-pointer with a little more than 17 minutes to play that gave the Badgers a 37-26 lead.
The Badgers, fueled by Taylor's strong start, maintained a double-digit lead for the bulk of the second half.
And then, the Gophers clamped down defensively and the Badgers failed to score for the last eight minutes of the second half (the Badgers made seven of 11 3-pointers in the first half but just two of 12 in the second).
Minnesota ended regulation with a 10-0 run that sent the game into overtime.
Taylor's teammates, however, came to Minneapolis bent on helping their senior star get his first victory at the Barn. They knew this was his last chance.
[+] Enlarge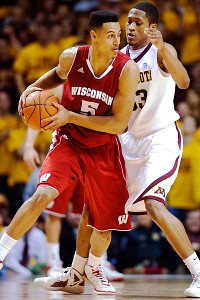 Marilyn Indahl/US PresswireRyan Evans scored 17 as Wisconsin beat back host Minnesota in OT.
"We wanted to get him a win here. I was hitting the glass hard, and he was making shots himself. That was a big factor," said
Ryan Evans
, who scored 17 points. "It's not anything we talked about, but we kind of all knew and understood what it meant for him."
The Badgers, who also start Minnesotans
Mike Bruesewitz
and
Jared Berggren
, scored the first six points in the extra period and made 15 of 17 shots from the charity stripe.
The Gophers looked tired. Digging out of the hole Taylor put them in drained the young team.
If only he'd stayed home.
But before Tubby Smith arrived prior to the start of the 2007-08 season, Taylor chose Bo Ryan.
His stellar high school career at nearby Benilde-St. Margaret's concluded in 2008 with a 3A state championship. Ryan, however, had latched onto Taylor long before his prep pinnacle.
The Gophers never had a chance or they just didn't push hard enough, depending on whose version of Taylor's recruitment you believe.
His success, however, still fuels the what-if tweets and message-board posts from Gophers fans who dreamed of a program that featured the state's best preps.
But in their eyes, Taylor and the team's other Minnesotans have joined the enemy.
"It's different. Air smells a little bit better here when you walk off the plane. Then you get in here, it's crazy," Bruesewitz said about facing the hostile crowd at the Barn. "I don't mind it. When they were making their run with about a minute and a half left, they were really getting after it, the Barn was loud. ... You can't do anything but smile."
It took Taylor four years to feel that way.