Louisville's Freedom Hall is hosting its final regular season Louisville game today; the Cardinals tip off at 2 p.m. ET against No. 1 Syracuse. Afterward, Freedom Hall won't be demolished, but its basketball career -- 54 years, a handful of Final Fours, and a pair of national titles in the making -- will be largely over.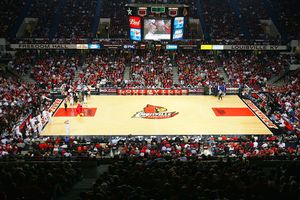 Andy Lyons/Getty Images
The Louisville Cardinals will be playing their last regular reason game in Freedom Hall on Saturday.Naturally, this retirement has spawned a host of remembrances local and national, far and wide. Card Chronicle has spent much of the past week discussing what the stadium means to its fans. The Louisville Courier-Journal dedicated a bunch of its pages -- which, this being March, could have otherwise been used to deliver vital Kentucky Derby projections -- to its rather emotional farewell. Pat Forde and Jay Bilas wrote two touching tributes to the arena.
Perhaps the best of all these, though, comes from SB Nation's Jon Bois -- the most talented sports writer you've never heard of; seriously, read him -- in his tribute today. Bois, a Louisville resident, manages to reconcile the sheer boredom with which he views the stadium itself with the purity of the emotion fans felt when that building came alive. A sample:
Freedom Hall, the building, is geographically isolated and bereft of character - two qualities that are uncommon in a college basketball arena. From the outside, it looks like an airplane hangar. It isn't on campus; rather, it was slapped together in a massive concrete desert south of downtown. The desert, which stretches for miles, is home to an expo center, a Six Flags that just went out of business, an airport, and a seldom-used mixed-use stadium. I'm saying that whenever I go there, I experience the urge to take a bunch of high-contrast black-and-white photos, caption them with lower-case pithy descriptors, and post them on my blog (which is probably named "s e e i n g t h e w o r l d" or something equally banal).

Remember fifth period in high school, when you wanted to grab a seat next to the wall so you could lean against it and try to fall asleep? Freedom Hall is made entirely of that wall. It is cold cinder blocks, painted hastily with a glossy finish. [...] Of all the sports venues in the United States, Freedom Hall is surely the easiest to draw in MS Paint. My God, this building is boring. I do not know who designed it but I will bet you ten dollars that his favorite dish was oatmeal.
Bois then pivots to the shared memories in the building, which, he implies, is what gives it the power you've heard about in so many different tributes these last few days. This is an obvious point, but it's worth remembering, especially in an age when we treat a billion-dollar testament to ego of one man in Arlington, Tex., like a national monument: The building itself doesn't matter. The architecture isn't the point. The power of any structure -- whether a bar, or your home, or your high school -- comes from the collective experiences of the people who frequent it, the shared memories you form when you're there. Sports are amazing precisely for this reason -- because those shared memories aren't limited to your family or friends. They're shared among thousands of people you don't know, who you will never meet. But you share them anyway.
That's why Freedom Hall is important. That's why it's powerful. That's why, after Louisville runs out on that court for one last time today, the thousands of rabid basketball fans congregated there will cheer with tears in their throats. That's the important stuff.