TUCSON, Ariz. -- There was disbelief first. Then anger began to boil and USC coach Kevin O'Neill's head, already redder than any of the outfits suffusing the suddenly euphoric crowd at Arizona's McKale Center, exploded.
That's an exaggeration, but only by a little.
"That's a horse[bleep] call!" O'Neill barked to no one and everyone.
O'Neill shouldn't be so surprised though. The authorities haven't been good to USC hoops of late.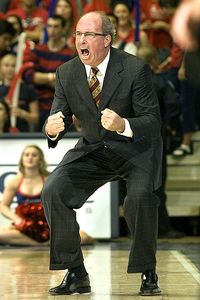 AP Photo/Wily Low
USC coach Kevin O'Neill was not pleased with the outcome of Saturday's game versus Arizona.After a pair of free throws from Trojans guard Donte Smith, USC owned a 69-66 lead over Arizona with 10 seconds left. Arizona raced down the court but couldn't find a shot. So with one second left, Kyle Fogg launched a prayer from long range.
It wasn't close. USC started to celebrate a minor piece of success amid a season of woe.
"Tweet!"
Foul on Nikola Vucevic. O'Neill: Apoplectic.
Fogg calmly sank three free throws to send the game into the first of two overtimes. And then final plot twist of USC's season concluded with a 86-84 defeat that was gamely contested but seemingly inevitable.
"Everyone knows what happened out there today," said O'Neill, still steaming about the call that sent the game into overtime. "It's no secret. Everyone at the game saw what happened. I'm going to leave it at that."
Still, how could it have ended any other way for the Trojans? USC, rocked by an NCAA investigation into extra benefits provided to former player O.J. Mayo that led to the resignation of coach Tim Floyd, already had thrown the 2009-10 season into the trash heap when administrators included a postseason ban among a variety of self-sanctions.
The Trojans, the team in black on the final afternoon of the season, had little to play for, other than pride.
Which, by the way, they showed in abundance, fighting back to force a second overtime and not yielding until Wildcats senior guard Nic Wise, playing his last game in front of his home fans, dropped in the winning layup with one second remaining.
Hey, double-overtime functioned as a postseason of sorts, right?
"I have nothing but good things to say about our guys," O'Neill said. "It's unfortunate because young people play really hard for a long period of time and didn't get rewarded. Like maybe we should have."
Truth was the Trojans were hardly despondent in the postgame locker room.
"It was an enjoyable game for the most part," senior guard Mike Gerrity said. "If we are going to lose, I'd rather lose going out like that. That game really summed up our whole season."
That's for sure. It's been a long slog of a season, one that ended with a five-game losing streak.
Picked to finish ninth in the conference during the preseason, at one point the Trojans ran off eight consecutive wins and were in the thick of the race in the watered-down Pac-10. Then, on Jan. 3, the school announced that there would be no postseason, a preemptive move before the NCAA ultimately ruled, one that some might say was made to protect the football program, which is fighting alleged rules violations.
"No one knows the adversity these guys have gone through right through the end today," said O'Neill, whose own personal drama of returning to the place where he was once thought to be Lute Olsen's successor mostly fizzled amid the tumultuous ending.
So USC finishes 16-14 overall and 8-10 in the conference in O'Neill Year One.
"I feel great about our future," he said.
Arizona has a present. The Wildcats (16-14, 10-8) will ride a modest three-game winning streak into the Pac-10 tournament, which they need to win in order to earn a berth in the NCAA tournament. A 26th consecutive berth in the NCAA tournament, that is.
"We enter the Pac-10 tournament as a confident team," coach Sean Miller said.
Fogg said after the game that he believed he was fouled on the critical play at the end of regulation but that he didn't think he'd get the call. And however controversial the call might be, it certainly shouldn't overshadow the sophomore drilling three consecutive free throws with the game on the line.
"I wish I could tell you I have ice water in my veins, but I was shaking," he said.
Said Miller: "That is the most pressure-packed situation you could have. To make three, I'm telling you, unless you've been there for that feeling, that one is the Masters putt from about 10 feet away. Not for everyone."
As for O'Neill, whose team well exceeded meager expectations, he believes the Trojans moving forward from a period of upheaval doesn't mean his present team should be written off and forgotten.
"That will be a team I will always remember," he said. "The University of Southern California should always be proud of them. When they are sitting around 10 years from now, they should remember this group really played their hearts out every single day with the worst of all odds."