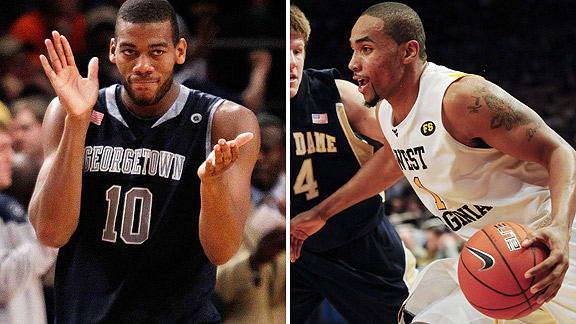 Michael Heiman/Getty Images/Howard Smith-US PRESSWIRE
Georgetown's Greg Monroe or West Virginia's Da'Sean Butler: Who will walk away as the Big East tournament's most outstanding player?
NEW YORK –- A good friend pulled John Thompson III aside after Georgetown ousted Marquette in the Big East Tournament semifinals.
"He told me, 'There's nothing better than Friday night in New York City other than Saturday night in New York City,'' Thompson said.
Bright lights, big city, two teams and only one trophy as West Virginia and Georgetown go head-to-head for the coveted Big East championship tonight at 9 p.m. on ESPN.
Here's a championship rundown:
Numbers: West Virginia has only appeared in one Big East Conference Championship but has never taken home the hardware. The Mountaineers, in fact, haven't won any conference tourney titles since 1984. Georgetown has played for the title 13 times and won a record seven crowns.
One or the other: Barring an unexpected 50-point barrage from someone else, either Greg Monroe or Da'Sean Butler will leave New York as the tournament's most outstanding player. In two games, Monroe is averaging 19 points, 11.5 rebounds and seven assists while Butler chimes in with 19.5 points, 6.5 rebounds, three assists and one banked in, buzzer-beating, game-winning 3-pointer.
The last time: West Virginia thumped Georgetown, 81-68, in Morgantown but the result might as well come with asterisks for all the sub-plots that affected the game. The Mountaineers rode the high of an emotional senior night for Butler; the Hoyas endured the emotional low of playing without Austin Freeman, who was out with the flu (and a week later would be diagnosed with diabetes). Georgetown fell behind by as many as 27 before trying to mount a comeback, but WVU's pressure led to 20 turnovers, which led to 27 points, which led to disaster.
New York State of mind: There aren't a lot of similarities between Morgantown and New York City, which is what makes the Mountaineers' roster so confounding. Six of WVU's players, including all five starters, are from the New York-New Jersey area. What circuitous twists led them from the streets of Gotham to the country roads of West Virginia? Simple: the Big East and Bob Huggins. "It's the Big East and with anybody from the Big East, people in New York are going to listen,'' Huggins said. "If we weren't in the conference, can't recruit these guys.'' Huggins' track record helps, too. The coach has a reputation for developing players evidenced by the 15 NBA draft picks he's coached, including four lottery picks.
Is that a yes? Syracuse 73, Georgetown 56. Syracuse 75, Georgetown 71. Marquette 62, Georgetown 59. West Virginia 81, Georgetown 68. The Hoyas came to New York City with one primary goal: to win another Big East championship. But they also packed a little extra motivation: revenge. Asked if beating teams that had topped them during the regular season put a little extra kick in their step, the Hoyas didn't hesitate to answer.
"Yes,'' said Chris Wright loudly and quickly into the microphone.
"Yes,'' said Austin Freeman, almost simultaneously.
"For the record, that's a yes,'' Greg Monroe deadpanned.
For West Virginia: True to form, Bob Huggins didn't mince words: "Quite frankly, people with size bother us,'' the coach said. "We're not that big.'' That's a short way of saying the Mountaineers will have to work hard to stop Monroe. Huggins seconded Jim Boeheim's assessment that Monroe is the "best skilled big man in the country.'' Even in the Mountaineers' decisive victory, Monroe got his, finishing with 22 points nine rebounds.
The Mountaineers also need to overcome themselves a little bit. Against Notre Dame, WVU almost blew a 10-point lead. They nearly coughed up a late 9-point advantage against Cincinnati the night before and in the regular-season finale against Villanova had to dig out of a 13-point hole to win.
For Georgetown: Thompson didn't want to entertain questions about his championship game opponent on Friday night. "Can I wait until we see who we're playing?'' the Georgetown coach said with a laugh. A little later Thompson expounded on what his Hoyas have to do: "We have to play the way we play,'' he said.
It sounds simplistic but it's really the right remedy for the Hoyas. They have been winning here in New York because they have been playing their brand of basketball: feeding the ball to Monroe and then letting him direct the offense.
That's not to say Georgetown doesn't have to do anything to stop the Mountaineers. They do. Despite its lack of size, West Virginia works the boards with a vengeance. They clobbered Notre Dame in rebounding, 35-18.