NASHVILLE, Tenn. -- In the words of Kentucky freshman guard John Wall, the Wildcats weren't going to be punked this time.
They felt like that's what happened the last time they played Tennessee. The Vols played harder, played tougher and played like it meant more to them -- particularly to open the game in Knoxville.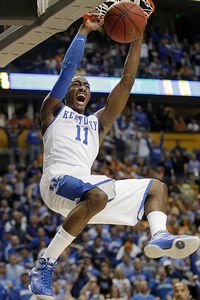 AP Photo/Dave Martin
Kentucky's John Wall was a man on a mission against Tennessee in the SEC semifinals.Not this time, though. And not in this tournament, which might as well be played in Rupp Arena.
"The blue dust is everywhere. It's incredible," Kentucky coach John Calipari exclaimed.
So were his No. 2-ranked Wildcats, who broke the Vols' will in the second half and handed Bruce Pearl the most lopsided loss of his Tennessee career, a 74-45 beatdown that went from a reasonably close game to a rout about as quickly as Wall goes from one baseline to the other.
"Coach told us, 'Don't let them play harder than you,' " said Kentucky freshman Eric Bledsoe, who was 4-of-5 from 3-point range in the second half. "That's how we came out. We knew it was going to be a battle when we first set foot on the court."
A battle? Maybe. But not a professional wrestling match.
The Wildcats (31-2) suggested the Vols tried to turn it into the latter. There were two double technical fouls called, and Tennessee guard Melvin Goins was ejected with 3:33 remaining for a flagrant foul. Replays showed him delivering a cheap shot to the midsection of Kentucky freshman DeMarcus Cousins that landed a little too close to comfort for Cousins' liking.
"I was a little heated after that one," said Cousins, who had 19 points and 15 rebounds. "It was a good, competitive clean game, and that just changed the whole game."
Cousins said what really got him going was Tennessee reserve forward Steven Pearl, who went after Cousins physically early in the game and tried to get under his skin.
"I know what his job was to do, but he didn't do a good job of it," Cousins cracked.
Asked just what that job was, Cousins said. "Foul me and try to get me out of my game."
Kentucky junior forward Patrick Patterson said the Wildcats made a concerted effort to go to Cousins early, especially after he had such a lackluster start in Friday's game.
"We got him the ball extremely early," Patterson said. "Whenever he's involved early and hitting shots and taking charges, he gets a lot more into it."
And when these guys are hitting 3-pointers, it's really almost unfair.
"Like coach said, if we're knocking down shots, we feel no team can beat us," Wall said.
He wouldn't get much argument from Tennessee coach Bruce Pearl.
"We got outplayed at every position," Pearl said. "Kentucky is the No. 2 team in the country for a reason. They're a really, really good team, and we just did not have the energy after playing two games and coming back and playing this third game. We just didn't have it."