NASHVILLE, Tenn. -- John Calipari has changed his tune a bit.
The tournament that counts is absolutely the NCAA tournament, and his Kentucky Wildcats are on track to be the No. 1 overall seed in that field when the selections are unveiled later Sunday evening.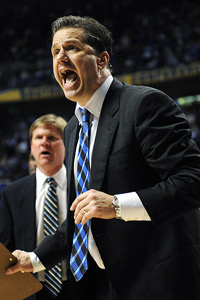 Don McPeak/US Presswire
Coach John Calipari is inspired by the amount of Kentucky fans who have traveled to Nashville.But being a part of his first SEC tournament and seeing the Kentucky fans take over Bridgestone Arena the way they have has caused him to re-evaluate the importance of this event.
Remember, it wasn't too long ago that he made it clear that he wasn't brought to Kentucky to win SEC tournament championships.
But with the Wildcats poised to win their first one since 2004 (and their 26th overall), Calipari has warmed up to the idea of this all of a sudden being a big deal.
"Let me tell you what's changed for me, only one thing because I've never worried about a league championship or a tournament championship," Calipari said. "It's all based on the seed in the national NCAA tournament. Anybody that says the seed is not important has never coached in the NCAA tournament.
"So for us to play here and finish so that we keep that seed is important. Here's what's more important: When I see a building full of blue fans who paid a lot of money for tickets, $500, $1,000, probably people who could not afford to pay a $500 or $1,000, they're taking their vacation in Nashville, Tennessee to watch our team play.
"Well, then, you kind of feel as coach that you owe it to them to give it your best."
Now there might have been a vintage Calipari exaggeration or distortion thrown in there somewhere for good measure.
Sort of like this one: "They tell me 180,000 fans came to Nashville. Is that true? Kentucky fans? And only 17,000 could get in that building."
No, coach, that's probably not true.
But your point is well taken. This is indeed Rupp Arena South right now. Just ask Tennessee.
The Vols were playing about 170 miles away from campus, in their own state capital, no less, and ranked No. 13 nationally. But the blue in the arena outnumbered the orange 9-to-1. And any time the Tennessee band tried to play "Rocky Top," it was drowned out by chants of "Go Big Blue."
"Don't let Coach Cal fool you," Kentucky freshman forward DeMarcus Cousins said. "Coach Cal wants to win. We want to win this."
So, yes, the Big Blue faithful can taste another SEC title, and so it seems can this Kentucky basketball team.
Here's a closer look at Sunday's game:


Mississippi State (23-10) vs. Kentucky (31-2), 1 p.m. ET
What's at stake: This whole bubble thing is obviously a fluid situation, and it didn't break real well for Mississippi State late Saturday night. According to ESPN bracketologist Joe Lunardi, New Mexico State's upset of Utah State in the WAC tournament championship game knocked the Bulldogs out of the field as an at-large team. That means they would have to knock off Kentucky on Sunday to claim the SEC's automatic berth. Prior to the WAC championship game, Lunardi had Mississippi State in. Here's the other thing: If the Bulldogs don't win Sunday and are indeed left out of the field, it looks like only three SEC teams will make it for the second straight year. Lunardi's latest projection also has Florida out. The Wildcats certainly don't want any slip-ups this close to the NCAA tournament. But regardless of what happens Sunday, they're a No. 1 seed and likely the No. 1 overall seed in the tourney.
Scouting the game: The Kentucky twosome of Eric Bledsoe and Darnell Dodson was 7-of-14 from 3-point range in the 74-45 semifinal win over Tennessee. With the Wildcats getting that kind of 3-point shooting, freshman point guard John Wall said it best: "If we're knocking down shots, we feel no team can beat us." And when the 6-11 Cousins plays the way he did on Saturday with his energy and his offensive rebounding, this is a team that's going to maul people. That said, the Bulldogs had them beat a month ago, but couldn't hold onto a seven-point lead late and lost in overtime. Senior forward Jarvis Varnado, who's blocked 10 shots in the last two games, wasn't on the floor much after halftime. He was saddled with foul trouble. Also, the Bulldogs were playing without one of their top scorers, Ravern Johnson, who was suspended. This is not a deep Mississippi State team, so the Bulldogs have to stay out of foul trouble on Sunday and not allow the Wildcats to wear them down in transition. Getting the play Mississippi State did off the bench from Phil Turner in the semifinals will be big, too. He had 11 points and five rebounds against Vanderbilt.
Wildcat to watch: Wall was in the vicinity of a triple-double on Saturday with 14 points, nine assists and six rebounds. He was the difference down the stretch in the first win over Mississippi State with his ability to get to the basket. There's nobody quite like him in the college game, but it should be a good matchup at the point guard spot Sunday. Mississippi State's Dee Bost has the quickness to hang with him and isn't a shabby penetrator in his own right.
Bulldog to watch: Senior guard Barry Stewart isn't playing too far away from his hometown of Shelbyville, Tenn., and would love to win a second straight SEC title so close to home. He scored 14 points against Vanderbilt, but was only 1-of-6 from 3-point range. He's typically a better shooter than that and will need to shoot it better against the Wildcats. He's also one of the better perimeter defenders in the SEC, which means clamping down on Bledsoe and not letting him get started will be critical for the Bulldogs.
They said it: "We're going to play like they're cheering for us out there. That's the only way you can look at it. Our guys, we understand what we're up against. That crowd, that's not what's going to affect what's between those lines. We've got to control what's between those lines. That's our toughest challenge."- - Mississippi State coach Rick Stansbury