Could Lehigh be the one to beat a 1?
March, 17, 2010
3/17/10
8:59
PM ET
OKLAHOMA CITY -- When you cover a region with a 1-16 game, doubt and dismissiveness go toe-to-toe.
Your head, filled with 25 years of evidence, tells you to ignore the No. 16 seed. It has no chance.
[+] Enlarge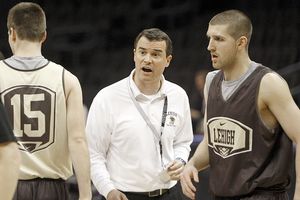 AP Photo/Sue OgrockiLehigh coach Brett Reed directs his team during Wednesday's NCAA tournament practice.
But there is that little tickle in the gut that says ... what if?
What if this is the time? What if this is the place? What if this is the game when history is made and the mother, father and great uncle of all upsets is perpetrated?
And then what if you're not ready to write that gem of a story because you never thought it would happen?
So, just in case, on the day of open practices you go to the No. 16 seed's news conference and you visit the locker room. You hear the same phrase for approximately the 20th time -- "Why not us? Why not now?" -- from a coach or player. You understand the sentiment behind it, but you also know exactly why not:
Because you're not good enough and the other team is really good.
But you don't say that, because who are you to smirk in the face of their belief? So you write it down and maybe roll your eyes a little bit and start thinking that you could be eating dinner right now instead of listening to a team that might not be in the game for five minutes. ... And then you feel the tickle again.
Well, what if Lehigh is the "us" and its game against Kansas Thursday night is the "now"?
So you say hi to Lehigh -- before it's time to say goodbye. You talk to the undersized center. (Don't all the 16s have an undersized center?) It's his job to guard the 7-foot stud from the No. 1 seed and try to keep him from doing chin-ups on the rim half a dozen times.
Tough job, but he's conceding nothing. You can tell the undersized center has bought in. He's totally committed to the cause. He believes.
"We step on the court, everybody's the same," says the undersized center -- in this case, Lehigh's 6-foot-7 Zahir Carrington. "There is no 1-16. We've been playing basketball our entire lives. We've worked just as hard as anybody else. You have to have the utmost confidence in your ability. If we were to come down here and think we're going to lose, I would rather not come at all. ...
"We're coming to win."
Well, sure. So was Princeton in 1989, when it shoved Georgetown to the brink but lost by a point. And Murray State in 1990, when Popeye Jones pushed the Racers into overtime against Michigan State but couldn't close the deal. And Holy Cross, which scared Kansas into the second half in 2002 on the way to an 11-point loss. And Albany, which had an 12-point second-half lead on Connecticut in 2006 but faltered.
Given all the close calls that never panned out, you need something more than words to go on. You need the look test.
You need to look the aspiring Cinderella boys in the eye and try to discern what's going on inside. Are they in awe of the big stage? Of the powerful opponent? Of the very idea of shocking the world? Or do they look like they can handle it?
Over the years, the look test has revealed a thing or two. One look at North Carolina freshmen Rasheed Wallace and Jerry Stackhouse before they played No. 1 seed and tourney favorite Kentucky in the 1995 regional final told you Kentucky was in trouble -- and it was. Carolina won easily and went to the Final Four. Last year, one look at Cleveland State affirmed that the 13th-seeded Vikings had absolutely no fear of No. 4 seed Wake Forest -- then they backed it up by destroying the Demon Deacons.
But those were just upsets -- this is the stuff of Hollywood screenplays. This is a 16, and that is a 1. And not just any 1 --
the
1, the tourney favorite. The team to choose, from the White House on down, among the bracket-picking public.
Still, this particular 16 passes the look test. The locker room feels confident. It is loose, loud and lively.
"There's no pressure," Carrington said on the podium. "Nobody expects too much from us."
In the locker room later he added: "Our expectations are probably a lot different from theirs. We wanted to win the Patriot League tournament. They want to win the national championship."
So is there a chance, with the Jayhawks' eyes set on Indy, that they might overlook little old Lehigh?
Carrington smiled.
"Hope so."
Anyone feel a tickle in their gut?