Quick hits on Thursday's tournament games
March, 25, 2010
3/25/10
9:59
AM ET
SYRACUSE, N.Y. -- A few quick hitters to prepare for Thursday's games: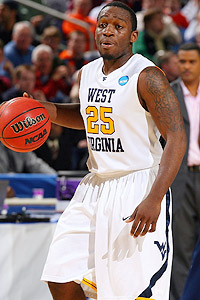 Rick Stewart/Getty ImagesWest Virginia's depth takes a hit without guard Darryl Bryant.
West Virginia will spread the floor without Darryl Bryant in the lineup. Don't be surprised to see plenty of Devin Ebanks and Da'Sean Butler bringing up the ball to jump-start the offense. There were times when Bryant was much more of a two guard.

The Mountaineers may see a lot more zone against Washington. Expect the Huskies to back off of Joe Mazzulla. He can't shoot.

The Mountaineers are trying to figure out how to play and this will hurt their depth. But the Mountaineers do have the depth to cause plenty of problems upfront for Washington.

Washington coach Lorenzo Romar says the Huskies have to rebound against the Mountaineers. They know it's going to be a tussle inside if they're going to win this game.

It's interesting to see the Huskies treated as such underdogs. They don't view themselves as such. They're not a low-major, a mid-major. They're regular Pac-10 tournament contenders.

Kentucky coach John Calipari said late Wednesday night that the media helped fire up his squad. He said the Wildcats got on the bus after being asked questions about the "smart vs. athletes" matchup against Cornell and got fired up. Calipari said he doesn't have to worry about any motivational factors prior to the game.

Here's a crazy thought: If Cornell pulls off the improbable and beats Kentucky, can you imagine where Louis Dale would be in five to 10 years versus John Wall and/or Eric Bledsoe? The beauty of this tournament is that a player like Dale at the point can be an equalizer against NBA-level talent in a one-game situation.

The same could be said of Cornell's Jeff Foote versus Kentucky's DeMarcus Cousins.

Cornell coach Steve Donahue said the Big Red have to get off to a good start. That's a given. The last time the Big Red didn't was at Penn in a stunning loss to the Quakers in the Ivy League. Cornell did get off to a tremendous start against Temple and Wisconsin in the first two rounds of the tournament. The Big Red can't play catchup well, but you don't want to be down by double figures against this controlled team.

I'd be stunned if Cornell didn't release four guards back after a miss to prevent any kind of fast-break opportunities for Kentucky.

Carrier Dome fans booed Kentucky during its practice session Wednesday. Big Blue Nation is expected to be here en masse for the game Thursday night. But the boos were another perfect motivator for Calipari to give him the us vs. them mentality for the game.

Syracuse is not exactly on the way for a number of families from the West Coast to attend the game. The Huskies were able to charter quite nicely with a four-and-a-half hour flight from Seattle. But Quincy Pondexter said his parents had to fly from his hometown of Fresno, Calif., to Florida to Syracuse to get here in time to the game. He said that was the cheapest way to go on short notice.

Washington expects only a smattering of fans at the Carrier Dome. The Huskies have a massive contingent of alumni in the Northwest; not so much on the East Coast.

The Huskies were the dominant team in San Jose last weekend, odd as a No. 11 seed. But now the fan base will be shifted toward the East Coast teams in this regional.

If the Huskies go man, Pondexter may be matched up more often against Kevin Jones than Butler. Pondexter and Butler know each other quite well. They were teammates on the bronze medal-winning World University Games team last summer in Serbia.

I'm interested to see how the Mountaineers try to keep Isaiah Thomas in front of them. Bryant was quicker than Mazzulla, and Thomas has the ability to go past them. Ebanks' length has been a problem for smaller guards, and West Virginia coach Bob Huggins might put the longer Ebanks on the quicker Thomas.

What will be the reaction of the crowd if Cornell has an early lead? It could get really loud in the Carrier Dome if West Virginia and/or Washington fans stick around for the nearly 10 p.m. tip.

Cornell's Ryan Wittman's ability to stick the 3-pointer will be sorely tested by how much either Wall or Bledsoe are in his grill.

What's lost among the four teams is how much these four coaches have won recently. Washington's Romar has been a constant for the most part four of the last six years at or near the top of the Pac-10. Calipari is obviously a winner everywhere he goes. The same is true for Huggins at Cincinnati, Kansas State and West Virginia, and the turnaround by Donahue at Cornell is simply remarkable. No one had the Big Red as an Ivy League factor for decades as Penn and Princeton dominated.

If Cornell were to beat Kentucky, regardless of how experienced and talented the Big Red are this season, it would go down as one of the biggest upsets ever. Sorry, this is still an Ivy League team, even with two potential pros in Wittman and Foote, with no scholarships beating a Kentucky team loaded with at least three lottery to four lock first-round picks and the new favorite to win the NCAA title.

Washington taking out West Virginia would not be much of an upset, if any. The Huskies are playing up to their potential and can match the Mountaineers talent for talent. Forget the seeds here.