HOUSTON -- For four years he was the best-kept secret in college basketball. As Patty Mills stole the Saint Mary's show, Omar Samhan worked his act in the shadows.
Now Mills is gone, Saint Mary's is in the Sweet 16 and the college basketball world is on an Omar binge.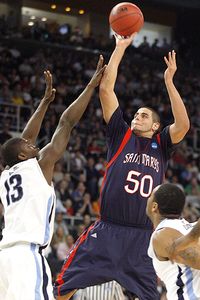 Stew Milne/US Presswire
St. Mary's Omar Samhan is one of the NCAA tournament's most quotable players.Three-year-olds accost him in the Safeway for his autograph and a media starving for something other than Bull Durham clichés hang on his every word.
If only Taylor Swift would notice him.
"Are those cameras on?'' Samhan asked from the podium during pre-game interviews on Thursday. "I love you, Taylor. You should call me.''
Hey, rumors once paired the singing starlet with Gonzaga's Matt Bouldin, so she's familiar with the West Coast Conference.
If Saint Mary's keeps winning, it's not like she could avoid hearing about him.
Ali Farokhmanesh's 3-pointer may be the picture of the NCAA tournament, but Samhan is the sound.
He is an uninhibited trash-talker. Upon exiting his locker room, Samhan spied a Baylor player across the way. "Bring it on,'' he said, before going over to introduce himself to Tweety Carter.
And he's an unabashed predictor.
"I said we were going to win the national championship,'' Samhan said. "My coach said, 'You did not just say that,' but I did and I mean it.''
But the tongue-wagging big man is very conscious of being just a lot of white noise.
"He says what he says but he also knows what he's doing,'' Randy Bennett said. "He's enjoying the moment, but when the game starts he's as focused as anybody.''
On the bulletin board in his dorm room is every critical article written about him this year. When a friend found something arguing why Saint Mary's couldn't beat Baylor, he immediately asked for a copy and hung it on the wall of honorable dishonor.
His mom keeps the good stuff, a stack of laudatory stories that Samhan won't enjoy until after the season is over.
"My friends always come in and are like, 'Oh wow,' and then they start to read and they're like, 'Why do you have this on your wall?" Samhan laughed.
The clips are perfect fodder for a kid once considered too overweight, a complete diamond in the rough that no team other than the Gaels was much interested in taking a leap on. He is fueled by doubters, people who counted Saint Mary's out against Richmond and said he couldn't handle the brawling nature of the Big East when the Gaels played Villanova.
Saint Mary's is a tiny Catholic school, chronically stuck in the second fiddle role behind Gonzaga.
The Gaels needed a spokesman.
And they found a bullhorn.
"People think we should be scared for some reason, because we don't play in gyms this size, because we don't have McDonald's All-Americans on our team,'' Samhan said. "We don't need McDonald's All-Americans to win. We don't need a huge gym to win. We're 11 guys that work hard and play hard together. I think that's what I want American to know and everybody to know, that we're America's team.''