Look back, look ahead: Atlantic 10
April, 15, 2014
4/15/14
10:00
AM ET
Dayton president Dan Curran, like many university presidents, has an impressive résumé.
"A sociologist by training, Dr. Curran spent 23 years in various administrative and faculty positions at Saint Joseph's University in Philadelphia," his extended biography on the university website reads. "He's a noted scholar in criminology, juvenile justice and social problems, with a deep interest in international issues."
In 2002, he received the Eternal Flame award, an international honor given for "exceptional contribution to the field of Holocaust education." He is a former Fulbright senior scholar with eight scholarly publications to his name, almost all of which have advanced the fight against social inequality.
At 11 p.m. on March 22, this man -- this hyper-successful baron of academia -- was crowd-surfing his way down Kiefaber Street in Dayton, Ohio. Thousands chanted his name: "Dan! Dan! Dan!" A couple of hours later, riot police would show up, fiberglass shields in tow, to put down the joyous rebellion.
[+] Enlarge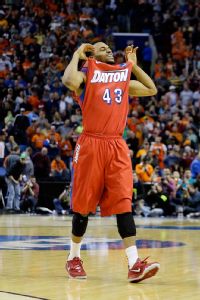 AP Photo/Frank Franklin IIVee Sanford and Dayton enjoyed a memorable March.
In any other month but March, you'd assume this was some kind of student uprising. In March, you can fairly guess that Dayton's men's basketball team surprised its loyal, loving fans with an unlikely "Cinderella" run. March:
It's where crowd-surfing university presidents happen
.
What we saw this season: Only Dayton wasn't a Cinderella. The Flyers were, in fact, a solid but injury-bugged team in a surprisingly dynamic 2013-14 Atlantic 10 Conference -- one that housed two of the nation's 10 best defensive teams (Saint Louis, VCU), that saw George Washington and Saint Joe's rise to tournament prominence, that watched Derek Kellogg get UMass back to the NCAA tournament for the first time since 1998, that had probably the best, or at least the most unlucky, 11-20 team in the country.
That team? George Mason. The Patriots had a pretty rough go in A-10 play: Including their season-ending A-10 tournament loss to Fordham, nine of George Mason's conference games were decided by two possessions or fewer, or in overtime. In one nine-game losing streak, the Patriots lost to Saint Joe's, UMass and Saint Louis by a combined 11 points.
That was a fair enough summary of the A-10 in general: You really never knew what to expect.
After a disappointing start to the nonconference slate, VCU fell off the national radar. But the Rams got better and better as the season wound along, their turnover-creation more and more potent, in time to finish 12-4 in the A-10. Saint Louis took the opposite tack. The Billikens were the league's steadily marching defensive monster -- they eventually earned the top-10 ranking their late coach Rick Majerus predicted they would -- until the final month of the season, when their defense softened just enough to expose the struggles on the offensive end. UMass also went the opposite direction: great (or maybe just better than expected) early, weak late.
In the end, it was Dayton that peaked in March. At their best, any of the A-10's top teams could have made a similar run. But the Flyers got right at the perfect time.
What we expect to see next season: One must be careful not to overrate a handful of single-elimination games in March. That is the gospel we preach every summer, even if we don't always live by it ourselves.
In other words: Dayton's Elite Eight run doesn't automatically make the Flyers the A-10 favorite next season. Vee Sanford and Devin Oliver, both seniors, are huge losses for the Flyers. But! Dyshawn Pierre and Jordan Sibert were the team's most dynamic players by the end of the season, and Archie Miller's deep roster was primarily composed of freshmen and sophomores. The Flyers could well compete for the A-10 title.
UMass looks solid moving forward, despite the loss of point guard Chaz Williams. Saint Joe's and George Washington likewise lose key seniors but have some reasonable hopes in coming seasons. Saint Louis looks destined to take a step back: The Billikens were all about their seniors and now are in that post-core rebuild-or-reload mode.
Meanwhile, here's a safe prediction: VCU will begin the season as the preseason favorite. The Rams lost a couple of old 2011 Final Four stalwarts (including Rob Brandenberg) to the sands of time, but Shaka Smart has everyone else (including Briante Weber and Treveon Graham) returning and his best recruiting class ever (including three top-100 prospects) on board. The Rams look like the deepest team in the A-10, which, given that high-pressure defensive style, is a terrifying thought indeed.
Four years ago, VCU had its mad dash deep into the tournament field. In 2014, the Rams bore the brunt of the upset, thanks to a last-second four-point play and a missed game winner in overtime. Meanwhile, Dayton -- which went 1-5 in January -- was one game away from the Final Four, with its president wafting atop a riot.

Such are the vagaries of March. Such was the state of the 2013-14 A-10. This might not be a "power" league, but it is almost always a lot of fun.