Ollie's way with words inspires UConn
June, 23, 2014
6/23/14
11:00
AM ET
Editor's note: During the next five weeks, we will reveal
the top 50 coaches
in college basketball, as decided by our ESPN Forecast panel. Today we unveil No. 10: Connecticut's Kevin Ollie. On Tuesday, we release No. 9.
Former Connecticut coach Jim Calhoun once said that his former player turned Huskies head coach Kevin Ollie uses more motivational phrases "than almost any other guy I've ever been around in my life."
Ollie has attached those sayings all over the UConn locker room at their on-campus court in Gampel Pavilion. But the Huskies probably don't need any reminders; Ollie is quick to recite new phrases from his virtual unlimited mental Rolodex.
"I just listen to a lot of inspirational people, you hear things that strike a chord with you," Ollie told ESPN.com in November, when asked about his many quotables.
Some are original thoughts, others are phrases he's come across and posted, but the Yogi Berra of college basketball always gets his point across. Here's the top-10 list of Ollie-isms:
[+] Enlarge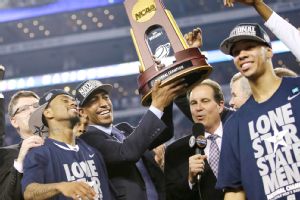 AP Photo/David J. PhillipKevin Ollie's crafty inspirational sayings have helped vault UConn to the top of the college basketball world.
10. UConn basketball, 10 toes in.
When Ollie took over the program armed with only a seven-month contract and an NCAA postseason ban, his first step was to make sure his players were all-in.
"We were banned from the NCAA tournament, but we weren't banned from loving each other, we weren't banned from making each other better," said Ollie, who added: "They really didn't have a choice in the matter. I was going to play the guys who were playing hard. We were just trying to teach these kids a life lesson. A lot of people give up in the face of adversity."
9. Greatness is never on discount. Success is never on sale.
Ollie repeatedly tells his players that they aren't going to take any shortcuts. They will take the stairs instead of the escalators and enjoy the process of building a foundation. A bigger success results only when the small details are taken care of.
"When you're building a wall, you don't set out to say, 'I'm building this beautiful wall,'" Ollie said. "You put one brick down as perfectly as you can do it."
8.
"I want my guys to coach me."
Ollie loves the fact that some of his players call him "K.O." and not "coach." He wants the kind of relationship that once they leave the program, he'll be the one getting that first call about announcements on engagements, buying a first home and other life milestones.
"I'm not the coach and the dictator and what I say goes; I don't coach out of fear," Ollie said. "If you coach out of fear you're just going to get [a little bit] out of guys, but if you coach and you have a loving relationship, those guys will run through the wall for you."
7. Be careful what you're feeding.
When Ollie took over for Calhoun, he admittedly had some doubts about succeeding the Hall of Famer and the architecture of the program. But that's not where his focus rested.
"The most important thing in life: You don't concentrate, you don't meditate on your doubts," Ollie said. "You meditate on the different things that are good and going to inspire you to be great. That's what I did. What are you doing, you feeding that fear or you feeding the good side?"
6. Greatness begins when selfishness ends.
Selfishness was a problem on Calhoun's final team in 2011-12. Despite having big talent, the Huskies were a big disappointment, failing to win a game in the NCAA tournament. Ollie sought to root out selfishness from the start.
"I learned a lot from [Calhoun] those two years [as an assistant coach]," Ollie said. "You can have a small fire, but you can't let it turn into an inferno."
5. Be phenomenal or be forgotten.
It's Ollie's way of saying: Make an impact -- however big or small -- on those around you. It has nothing to do with scoring a lot of points or winning a lot of titles.
"If you're going to measure me as a coach, don't measure me with X's and O's and wins and losses; measure me with how my guys leave the program and how much better people they are," he said. "If I can do that I've done a great job."
4. "Faith it 'til you make it."
Ollie pointed to his 13-year professional career that involved endless 10-day contracts and 11 different teams. He was used to having the odds against him, but said, "That's kind of how I like it," and he never stopped believing.
"Some people say, 'Fake it to make it.' I say, 'Faith it to make it,'" Ollie said. "I'm going to have to faith it. Sometimes I don't understand it, I don't know the outcome, but I believe in the dark. And I tell these guys they're going to have to have blind trust."
3. The three E's.
In one of his life lessons not just meant for basketball, Ollie said you have to have "effort, energy, enthusiasm."
"If you've got that in life, you're going to be good," he said. "I might fail, but I'm all right. I'm going to fail until I succeed. I'm never going to stop."
2. "Take care of your 24."
Ollie said everyone has the same opportunity to make his day successful.
"You have 24 hours to do something magical each and every day," Ollie said. "I don't care if you're black, blue, green, rich or poor -- you've got 24 hours. What you do with your 24 hours is going to dictate how successful you are in life."
1. "I'm not chasing national championships, national championships are going to chase us."
Reread Ollie's quote 100 times and it still might not make sense to you. But considering that he's 1-for-1 in NCAA tournament appearances and national championships makes it hit home a bit. Maybe Ollie knows what he's talking about after all.