What if we played do-overs?
August, 11, 2014
Aug 11
10:00
AM ET
What if college basketball history got it wrong the first time around? What if they played do-overs that resulted in different outcomes? And I don't mean the kind of reversal of fortune that would allow a team to, say, shoot better from the free throw line to win a title. I'm talking games that would have changed college basketball as we now know it, as well as the legacies of those involved.
Some games like NC State's win against Houston or Villanova over Georgetown were just too classic to touch. Besides, even if those underdogs didn't win titles, the NCAA tournament would still be known for its unpredictability. And why mess with Christian Laettner's perfect game and last-second shot that lifted Duke over Kentucky in 1992?
Here are five games that could have altered how we view college basketball and some of its top names:
[+] Enlarge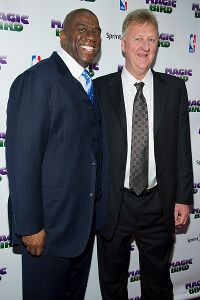 AP Photo/Charles SykesThe NCAA title game featuring Earvin "Magic" Johnson, left, and Larry Bird almost didn't happen.
March 15, 1963 -- Loyola (Chicago) 61, Mississippi State 51; and March 19, 1966 -- Texas Western 72, Kentucky 65:
The Ramblers made a statement against segregation in the 1963 NCAA tournament. Loyola started four black players against the all-white roster for the Bulldogs, whose team literally had to sneak out of the state to play the game. The state of Mississippi issued an injunction to enforce what had been an unwritten law that white teams would not compete against non-whites. And in 1966 Texas Western (now known as Texas El Paso) used an all-black starting five to topple Kentucky in the national championship game. What if Mississippi State and Kentucky would have won? How much longer would it have taken teams in the South to integrate?
Jan. 20, 1968: Houston 71, UCLA 69:
Billed as the "Game of the Century" in the Astrodome, the Cougars upset the Bruins and stopped their 47-game winning streak. It was the first college basketball game nationally televised in prime time and made broadcasters realize they had an audience for it. But what if the Bruins had a healthy Lew Alcindor and the game was a blowout? The center soon to be known as Kareem Abdul-Jabbar suffered an eye injury leading up to the game and shot under 50 percent and played one of his worst games collegiately, statistically speaking. (The Bruins won the rematch in the Final Four 101-69.) Would the television audience have been the same? Would it have taken another decade before the marriage of college hoops and television took hold?
March 9, 1974: NC State 103, Maryland 100 (OT):
Within the league, the 1974 ACC tournament title game is often referred to as the greatest college basketball game ever played. Neither team had a turnover during regulation. Maryland shot 62 percent from the field and still lost in overtime. This game put the exclamation point on the need for the NCAA tournament to allow multiple bids from a single conference. The Terps, who finished ranked No. 4 in the final poll, did not get a bid and watched the No. 1 Wolfpack win the national title. You didn't have to be a Maryland fan to know it deserved a tournament bid. What if it wasn't an exceptional game? What if the Pack won, as they did the two regular-season games, in non-dramatic fashion? Does the NCAA tournament expand as quickly as it did (growing to 48 teams in 1976)?
March 17, 1979: Indiana State 73, Arkansas 71:
Magic vs. Bird compelled viewers to make the 1979 national title game the most watched college basketball game of all time. But what if Indiana State-Michigan State doesn't happen? The Razorbacks were tied with the Sycamores in the Elite Eight and could have held the ball for a final shot. A controversial travel call against Arkansas' U.S. Reed -- who maintains that he was tripped and lost control of the ball -- gave Indiana State the ball back. Bob Heaton -- not Bird -- provided the last-second heroics that lifted the Sycamores to the Final Four. The ripples from this would have been felt in the NBA, as well, if Magic and Bird had to wait until 1984 to go head-to-head for a title.
March 29, 1982: North Carolina 63, Georgetown 62:
Coach Dean Smith won his first national championship thanks to a shot made by Michael Jordan. Fred Brown's errant pass helped solidify the Tar Heels' victory. But what if Brown doesn't turn the ball over and the Hoyas prevailed on a last-second basket? Would Jordan still turn out to be Jordan without that first game-winning shot and championship ring? Or would he just have been a high-flying sneaker salesman? How would Smith have been viewed, having also lost in the 1981 NCAA title game and having made his fifth Final Four trip without a championship?