College Basketball Nation:

010314 weekend homework
January, 3, 2014
Jan 3
11:00
AM ET
The Indiana Hoosiers are fun to watch.*
*Offer not applicable to Indiana fans.

To the casual basketball person, or the random fan of a random program looking for a watchable game on a random night, Indiana is practically a made-for-TV guarantee. The Hoosiers play some of the breakneck-est basketball in the country, averaging 73 possessions per game; their offensive trips are some of the shortest in the country and their defense doesn't lull opponents to sleep, either. Point is, the ball moves, and moves through talented hands: Yogi Ferrell is a cannonball/point guard hybrid, forward Noah Vonleh is a lottery-level talent on the low block who is producing in kind, and Troy Williams is all coiled, vibrating, athletic talent.
Thus far, Indiana has managed to play excellent defense -- Vonleh deserves a huge share of the credit here -- and just-OK offense, mostly because the Hoosiers turn the ball over so frequently. Which is why the above asterisk applies. If you don't care that Indiana is turning the ball over on 22.1 percent of its possessions, if you have zero emotional investment, and if just want to see a fast, engaging, athletically played game and are willing to accept some sloppiness in the aesthetic exchange, hit the couch groove, friend. Enjoy.
Indiana fans are not interested in this bargain.
Tuesday's OT loss at Illinois, hard fought as it was, meant the Hoosiers have made it to January without beating anyone ranked inside the top 100 of the Pomeroy rankings. (The RPI will tell a similar story, when and if that becomes an issue.) The turnovers are a source of intense frustration, to the point that even the relentlessly positive Tom Crean has taken to commiserating with fans on Twitter. Meanwhile, this week also marked the departure of forward Luke Fischer, a top 2013 recruit who informed the school of his plans to transfer when he returned from Christmas break.
So, to put it bluntly, fans are grumbling. Inside The Hall's Alex Bozich has his finger squarely on the pulse of the IU fandom, and Thursday he was compelled to write a gigantic memo essentially encouraging everyone to chill the heck out:
It's become both fascinating and exhausting to follow all of the dialogue. What's not up for debate, however, is the reality of what this season is for Indiana. It's a year of transition. There will be no Big Ten or national championship. There may not even be a NCAA tournament appearance. The preseason polls told us Indiana was a top 25 team. It's taken less than half of the season to learn that the polls were wrong, at least for now. So where exactly does perspective tie into all of this?
As Bozich rightly notes, talent or not, Indiana lost Cody Zeller and Victor Oladipo this summer, to say nothing of four-year starters Jordan Hulls and Christian Watford. Vonleh is a beast -- better than most would have projected and evolving on a seemingly daily basis. But Indiana lost a couple of the best college basketball players of recent seasons, and are attempting to replace them with guys who are struggling with shot selection and turnovers.
All of which is why Saturday's home date against Michigan State is so fascinating. Indiana is tough beat on its own floor, and the Hoosiers really are defending well -- perhaps well enough to trap Michigan State in a close, tight game down the stretch, at which point anything can happen. It's a major opportunity: In one fell swoop, Indiana might turn the corner on a season that has Hoosiers fans dealing with transition in more ways than one.
January, 3, 2014
Jan 3
10:30
AM ET
The ACC is showing no favoritism toward Duke to start conference play.
The Blue Devils open up Saturday at Notre Dame (4 p.m. ET, CBS), one of three new members to the league, and a program desperate to show it belongs in the ACC.


Students are gone on break, but the game is a sellout and Irish head coach Mike Brey expects the crowd to be even crazier than the norm for a big-time game in South Bend, Ind.
"What a way to start the ACC," Brey said on Thursday's ESPNU college basketball podcast. "It will be great, really loud. People who don't normally get tickets will fill that lower bowl seats. They're wacky and it's a good atmosphere when they're here. We don't beat Canisius without them."
Brey said he has had to remind fans and the players that there are 17 more ACC games after the Duke game. He likened the lead-up to the opener to the perception of the Notre Dame-USC football game as the game to circle during the regular season.
"But to have Duke coming in really warms up our fans [to the ACC]," said Brey.
The Irish are starting anew after Jerian Grant, the team's leading scorer, became academically ineligible on Dec. 23 after a heartbreaking late-possession loss to Ohio State at Madison Square Garden. The Irish had to reinvent themselves against the Golden Griffins, notably Grant's backcourt mate,
Eric Atkins
. Atkins scored 10 points and took six shots, including one 3-pointer, against Ohio State. He scored 30 against Canisius, taking 14 shots and eight 3s. He'll have to have a similar game dodging
Quinn Cook
to beat Duke Saturday.
"We were searching throughout the game," Brey said of trying to find lineups against Canisius. "We had lineups we never would have imagined back in August.
"We're almost like in a new season."
The Irish won't have time to figure out whom to play with Duke looming. But it is no secret Atkins has to score,
Steve Vasturia
and
V.J. Beachem
-- two freshmen who are suddenly getting significant time -- will have to defend, and the Irish will have to exploit Duke's deficiencies inside by having
Garrick Sherman
,
Tom Knight
and
Zach Auguste
be effective inside.
"We're going to have to change defenses and be aware of the arc, take away their shooters and use our big guys," Brey said. "We have the front-line guys with Sherman and Auguste trending up and Tom Knight has delivered for us. We've got to throw the ball in the post and use our big guys. We've got to change the tempo. Since we lost Grant, we've got nothing to lose the rest of the way."
And it starts by playing with house money against one of the two ACC title contenders -- especially at home. Notre Dame doesn't have to return the game to Duke in the unbalanced ACC schedule this season. Beat Duke and suddenly Notre Dame's profile changes since the selection committee will judge the Irish more by their post-Grant games than by how they played before the suspension. That doesn't mean the Irish don't get points for knocking off Indiana in Indianapolis or shouldn't be penalized for losing to Iowa, Ohio State and Indiana State. Still, this is the Irish team to evaluate.
And to beat Duke the Irish will have to deal with
Jabari Parker
, arguably one of the top three players in the country.
"He has the poise and demeanor of a 22-year-old senior," Brey said. "You have to be aware of him. He'll be tough to deal with one-on-one. We'll have to play zone as well."
Notre Dame doesn't have the history of playing Duke or any of the ACC schools, save the fellow former Big East members Pitt and Syracuse. But the older ACC schools don't have the knowledge of playing at Notre Dame or going against the Irish.
Duke has had one bad half since losing late to Arizona at the NIT Season Tip-Off on Nov. 29 at MSG. That was against UCLA on Dec. 19 at the Garden, and a tie game with the Bruins turned into a 17-point Blue Devils rout.
This has been a difficult week for Duke coach Mike Krzyzewski, whose 71-year old brother, William, a former Chicago firefighter captain, passed away on Dec. 26. Coach K said Thursday that William "was my hero." Coach K has been in Chicago with his family this week and will join the team for the game Saturday. He'll rejoin the Blue Devils in time for what should be one of their tougher road assignments this season in their first true road game in 2013-14.
But this game is not about Duke. The Blue Devils will be fine, regardless of the result of this road game. Nope, this is all about the Irish -- about who they are now, and what they may become this season.
January, 3, 2014
Jan 3
10:00
AM ET
Most meetings between crosstown rivals UCLA and USC in basketball haven't had compelling enough storylines to pique national interest. That's not the case this season.
USC hired Andy Enfield, who parlayed his unprecedented success last postseason in guiding No. 15 seed Florida Gulf Coast into the Sweet 16, bringing his Dunk City brand of hoops to the West.
[+] Enlarge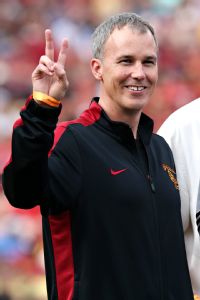 Stephen Dunn/Getty ImagesAndy Enfield turned up the heat on the USC-UCLA basketball rivalry with his comments.
It turns out that the fast-paced, in-your-face style of play wasn't limited to the court.
Two statements have the potential to ignite the UCLA-USC basketball rivalry more than in any of the previous 238 meetings.
Enfield, in an article published in the December issue of Men's Journal, launched the first salvo when responding to a booster's question about going head-to-head with UCLA and its first-year coach, Steve Alford: "I don't worry about them. I've made it to one Sweet 16 in two years, and he's made it to one Sweet 16 in 18 years."
That was intentionally done for an audience. But Enfield's first verbal jab reportedly happened behind closed doors. He told his team during an October practice attended by a San Jose Mercury-News reporter, "We play up-tempo basketball here; if you want to play slow, go to UCLA."
Here's the part where you can insert your own metaphor about a perfectly scripted rivalry for Hollywood.
Enfield tried to walk his practice quote back during Pac-12 media day, saying that he was being sarcastic and "it certainly was not to disrespect Steve or what he's doing." Enfield went on to say: "I understand the UCLA-USC rivalry is great for college basketball, as well as all the other sports within the city, and we look forward to being part of that. But I certainly respect what they're doing and what I said was meant … for my team and for my team only."
Maybe, but we all heard it now. And surely they did in Westwood, too, no matter how much Alford and the Bruins might try to downplay it.
UCLA can't feign indifference in this one. USC has won five of the last 11 meetings in Pauley Pavilion (with one Trojans win vacated due to sanctions). Sunday's game is in Pauley.
The Bruins, led by
Jordan Adams
and
Kyle Anderson
, are more talented on paper. But one thing Enfield won't have to worry about is pace. UCLA averages 85.5 points, which is their highest output since the 1995 national championship team. So much for playing slow.
January, 3, 2014
Jan 3
9:30
AM ET
Oklahoma State enters its Big 12 opener at Kansas State on Saturday trapped in drama created by a few recent developments.

On Tuesday, Travis Ford's program announced that center and top shot-blocker
Michael Cobbins
will miss
the rest of the season due to an Achilles injury
. On Wednesday, backup point guard
Stevie Clark
was arrested
for marijuana possession
.
ESPN analyst Fran Fraschilla recently tweeted that a college coach's greatest role is "crisis management coordinator." Oklahoma State's situation seems to back that statement, although Ford's predicament is not necessarily a "crisis" at this point. Plus, he still has one of the best players in the game --
Marcus Smart
-- leading his squad. And Smart's teammates
Le'Bryan Nash
and
Markel Brown
are both elite talents.
But Cobbins was significant for a team that is currently 17th in adjusted defensive efficiency per Ken Pomeroy. Oklahoma State's greatest challenge in league play will be its limited size. That's why the loss of Cobbins is such a blow for the program.
And Clark has averaged nearly 20 minutes per game for Oklahoma State. His 3.7 APG against 1.9 TPG comprises a better assist-to-turnover ratio than Smart's (4.1 APG, 2.9 TPG). He also answers the most significant question each night about Smart. What happens if the sophomore star endures early foul trouble?
With Clark's future in jeopardy and Cobbins out, Oklahoma State enters its matchup against Kansas State with questions that it can't answer until tipoff. But this is a different team without Clark and Cobbins.
If Smart is on the floor, Oklahoma State is still a contender. Its road to the title, however, is more complicated now. Depending on what Ford does with his lineup, Nash could log more minutes inside. Sophomore
Karami Murphy
's time on the floor should increase, too. And sharpshooter
Phil Forte
will be a greater factor in the backcourt.
Oklahoma State can make these adjustments and win the Big 12. But the Pokes will be on the road against a Kansas State squad that hasn't lost since Nov. 22 and owns a win over WCC contender Gonzaga.
With three or four potential contenders in the Big 12, one or two losses could separate the champ from the No. 2 team in the league. So an early stumble on Saturday could cost Oklahoma State down the road.
Oklahoma State's most immediate concern, however, is its new reality and the pressure it will face on the road in its first game of conference action.
January, 3, 2014
Jan 3
9:00
AM ET
The Pac-12 driver's seat already is occupied, Arizona buckled up and ready to rule. Currently leading the nation, the Wildcats certainly are expected to lead their conference as well.
So who will be the league's co-pilot? Two candidates line up Saturday when Oregon visits Colorado.


That the Ducks are in the mix shouldn't come as a surprise. Dana Altman's crew rolled to the Sweet 16 last year, giving eventual national champion Louisville everything it could handle before losing. Even
Dominic Artis
' nine-game suspension couldn't slow a loaded Oregon roster that could just be good enough to bump Arizona out of its predicted first-place perch.
The wild card is Colorado, a team every bit as capable of co-piloting or even driving the league.
That wasn't supposed to happen. When the Buffs joined the Pac-12, they were another realignment geography punchline, a Rocky Mountain addition to a coast-hugging conference. The move was made, as all realignment moves were and are made, for football. Basketball didn't even move the needle, let alone create an impact.
And yet here we are. Thanks to Tad Boyle and
Spencer Dinwiddie
(still top five best names in college basketball), the Buffaloes are a legit Pac-12 threat. They won the league tourney two years ago and merited an at-large NCAA berth last year.
Still, despite a home win against Kansas, a near loss to Oklahoma State, a top 25 ranking and that NCAA past history, not everyone is paying attention to Colorado.
Maybe it's their newbie status on the national scene or maybe it's the shadow cast by their more familiar league peers (Arizona, UCLA, Oregon), but the Buffs are still a little bit under the radar.
This game against Oregon could help change that. Bold predictions are dangerous, especially in Week 1 of the Pac-12 season, but a win against the Ducks could very well put Colorado, if not in the driver's seat, much more than just along for the ride.