College Basketball Nation:

011014 weekend homework
January, 10, 2014
Jan 10
11:00
AM ET
The first rule of writing about Xavier basketball is that you never overlook Xavier basketball. It's a little bit like picking a non-Kansas Big 12 team to win the Big 12: After a few years of being wrong, you eventually just stop.
Xavier has spent a decade earning its one rule. When Thad Matta left for Ohio State in 2004, Sean Miller kept winning Atlantic 10 titles and reaching Sweet 16s; when Miller left for Arizona in 2009, Chris Mack did the same. Often, the Musketeers' personnel would seem due for a step back in a "transition" year, but they just kept winning.
After Tu Holloway graduated and Mark Lyons said a not-so-fond farewell, Mack's team was gutted. He would have to rely on young, unsung players. But still: This was Xavier. I expected the Musketeers to put together a tournament season, because, one way or another, they almost always did. And then they went 17-15. My faith in Xavier was destroyed.
That frustrating 2012-13 has loomed over Xavier's 2013-14, preventing many from taking the Musketeers seriously as a (new) Big East contender. An 0-3 trip to the Battle 4 Atlantis in the Bahamas in November -- Xavier lost to Iowa (in OT), Tennessee (64-49), and USC (yikes) -- didn't do the Musketeers any favors, either. But it's not November anymore. It's January, and since the Bahamas, Xavier has won eight straight games. Counting Xavier out of its conference title race now seems as silly as it ever.
Now, not every eight-game winning streak is made equally, especially in December, when big tallies draw a solid share from guarantee games and other home cupcakes. Xavier's winning steak includes wins over Bowling Green and Evansville, sure, but also a neutral-court win over Cincinnati, a win at Alabama, convincing victories over Wake Forest, St. John's and Butler, and Thursday night's victory over Marquette.
Because the Cincinnati win came back when no one knew how good the Bearcats' defense really was (hint: it's awesome) and none of the rest of those opponents is a top-15 or top-10 team, Xavier's streak has come without much fanfare.
This weekend might finally put a stop that. Thursday night's win over Marquette came complete with a star performance from guard
Semaj Christon
, the promising but still developing star of last year's team. The sophomore version is vastly improved: Christon has raised his offensive rating from 95.9 to 110.6, while shooting better (and more frequently) from the perimeter and lowering his assist rate from 22.2 percent to just 13.7. On Thursday, Christon scored a career-high 28 points, and hit two huge late 3s, to drop Marquette.
On Saturday, Criston, junior forward
Matt Stainbrook
and the rest of a surprisingly efficient Musketeers offense will take their show to Creighton, where they'll face star forward
Doug McDermott
and Creighton's high-powered attack. A win on the road -- or even a good, entertaining game that gets people talking (hardly Chris Mack's goal, but still) -- should officially and finally end any hope Xavier had of playing good basketball under the radar for the next two months.
And so it came to pass that Xavier's one rule was restored, and peace returned to the kingdom. What a relief.
January, 10, 2014
Jan 10
10:30
AM ET
Dayton had the early buzz with a win over Gonzaga. The Flyers had a strong showing at the Maui Invitational with a shelf-life win over Cal and a one-point, "good" loss to Baylor.
But a 2-1 showing in Maui doesn't complete any team's résumé.
[+] Enlarge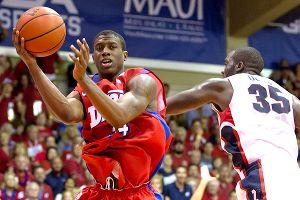 AP Photo/Eugene TannerDayton had some notable early wins, but its tournament chances rest on what the Flyers can do in the A-10.
Losing at Illinois State and at home to USC -- this particular season -- can certainly poke holes in an NCAA bid application and mute a bit of the excitement of Dayton's early-season surprise. Winning on a last-possession 3-pointer at Ole Miss got the Flyers going again last week and maybe put them back in the conversation.
Now the A-10 schedule begins Saturday against red-hot Saint Louis on ESPN2 at 11 a.m. ET.
The Billikens have won five road games and are coming off an escape at Rhode Island to start conference play.
Dayton is the only A-10 team that hasn't played a league game yet.
The door is open for the Flyers to gain some momentum atop the league with UMass, VCU, SLU and, perhaps, George Washington, even after the Colonials fell to La Salle on Thursday.
"To compete for an A-10 title, we must be in the upper half in defensive statistics," Dayton coach Archie Miller said. "Offensively, through 15 games, you could argue we have the most efficient offense in the league. ... When we defend and rebound like we have in our best versus our best competition, we can beat people. That's our whole goal daily."
If that's the case, then this could be one of the more difficult games in which to score. SLU won't be budging on defense either.
Jordair Jett
scored 31 points for the Billikens in a 59-58 win at URI. They held Vanderbilt to 49 points. The only losses for SLU were against undefeated Wisconsin in Mexico and at home against undefeated Wichita State. There's not too much to complain about with that slate.
"We have to be able to play in transition on makes and misses and flow into the half court with great movement and screening," said Miller on how to beat SLU. "You cannot stand or expect to move the ball otherwise. Getting it inside to players is essential. Must find a way to crash glass and get extra opportunities."
So much of the A-10 race could be decided by scheduling. UMass gets VCU and SLU at home but has to go to Dayton and GW. Dayton plays VCU and GW at home but twice against SLU (one at home). GW, now down 0-1, gets UMass at home, has to go to Dayton and SLU and plays VCU twice. SLU has the roughest schedule with Dayton and VCU twice, at UMass and home versus GW. The season ends for the Billikens with a brutal three-game stretch, at VCU, Dayton, at UMass.
All that means Dayton has to make its mark Saturday at home.
"Post-Maui, we struggled at times defensively, and it cost us the USC game," Miller said. "We deteriorated, and individuals kind of forgot how we got some success. Post-Christmas, we have found it again and have played really hard. It's led to two home wins and a tough road win at Ole Miss."
January, 10, 2014
Jan 10
10:00
AM ET
History shows Syracuse officially opened ACC play against Miami and Virginia Tech, as its 2-0 record and tie atop the standings attest. It has been 10 seasons since the Hurricanes and Hokies joined the ACC, but realistically the Orange didn't do much more than play an old Big East game against those two.
That changes Saturday when the Tar Heels visit the Carrier Dome.


Forget for a second that North Carolina is unranked. These are still the Tar Heels of Michael Jordan. Of legendary coach Dean Smith. Who wear the hint of elitism with their own brand of blue and their argyle patterns on their uniform.
Winners of five NCAA titles.
When the Orange, a charter member of the Big East, made the decision to abandon the old league for a new neighborhood on Tobacco Road, Carolina and Duke were the schools that generated the most buzz.
And now that moment is here for Syracuse. Even if the moment might not be as big on paper as originally envisioned. It's still North Carolina. It's still the unofficially official welcome to the ACC.
Despite their storied histories, the Heels and Orange have played only seven times and three of those were by chance in the NCAA tournament. (Carolina holds a 4-3 lead overall, but the Orange won the last meeting on Nov. 20, 2009, in Madison Square Garden.)
Syracuse has welcomed Carolina to the Carrier Dome nine times overall, but eight of those were as a NCAA tournament host site. Only once have the Tar Heels visited and actually played the Orange. Ironically, Jordan played in that game on Dec. 12, 1983, although the hype that preceded the game was billed more as a battle between New York City point guards Kenny Smith of UNC and Dwayne "Pearl" Washington of Syracuse.
It'd be a stretch to bill Saturday's meeting as a battle of Syracuse freshman point guard
Tyler Ennis
and Carolina sophomore guard
Marcus Paige
, although both will prominently figure into the outcome. But the interest around town in Syracuse isn't seeing an individual player for the Heels.
Syracuse already has crossed the 30,000 ticket threshold for the game. The only tickets still available are in those upper-deck sections that stretch well beyond having a real sight line to the court. They're the kinds of tickets attendees just purchase so they can brag they were there when Carolina came to town.
January, 10, 2014
Jan 10
9:30
AM ET
If they're going to grow up, then they have to grow up soon. Perhaps now.
Kansas has been criticized for falling short of its on-paper potential in the first half of the 2013-14 season.

But the pieces are all there. And it's not wise to make assumptions about a team with this degree of talent and potential in early January. By March, few opponents will want an early-round matchup against a squad with a blossoming 7-foot-1 center (
Joel Embiid
) and a likely top-three pick in next summer's NBA draft (
Andrew Wiggins
).
There's one problem, though. The team's pursuit of the Big 12 title -- a title that Kansas has won outright or shared for the last nine seasons -- could be jeopardized in the coming weeks. The program's next four games comprise a brutal stretch -- and also a vital opportunity since three out of four are at home.
The Jayhawks will face nationally ranked foes Kansas State (Saturday), Iowa State (Monday) Oklahoma State (Jan. 18) and Baylor (Jan. 20).
Kansas hasn't beaten a top-25 squad since its Nov. 12 win over Duke in Chicago.
Since then, the Jayhawks have been dissected and scrutinized as the team hasn't met the hype with inconsistent guard play, Wiggins' imbalanced assertiveness, Embiid's foul trouble and turnover problems (232
nd
in offensive turnover rate per Ken Pomeroy).
Against KU's schedule, many teams would be thrilled to post a 10-4 record. But the expectations are always extremely high for the Jayhawks. The addition of the top recruit in the country solidified them.
But they haven't met them. They still have time to change that, though.
These next four games will offer Kansas a chance to show all -- supporters and doubters -- that it's not only a Big 12 contender but also an assembly that could wreak havoc come March.
These four games could crush the dream, too. Coach Bill Self has only lost a handful of games at Allen Fieldhouse. Iowa State is KU's only road game during this four-game skid.
Yet, the Jayhawks seem as vulnerable as they've been in recent years. And they're facing four of the best teams in America.
By the end of this lineup, we'll find out if Kansas is truly in that group, too.
January, 10, 2014
Jan 10
9:00
AM ET
Here's hoping someone fits Fran McCaffery with a straitjacket on Sunday afternoon.


The
Iowa Hawkeyes
might need it.
Fresh off his
one-game suspension
following a wild outburst during Iowa's game against
Wisconsin
, McCaffery returns to the sideline for the Hawkeyes' game against
Ohio State
.
The Buckeyes are the sort of team that could make the Pope blow a gasket. Tough as nails on defense and spurred on by the pesky gnat that is
Aaron Craft
, Ohio State lives to confound, to frustrate and in the eyes of opponents, no doubt, to foul.
So this should be fun.
There is more, however, than just the potential for sideline entertainment to make this game a good one.
Under McCaffery, Iowa has painstakingly rebuilt itself into a Big Ten contender. The Hawkeyes have a terrific up-tempo offense that likes to score in transition and plenty of players who can hurt an opponent.
But the old cliché has a point -- to be the best, you have to beat the best. In their corner-turning season a year ago, the Hawkeyes went 9-9 in the league, but seven of those losses came against the conference's heavy hitters -- Michigan, Michigan State (twice), Indiana (twice), Ohio State and Wisconsin.
Iowa, even better than it was last season, has a good record but no eye-catching wins. It looked good for a while at the Kohl Center but then the Badgers stormed back, McCaffery lost his mind and Wisconsin moved along for the win.
Of course, the same could be said for Ohio State -- and has been frequently. The constant refrain from the Buckeyes' critics is that they haven't beaten anyone. It has some merit. Aside from Marquette, which was ranked when the Buckeyes went there but hasn't been close since, Ohio State has played one Top 25 team: Michigan State.
The Spartans knocked the Buckeyes from the list of unbeatens earlier this week. The glass half-full posse will say that Ohio State's comeback to force overtime showed just how good it is; the angry mob will point out that OSU still didn't win.
Now along comes Iowa, a team that will try to force tempo, outscore and exhaust coach Thad Matta's typically thin bench while Ohio State counters with crippling defense.
Should be fun.
Well, maybe not for Fran McCaffery.