College Basketball Nation:

020114-freshman-focus
February, 2, 2014
Feb 2
3:05
AM ET
BERKELEY, Calif. -- Somewhere in that sea of yellow, he was stuck.
Justin Cobbs
couldn't breathe. The curse of victory for a young man who wasn't wild about being swallowed by a crowd after
Cal's 60-58 upset win over No. 1 Arizona
on Saturday.
But that's what happens when the undefeated No. 1 squad in the country falls for the first time on the opponent's home floor. That's what happens when a three-game losing streak is ended that way. And that's what happens when a senior point guard hits a game winner with 0.9 seconds to go, a development so stunning that Bears fans rushed the court early.
Fearing a technical foul that might ruin the moment, team and school officials eventually cleared the floor after Cobbs hit a jump shot from the left corner over 7-footer
Kaleb Tarczewski
.
"I just stepped back and was able to shoot a shot I could make," said Cobbs, who finished with 19 points and seven assists. "Step back and shot it with confidence and it went in."
Haas Pavilion, which hosted Cal's first win over a No. 1 team at the on-campus facility, exploded. Saturday night's festivities had already started on the hardwood.
There were the fraternity brothers dishing out hugs whether they were wanted or not. There were the cheerleaders maintaining their perfect kicks and pom-pom pumps in the midst of the frenzy. There were the young men fixing their hair and posing for selfies. There were the young women nearby who thought they were fools.
[+] Enlarge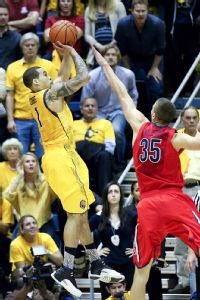 Kelley L Cox/USA TODAY SportsCal's Justin Cobbs takes the shot that knocked off No. 1 Arizona.
There was the elderly fan who told Cobbs, "We'll never forget this."
There was the 20-something fan who speechless, yet screaming to a friend she'd put on speakerphone. "Like … I don't even know what to say!"
Cobbs survived the madness. But it had reached his phone by the time he'd returned to the locker room. There were 135 text messages awaiting him just 30 minutes after the win. "I got 89 [Twitter] mentions," he said.
Cobbs was smiling.
Four years ago, he couldn't find many reasons to smile.
The Los Angeles native left the West Coast to begin his collegiate career at Minnesota during the 2009-10 season. But he didn't thrive in former Gophers coach Tubby Smith's system. And he missed home.
It was bigger than that, though. He wasn't even sure he still wanted to play.
At Cal, however, Cobbs got his groove back following a transfer in 2010. He's been one of the top guards in the Pac-12 throughout his career. And he's a leader who is respected by his teammates and coaches.
In the final seconds Saturday, Cobbs dribbled up the floor. Mike Montgomery had decided to let his team play for the win instead of calling a timeout and attempting to set up something.
[+] Enlarge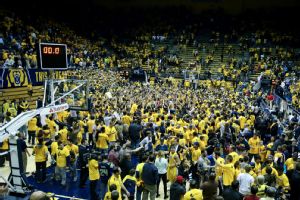 Kelley L Cox/USA TODAY SportsCal fans storm the court after the Bears pulled off the upset.
Cobbs had run pick-and-pop plays with
David Kravish
(14 points, 11 rebounds, 4 assists, 4 blocks) all night.
Arizona had lost
Brandon Ashley
early in the game to a foot injury that could end his season. There was a noticeable difference in the Wildcats' interior defense without him.
Cal exploited that.
"Anytime you lose a starter to an injury during a game, it takes a lot of resolve on your group and team to fight," Arizona coach Sean Miller said.
By the time Cobbs had a shot at the game winner, Arizona had already been conditioned to monitor Kravish in space because he'd hit so many jump shots. That potential threat, one that Cal had built up throughout the evening, possibly made Tarczewski react too slowly when
Richard Solomon
came up to set the screen and give Cobbs some extra time to take the shot.
The Bears entered Saturday's game on a three-game losing streak. Cobbs had a similar late-game opportunity during an overtime loss to Arizona State on Wednesday. But he missed.
Cobbs' teammates, however, never doubted him. So as he dribbled up the floor against the No. 1 team in the country, they expected him to make it.
"I already knew," said Solomon, who had 12 points, seven rebounds, two assists, two blocks and three steals. "The whole team has faith in Justin to knock that shot down. … I'm proud of him. I'm happy for him. We gonna celebrate tonight."
It was just one basket. It doesn't change everything for Cal.
It does, however, validate so much for Cobbs.
The decision to return home. The toughness to stick with the game even when he was unsure about his future. The courage to take another possible game winner even though the last one didn't fall.
"[That shot] does a lot of things, because after my freshman year I was questioning a lot of things," Cobbs said. "Whether this sport was for me, whether I was good enough to play at this level. I'm just blessed. I'm blessed to have this opportunity to come to another program and have another opportunity where I can get on the floor and show what I can do. It's tremendous for me. I'm just going to embrace it and keep getting better."
February, 1, 2014
Feb 1
11:55
PM ET
SYRACUSE, N.Y. -- Jim Boeheim was here when John Thompson Jr. closed Manley Field House and here when the doors to the Carrier Dome first opened.
He is the building's unofficial historian, curator even, the guy who knows not every inch of the place but literally what the walls would say if they could talk.
No one else has logged more hours in the building, a daily grind of 34 years and counting.
You could say Boeheim has seen a thing or two in the Dome. He did, after all, coach Pearl Washington here, Derrick Coleman, too, and
Carmelo Anthony
. This is where he said goodbye to Gerry McNamara's college career and the Georgetown rivalry.
And yet, when the buzzer sounded on a game that Mike Krzyzewski, another guy who has seen a thing or two, called "epic," even Boeheim was out of words.
"I don't think I've been involved in a better game in here that I can remember,'' Boeheim said.
Syracuse beat Duke 91-89
in overtime. That's the short story. The long version is almost too hard to explain, played as much on guts as talent, with as much intensity as heart. It went an extra five minutes. It still didn't seem like enough. It was that good.
Rasheed Sulaimon
hit a buzzer-beating 3 to force overtime.
Rodney Hood
missed a one-handed, would-be game-winning dunk that would have been so monstrous had it gone down instead of off the back of the rim, it would rank as a top 10 for the season.
C.J. Fair
scored 28 on every sort of floater and muscle drive you could conjure. A record 35,446 Orange juiced fans filled the Dome, cheering so loudly that even
Seattle Seahawks
fans had to be impressed.
That's a season's worth of highlights in one game.
"How many people can say they were a part of a game like this?" Krzyzewski said.
[+] Enlarge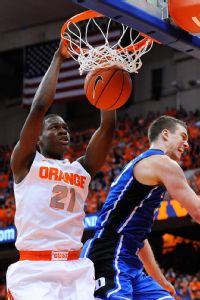 Rich Barnes/Getty ImagesTyler Roberson of Syracuse dunks past Marshall Plumlee of Duke.
Krzyzewski was so overwhelmed with how the game was played that he refused to talk about how it might have been called. With the shot clock winding down and the game clock not far behind, Hood crossed over and soared to the rim, an aisle suddenly opening wide. The dunk missed at the same time Hood was met at the rim by
Rakeem Christmas
, who blocked Hood's shot for his sixth rejection of the game.
Krzyzewski wanted a foul. He didn't get one.
"The game was too good to talk about one play," Krzyzewski said. "I'm not going there at all."
In the immediate scheme of things, the result matters. Duke is in danger of finishing out of the top three in the ACC, and, should North Carolina join the Blue Devils in the fourth-or-worse category, it will mark the first time in league history that neither finished in at least the bronze-medal category.
The Orange, meantime, remain in the hunt for perfection, with a school-record 21-0 mark. Syracuse has the clear path to becoming the ultimate party crasher and could win its first ACC crown in its first try.
But this was bigger than all of that, really.
Mark down the date -- Feb. 1, 2014: College basketball finally won one in the conference-realignment shuffle.
"Great rivalries don't have to be built on hatred," Krzyzewski said. "They're built on respect, on a respect for excellence."
Krzyzewski knew it could be this way. Well, maybe not this good exactly, but good. That's why the only basketball coach who could make anyone listen spoke up. Tired of watching football people rearrange his sport, he essentially led the ACC to its come-to-Naismith moment.
Adding Pittsburgh, Syracuse, Notre Dame -- and Louisville next season -- surely bolsters the football rosters, but it gives credence to a league that billed itself as basketball first but usually played second fiddle to the Big East.
The truth is, this wasn't -- and never would be -- Boeheim's first choice. Given his druthers, the Syracuse coach would still be taking road trips to Washington and Philadelphia, not Winston-Salem, N.C., and Raleigh, N.C.
Everything would be the same as it always was, as good as it always was.
Both he and his program built their reputations on the backbone of the Big East, and if he didn't go to the ACC kicking and screaming, he at least went reluctantly, recognizing the business of the decision, even if he questioned its soul. It was hard to watch the Big East die, harder still to know his school helped pull the plug.
[+] Enlarge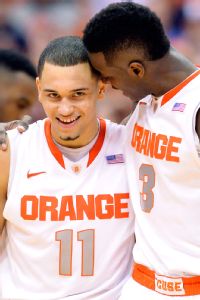 Mark Konezny/USA TODAY SportsTyler Ennis, No. 11, celebrates Saturday's victory with teammate Jerami Grant.
But Boeheim has also been around this business long enough to be a realist. Nothing lasts -- not conferences or rivalries, but, usually, something comes along to replace them.
There is no more Missouri-Kansas, no more Georgetown-Syracuse. But now, we have Syracuse-Duke.
If this is how it's going to be, well, feel free to bring on more.
"I feel like this rivalry has been going on for 30 years and it's only the first one," Fair said.
It probably felt like that because the buildup was weeks in the making. Students started camping out 12 days ago in Boeheimburg, which, thanks to occasional sub-zero temperatures, is a touch less trying than hanging out in Krzyzewskiville in Durham, N.C.
Town buses streamed "Beat Duke" across their fronts, and another sign, "Go SU, beat Duke," served as the departing shot for travelers exiting the airport.
Syracuse even pulled out its trump card, getting Vanessa Williams, Class of '85, to sing the national anthem.
Not even the last game against Georgetown, for all its history and nostalgia, could match the first game against Duke.
"If you paid $2,400 for a courtside seat, it was money well spent," Boeheim said. "And if you sold your tickets, well, you should be ashamed because you made money but you missed out on an epic."
And now for the kicker.
We get to do this all over again.
On Feb. 22, Syracuse travels to Duke, which will be a slightly more intimate, no less frenzied atmosphere.
"It's going to be a ridiculous game,"
Tyler Ennis
said. "They fought us for 40 minutes plus, so we've got to be ready to come into their home."
Asked if it could match this one, Ennis paused and smiled.
"I'm not sure about that," he said.
Neither is Jim Boeheim.
February, 1, 2014
Feb 1
10:30
PM ET
AUSTIN, Texas -- Midway through the first half came a play that defined not just
Texas
'
81-69 victory
over
Kansas
, but the Longhorns' season.
Texas guard
Isaiah Taylor
continued his dribble and crashed into Kansas center
Joel Embiid
after a reaching foul had already been called. Embiid tried to snatch the ball away, and, as Taylor jerked it away, it sailed out of bounds.
The brief physical exchange left the 6-foot-1 Taylor standing toe-to-toe and jawing in the face of the Jayhawks' 7-footer.
Taylor made it clear he wasn't backing down.
Neither was Texas.
Following Taylor's lead, Texas brought the fight to Kansas.
The Longhorns don't have a roster full of projected NBA first-round picks, but they have toughness. And it will carry them to more marquee wins like Saturday's.
"I felt like Texas was the hungrier team today," Kansas coach Bill Self said.
[+] Enlarge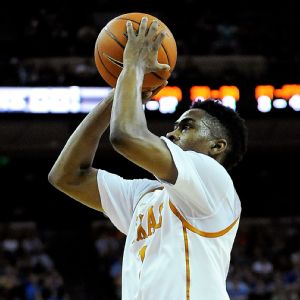 Stacy Revere/Getty ImagesIsaiah Taylor set a tough tone for Texas in its home victory over Kansas.
Starting with Taylor. His energy seemed to ignite the Longhorns, and his quickness confounded Kansas defenders. Taylor had one of his best performances of the season with a game-high 23 points.
"They say that the offensive tempo and defensive tempo ends and starts with me," Taylor said. "Just knowing that they encourage me to do that, it helps my team and it helps my confidence."
While Self said the Longhorns were hungrier Saturday, guard Demarcus Holland said they've been that way for a while now.
They know how fast things can turn. Texas started Big 12 play with consecutive losses to Oklahoma and Oklahoma State and flirted with a third loss at Texas Tech before squeezing out a victory. Now that the Horns have won four in a row over ranked teams and, at 6-2, sit one game behind Kansas for first place, Holland said there was no room for complacency.
"We don't think we're better than what we are," Holland said. "We know who we are as a team; we know what we have to get better at. We're not going to let it get to our heads or anything like that."
Texas coach Rick Barnes won't let it, or more three-hour practices will be in the forecast.
With a week off between games, Barnes allowed the team to have Sunday and Monday off after their victory over Baylor last Saturday. Barnes noted that the team hasn't "responded well to two days off."
Right on cue, the players returned to the court Tuesday and were flat and listless. Instead of allowing them to stay that way, Barnes kept the team practicing until two hours became three. At a time of the season when he normally tapers off hard practices, it sent a message.
"I didn't feel like we were getting done what we needed to get done," Barnes said. "You're always tweaking and adding some things, but it was more just the mental side of it."
The Longhorns responded to Barnes' prompting. Thursday's practice was back at the level Barnes expected, and it carried over into their game against the Jayhawks.
Texas held the Jayhawks to 38.5 percent shooting from the floor, which was second only to 29.8 percent in a loss to San Diego State as Kansas' worst percentage of the season. The Longhorns frustrated
Andrew Wiggins
, who was coming off a career-best 29 points against Iowa State. The freshman star missed his first nine shots from the floor and finished with seven points on 2-of-12 shooting.
"That was definitely the toughest team we've played, probably even some of our [nonconference] games we had," Kansas guard
Naadir Tharpe
said.
Texas' toughness comes from getting contributions from seemingly whoever is in the lineup.
Jonathan Holmes
added to Taylor's scoring outburst with 22 points of his own. Holland tied a career-high with 11 rebounds and
Cameron Ridley
added 10. Ridley and
Prince Ibeh
also had four blocks each as the Longhorns' 12 blocks tied a season high.
"We're not just counting on one guy," Barnes said. "We've had different guys at different times do different things to help us win, and that's what has been the beauty of this group."
Depends on who is doing the viewing. Holland said the beauty was in knowing there is more to come.
"The best thing about it is we know we haven't peaked yet," Holland said. "We still have a lot of room to get better, and we're looking forward to it."
February, 1, 2014
Feb 1
7:39
PM ET
COLUMBIA, Mo. -- On Tuesday night, after Kentucky's loss at LSU, sophomore forward
Alex Poythress
assembled the Wildcats in his Baton Rouge hotel room. On the agenda was the most tried and true of sports traditions, something struggling teams attempt so often it's a cliché: a players-only meeting.
No one shouted. No one argued. "It wasn't heated," freshman center
Dakari Johnson
-- who, in one much-discussed example, was left lying on the floor by his teammates after a hustle play Tuesday night --
told reporters this week
. Instead, one by one, the Wildcats just talked. They shared their opinions. They apologized to each other for not playing hard. They resolved to do better next time.
It was the kind of thing a coach might love to hear about his players. John Calipari's response?
[+] Enlarge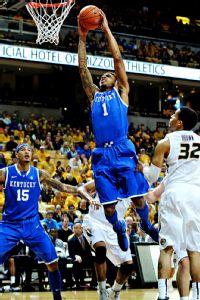 Dak Dillon/USA TODAY SportsJames Young (1) shot well from 3-point range and had 20 points in Kentucky's win over Mizzou.
"Don't care," he said Friday. "Let's play."
On Saturday, the Wildcats
played
. UK recorded its most impressive performance of the season -- an
84-79 win
at Missouri that was one part offensive blitzkrieg and one part endurance run. The last time Calipari's team looked this good, and this cohesive, came more than a month ago in their home win over Louisville. They've never played this well on the road.
So, hey: That team meeting worked, right?
"Yeah, it helped us, I guess," Calipari said.
The Kentucky coach delivered that, his shortest answer of Saturday afternoon's postgame news conference, with a smirk and a shake of the head and a layer of sarcasm as dense as the ice that blanketed Columbia, Mo., all weekend. It was the verbal eye-roll a frustrated father gives a son's sudden, late-teenage epiphany that maybe girls would be more interested in someone who doesn't spend so much time in the basement playing "Battlefield 4."
Gee, kid, you think?
That, in short, is the dynamic Calipari has been dealing with all season. For as much time as he's spent coaching his team on matters of actual basketball -- on the spacing and ball movement and fluidity they so thrillingly displayed in Saturday's 84-points-in-67-possessions outburst -- he has spent even more time straining to explain to his young group the mental basics most elite college basketball teams take for granted.
Such as why it's important to play hard on very possession. Or why your emotions should hinge on the team's performance and not your own. Why you point to your teammate when he gets you a bucket. Why you pick your teammates up off the floor. Why you have to
care
.
"I told them, 'If I have to coach like I was 35 years old again, I will,'" Calipari said. "I was very much more aggressive, hands-on. Do you know what I mean by hands-on? Like grabbing, hands-on. ... I told them, 'My teams play with fire. They play with emotion. They play with enthusiasm. And you will, or I won't play you.' And that's all I told them."
Calipari also set up new rules for practice: If a player did something right -- a good pass, or a good screen or a good defensive rotation -- and no one paid him a compliment, the coach stopped practice until praise was delivered.
It paid obvious dividends Saturday, at least on the offensive end.
Aaron
and
Andrew Harrison
were engaged, aggressive and efficient.
James Young
worked hard off screens to find open shots and made 4-of-7 from 3.
Julius Randle
got him two of those shots with good spacing and pinpoint kick-outs and closed the game with a key series of rim attacks down the stretch.
They were far from perfect, especially defensively. Missouri guards
Jordan Clarkson
and
Jabari Brown
got 55 of their combined 61 points on a relentless series of right-handed drives to the rim, drives Kentucky didn't adjust to until the closing moments. And the Wildcats' transition defense, even on made baskets, was often nonexistent. But they managed to withstand the Tigers' second-half frenzy, and escape with a big road win, all the same.
Just as telling, perhaps: When Kentucky reserve
Dominique Hawkins
fell to the floor Saturday, Alex Poythress and Andrew Harrison sprinted to his side.
"The stuff that anyone's saying about this team and these players, they can change it," Calipari said. "It's not like, 'Well, you can't play.' It's that you don't compete, you don't play with enthusiasm, you don't sprint, you're into your own self. Well, you can change all that."
Calipari might roll his eyes at his earnest, serious teenagers -- those kids and their team meetings, huh? But one way or another, the Wildcats seem to be getting the message, and making those changes, bit by frustrating bit.
"We weren't trying to impress anybody," Randle said. "It was just something that we needed to do."