College Basketball Nation:

022114 weekend homework
February, 21, 2014
Feb 21
11:00
AM ET
Now that we're deep into Bubble Watch season, and awash in résumé data, we're beginning to discern some order from the chaotic mess that is a full college basketball season. And call me crazy ... but maybe the RPI isn't terrible?
That statement is hedged with a question mark because this is a gut feeling, and not a clear-eyed, data-driven survey; I'll get to that soon enough, I suppose. But in two weeks of deep Bubble Watch dives to date, I haven't noticed many obvious gaps between what the strange and outdated Ratings Percentage Index says teams are and what those team's actual
reality-based
performance tells us.
[+] Enlarge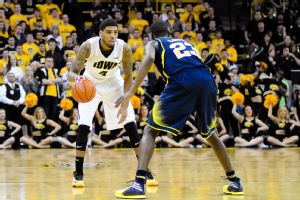 Steven Branscombe/USA TODAY SportsRoy Devyn Marble and the Hawkeyes might not reach the seeding they deserve in the NCAA tournament.
Usually, the gaps are many. Usually, we respond with snark. Oh, the snark we respond with. But this season, it feels as though there are fewer of these holes than in years past. The RPI is a portrait of self-imposed, signal-noise limitations, but maybe, just maybe, the tweaks the NCAA has made to their formula are genuine improvements. Or maybe things have worked out nicely? Or maybe I'm just crazy. (That last one doesn't need a question mark.)
Unfortunately, "fewer" doesn't mean "none." This is where Iowa comes in.
According to Ken Pomeroy's adjusted efficiency metrics, the
Iowa Hawkeyes
are one of the 10 best teams in the country. They've employed the nation's fourth-most efficient offense to date and its 30th-best defense. In Big Ten play, the Hawkeyes are averaging 1.13 points per possession and allowing 1.0. This aligns fairly nicely with what your eyes will tell you when you watch Iowa play. The Hawkeyes are not a flawless team by any stretch of the imagination -- they can go whole stretches where their up-and-down style causes them to forfeit their defensive core, for example -- but they are a very good one. Top 10? Maybe. Top 15? Almost certainly.
The problem, of course, is that the metrics the men's basketball committee uses to select and seed its marquee competition see things differently. The Hawkeyes rank 30th in the RPI. Most bracket projections,
including our own Joe Lunardi's
, slot Iowa as a No. 5 seed. That's not terrible, of course, but it feels a little low, given how good Iowa has been for most of this season and how many of its losses have come in tight games against top competition. The RPI agrees on that front -- Iowa's lowest-ranking RPI loss was the Jan. 28 home defeat to No. 19 Michigan State -- because, again, there are fewer gaps. But because the Hawkeyes played a couple too many uber-low RPI squads in the nonconference (No. 348 Maryland-Eastern Shore, No. 340 Abilene Christian, yikes), and because the RPI totally ignores margin of victory, the facts of Iowa's actual performance risk getting lost in the mix. Overtime in the Bahamas to Villanova. By three points on the road at Iowa State. By two at home to the Spartans, thanks to
Russell Byrd
. By four at Wisconsin after Fran McCaffery was ejected. These are four of Iowa's six losses, and sure, some of this is self-imposed. But some of it is luck.
This is why Saturday's return game against Wisconsin in Iowa City is so very important. McCaffery's team is at no real risk of missing out on the tournament at this point. But a loss, close or not, would solidify its seed ceiling, and make its last four regular-season games -- at Minnesota, versus Purdue, at Michigan State, versus Illinois -- as much a matter of seed maintenance as anything else.
No one wants to be a No. 5 seed. Iowa's close losses and the RPI's quirks have put them there, in spite of the thousands of possessions that tell us they deserve higher. Can the Hawkeyes close the gap?
February, 21, 2014
Feb 21
10:30
AM ET
Colorado has had to prove it was NCAA tournament worthy since the moment
Spencer Dinwiddie
went down with a season-ending knee injury Jan. 12.
The Buffaloes are 6-5 since, including the Washington game in which Dinwiddie went down in the second half.
The best win of the season for Colorado was against Kansas. That came with Dinwiddie on Dec. 7.


If Colorado is to bookend its season with another big win, then beating Arizona at home Saturday would be the perfect result. It could also convince the NCAA tournament selection committee that the team it is evaluating is more than capable of performing well in mid-March.
"In order to quiet naysayers, this is a must win," Colorado coach Tad Boyle said.
The Buffaloes get "College GameDay" in the house and Boulder should be rocking for what has the potential to be a rivalry in the Pac-12. Colorado and Arizona played tight games a year ago and while the first game wasn't as close in Tucson, there is no love lost between the two teams.
"The arena will be electric," Boyle said. "This is a budding rivalry."
The Buffs beat Arizona State on Wednesday night to build momentum heading into the weekend. They moved into third place in the Pac-12 behind UCLA at 9-5 and 20-7 overall. But the importance of this game cannot be understated. Colorado ends the season with three-straight road games against Utah, Stanford and Cal. That's incredibly dicey for Colorado. Whiff on beating Arizona, and an NCAA bid, regardless of where the Buffs finish in the Pac-12, could suddenly be called into question if the road ahead is littered with losses.
Arizona is coming off an overtime win at Utah and needs to keep UCLA off its tail. The Bruins beat Cal in Berkeley and head to Stanford this weekend.
So how does Colorado pull off what arguably could be the most anticipated Pac-12 game since it joined the league?
"We've got to take them out of transition," Boyle said. "We've got to limit them to one shot. They are a great offensive rebounding team. We've got to get the pace fast. Their depth can be an issue and the altitude is on our side."
Arizona has had to reinvent itself a bit sans Brandon Ashley. The Wildcats have the guard play to hang with any team in the country and the trio of
Aaron Gordon
,
Kaleb Tarczewski
and
Rondae Hollis-Jefferson
can board and run with any frontcourt.
Nick Johnson
and
T.J. McConnell
are a tough matchup for any perimeter. That puts even more pressure on
Askia Booker
outside and
Josh Scott
inside. But Colorado has had balance without Dinwiddie in key games. If the Buffs are to get this much-needed win then it will take a total team effort.
Boulder is buzzing for this game like it never has for a college basketball affair in February. The anticipation should equal the event.
February, 21, 2014
Feb 21
10:00
AM ET
Texas roughed up Kansas in their first meeting three weeks ago. If the Jayhawks can return the favor Saturday, they'll take one big step closer to clinching their 10th straight Big 12 title.


The Longhorns lost ground on Kansas when they fell at Iowa State on Tuesday. They trail Kansas by two games in the standings, so a loss would mean a three-game deficit with just four games to go.
It would be a fitting payback if the Jayhawks stomp out Texas' hope for a share of the league title. The Longhorns handed Kansas its worst defeat of the season, 81-69, when the teams met in Austin. More than just the score, the Horns were physically tougher.
Kansas needed a last-second layup from
Andrew Wiggins
to escape Lubbock, Texas, earlier this week with a win over Texas Tech. Wiggins will now be looking for redemption against the Longhorns.
He had one of his worst games shooting in the first meeting, going just 2-of-12 before fouling out with seven points. Texas guard
Demarcus Holland
successfully kept the freshman forward from scoring in transition and getting in the lane. In the five games since that loss, Wiggins has gotten back to business, averaging 17 points per game.
Texas made Kansas center
Joel Embiid
look soft in their first meeting. Sophomores
Cameron Ridley
and
Prince Ibeh
combined to get the best of their matchup, totaling eight blocks. Embiid was sharp in his return to action against Tech after sitting out the TCU game with nagging back and knee injuries. Embiid made 6 of 7 shot attempts en route to 18 points and 8 rebounds.
To have a shot at winning in Allen Fieldhouse for the first time since Jan. 22, 2011, Texas will have to find a way to get better shots from its backcourt than it did in its 85-76 loss to Iowa State.
Freshman guard
Isaiah Taylor
neared triple-double territory against Iowa State with 26 points, 8 assists and 7 rebounds, but he shot just 8-of-20 from the floor. Sophomore guard
Javan Felix
was 6-of-22. It made for a tough game offensively for Texas.
The Longhorns' defense will be the barometer against Kansas. It should be fairly easy to detect which way the game is headed based on the points being scored. The Longhorns have held Big 12 opponents to an average of 66.1 points during their nine conference wins. During their four league losses, they've given up an average of 83.5 points.
February, 21, 2014
Feb 21
9:30
AM ET
The first time Louisville and Cincinnati met this season, the Bearcats were the victors. Barely.
That 69-66 win for Cincy on Jan. 30 is the only home loss on Louisville's résumé since Jan. 12. The Cards have won nine of their past 10, with Cincinnati as its lone blemish during this stretch.


It was an interesting matchup. Louisville outscored Cincinnati 46-41 in the second half and forced 20 turnovers. But
Sean Kilpatrick
's 28-point effort was too much for the Cardinals to overcome.
Even though that game was just three weeks ago, this next matchup might involve new factors that weren't as prominent in the first meeting.
Both Cincy and Louisville are receiving contributions from young players on their rosters.
Russ Smith
versus Kilpatrick might have been the headline last month, but this game is not about two players. It's about two teams competing for the American Athletic Conference crown and prepping for March while gaining traction as their freshmen and sophomores continue to mature and produce down the stretch.
Those youngsters could be the deciding factors in a matchup between two teams in the top 10 of Ken Pomeroy's adjusted defensive efficiency ratings.
Freshman
Terry Rozier
took seven shots in the first matchup against Cincinnati. But he's 11-for-24 with 29 points, seven rebounds, four assists, five steals and two turnovers in Louisville's past two games.
Mangok Mathiang
has gone through growing pains in his first few seasons, but the big man looks more comfortable now with the idea of hoisting up the occasional forever-unblockable hook shot inside. And other than a 47 percent clip from the charity stripe,
Montrezl Harrell
's numbers (12.7 ppg, 8.1 rpg, 1.3 bpg) are impressive. That trio could give Louisville an edge against the Bearcats.
But Cincinnati coach Mick Cronin hopes a few of his underclassmen will help on Saturday and beyond, too.
Shaquille Thomas
(7.1 ppg), a 6-foot-7 forward, comes and goes. But in the team's past two games, the sophomore has scored 19 points and connected on 50 percent of his shots. There's always a chance that he'll have a big day. He's talented enough to make a difference. Freshman
Troy Caupain
has had five double-digit scoring efforts this season. And he's a solid shooter from outside. Will he make noise in this high-profile matchup?
Justin Jackson
,
Luke Hancock
, Smith and Kilpatrick will be the players who will carry a chunk of the weight for their respective squads.
But this one could be close again. And it could come down to a handful of plays, plays that some newer faces might have to make in this crucial AAC matchup.
February, 21, 2014
Feb 21
9:00
AM ET
Beware the ides of March?
More like the wrath of Punxsutawney Phil where the Big Ten is concerned.
The usually more conservative and staid conference, the Big Ten has gone downright wild and wacky in the month of February.


Think Jim Delany-in-a-Hawaiian-shirt-and-sockless-Birkenstocks wacky.
It has been consistent at one thing: inconsistency. So wildly unpredictable and upside down that Nebraska -- yes, Nebraska -- currently has the second-longest winning streak in the conference.
The worst place to be? Maybe in first. Wisconsin streaked to a 3-0 start and promptly lost three in a row; Ohio State looked unstoppable for a while, until it looked woefully stoppable, losing four in a row.
Michigan State and Michigan, the two rivals who meet on Sunday (noon ET on CBS), own the hot-potato lead, but no teams have better personified the Big Ten's wild ways.
From the end of December to the end of January, Michigan won 10 games in a row, the Spartans took 11 straight.
Ever since, they've been in a swap meet. The Wolverines have traded a win and a loss for seven consecutive games now, the Spartans on the exchange program for nine.
The two teams' ups and downs have taken some of the wind out of the game's sails nationally, but locally, it's a different story. The hot ticket is reportedly fetching more cash than the Michigan-Ohio State football game, a statement that typically would stand somewhere between impossible hyperbole and blasphemy.
But the $269-a-ticket asking price is a testimony to where the two programs are in the bigger picture. It's no longer about Michigan closing the gap; the gap is pretty much shut now thanks to John Beilein. Coming off the NCAA championship game, Beilein somehow has refashioned his team sans
Trey Burke
and
Tim Hardaway Jr.
, even adjusting on the fly after an injury to
Mitch McGary
.
Izzo has been every bit as masterful in keeping his team afloat through a rash of injuries that would make an ER doctor grimace. The Spartans have some head-scratching losses -- to Georgetown and the aforementioned Cornhuskers -- but there is still an overriding sense that when and if Michigan State is healthy, it will be a March force to be reckoned with.
Ah, March.
Pardon the Big Ten if it looks longingly at the end of next week, when the new month dawns.
Whether it comes in like a lion or a lamb, it can't be any wild(er) of a kingdom wacky than February.