College Basketball Nation:

022710 Wildcats-Orange
February, 27, 2010
2/27/10
11:11
PM ET
SYRACUSE -- Here's hoping the bartenders downtown are at the ready because they're about to get inundated with some very happy people.
And with good reason. Syracuse's domination of Villanova not only put the Orange in position to secure the Big East regular-season title but it showcased exactly how Syracuse is going to be an awfully tough out here in the next couple of weeks.
A few observations:
-- Pick your poison, name your player. The Orange can score inside, outside, with their starters and off the bench. Against Villanova, Syracuse took turns figuring out ways to dominate:
Scoop Jardine
and
Kris Joseph
with the punch to start the game;
Andy Rautins
raining threes early in the second half and then
Arinze Onuaku
taking it inside late. It's why the Orange will be so hard to beat come March. They can mold their offensive game to beat whatever sort of team they face.
-- Villanova is going to need to fix a few problems as it goes forward. For starters, the Wildcats can't rely on
Scottie Reynolds
all the time. The senior can put the Cats on his back and has, but the rest of his team can't passively wait for him to do it. Villanova also has to find a way to get inside. The Cats just don't have enough reliable shooters to expect to beat people from the outside. Villanova also has to shore up its defense. This Cat team is never going to be great defensively but they have to find a way to get a little better in a hurry.
-- 34,616 people in a dome, smushed around a basketball court can be really loud. The expected record crowd didn't disappoint in intensity, noise and Orange-ness. My ears will be ringing until April.
February, 27, 2010
2/27/10
10:11
PM ET
SYRACUSE -- A few thoughts as the deafening noise takes a little time off here in Orange County.
--
Scoop Jardine
and
Kris Joseph
ought to split any sixth man of the year award given out this year. The two, who have been sensational the entire season, have injected energy and aggressiveness to the Orange. Jardine has pushed the tempo and has 12 points. Joseph has attacked the rim and has added nine plus seven boards.
-- Red-hot from the arc to start the game, Villanova has become too reliant on its 3-point shot. The Wildcats, who opened 4-of-5, finished 5 of 18. That's way too many 3s. They need to get back to penetrating the zone as
Corey Fisher
did to start the game and they also need to push the ball again. Villanova doesn't really run much of a half-court offense and struggles when forced into one. The Cats managed just two field goals in the final 11:31, surrendering a 9-point lead.
-- Syracuse can't afford to get complacent here to start the second half. Villanova almost assuredly is going to mount some sort of charge and the Orange -- which has been known to let a lead or two slide -- needs to be ready for it. The Orange also would do well to get its two best players involved. Wes Johnson, maybe still bothered by his hand, hasn't been a dominant presence at all and
Andy Rautins
, swarmed the entire half, hasn't been able to contribute either. The two have taken four shots apiece and have a quiet eight points.
February, 27, 2010
2/27/10
8:37
PM ET
By
David Albright
| ESPN.com
SYRACUSE, N.Y. -- This gives new meaning to The View. Binoculars not included. But definitely required.
Section 332. Row V. Seat 1.
Also known as fan 34,616 on this snowy night in Central New York.
[+] Enlarge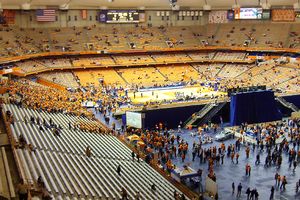 David Albright for ESPN.com The view isn't great, but filling these seats normally reserved for football is expected to generate the largest on-campus crowd to see an NCAA basketball game when Syracuse and Villanova tip off.
To give you some perspective, that lucky seat is located well beyond the end zone in the southeast corner of the Carrier Dome. And the left baseline in front of the visitor's bench at the northwest and opposite end of the Dome is located about 5 yards into the west end zone and about 10 yards from what would be the north sideline. So what is that, about 150 yards apart? See what I meant about binoculars and what I should have said about setting the DVR so you could actually watch the game when you return to the comfort of home.
One hour before tipoff of No. 8 Villanova vs. No. 4 Syracuse, curiosity reigned supreme and fans and media ventured to the very top of the Dome to see what all of the hype was about. And in row 22 against a concrete wall they found it. No one was actually sitting in this section that had never been sold for a basketball game, but it should be full of fans by the time the game starts.
And once the sellout crowd is officially announced it will represent the largest on-campus crowd in NCAA basketball history. It will surpass the previous mark of 33,633 that was set in this same building against this same opponent back on March 5, 2006 -- in the last regular-season appearance by Gerry McNamara at the Dome. Nova won that game 92-82.
Syracuse is 4-1 in games at the Dome with crowds of more than 33,000, and 45-22 in games played here that had attendance top the 30,000 mark -- including 0-1 this season after a 66-60 loss to Louisville back on Feb. 14.
With a win tonight, the No. 4 Orange have a realistic shot at being the nation's new No. 1 team after top ranked Kansas and No. 2 Kentucky both lost earlier today.
If Syracuse wins, whoever is sitting in the farthest reach of the Dome will undoubtedly go home happy and be able to say he (or she)
was there
for The Game. But it's safe to say there won't be anyone sitting in that seat one month from today when the NCAA East Regional final is played in this building because Syracuse can't play here in the national tournament.
Come to think of it, I wonder when the last time that seat was occupied for a Cuse football game? Last season's largest crowd was listed at 48,617 for the home opener against Minnesota on Sept. 5, which was about a thousand shy of a sellout.
SU athletic director Dr. Daryl Gross has publicly stated his desire to stage a Dome basketball game with the court moved to the middle of the facility with the goal of crowd that topped 50,000. If that ever happens, Saturday night's Bob Uecker seats might become prime real estate.
February, 27, 2010
2/27/10
8:05
PM ET
SYRACUSE - Greetings from the Carrier Dome where I am amazed at how many different ways a person can wear orange.
This place is teetering on the brink of on edge, I'd say. Downtown has been buzzing all day and now the buzz is building inside. Even the seats never before sold for basketball - the ones where you can't see - are starting to fill up.


Here are a few things worth watching tonight when the frenzy ends and the game begins:
Does the Orange crush continue? Already today the squeeze is on: Tennessee upset Kentucky and Oklahoma State stunned Kansas. Is it the upstate New York citrus' turn?
Can Villanova use its dribble penetration to break the Syracuse zone? In Scottie Reynolds, Corey Stokes and Maalik Wayns the Wildcats have the speed to get up the court as well as the strength to get inside. To win, they're going to have to really push the ball and work on dribbling and kicking to guys on the wings.
How will Wes Johnson play? The player of the year candidate has been slowed by a hand injury in recent weeks and his numbers reflect the injury. He hasn't topped the 20-point plateau since late January. But if Johnson is feeling healthier and stronger, watch out. He's an absolute matchup nightmare Villanova. The Cats don't have anyone with the size and strength to match his inside-outside game.
Will Rick Jackson and Arinze Onuaku dominate inside? The Syracuse big men bring more height and heft to the floor than anyone that Villanova has to offer and could give Antonio Pena a heap of trouble... especially foul trouble. But for Jackson and Onuaku to take over the game, the Orange backcourt is going to have to get the ball to them. Can they get past the Wildcats is the real question?
Finally how will Villanova handle the atmosphere? The Dome will set an on-campus attendance record tonight, breaking the mark set in the Gerry McNamara lovefest/goodbye in 2006. Can the Wildcats, who have been steady away from home all year, handle this atmosphere? It will be tough but remember this: in that McNamara game, Villanova was the opponent. And the Cats won.