College Basketball Nation:

032110 Duke-California
March, 21, 2010
3/21/10
8:46
PM ET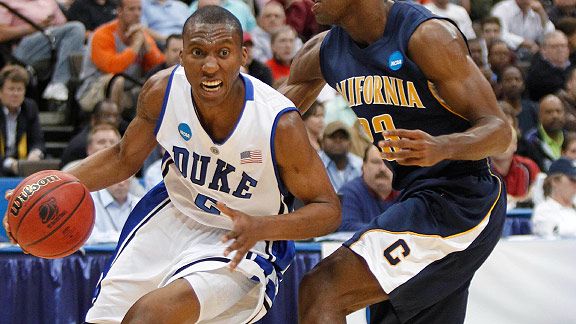 Bob Donnan/US PresswireNolan Smith scored 20 points and shut down Jerome Randle in Duke's win over California.
JACKSONVILLE, Fla. --
Nolan Smith
never slapped the floor.
But had the Duke guard chosen to go that route on Sunday, well even the most hardened Blue Devils haters might have cut him some slack. Smith's defensive effort against California star
Jerome Randle
set the tone for his team's incident-free,
68-53 second-round NCAA Tournament victory
.
Randle was the Pac-10 player of the year, an explosive scorer because of his speed and nearly unlimited shooting range. Against Duke and Smith, though, he finished with just 12 points, including only one field goal after halftime.
Smith also had his way on the other end, scoring a game-high 20 points.
"Nolan, he just dominated that matchup," Blue Devils forward
Lance Thomas
said. "Randle had nothing for him. He took the initiative and picked him up from three-quarters of the court and let him know it was going to be a fight all game. And Nolan knocked him out."
Duke has been knocked out of the NCAA Tournament by the round of 16 in seven of the past eight years and in each of the past five seasons. Its hopes of going longer seem stronger this time, largely because of defense.
The Blue Devils allowed just 61.7 points per game in the regular season, its lowest total since 1950. First-round opponent Arkansas-Pine Bluff mustered just 44 points, while Cal -- which came in averaging 78 points per game -- was held to its lowest score since Feb. 28, 2008.
Defense is why Duke could get nothing from
Jon Scheyer
, miss 14 of its 17 3-point shots -- a harbinger of tournament death in the recent past -- and still win.
"I don't know if we'll go any further, but this is a better team because it can play total defense," Krzyzewski said. "I mean, someone will say in the past, they relied on the 3-point shot. Well, what else were we going to rely on?
"This team is better. It's not a great team, but it's an excellent defensive team."
That defense starts with Smith, who takes on the challenge of guarding the other team's main ball handler every night. His assignment on Sunday loomed as one of his more daunting tasks, and Randle scored seven points in the first 10 minutes, including a pair of layups.
"I got really upset with myself," Smith said.
From then on, though, Randle was the one feeling bad about things. Smith smacked the ball away as Randle tried to attempt a last-second shot before the half. Randle went just 1-for-5 in the second half while Smith wore him down on offense in what Krzyzewski called "a marvelous performance."
"I wanted to pick him up as early as I could," Smith said. "I've seen films where he'd come up and shoot from 30 feet while guys are backpedaling. Today I was just up in him. He had to look at me before he looked at the rim tonight."
Duke has always prided itself at guarding the perimeter, even if some of its guards were limited athletically. Now Krzyzewski has a ferocious on-ball defender in Smith and length with guys like
Kyle Singler
, Thomas and 7-foot-1 center
Brian Zoubek
, who had 14 points and 13 rebounds on Sunday. Even if they get beat off the dribble, the Blue Devils now have confidence that someone on the back line will swat away the shot or take a charge.
And that has the team thinking bigger things than the Sweet 16 this year.
"If we defend and rebound, I think we can beat anyone," Thomas said. "I don't care who we play. If we stick to our defensive game plan, we can take anyone out."
March, 21, 2010
3/21/10
7:32
PM ET


JACKSONVILLE, Fla. -- The first weekend of the NCAA tournament went about as smoothly as Duke could have hoped.
The Blue Devils didn't fall victim to a shocking upset and received hardly a challenge on their way to the Sweet 16. And given their recent tournament history, that's noteworthy in itself.
Duke methodically took down eighth-seeded California 68-53 on Sunday. The Golden Bears made one little run in the second half to get within seven points at 44-37, but the Blue Devils quickly extinguished that fire and kept the margin safely at double digits down the stretch.
It was an impressive defensive effort against a California team that lives to run-and-gun and shoots from anywhere beyond the midcourt stripe. The Bears went just 3-for-12 on three-pointers and their Big Three of
Jerome Randle
,
Theo Robertson
and
Patrick Christopher
were held in check, totaling just 35 points.
Duke's
Nolan Smith
led all scorers with 20 points and hounded Randle defensively.
Brian Zoubek
had 14 points and 12 rebounds, six of them on the offensive glass. The Blue Devils owned a 38-24 advantage on points in the paint.
March, 21, 2010
3/21/10
6:16
PM ET
JACKSONVILLE, Fla. -- Quick impressions of the first half between Duke and California, which the Blue Devils
lead 37-24
:
Cal was hanging around, trailing just 20-17 until Duke went on a big run to close the half. The Blue Devils have succeeded in their main goal of forcing the Golden Bears to execute in the half court, as they've given up no fast-break points so far. They especially limited Cal's transition opportunities in the final minutes of the half, which helped them go on their run.
Nolan Smith had a terrific first half. Not only does he have 11 points, but he's done a solid job defending against Cal's leading scorer, Jerome Randle. Smith kept Randle from getting a clean look just before halftime and was nearly mobbed by teammates coming off the floor on the way to the locker room. It's safe to say Duke has all the momentum here right now.
Cal loves to shoot from deep and needs to hit a bunch of threes to have a chance, but it was just 1-for-6 behind the arc in the first half as Duke did a good job closing out on shooters. The Blue Devils, meanwhile, have shot an even 50 percent and are exploiting their size advantage inside.