College Basketball Nation:

032110 Maryland-MichiganSt
March, 21, 2010
3/21/10
6:27
PM ET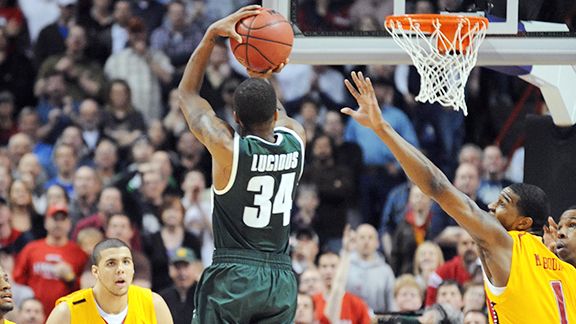 Steve Dykes/US PresswireMichigan State's Korie Lucious (34) lines up his dramatic buzzer beater against Maryland.
SPOKANE, Wash. -- It was one of the great comebacks in NCAA tournament history. And then it wasn't.
Maryland trailed Michigan State by nine points with two minutes left. Then it took the lead -- twice -- in the final 35 seconds.


It was stunning.
Yet the final toss of fairy dust turned out to be green.
Korie Lucious
, the Spartans backup point guard, playing at the end only because
Kalin Lucas
was out with a torn Achilles tendon, ripped a fade-away 3-pointer at the buzzer and Michigan State escaped with an
85-83 victory
in the second round of the Midwest Regional.
It was stunning, take 2. As breathless a final two minutes as you'll see.
Heartbreak?
"It seemed like we were going to win the game and then it was taken away from us," said a stricken Maryland coach Gary Williams.
And euphoria: The Michigan State players piled on Lucious after his game-winner. Even Sparty joined the fray.
"Time was running out," Lucious said. "I just tried to get it up and it went in."
Spartans coach Tom Izzo is now 15-3 in second-round games as his team tries to reach its sixth Final Four in 12 seasons.
The Spartans dominated 38 minutes of the game. They did so with Lucas out the entire second half -- he's likely done for the tournament -- with fellow starting guard
Chris Allen
only able to play four minutes with a sprained foot and with forward
Delvon Roe
nursing bum knees.
It was another plot twist in a season that has been all over the place. From high rankings to player suspensions, to critical injuries and inconsistent play to -- now -- a third consecutive Sweet 16.
"Three weeks ago, we wouldn't have won this game," said
Draymond Green
, who thought he might have shot the game winner when he hit a jumper for an 82-81 lead with 20 seconds left.
But after Green's shot, Maryland raced down the court and
Greivis Vasquez
, who struggled against the physical defense of
Raymar Morgan
much of the afternoon, nailed a short jumper with six seconds left that put the Terrapins up 83-82.
Vasquez scored seven of his 26 points over the final 1:27.
"We had the game won for a moment," said Maryland's
Eric Hayes
, who scored 18 points with seven assists.
Only for a moment. The Spartans controlled the vast majority of the contest because they dominated the boards -- outrebounding Maryland 42-24 -- and their lone remaining starting guard,
Durrell Summers
was lights out.
Summers, who's been in Izzo's doghouse at various times this year, scored 26 points, hitting 6-of-7 from 3-point range. It's the season scoring high for any Spartan player.
"Durrell, he grew up a lot in the last two weeks," Izzo said.
He and the Spartans appear to be maturing at exactly the right time.
March, 21, 2010
3/21/10
5:02
PM ET
SPOKANE, Wash. -- Michigan State was up by nine points with two minutes left. The Spartans had dominated the entire game.


And then things went completely bonkers.
Maryland went on a 10-0 run to take the lead with 36 seconds left.
Draymond Green
jumper gave the Spartans back the lead with 20 seconds left.
A drive from
Greivis Vasquez
took it back for Maryland with six seconds left.
And -- with both sides of the arena staring in disbelief -- sophomore guard
Korie Lucious
, who was filling in for the injured
Kalin Lucas
, ripped a 3-pointer at the buzzer that gave Michigan State an 85-83 victory in the second round of the Midwest Regional.
A moment. I need to catch my breath.
First, how many programs can beat a quality team in the NCAA tourney with two starting guards out with injuries?
Maybe the sort of team that's headed to its third straight Sweet 16, whose coach is 15-3 in second-round games and has made five Final Fours in 11 seasons.
That would be Tom Izzo and Michigan State, which looked every bit like a threat to make another Final Four.
Some thoughts:
Michigan State played the entire second half without two-time All-Big Ten point guard Lucas, who reinjured his ankle in the first half. Guard Chris Allen only played four minutes -- one in the second half -- due to a sprained foot. The only remaining healthy staring guard did a fairly good job picking up the slack: Durrell Summers scored 26 points, hitting six of eight 3-pointers.
The Spartans dominated the boards, outrebounding the Terrapins 33-20.
Lucious deserves plenty of credit, and not just because of his final shot. With Lucas and Allen out, he became the primary ball-handler. While the Terps full-court press gave the Spartans some trouble, Lucious did a solid job running the offense and finished with 13 points and two assists.
March, 21, 2010
3/21/10
3:48
PM ET
SPOKANE, Wash. --
Michigan State leads Maryland 48-39
at the half, but it may be without floor leader
Kalin Lucas
, who scored his first basket with 4:27 before the break, but then re-injured his sprained ankle on the ensuing Maryland possession.
Lucas, who had a career-high 25 points in the first-round win, couldn't put any weight on the ankle.


The Spartans came out in a frenzy, and it took a while for Maryland to match the pace, but the Terrapins woke up and it's hard to believe this one won't be still in question in the waning moments, particularly if Lucas can't return.
Some thoughts:
Michigan State jumped ahead 22-10 with a dominating early run. The Spartans were 9-of-14 from the field -- Maryland was 3-of-13 -- and outrebounded the Terrapins 10-3. The Spartans had three blocked shots -- zero for the Terps.
Lucas wasn't the only star who started slowly. Maryland's Greivis Vasquez didn't score until the 12:42 mark. Freshman Jordan Williams, who posted twin career-highs with 21 points and 17 rebounds in the win over Houston, didn't get his first bucket until the 7:22 mark. Vasquez ended up with nine points at the break and Williams had seven and four rebounds.
Michigan State guard Chris Allen, typically a starter, didn't enter the game until the 10:16 mark. Allen injured his foot against New Mexico State. He played just three minutes and didn't score.
Maryland is losing the battle on the glass. The Spartans have a 25-11 rebounding advantage.
The Spartans have nine turnovers, Maryland has four.
Raymar Morgan leads the Spartans with 13 points. Durrell Summers has 12. Eric Hayes, who hit two of the Terps' four 3-pointers, has 10 points and three assists.
Midway through the half, a frustrated Vasquez sought out an official and said, "Both sides, both sides. Call it physical on both sides."
March, 21, 2010
3/21/10
2:38
PM ET
SPOKANE, Wash. -- Michigan State guard
Chris Allen
, who sprained his foot in the first-round win over New Mexico State, is not in the starting lineup.
The Spartans typically use a three-guard lineup, but forward
Delvon Roe
replaced Allen in the starting lineup.
March, 21, 2010
3/21/10
2:09
PM ET
SPOKANE, Wash. -- Michigan State guards
Chris Allen
and
Kalin Lucas
are both listed as starters for this afternoon's second-round Midwest regional game with Maryland, and both seem to be running well during warmups.
Lucas aggravated a sprained ankle in the first-round matchup with New Mexico State. Allen suffered a sprained arch in his foot in the game and didn't practice on Saturday.