College Basketball Nation:

032413 Round 3 Previews
March, 23, 2013
3/23/13
8:13
PM ET
DAYTON, Ohio -- All season, Iowa State has been confounding opposing defenses with endless floor spacing and perimeter shooting. All season, Ohio State has breaking the wills of opposing perimeter players with endless defensive harassment.
Unstoppable force, meet immovable object. Rear end, meet couch.
On Sunday, when Thad Matta's No. 2-seeded Buckeyes square off with Fred Hoiberg's No. 10-seeded Cyclones, Ohio State will try to decode one of the nation's best offenses, Iowa State will try to maintain its trademark up-tempo scoring against
Aaron Craft
and
Shannon Scott
, and the rest of us will get to watch arguably the best strength-on-strength matchup of the NCAA tournament to date.
Iowa State finished its season with the most efficient offense in the Big 12, a style predicated on the versatility of a group of lightning-quick guards and 6-foot-7 freshman forward
Georges Niang
, who is as at home on the perimeter as he is on the low block. The Cyclones have their coach's blessing to shoot early and often, particularly from deep, and 43.7 percent of their field goal attempts this season have come from 3-point range (the eighth-highest mark in the country), where they averaged 37.2 percent.
The Cyclones ended the 2012-13 season as the eighth-best offense in the country, per KenPom.com's efficiency rankings; they averaged 1.17 points per possession, the same number they put up in Friday's demolition of No. 7 seed Notre Dame.
Put less numerically: Iowa State spreads the floor and hoists a whole mess of 3s, and when the Cyclones (23-11) have it going, they are not only one of the most effective offensive teams in the country but also one of the most ecstatic viewing experiences in the sport.
And Ohio State hasn't seen anyone quite like them.
"Michigan does [play that style] a little bit; they'll move their bigs around in a pick-and-roll," Matta said. "But I can't recall anybody [that plays] that far out."
[+] Enlarge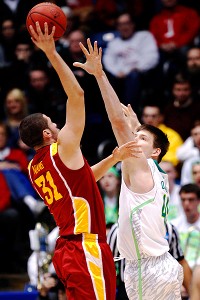 Frank Victores/USA TODAY SportsFreshman Georges Niang was a force for Iowa State against Notre Dame, scoring 19 points on 9-of-13 shooting.
As fun as Iowa State has been, and as excited as fans have been to see the most popular player in program history lead them back to relevance with an entertaining style, the Cyclones have to be cringing in advance of a meeting with the Buckeyes. For most of the season, but especially the past month, Matta's team has been ruthless in its destruction of opposing offenses.
The Buckeyes haven't lost since Feb. 17. In that span, they manhandled Minnesota, Michigan State, Illinois and Indiana -- the last of which came on the road, on senior night, against the best offensive team in the country -- before beating Michigan State and Wisconsin en route to the Big Ten tournament title.
In that span, the Buckeyes have allowed just 0.88 points per possession. Only one team -- Michigan State -- managed to score more than a point per possession.
To put
that
less numerically: Ohio State has been flat stomping people.
"That's a scary team," Hoiberg said Friday night.
Craft rightfully tends to draw most of the national attention, and thus the credit, for Ohio State's defense, and much has been made of the secondary scoring from Craft and winger
Sam Thompson
during Ohio State's undefeated month. But the Buckeyes (27-7) have also been spurred on by the emergence of sophomore guard Scott as a savvy perimeter defender -- probably the Buckeyes' best all-around defender at Indiana -- and the length and athleticism of Thompson and
Lenzelle Smith
.
All of which makes them almost ideally suited to match up with the Cyclones, to match up man-to-man out to 25 feet and prevent the kind of penetration that downed a sluggish Notre Dame.
If Ohio State can play the Cyclones to a draw on the defensive end -- probably a conservative expectation, given what the Buckeyes did to Indiana -- then
Deshaun Thomas
, one of the nation's best pure scorers, should be able to handle matters on the offensive end. The Buckeyes avoid turnovers and score the ball at a top-15 rate nationally; Iowa State's defense doesn't rank in the top 100.
That's why Ohio State is the No. 2 seed and Iowa State the No. 10: The Buckeyes excel on both ends, whereas Iowa State can be one-dimensional.
But boy is that dimension fun to watch, and perhaps never more so than when it meets with the nation's hottest, most perimeter-inclined defense Sunday.
"It's going to be, I think, a fun matchup," Hoiberg said, in typically understated fashion. "And hopefully we're competitive."
News and Notes from Dayton
Matta was asked Saturday whether it was fair to judge conferences on their record in the NCAA tournament (as of Saturday, the Big Ten is 8-1). "We're all representing one thing and one thing only, and that's our university now," Matta said. "I want the Big Ten to do as well as it possibly can, but I say that from the standpoint of I know the other coaches from the Big Ten; they're worried about one thing and one thing only, and that's advancing. … Maybe in the end, when we have our spring meetings, we can all high-five each other because we had a great year, but I think for the most part it's CYOA -- or whatever that is."
The biggest concern for Temple entering Sunday's matchup with No. 1 seed Indiana is star guard Khalif Wyatt's left thumb injury, which he suffered in the second half of Friday's victory over NC State. Wyatt left the game at the time to have it taped up by a trainer, and it was noticeably tender in the second half, but the senior still finished the game and made the lion's share of key plays as the Wolfpack stormed back in the second half. Wyatt said the thumb was "a little sore" Saturday, but X-rays searching for serious damage came back negative. "It will be fine by [Sunday]," Wyatt said. The good news: Wyatt, whose 19.8 points per game put him atop the Atlantic 10 -- and among the nation's top 20 scorers -- in the regular season, did most of that work with his right hand.
Wyatt's clearance means he'll be the biggest defensive assignment of the day for Indiana, a role that is typically fulfilled by Hoosiers star Victor Oladipo. Oladipo wouldn't confirm whether he was going to check Wyatt exclusively Sunday -- "It's up to the coaching staff," he said -- but it's safe to assume the hyperathletic national player of the year candidate will spend much of his afternoon trying to prevent Wyatt from taking over the game. "He knows he's really good," Indiana coach Tom Crean said of Wyatt. "I don't know the young man, but he knows he's really good. You can tell there's no stage too big for him."
Wyatt may be able to overcome Oladipo and the Hoosiers defense for his usual scoring output, but a far bigger question looms for the Owls on the defensive end: How does a team that allowed 1.03 points per trip, eighth best in A-10 play, plan to stop the most efficient offense in the country? "How we run our offense will dictate how we play our defense," Owls coach Fran Dunphy said. "If we shoot good shots, then we'll be in pretty good floor balance, because one of the concerns about Indiana is they push the basketball on makes and misses, have a great transition game, and they find each other very, very well."
On Saturday, Dunphy admitted that he and Wyatt "didn't hit it off all that great when he was a freshman," that Wyatt was "a pain in the butt sometimes, and he'll be the first to tell you." But the two have long since come together. "He's grown, and that's what happens," Dunphy said. "When you sign on for these guys, it's not perfection. You sign on for the good and for the bad. … But I'm glad it all worked out, and he's going to be graduating from Temple University in May. I couldn't be more proud of him, how he's turned out as a man."
One reporter asked Hoiberg which college hoops program he would most like his suddenly resurgent Cyclones to "mirror." Hoiberg's response: "Kentucky. Nah, I'm just kidding. I don't know."
March, 23, 2013
3/23/13
7:59
PM ET
KANSAS CITY, Mo. -- At their shoot-around on Thursday and again during Friday's win over Villanova, the
North Carolina Tar Heels
received rousing ovations from an unlikely group of supporters.
Kansas fans.
For nearly a decade almost anyone who called themselves a Jayhawk held resentment toward former coach Roy Williams for leaving KU in 2003 and returning to North Carolina, his alma mater. But if this week is any indication, Kansas fans have moved on and come to appreciate Williams for what he accomplished during his 15 seasons in Lawrence.
"Time heals all wounds," Williams said Saturday. "The people have been really nice. There have been people driving by on the streets when we're out walking in the morning that have been yelling and saying nice things.
"I've only had one person yell something that wasn't quite as nice, but that's part of it."
[+] Enlarge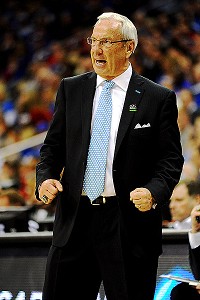 Denny Medley/USA TODAY SportsUNC coach Roy Williams hasn't had any success against Kansas, the school he once led. Will that change on Sunday?
Williams' Tar Heels -- the No. 8 seed in the South Region -- will take on top-seeded Kansas at the Sprint Center on Sunday for a chance to go to the Sweet 16. The Tar Heels are 0-2 against the Jayhawks since Williams became their coach. KU beat UNC in the national semifinals in 2008 and again in the Elite Eight last season.
A lot of the attention leading into each of those games centered on the ill will that some Kansas fans held toward Williams for leaving in 2003, just two years after vowing he'd retire at Kansas. "Benedict Roy" shirts were a hot seller in Lawrence. One barbershop owner went so far as to hang Williams' picture above his toilet.
This season, though, most of the buzz during Saturday's news conference centered around the actual game. That had to have been refreshing to both Williams and KU coach Bill Self, who coached for three seasons at Illinois before taking over for Williams.
"Nobody can ever take away that he did a fabulous job and ran a first-class program [at Kansas]," Self said. "Anybody that doesn't feel that way isn't real, because that's the reality of it.
"Since we've had a chance to play a couple of times in the tournament, I think there were some story lines [before] that probably aren't as good of a story line now."
Self has certainly made it easy for KU fans to move on. By beating No. 16 seed Western Kentucky Friday, Self became the first coach in history to guide his team to four consecutive 30-win seasons. (It should be noted that John Calipari accomplished the feat from 2006-09, but the Tigers' wins from the 2007-08 season were vacated.)
Kansas has also won nine straight Big 12 titles under Self and one national championship. Self is 299-58 (.838) during his tenure at KU, while Williams is 282-78 with six ACC championships and two NCAA titles at North Carolina.
As much as he hopes to win Saturday's game, Williams has made it clear that he doesn't enjoy playing Kansas.
"It's not immoral to love two schools," Williams said. "Someone asked me the other day if I would ever consider coming and playing a home-and-home against Kansas. I said no. My athletic director would understand and the Pope will understand, because I will never walk out of that far tunnel. That will never happen.
"I said this before I left Kansas: 'The day I ever walk into Allen Fieldhouse and don't get cold chills, I'll know it's time to stop.' I feel the same way about the Smith Center. If I walk out on game night and don't have cold chills, I'll quit."
Kansas City news and notes:
North Carolina's switch to a smaller lineup earlier this season could make things difficult for KU center Jeff Withey, who will likely have to guard players such as James Michael McAdoo outside of the paint from time to time. Withey said the shortage of true centers in the Big 12 has forced him to become a better perimeter defender. "I've definitely gotten used to it," Withey said. "I've had to learn to guard and move my feet."

Kansas leading scorer Ben McLemore is averaging just seven points in his past three games -- more than nine points below his average of 16.2. He had just 11 points in 32 minutes against Western Kentucky on Friday, when he only attempted five shots. "He's young," Self said of McLemore, a redshirt freshman. "Obviously this is his first time on a big stage. He's capable of doing it all. When he's aggressive, we're better. We've just got to get him to be more aggressive."

Ole Miss guard Marshall Henderson celebrated Friday's victory over Wisconsin by hanging out with some of his friends at a bar across the street from the arena. Photos of Henderson (who was holding a clear cup containing a red drink) ended up on Twitter, which prompted Rebels AD Ross Bjork to summon Henderson back to the team hotel. "It wasn't like he was guzzling a beer," Bjork said. Ole Miss coach Andy Kennedy was asked if he approved of Henderson hanging out in bars in between NCAA tournament games. "He's 22 years old," Kennedy said of Henderson. "I didn't give him an alcohol sobriety test. We didn't make him recite his ABCs backward, but I know this. I know we had a pretty intense 10 o'clock meeting and he was involved in it, as they all were."

LaSalle coach John Giannini said playing in the "First Four" has been beneficial to his team. The No. 13 seed Explorers upset No. 4-seeded Kansas State on Friday. "You're certainly in a better rhythm," Giannini said. "If you look at yesterday's game, it perfectly demonstrated the advantages and disadvantages. One team was really in a rhythm in the first half. There is an advantage to having played, working out some nerves and being comfortable on the court."
March, 23, 2013
3/23/13
7:40
PM ET
PHILADELPHIA -- By now most everyone with electricity has heard about Florida Gulf Coast coach Andy Enfield's wife, former model Amanda Marcum. The two met by chance when Enfield gave Marcum and a friend a lift to a 2003 NCAA tournament game in Boston. Their first date might be one for the ages.
They went to an NIT game on the Queens campus of St. John's. Enfield hoped to impress Marcum by taking her out to a nice dinner before tipoff, but when he got to Queens, he realized he didn't have a clue about where to eat.
He decided to hit the student union, figuring there would be a chain restaurant there. There was.
"The only thing that was open was a Taco Bell," he said. "I got her a nice little burrito and we sat behind the bench and I figured if she still likes me after Taco Bell and a basketball game ..."
Roommates turned frenemies
[+] Enlarge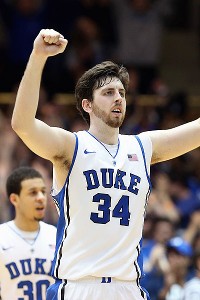 Streeter Lecka/Getty ImagesRyan Kelly will meet his former roommate, Doug McDermott, on the court for the first time since they attended Amar'e Stoudemire's camp last summer.
If one was a snorer, we will not find out. If one was a slob, they aren't spilling the beans.
"He was just a normal roommate," Duke's
Ryan Kelly
said of Creighton's
Doug McDermott
, his bunkmate at Amar'e Stoudemire camp in Chicago this summer. "It was nothing exciting."
It could be a different story on Sunday, when Duke and Creighton go head-to-head for a shot at the Sweet 16 and Kelly guards one of the nation's best scorers.
That the two players -- one is from North Carolina and plays in the ACC, the other is from Iowa and plays in the Missouri Valley -- know each other personally speaks to how small the basketball world has gotten.
Between high school summer-league teams traversing the country and all-star camps like the one in Chicago, there's little anonymity among most of the nation's top players anymore.
"Ryan was a great roommate -- always reminded me what time we had to leave or be in the lobby," McDermott said. "I got a chance to pick his brain a little bit because we kind of play similar. When we got to the gym, I saw some of his moves and he taught me some of them. It will be cool playing against him."
Steve Fisher knows FGCU
While the rest of the world tries to figure out just where Florida Gulf Coast is, San Diego State coach Steve Fisher is already clued in about his round-of-32 opponent.
He actually has a condo in nearby Fort Myers. (Yes, feel free to ask why a man who lives in San Diego needs to have a condo on another beach.) He bought it back when he got his first head-coaching gig and has held onto it since, making at least one visit a year there with friends after the season ends.
Fisher watched the university literally rise from the swamp and even toured the campus.
More important for this NCAA tournament, Fisher knows what the Eagles are all about. He's thoroughly uninterested in their seed or their underdog status and more interested in their personnel and how they play.
"If we were playing a shirts and skins game with all 64 teams and you brought all the teams out there and watched them warm up, you'd be hard-pressed to say, 'Well, this is a team that's not supposed to win," he said. "They're good. They're talented. They're well-coached and they played terrific last night."
Quote-worthy
"We're not the Yankees. [Seth] Curry doesn't come back every year. We still don't have [J.J.] Redick. [Christian] Laettner left a long time ago. If he was Mariano Rivera, we'd still have Laettner." --
Mike Krzyzewski on comparisons to his team's dominance -- and perceived national dislike -- with the New York Yankees.
Editor's Note: To read O'Neil's feature on Florida Gulf Coast's Brett Comer, click here.
March, 23, 2013
3/23/13
7:24
PM ET
PHILADELPHIA -- She thought that maybe March 6, 2010, would provide the toughest moment. That was the day Heather Comer's husband, Troy, had circled on the calendar, the one he practically begged doctors to tell him he would see before lung cancer claimed his life.
That was the day of the Florida 6A state high school basketball championship, and Troy Comer knew in his gut that his son, Brett, would be playing in it.
But doctors don't make those kinds of guarantees, and cancer doesn't care much about a calendar. Troy Comer died on Jan. 29, 2010 -- six weeks too early to see his son win a state title.
A year later, Brett's high school team played in the championship game again. Surely this, Heather thought, this has to be the toughest moment.
But then along came high school graduation and a Division I basketball scholarship offer for Brett.
And most recently and most memorably of all, there was
Brett Comer
tossing up the silliest, least orthodox and single greatest alley-oop pass in NCAA tournament history to help Florida Gulf Coast upset second-seeded Georgetown on Friday night.
[+] Enlarge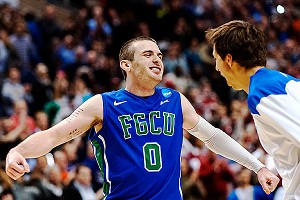 Howard Smith/USA TODAY SportsGeorgetown's physical defense certainly didn't faze Florida Gulf Coast's Brett Comer on Friday night.
In the stands, Heather Comer stopped wondering if this was the toughest moment, or what the toughest might be.
"There are always moments, and I think every time something like that happens, Brett and I know we're both thinking about his father," Heather said Saturday, the day after her only child made history. "It's really taken us both three years where, just a few months ago, we sort of looked at each other and realized, 'He's really not coming back, is he?' It doesn't stop."
Life, though, keeps going, and for Brett Comer it is going in a way that must have his father elbowing his fellow angels, saying, "That's my boy."
In FGCU's first NCAA tournament game in history, Comer dished the ball for 10 assists. Even crazier, against Georgetown's smothering defense, he committed just two turnovers, a line that would have made both the father and the coach in Troy Comer immensely proud.
"He would have eaten that up," Brett said with a smile.
As soon as Brett discovered basketball, Troy discovered coaching. Troy didn't play -- "No, no, no, he couldn't play for anything," Brett said, laughing. "He knew X's and O's. He knew what you were supposed to do, but he couldn't do it."
But he loved the game and loved spending time with his only child.
Brett isn't sure when he picked up a basketball, but the nuances of the game always have intrigued him.
Years ago, a family member gave him some old tapes of Pete Maravich. Instead of shelving them like plenty of his generation might, Brett watched with rapt attention.
"The way he passed the ball really fascinated me," he said.
Little wonder, then, to watch Comer is to watch a player whose game earns style points but is based as much on intuition as it is development.
"Sometimes Coach [Andy Enfield] will say, 'I don't know how you made that pass,'" Comer said. "Honestly, sometimes I don't know how I made it either. It's just my instincts taking over."
His father, like Enfield, tolerated some of the mistakes that come with such daring, and Brett is pretty certain his dad would approve of the oddly timed dish to
Chase Fieler
.
The two were extraordinarily close, Heather said, and in Troy's obituary, Brett is referred to as Troy's "best friend."
Little wonder that Troy's sudden passing -- he was gone barely a year after he was diagnosed -- devastated Brett.
"My father was a ninth-grade coach and a high school coach, and I remember as a first and second grader getting on the team bus and going with him to games," Enfield said. "Brett had that kind of relationship with his father, so I understand that connection but I can't imagine him not being here with me."
Brett was angry at first -- his dad was a smoker and son naturally wondered what role that played in his premature passing -- but he internalized much of his grief. By the time he got to Florida Gulf Coast, a guy most knew as engaging and funny had become almost an introvert.
Heather worried but couldn't persuade him to get help.
"I know he hid it to protect me, but finally a few months ago, he said, 'Mom, I need to talk to someone,'" Heather said. "He agreed to talk to a grief counselor."
That was in November, a decision that had such a profound effect on Brett he can practically pinpoint the day that he started to feel, if not better, at least OK.
Just this month -- more than three years after his dad's passing -- he talked about it publicly for the first time, sitting down with Fort Myers News-Press reporter Seth Soffian.
"It's not something you ever completely get past, but I started to deal with it better after the St. John's game [on Nov. 24]," Brett said. "After that point, my coaches, teammates and someone else I was talking to helped me get past it. It felt normal, almost. I had a clear head. I was able to think."
And finally, three years later, Heather Comer had her moment. Not the toughest one but the best one, the one when she knew her son would be OK.
"As a mother, it's always so hard when there's something wrong that you can't fix," she said. "I worry about him. I want him to be happy. I think he is."
Editor's Note: For Dana O'Neil's news and notes from Philadelphia, click here.
March, 23, 2013
3/23/13
6:25
PM ET
AUSTIN, Texas -- In the middle of bemoaning his own and his team's fate, UCLA's Ben Howland had to stop and marvel at the actions of his team's most recent and victorious foe,
Andre Hollins
.
"And then Hollins, and I should have mentioned him in my opening statement, played great," Howland said. "Their point guard was unbelievable tonight. Just how effective he was. Shooting the ball and pulling up."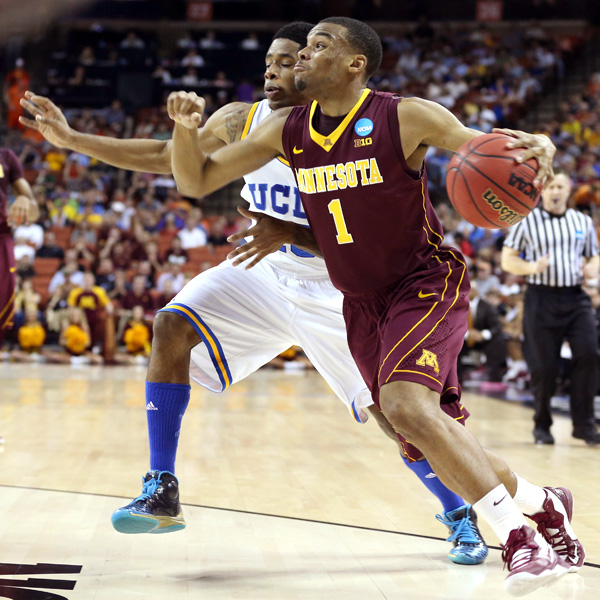 Jim Cowsert/USA TODAY SportsAndre Hollins scored 28 points, double his season average, in Minnesota's win against UCLA.
Over and over again, Hollins was doing just that.
"My teammates believe in me, and they know I can make the shot," Hollins said.
Well, now everybody else does, too. Really, had it just been Hollins' shooting, maybe UCLA could have handled him and the Gophers. But aside from Hollins' 28 points -- 5-of-8 on 3s -- he had nine rebounds and five assists against what was a longer, more athletic team. The 28 was double his season average. (He did have a career-high 41 against Memphis in November.) The nine rebounds was more than twice his season average (3.7) and, just like everything else, the assists were above his season average, as well (3.5).
"Growing up as a little kid, you just dream of these moments," Hollins said.
It's one thing to dream of them, it is quite another to seize them.
Hollins was able to do just that, and, because of it, propel a team that had lost 11 of 16 with a slightly embattled coach into the round of 32.
"When he gets going and gets into a rhythm, he is a very, very difficult guy to stop," said Florida coach Billy Donovan.
All that is great, but Hollins and Minnesota have to turn around and face Florida. Although the team from La-La Land played with exactly that attitude, Donovan and Florida have a tinge more ferocity in their makeup. That was evident when the Gators held the nation's highest-scoring team, Northwestern State, to 34 points below its average in the teams' game Friday night. (By the way, UCLA allowed Minnesota to score 15 points more than its season average.)
"I'm pretty familiar with Billy Donovan; we played quite a few games against each other when I was at Kentucky," Minnesota coach Tubby Smith said.
Thing was, back then, Smith had Kentucky talent -- plus a smidge of talent at Georgia one year -- and used it to go 16-8 against Donovan in the SEC. Now it's Donovan with the superior talent and, more specifically, a shutdown defensive talent in
Scottie Wilbekin
, who will be wrapped all over Hollins.
"He has three qualities that enable him to be very, very good," Donovan said of Wilbekin. "First, he has great feet. The second thing is he is a physical defender. He can go through, around and off screens very well. Third, he is a guy that is a tough-minded defender, maybe more so than any guy I have coached. He values that."
So does Hollins.
"I just let my teammates get in the flow first of all, feeding off them, and make sure that I am playing well defensively first of all, and let that feed over to my offensive game," Hollins said.
It's also not as if Hollins has been going against stiffs all year. The Big Ten does feature
Aaron Craft
. The Ohio State point guard is considered one of the top defenders in the country.
"You have to be a little bit more decisive with your moves and how you are going to attack, be a little bit more secure with the ball," Hollins said of playing against players such as Craft.
Hollins had only 11 points on 30 percent shooting with two turnovers against one assist in a 26-point loss to Ohio State. So maybe that isn't the best memory for him to draw on. Instead, Hollins might want to go with his most recent memory and hope it doesn't fade.
Austin news & notes
Miami was pulled off the practice court because of a fire alarm at the Frank Erwin Center at about 12:30 p.m. Saturday. The alarm, which proved to be a lot of noise signifying nothing, caused a 30-minute delay in practice as Miami had to evacuate the building. "We didn't really know whether to leave or not until one of the security guards told us we had to evacuate the building," said Miami's Trey McKinney Jones. "But then we made the most out of it. Julian [Gamble] was out there rapping, we were just having fun."


"It's an unexpected event, but you have to know that you always have adversity, whether it be now or on the court, and you have to be able to handle that," Gamble said.

Illinois jacked up 31 3s in its win against Colorado. Never mind that it hit only eight of them, just the prospect of having to guard a team that is so prolific in shooting from deep has Miami somewhat concerned. "I believe their confidence kept them shooting the ball, and eventually they went back and hit a number of 3-pointers," Miami coach Jim Larranaga said. "And I think that when you are committed to that style, it gives your players a lot of freedom. You have to play great defense for the entire game because, at any time you let up, they could drain four or five in a row."

Donovan gets some ribbing, OK, a lot of grief, because of his Eddie Munster type hairstyle. But things got a little more like the macabre '60s hit when a bat flew from the rafters during the Florida practice."If you get bit, I will pay your medical bills," Donovan joked with his players. Austin is home to the largest urban bat colony in North America.

Texas football coach Mack Brown, a longtime friend of Tubby Smith's, stopped by the Gophers' practice to lend some motivational advice. "The main thing I took away from it is seize the moment, take care of business and kick some butt," Hollins said.

The secret to Miami's success is available for $8.56 on Amazon. Express shipping on "The Seven Habits of Highly Effective People," by Stephen Covey costs slightly more, but Illinois might want to pay the extra cash. At least then the Illini might gain some insight into what makes the Hurricanes tick. In an effort to take the correct first step with his new team, Covey's book is what Larranaga turned to the first day he met with his team two years ago. "I wrote those seven habits on the board, explained to them what they meant and how they should embrace it," Larranaga said, "and then, as we begin practice each year, we begin with an expression that's in the book ... 'Begin with the end in mind.'"

Kenny Kadji's NCAA tournament bracket didn't take a hit when Florida Gulf Coast upset No. 2 Georgetown. In fact, none of the Hurricanes players were stunned. "I just know that everybody on our team picked them to win that game," Kadji said. "We knew how Florida Gulf Coast was, and they're a pretty good team, and the way they played against us at their place was pretty unbelievable." Florida Gulf Coast beat the Hurricanes 63-51 in mid-November.