College Basketball Nation:

032610 devils-boilers
March, 27, 2010
3/27/10
2:43
AM ET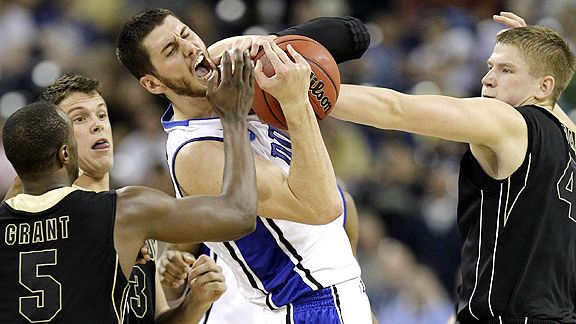 AP Photo/Eric Gay Purdue never got much of anything going offensively Friday night against Brian Zoubek and Duke.
HOUSTON -- Asked if he liked to play defense,
Kyle Singler
-- still haggard and exhausted after a brutal game more befitting a gridiron than a hardcourt -- grinned a mischievous grin and crinkled his eyes in joy.
"I love it,'' he said.
Timeout.
That's Kyle Singler.
Of Duke.
As in Duke, the pretty boys of college basketball, the program chronically labeled too soft, too passive, too darned pretty by the basketball aristocracy.
He's not supposed to like defense. He's supposed to view defense as the place to catch your breath before launching another 3-pointer.
"I think it comes from when I played football in high school,'' said the former free safety. "I liked hitting people.''
Time to reassess, people. This is not your Christian Laettner Duke team. Or your J.J. Redick Duke team. Or your Gerald Henderson Duke team. Take every stereotype you've held fast about the Blue Devils and hurl it.
More ...
March, 27, 2010
3/27/10
12:01
AM ET
HOUSTON -- Some quick thoughts after a hard-played (just ask
Chris Kramer
) Sweet 16 game between the Duke Blue Devils and Purdue Boilermakers.
I have to start out by giving props to Purdue. Everyone thought the Boilermakers would lose in the first round to Siena, then counted them dead against Texas A&M. This game was supposed to be a walkover. Instead this Purdue team gave Duke everything it could handle. Even with JaJuan Johnson on the bench for large parts of the first half, the Boilermakers kept coming. A team with eyes on an Indy Final Four date won't take much out of a moral victory, but no one will doubt Purdue from here on out.
The difference in the game: Duke had 11 turnovers in the first half and just one in the second. In a game where no one could score much, those early miscues could have lost the Blue Devils the game. But once they solved that problem, they solved the Boilermakers.
The difference between this Duke team and its predecessors is this team can win in ugly games. With a much better defensive mindset the Blue Devils may not have liked a game where they scored only 24 points in the first half, but they could survive it. If the Devils make it back to the Final Four it will get there with its defense.
No big surprise the Big Three did it again: Kyle Singler, Jon Scheyer and Nolan Smith took turns taking over the game. Singler lit it up from outside with four 3-pointers while Scheyer and Smith inched their way to the hoop.
March, 26, 2010
3/26/10
10:44
PM ET
HOUSTON -- Some quick thoughts from the turtle (as opposed to the hare of Baylor) game here in Houston:


The brutal pace of this game is hard to watch for everyone in Reliant Stadium except Matt Painter. The Purdue coach is in heaven right now. With
Robbie Hummel
watching in a shirt and tie, the Boilermakers -- who flat-out have struggled to score without Hummel -- could not afford to get in an up-and-down game with the Blue Devils. They'd be fine winning this game 32-30. And they just might.
Don't know if it's the slow tempo that's bugging Duke, but the Blue Devils are making an awful lot of uncharacteristic mistakes. Duke has 11 turnovers, leading to 10 points for the Boilers. In a game in which absolutely no one can score -- did Baylor steal all the offense or something? -- those critical mistakes and points are making all the difference.
Jon Scheyer is still struggling and that's not good news for Duke. The guard went 1-for-11 in Duke's second-round win against Cal and is 0-for-6 here in the first half. In a game in which every possession is going to be critical, the Blue Devils can't afford to have Scheyer misfiring.
Credit to JaJuan Johnson. Saddled with two fouls just seven minutes into the game, Johnson has played deliberately, but stayed aggressive on offense. He has 13 of the Boilers' 23 points and went to the locker room still with just two fouls. Credit, too, to Matt Painter realizing there's no way he could afford to leave Johnson on the bench and expect to have a chance.
March, 26, 2010
3/26/10
11:30
AM ET
HOUSTON -- Here's a quick look ahead at the Sweet 16 matchups in tonight's South Region:


Baylor vs. Saint Mary's
Key to the game:
Overlooked in the
Omar Samhan
frenzy is the fact that the Gaels are one of the best shooting teams in the country. They set a school record with 270 3-pointers this season and connected on 41 percent from beyond the arc. Saint Mary's will need all of that and more against a Baylor zone that, with
Ekpe Udoh
in the middle, is both long and active.
"Our defense changes as far as our zone," Baylor coach Scott Drew said. "We'll always tweak it and adjust it to the team we're playing and what they like to do. I know with Saint Mary's, they have an inside and outside attack. We'll have to make sure that we keep them on their toes and try to keep them guessing and not let them get in a rhythm.''
Player to watch:
LaceDarius Dunn
. The most highly recruited player to choose Baylor when he signed three years ago, Dunn has more than lived up to the billing. A gifted athlete who can shoot 3s, beat you off the bounce and is one of the best finishers in the game, Dunn is averaging 19.4 points per game. Only five teams have been able to hold him under double digits in scoring all year and frankly, Saint Mary's doesn't have anyone in the backcourt to keep up with him.
"Dunn is one of those guys you might do a great job on defending him and he still might score," Saint Mary's coach Randy Bennett said. "We've watched enough film on him. We know he's a tough match-up for anybody."
Who has the edge:
Considering how well the Gaels did against Villanova it's hard to say they'll have a tough time because of the backcourt of Baylor. But here's the twist: The Bears have a much better frontcourt than the Wildcats. Ekpe Udoh, the Michigan transfer, and
Quincy Acy
add length to that zone but also offer inside/low post scoring.
Mix in what will essentially be a homecourt for Baylor -- Waco is just a three-hour drive and many alums call the Houston area home -- and the Saint Mary's magic runs out.


Duke vs. Purdue
Key to the game:
Purdue has had trouble scoring since
Robbie Hummel
went down with his knee injury, but the real problem in this game for the Boilermakers is going to be rebounding. If Purdue can hold its own on the boards, the Boilers' improbable run can continue. If they can't, it could be like last year all over again when the Blue Devils crushed Purdue on the boards, 44-26, in a 16-point rout in the Big Ten/ACC Challenge.
"At times with this team, when we've won against teams that are bigger than us, it doesn't come down to always about with that size,'' Matt Painter said. "It comes down to chasing down rebounds and being quicker to the basketball. That's what we're going to have to do to be successful against them.''
Player to watch:
Jon Scheyer
. The guard is coming off a horrible shooting night against Cal, 1-of-11 from the floor, 1-of-8 from the arc. Mike Krzyzewski talked to him after the game, reminding Scheyer to relax and just play his game. If he starts shooting it well early, Purdue could be in trouble quickly.
"He doesn't shoot the same shot all the time and that means you're thinking about different things,'' Krzyzewski said. "Jon wants it so badly. I came in here and heard his answer, 'I knew we were playing great defense and if I hit that shot, we could break it open.' So that's not the reason you take that shot. You should take your shot because it's open and you shoot it. So he's putting more on it.''
Who has the edge:
Duke hasn't been to the Final Four since 2004, not much of a drought for most programs in this country but Duke isn't most programs. The Blue Devils are well aware of the drought and the doubting Thomases flocking around their program. But it's not just the desire to prove people wrong that gives Duke the edge. The Blue Devils are one of the better defensive teams in the country, holding teams to just 48.5 points in the first two rounds of the NCAA tournament. For a team like Purdue that has been struggling to score since losing Robbie Hummel, that's not good news.
March, 25, 2010
3/25/10
5:54
PM ET
HOUSTON --
Keaton Grant
can envision the moment. He and his Purdue teammates are standing amid the confetti as One Shining Moment plays on the big screen at Lucas Oil Stadium. They will be holding the trophy, the new national champions of college basketball.
[+] Enlarge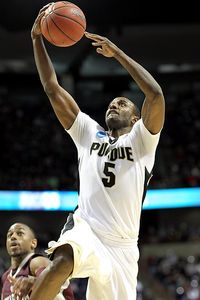 Otto Greule Jr/Getty ImagesKeaton Grant says the Boilers are tired of hearing pundits say their team doesn't have a chance.
And …
"People will say we got lucky or whoever we beat didn't bring their A-game,'' Grant said. "We joke about that all the time.''
In a region full of teams with chips on their shoulders -- Saint Mary's, the underappreciated mid-major; Duke, the overseeded and perpetually despised power; and Baylor, the overachieving newbies -- no one is carrying a gouge quite like Purdue.
Since
Robbie Hummel
went down with his knee injury, the Boilermakers have been left for dead. Even the president went against them.
They were classic first-round upset picks against Siena and given no chance to beat Texas A&M.
Now up against top-seeded Duke, a team that blew the doors off Purdue a season ago, the Boilers might as well pack up and go home if conventional wisdom has any say so.
"I know we're tired of hearing it,'' Grant said. "They talk about it on CBS, on ESPN, in the newspapers. You kind of get used to it but we're also sick of it.''
The fact is, the doubting is nothing new for Purdue. The Boilermakers have been told what they can't do for years now. As freshmen this crew wasn't supposed to beat Arizona in the NCAA tournament. They did. As sophomores, conventional wisdom deemed the Boilers as upset material for Baylor. Didn't happen. In their junior season, Northern Iowa was supposed to get them. Nope.
And then it was the end of Hummel, an injury that certainly left Purdue momentarily stunned, evidenced by the 11 first-half points they mustered against Minnesota in the Big Ten tournament.
"Oh, they blinked, they definitely blinked,'' Matt Painter said. "We just don't have a 6-8, 220-pound guy waiting in the wings.''
But the Boilers licked their wounds and regrouped, turning the negative energy spinning against them in their favor.
"I think all of the doubt, it definitely sat with them,'' Painter said. "Nobody believed in them except the guys in that locker room. They know that.''
March, 25, 2010
3/25/10
8:11
AM ET
Three things to watch is a quick preview of the NCAA tournament's second weekend. It is exactly what it says it is.
Friday's games in Houston: No. 10 St. Mary's vs. No. 3 Baylor, 7:27 p.m. ET and No. 4 Purdue at No. 1 Duke, 9:57 p.m. ET
[+] Enlarge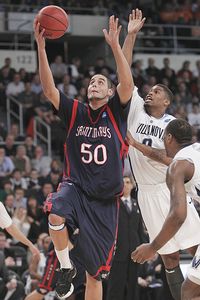 AP Photo/Winslow TownsonContaining Omar Samhan will be key if Baylor hopes to advance in the tournament.
Thing One: How do you solve a problem like the Sandman?
Through two NCAA tournament games -- and an entire regular season before it -- verbose St. Mary's forward
Omar Samhan
has been pretty much unstoppable. The last team to keep him in check was Gonzaga in the WCC final, a game Gonzaga lost by 19 points. Thus far, stopping Samhan has meant doubling him; few teams have a post defender good enough to stop his diverse array of post moves, which is where Baylor's
Ekpe Udoh
comes in. Udoh is 6-foot-10, 240 pounds and averages almost four blocks a game. If anyone can stop the smaller, less athletic Samhan, Udoh is the guy.
This would be preferable for Baylor, because the minute you start doubling Samhan is the minute Samhan starts finding Gaels on the perimeter, any of whom can hit 3s from just about anywhere on the court. If you trust your rotation enough to get help defense before these shots can fly,
by all means, double down
. But Baylor hasn't exactly been the most coherent defensive team in the country this season, and when you have a shot-blocking, never-fouling NBA lottery pick anchoring the middle of your defense, sometimes you're better off keeping it simple.
Thing Two:
Purdue versus probability.
Let's be real:
Robbie Hummel
's injury cost the Boilermakers their shot. This is no mystery. It's not a foregone conclusion that Purdue loses this game; weirder things have happened in this tournament. But consider the matchups here: With Hummel, the Boilermakers have someone who can guard
Kyle Singler
in the post or on the perimeter as well as any defender in the country. They also have someone to help
JaJuan Johnson
on the boards when Singler and the Plumlee brothers and sudden offensive glass terror
Brian Zoubek
begin their merciless hunt around the rim. What's more, Purdue has an offensive option outside of the sneakily good
E'Twaun Moore
and Johnson, someone who can help stretch Duke and force them to play the Boilermakers honestly at every position. That's all gone now. Duke's is a tremendous defense, and the luxury of having not having to worry about Hummel will change the entire complexion of this game. Matt Painter will take zero risks. Duke will be happy to attack. One team will be playing to win. The other will be hoping to keep it close. No disrespect intended to the Boilermakers, who have accomplished much more in their post-Hummel days than anyone thought possible, but a Purdue upset in this game would conceivably be the most surprising of the weekend.
Thing Three: Uh, Mickey McConnell is really good, too.
It's been easy to forget about the rest of St. Mary's squad, which I briefly mentioned in the Samhan stuff above, because Samhan has been so tremendous on the court
and off
. (His
calling out of Jay Wright for not doubling him
is the exactly the sort of swagger the NCAA tournament needs. That it's coming from a self-described "slow, overweight white guy" is even better.) But it's worth nothing that McConnell, the Gaels' second leading scorer this season, is shooting a rather insane 51.7 percent from behind the arc this season. Yes, you read that right. McConnell's effective field goal percentage is 63.6 percent, good for No. 15 in the country, and especially impressive when you consider that the leaders in that stat tend to skew toward big men who get lots of easy dunks and putbacks around the rim. Unbelievably, McConnell is actually a better shooter outside the arc than inside it. In other words, Baylor, if you do decide to double Omar in the post, be sure the doubler isn't the guy responsible for McConnell. Leaving this man open would be, um,
unwise
.
Bonus bold Eamonndamus South Region prediction!
: Baylor's athleticism proves too much for Samhan and company to handle. After the loss, Omar Samhan is respectful of his opponents, tells reporters his team "gave it 100 percent" and "tried to take every game at a time" but says "you have to give the
Baylor Bears
a lot of credit." Then Samhan cracks a smile, says "Omar's no punk, we'd beat Baylor nine times out of 10," subsequently challenging Scott Drew to a no-holds-barred cage match on "Monday Night Raw." The Eamonndamus has spoken!
(In other words, I think seeds hold in the South. Baylor-Duke should be a good one.)