College Basketball Nation:

032610 panthers-spartans
March, 27, 2010
3/27/10
1:42
AM ET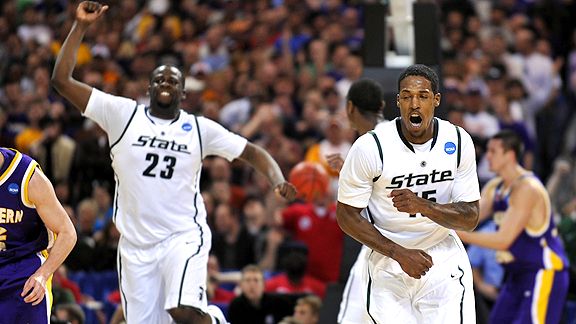 Scott Rovak/US PresswireMichigan State is heading to the Elite Eight, where the Spartans will meet Tennessee on Sunday.
ST. LOUIS -- In the latest installment of that long-running hit series, "Tom Izzo, Lord of the Dance," the climactic scene went like this:
Korie Lucious
driving, spinning, fading back and springing up on one foot to splash the game-breaking shot over last week's hero of March,
Ali Farokhmanesh
.
Great move. Great shot. Great moment for all of SpartanKind. Michigan State evicts Northern Iowa,
59-52
, in what can legitimately be called an upset.
[+] Enlarge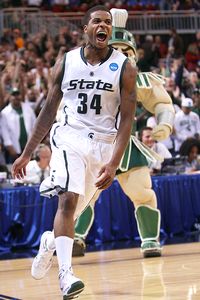 Elsa/Getty ImagesKorie Lucious hit a spinning fadeaway jumper late in the game that gave the Spartans some separation from Northern Iowa.
But peel back a few layers on that play and you see why Izzo is just so ridiculously good at this time of year.
Lucious was at the tail end of a career-high 39 minutes – nine more than his previous high and 17 more than his season average. He was playing all those minutes at point guard because the normal starting point, leading scorer
Kalin Lucas
, was on crutches on the sideline after tearing his Achilles tendon last week. He had missed six of his eight shots on the night against the unyielding Panthers defense.
And Izzo had enough faith in his sophomore backup to call a clear-out for him with the shot clock draining and less than 100 seconds to play and State holding a two-point lead. It wasn't the do-or-die shot of last Sunday, when Lucious beat Maryland with a 3-pointer at the buzzer, but it was huge.
"Just a hunch," Izzo said of the play call, one he's made many times for Lucas. "He said he felt good, and I could tell he was confident. And that was a big, big play."
That, in summation, is what the March version of IzzoBall is all about. The hunches all come up roses. The injuries are overcome. The puzzling performances from the regular season don't matter anymore.
And somebody always steps up.
Or several somebodies.
In addition to Lucious on this night, it was
Delvon Roe
, playing 27 minutes on a torn meniscus and somehow coming up with the most spectacular play of the night, soaring in out of nowhere to crush a rebound dunk early in the second half as Michigan State roared back from a seven-point halftime deficit.
"He gave us every ounce he had," Izzo said of Roe. "… It's a cliché: lay it on the line. He laid it all on the line, I can promise you that."
And it was
Durrell Summers
, continuing his NCAA tournament flourish with a game-high 19 points. Summers is averaging 20 points per game in the tourney, after averaging 8 over his previous eight games. At times in the first half, Summers was the only thing keeping Michigan State in the game. And at one moment in particular in the second half, he rose up and hit a 3 with 7:27 left to give the Spartans the lead for good.
"At certain times in the game we just kind of huddled up and said it's winning time," Summers said. "Pretty much what winning time means for us is we're going to get down and bite the floor on defense and everything's going to go through our defense."
Bite the floor. Perfect. That's defense the Izzo way. And this was defense the Izzo way:
Northern Iowa's last basket in this game came with 10 minutes and 21 seconds to play. All the Panthers could manage the rest of the way was 10 free throws, as Michigan State stubbornly took the game away.
That truly was doing unto UNI what UNI had done to so many other teams. In the Missouri Valley Conference tournament, the Panthers held Wichita State without a field goal for 10 minutes in the final, held Bradley without a field goal for seven in the semis and Drake without a field goal for 21 minutes in the quarters.
Now here they were on the receiving end.
"They made us take some tough shots, and they played great defense in the second half," said Farokhmanesh, who made just 1-of-6 outside the arc.
Northern Iowa joins a long list of teams who have seen their seasons end against Izzo over the past 12 NCAA tourneys. He's now knocking on the door of a sixth Final Four since 1999, close enough to taste it.
Tennessee stands between Izzo and Indy. He has less than two days to get his hobbled team regrouped, rested and ready to face the big, athletic Volunteers.
"It's great when you're working at this time of year," Izzo said. "And I'm going to be working. My whole staff will be working for the next 40 hours, and we'll see what we can do."
We know what Tom Izzo can do in this Dance. That's why he's the lord of it.
March, 27, 2010
3/27/10
12:05
AM ET
ST. LOUIS -- Quick thoughts from
Michigan State 59, Northern Iowa 52
.


Tom Izzo does it again. Finds a way without leading scorer
Kalin Lucas
. Crashes another regional final. Amazing.
And with that, the Panthers' run is done. But they gave everyone quite a few thrills along the way. Northern Iowa last scored a basket sometime around February, it felt like. They couldn't find enough ways to score in the last half of the last half to pull off another victory.
Durrell Summers to the rescue for Michigan State. He scored 19 points, after hanging 26 on Maryland. He's scored 59 points in three tourney games, after scoring 63 in the previous eight games.
Ali Farokhmanesh, Mr. Big Shot of March, came up largely empty tonight. He was just 1-of-6 from 3-point range.
Most surprising of all for Northern Iowa was its 14-of-21 free-throw shooting, including two key misses by Adam Koch while down two with 2:05 to play.
March, 26, 2010
3/26/10
10:46
PM ET
ST. LOUIS -- Quick thoughts from halftime:
The pace is perfect for Northern Iowa. The Panthers have only been hurt in transition a couple of times by the Spartans' vaunted running game and are doing a great job rushing back to play defense. Of course, part of that means abandoning the offensive glass, but it's a trade-off UNI coach Benn Jacobson will gladly make.
The Koch brothers, senior Adam and freshman Jake, both hit big 3-point shots in the first half to help stake the Panthers to their lead. Adam Koch, Missouri Valley Conference Player of the Year, had not shot well throughout the entire postseason. Tonight he is 4-of-4. If he keeps hitting shots, UNI will be very tough to beat.
UNI also savvily exploited 7-footer Jordan Eglseder in the low post, isolating him 1-on-1 against 6-10 Garrick Sherman. Eglseder used his 45-pound weight advantage to score over the freshman.
Durrell Summers kept Michigan State in the game in the first half, scoring 11 points. Yes, the Spartans miss injured Kalin Lucas, their primary creator off the dribble.
Northern Iowa's team defense is a thing of beauty. They switch and recover without leaving themselves susceptible to mismatches. And they help on penetration as well as anyone in the country. Michigan State's 7-of-22 shooting in the first half was not just the result of some shots that spun out -- though there were a few of those.
March, 26, 2010
3/26/10
12:47
PM ET
ST. LOUIS -- Quick previews of the Sweet 16 games here tonight:


Tennessee-Ohio State storylines
• How will
J.P. Prince
do checking
Evan Turner
? That's the marquee individual matchup in a rematch of a thrilling Sweet 16 game three years ago between the Volunteers and Buckeyes. At 6-foot-7, Prince has the length to hinder Turner's passing lanes and shooting looks -- but does he have the mentality for the matchup? Prince has been an up-and-down, hot-and-cold player for four years -- but he played great in the first two rounds of the tourney, averaging 16 points and playing excellent defense against San Diego State and Ohio. But this is Ohio STATE, not Ohio.
• Turner gets the attention for Ohio State -- but that helps guard
Jon Diebler
get the open shots, and he's been killing it lately. Diebler has made 29 of 61 3-point shots the last six games, and is averaging 21 ppg over the past three games. Diebler's scoring has become progressively more important to Ohio State as the season has gone along. He's scored in double figures in 10 of the Buckeyes' last 11 games, and their record in that time is 10-1.
"Diebler is a guy that you have to respect," Tennessee coach Bruce Pearl said. "You have to fear. If he can see it, he can make it. So you've got to know where he is on the floor."
• Will Tennessee be able to force a tempo that wears down the Buckeyes? Ohio State has played a very short rotation all season -- essentially just six guys -- and the Volunteers prefer to play at a frantic pace. Ohio State's core group of players obviously is in great shape, but this could be their most difficult stamina challenge.


Northern Iowa-Michigan State storylines
• Northern Iowa's team got a congratulatory phone call from UNI alum Kurt Warner after beating Kansas. Both Warner and the Panthers know a thing or two about success in St. Louis. UNI has won six straight games here in the Missouri Valley Conference tournament over the last two years, and Warner was the quarterback who led the Rams to their only Super Bowl victory.
"When I got that call and passed it along to the guys, they lit up about as much as they did following that basketball game," coach Ben Jacobson said. "I mean, it had a real impact on our guys."
• Is Michigan State now an underdog against Northern Iowa, without leading scorer
Kalin Lucas
, who will miss the rest of the season with a torn Achilles tendon? If so, that's fine with the Spartans. Said forward
Draymond Green
: "I'm pretty sure if Kalin was in this game we wouldn't be the underdog. But with Kalin going down, a lot of people think we can't do it. And we know we can. So we're going to come out and play like it."
• Both the Spartans and Panthers are well-versed in playing physical, half-court basketball. But Michigan State has traditionally had an underrated fast break, and that concerns a UNI team that much prefers a slower pace.
"The biggest thing will be to stop their initial break," guard
Ali Farokhmanesh
said. "That's what they're really good at. They get into their sets quick. And they get the ball off the rim and go. So we're definitely going to have to be ready on the defensive end to get back in transition and be ready to block them off and set up a wall."
March, 25, 2010
3/25/10
9:29
AM ET
Three things to watch is a quick preview of the NCAA tournament's second weekend. It is exactly what it says it is.
Friday's games in St. Louis:
No. 6 Tennessee vs. No. 2 Ohio State, 7:07 p.m. ET
and
No. 9 Northern Iowa vs. No. 5 Michigan State, 9:37 p.m. ET
[+] Enlarge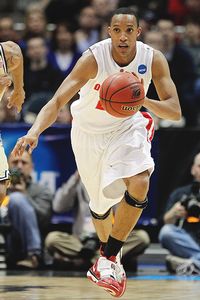 Jonathan Daniel/Getty ImagesEvan Turner is averaging 16.5 points per game in the NCAA tournament.
Thing One: Seeking Volunteers to wear down Evan Turner.
Get it? Volunteers? See what I did there? OK, I apologize. But the point remains: Tennessee's best chance of beating Ohio State will come in the 42 feet between Ohio State's basket and the half-court line. When Georgia Tech and UC Santa Barbara pressed Turner hard in the backcourt, they were able to not only force turnovers -- 13 total, nine of which came against the Yellow Jackets -- but sincerely frustrate the surefire national player of the year into the sort of outward frustration Turner seemed to have eliminated from his on-court personality years ago. Tennessee just so happens to be one of the better pressing teams in the country. This strategy has the added ostensible benefit of tiring out the Buckeyes, who almost never go to the bench. That aspect is slightly overrated; Ohio State has seemed to do just fine with its five starters playing big minutes thus far. These are college athletes who, at this point in their hoops lives, can play 40 minutes of intense basketball in their sleep. The real benefit of the press is getting after Turner, forcing him to give up the ball, and hoping he cracks under the pressure. Once Turner gets past half court, stopping Ohio State becomes much more complicated.
Thing Two: In which a No. 9 seed from the Missouri Valley Conference is favored to beat Michigan State.
Really? Really. After their win over Kansas, the
Northern Iowa Panthers
seem to be the consensus pick to take down an injury-hobbled Michigan State team in the Sweet 16. This makes sense: UNI has played really well in its two wins -- one of which, you know,
was over Kansas
-- and Michigan State will be without its most productive player and leader in guard
Kalin Lucas
. But calling UNI the prohibitive favorite here seems a little overblown. The teams are just about equal in overall adjusted efficiency. Northern Iowa is a very good defensive team that excels at keeping opponents away from the glass and off the free throw line. But Michigan State -- a decidedly bigger and stronger team than UNI (though so was Kansas, I suppose) -- is the sixth-best offensive rebounding team in the country. Both teams prefer a glacial pace. This is going to be a very slow, very grindy sort of basketball game, and those sorts of games typically end up being close. Who says the Spartans can't win another?
Thing Three: Please welcome to the floor ... Mr. Korie Lucious!
If Michigan State does that, it will be in large part thanks to the way Lucious fills in for the injured Lucas. Lucious got off to a pretty good start in the second round, scoring 13 points in 27 minutes, the most important of which came just before the buzzer, when Lucious hit a 3 to put Michigan State past Maryland, 85-83. I'm not big on the psychological element of analysis -- how do we know what makes any given player tick? -- but if Michigan State fans are hoping their substitute point guard comes to play with a certain level of confidence, that shot couldn't have hurt.
Bonus bold Eamonndamus Midwest region prediction!
: Michigan State and UNI play one of the slowest, least entertaining games of the year ... until the final minute, when Tom Izzo and Ben Jacobson stage a coaching clinic that sees each team trade game-winners on one beautifully designed inbound play after another. Finally, in no small measure of karmic realignment, UNI's
Ali Farokhmanesh
takes -- and misses -- a shot much too early on what would have been the final possession, giving Michigan State the ball with more than enough time to score. They do. Eamonndamus has spoken!