College Basketball Nation:

032710 mountaineers-wildcats
March, 28, 2010
3/28/10
2:15
AM ET
By
Diamond Leung
| ESPN.com
From start to finish in the game that got West Virginia to the Final Four, the Mountaineers never quite broke character in staying loose and ultimately had their fun against Kentucky.
It began as soon as they took the floor for the biggest game of their lives, with that simple act being turned into a prank, according to the
Charleston Daily Mail
:
The pep band played their song. The fans sprang suddenly to their feet and cheered. Jonnie West was first to squeak his sneakers across the floor. Then came Cam Payne.

And that was it.

"Once we saw Jonnie and Cam go out there, we stopped to see how far they'd go before they noticed," said point guard Joe Mazzulla, who with teammate Cam Thoroughman orchestrated this Elite Eight prank.

West and Payne eventually realized it and Mazzulla and Thoroughman led the rest of the laughing Mountaineers toward tipoff against Kentucky.
And after the win, it was atop the scorer's table where West Virginia's
John Flowers
did a famous flex, according to
Jerry Brewer of the Seattle Times
:
Flowers did the "John Wall Dance," moves that gained national popularity during the Kentucky guard's dynamic freshman season. Soon after, several of his Mountaineers teammates joined him in celebration and ridicule. West Virginia, full of hardened, underrated athletes, couldn't resist making sure the world understood what it had done.
March, 28, 2010
3/28/10
1:50
AM ET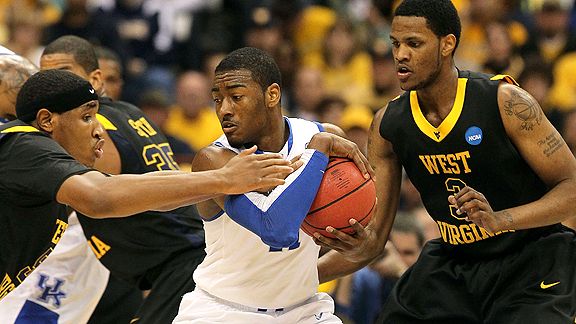 Jim McIsaac/Getty ImagesJohn Wall and Kentucky were frustrated by West Virginia's 1-3-1 defense on Saturday. But the play of the Wildcats this season has alleviated the frustrations of the past two seasons.
SYRACUSE, N.Y. -- Kentucky basketball seemed to be back to its royal status as soon as John Calipari was hired a year ago.
The rock star stature of its coach within the Commonwealth and the Wildcat diaspora spread throughout the world believed that the program had returned to its rightful place among the elite as soon as the NBA-ready players arrived, too.
The loss to West Virginia in the Elite Eight Saturday night at the Carrier Dome prevented a coronation. But it shouldn't be a sign that there is any sort of regression. Kentucky is back, and as long as Calipari is on board there won't be a significant slide, even with the likely early departures for the NBA for three, possibly four, of the key contributors – freshmen
John Wall
,
DeMarcus Cousins
and
Eric Bledsoe
and junior
Patrick Patterson
.
"My teammates and myself are proud of what we accomplished this year,'' Patterson said in a glum locker room following a
73-66 loss
by No. 1 seed Kentucky to No. 2 seed West Virginia in the East Regional final. "We're not satisfied (with losing in the Elite Eight). We know this is a stepping stone to getting Kentucky back to being a national powerhouse like it was in the years before. Hopefully the teams ahead of us can do it.''
No one can deny what Calipari did this season in assembling the greatest late signing period class in modern times. Calipari checked egos at the door with this crew, managed minutes, coached a team that could win an uptempo game or in the halfcourt. By the end of the season, they played defense with purpose and passion and won close road games in hostile SEC environments.
You can't deny the energy that was in Rupp Arena this season. It was palpable. From Midnight Madness in October to the opening tip against Morehead State in November to the regular-season finale against Florida in March.
"We did a lot of successful things this year but we didn't get the main goal and that was winning a national championship,'' Cousins said. "I've never had this much fun in my life. I wish it would have ended up on a good note for the returning players like Perry (Stevenson), Ramon (Harris) and Patrick who had been through hell the past two seasons. I wish we could have ended it on a good note.''
The Billy Gillispie era the previous two seasons wasn't good to watch or enjoyable for the players. Patterson spoke openly about the difference during Friday's off-day media session. There was chaos throughout last season's NIT bid. Practices were laborious, not intensely fun. Calipari brought joy back for the returning players while meshing in the celebrated newcomers.
Wall's beautiful game -- from beating Miami (Ohio), to taking down Connecticut in New York, to his play throughout the SEC -- was something to behold at times. To watch the maturation of Cousins from a hot-tempered man-child to a much more refined post presence was a credit to Calipari and the staff. Cousins was overwhelmingly appreciative of how much Calipari helped him mature and evolve as a player. Wall and Patterson spoke Friday about how Cousins popped off early in the season when pushed and prodded, and how he figured out how to stay on the floor and ignore the temptation to return to aggression.
The fast-breaks, the turnovers, the overall enthusiasm for Kentucky basketball weren't just good for the Commonwealth this season, but for the sport. College basketball needs Kentucky to be great, just like it needs Kansas, Duke, North Carolina, Louisville, UCLA and Syracuse to matter. It's tremendous for basketball when new powers, like Butler, are formed. Or when old ones, like West Virginia and Kansas State, are tapped. Or a newly consistent presence, like Michigan State, emerges. But Kentucky has to be relevant for the overall health of the sport. The lightning rod of the sport is still better off when it's up than being pounded down.
"Everybody put egos aside for this team to make it this far,'' Bledsoe said. "I'll look back at this as a special year.''
Even if Kentucky takes a major hit from the draft, you can guarantee Calipari will reload quickly with some of the top players in 2010 and beyond.
"I'm proud of my team, they fought and they just kept trying,'' Calipari said. "I'm proud of what they've done all season, a bunch of young kids that just came together.''
The Wildcats couldn't solve West Virginia's 1-3-1 zone. They gave up 10 3s and made only 4 of 32 themselves. They didn't play with the same defensive lock-down mentality that they had against Cornell in the Sweet 16 or even close to what they had against Wake Forest in round two. West Virginia was the better team Saturday night.
Bottom line: Kentucky failed to reach its expectations for this particular group, and they likely won't be together next season. The window was open for a national title, or at the least the first trip to the Final Four since 1998. But as long as Calipari stays in Lexington, there will be an annual run toward the title. That's what is expected in Chapel Hill and Durham and always has been the norm in Lexington. Now it should be a reality.
March, 28, 2010
3/28/10
1:23
AM ET
Darryl Bryant's practice injury could've been a devastating blow to West Virginia's title hopes.
But Joe Mazzulla had other ideas.
In an upset of John Wall and 1-seed Kentucky, Mazzulla turned in the most memorable performance of his career.
More...

March, 27, 2010
3/27/10
11:02
PM ET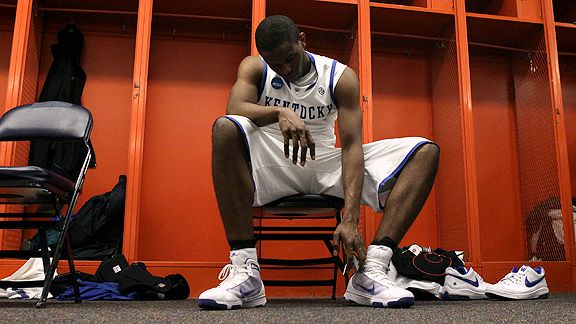 Jim McIsaac/Getty ImagesDarius Miller finished the night 0-for-6 in shooting and missed all four of his 3-pointers.
Sometimes, basketball games are decided in ways the eyes can't see. Sometimes, differences between the winning team and the losing team are imperceptible, made clear only through statistics -- cold, unbiased, objective numbers.
Other times, basketball is really simple.
Anyone who watched
No. 1-seed Kentucky lose
to No. 2-seed West Virginia in Syracuse, N.Y. probably doesn't need much in the way of numbers to figure just why the Wildcats lost. Kentucky lost because it couldn't make shots. That's it. It really is that simple.
Sure, there are other complaints the no-doubt devastated denizens of Big Blue Nation can lodge. Like Kansas before it, Kentucky probably should have pressed earlier in the second half. The Wildcats probably should have worked harder to get better looks, even when trailing; shooting so many 3-pointers played right into West Virginia's hands. John Calipari probably should have encouraged his team to push the pace more frequently, rather than getting stuck in the sort of grinding half-court style the Mountaineers prefer.
But all of that is moot if Kentucky makes a few more shots. This is the story of Kentucky's year. The Wildcats were as talented as any group of freshmen since the Fab Five. They were excellent or above-average in every phase of the game -- except for two areas: 3-point and free throw shooting. When the Cats lost to Tennessee and South Carolina, it was because they were lulled by their opponents' defense into settling for long jump shots. And it happened again tonight.
We may not
need
numbers, but just to hammer it home: Kentucky was 0-for-20 to start the game from outside the arc. The Wildcats finished 4-of-32. When Kentucky did eschew the long shot, instead choosing to drive and draw the foul, it was 16-of-29 from the charity stripe, leaving 13 crucial points on the board. The team's 34.3 percent overall shooting was its worst of the season. The 55.2 percent mark from the free throw line was the third-worst.
Against many teams, shooting that poorly wouldn't be a problem. Kentucky is usually so much better than its opponents that its athleticism and talent and strength and all of those other astounding physical qualities that were so evident in UK's blowout win over Cornell Thursday night are enough. But not against West Virginia. The Mountaineers were the one team left in the tournament -- with the possible exception of Baylor -- with enough athleticism to hold their own under the glass with Kentucky. So Kentucky had to make shots. They didn't. Simple.
The opposite was true of West Virginia. These Mountaineers have never been a good shooting team. Instead, Bob Huggins' squad has relied on its uncanny ability to grab all those misses and get easy putbacks underneath. Kentucky limited that part of West Virginia's game, but it didn't matter: The Mountaineers did shoot well. At one point in the first half, WVU hadn't made a single free throw or two-point field goal, but they had made eight 3-pointers. For the first 20 minutes, the ugly-shooting Mountaineers had turned into a very big, athletic version of Cornell. By the time they cooled down, they were getting interior shots from curl screens and back cuts, and their lead was -- despite a few scares from Kentucky's late-arriving press -- safe.
West Virginia made shots. Kentucky didn't. It's so simple that I don't even need to keep repeating how simple it is.
The Mountaineers' win will send them -- and Huggins, who could probably get elected governor of West Virginia at this point -- to their first Final Four appearance since 1959. It also sets up a matchup with the winner of Duke-Baylor, two very different teams that will present two very different challenges. For now, though, West Virginia can enjoy the moment. It took a lot of likely Kentucky misses and a lot of unlikely WVU makes, but however simple it may be, I have a feeling Huggins and company won't much mind.
As for Kentucky: The loss will be especially tough to take for the Big Blue fans, many of whom no doubt considered this UK's best chance to win a national title in the immediate future.
John Wall
,
DeMarcus Cousins
, and
Patrick Patterson
will almost certainly be headed to the NBA lottery.
Eric Bledsoe
, a likely first-round pick, could join them. Kentucky will start from scratch again next season. (Though that's a very talented scratch; Calipari will likely sign another top-10 recruiting class.) UK fans have infamously high expectations. This is unquestionably a disappointment.
At the same time, though, here's to hoping Kentucky fans remember the season they just saw, which, oh yeah, took place just a few months after the program appeared in -- gasp! -- the NIT. When programs fire coaches, they plan for a few years of down seasons and rebuilding efforts. Turnarounds simply don't happen this quickly. Under John Calipari, it did -- and it produced the most entertaining season in the past decade of Kentucky basketball.
It also means that we, the college basketball viewing public, have to wave farewell to the two best freshmen we've seen since Carmelo Anthony and Kevin Durant. Cousins is a beast of a player, an insanely effective offensive rebounder, and a more polished scorer than he usually gets credit for. And ... John Wall. Well, John Wall. What else can you say? The hype of Wall's arrival was insanely outsized, and yet Wall lived up to -- even exceeded -- every expectation thrust upon him. Both players are going to be very, very rich in a few months, and both players will deserve it. They're that talented. (To those who have problems, many of them legitimate, with the one-and-done rule, I simply say: We got to watch John Wall for a year! It's completely selfish, and I don't care! It was awesome!)
Really, though, tonight is West Virginia's night. Few fan bases are as fervent in their love for the home team. One such group is extremely disappointed tonight. The other is extremely happy. Enjoy it, Mountaineers fans. It's been a long time coming.
March, 27, 2010
3/27/10
9:44
PM ET
SYRACUSE, N.Y. -– Quick thoughts on a stunning result as West Virginia wins the East Regional
73-66
.
This was supposed to be a coronation for Kentucky. Guess not.
Kentucky's inability to shoot 3-pointers and free throws was exposed like never before. The Wildcats were 16-of-29 from the charity stripe and 4-of-32 from outside the arc (started 0-for-20). Before making its first 3 late in the second half, UK had missed 28 straight from long distance, dating back to the Cornell game. Wow.
West Virginia won this game. The Mountaineers took it over early and kept the foot on the throat. The Mountaineers' first eight field goals were all 3-pointers. Once the Mountaineers established that tempo, the Wildcats were reeling and felt like they had to keep pace. The way they were shooting they had no shot.
West Virginia's Joe Mazzulla was terrific. He took the challenge of going right up Kentucky's gut. He had three coast-to-coast drives to the basket and was untouched. Mazzulla even made his first 3-pointer of the season. He played most of the season with a bum shoulder and was an offensive liability, but tonight he was West Virginia's offensive threat. His 17 points more than doubled his previous season-high (8) and he reached double-digits for the first time since November 2008. In fact, he'd scored 17 points in his last four games COMBINED. The Wildcats probably thought, "Why not let him put it on the floor because he can't elevate well enough to score?" That was wrong. Remember when Darryl Bryant's broken foot was supposed to be a distraction for the Mountaineers? When was that? Oh yeah, earlier this week.
West Virginia coach Bob Huggins hasn't ever really received his due for his coaching ability. He is one of the best in the business. His 1-3-1 zone flustered Kentucky throughout the game. Could he have planned on the Mountaineers making so many 3s? Of course not. But the Wildcats' inability to score was more of the issue. Huggins has blended the defense of John Beilein's WVU teams and mixed it in with his lengthy players like Devin Ebanks. That's terrific stuff from Huggs.
Kentucky had a chance to win the national title with Kansas and Kansas State out of the field. But the window for this particular group is likely closed. Expect freshmen John Wall, DeMarcus Cousins and possibly Eric Bledsoe to declare for the NBA draft with an almost-certain declaration for junior Patrick Patterson. The Wildcats will reload quickly under Calipari, but will be far from a favorite in the preseason.
West Virginia has to be considered the new favorite entering Indianapolis with two of the Final Four spots locked up: Butler, West Virginia and the winners of Baylor-Duke and Tennessee-Michigan State. If the Blue Devils beat Baylor, I would go with West Virginia over Duke.
Huggins has been saying all week how fans in West Virginia are passionate about the program and this team. Kentucky gets plenty of publicity for its obsession with the Commonwealth's team. It's time we give West Virginia its due for how beloved this program is in that state. They now get to see their team in the Final Four for the first time since 1959.
I can't think of another alumnus that has done as well as Huggins has for West Virginia, in such a short amount of time. Jim Boeheim is an institutition at Syracuse. That one comes immediately to mind.
Butler and West Virginia in the Final Four. What if Baylor and Tennessee make it as well? I'm not sure we have had a semifinals in the modern era with so many programs that have never been to the Final Four. Duke and Michigan State are the lone elite teams left that can earn a berth.
Huggins coached Cincinnati to the Final Four in 1992. I remember it well. I was a young cub reporter with the Albuquerque Journal.
The Big East can boast that it continues to have a presence in the Final Four. That's now the fourth Big East Final Four in the last four years.
In the preseason -- or better yet, just two weeks ago -- who had Tennessee as the one SEC team with a Final Four shot?
Ebanks is a special talent. His length and reach on defense is something to behold.
March, 27, 2010
3/27/10
8:22
PM ET
SYRACUSE, N.Y. – It's halftime at the only 1 vs. 2 regional final and
West Virginia is up, 28-26, on Kentucky
.


Now do you understand why both coaches were a bit miffed at being put against each other in a regional final when they were clearly both No. 1s?
West Virginia can't beat Kentucky inside so why not make the attempt to take the Wildcats down from the perimeter? So far it's working as the Mountaineers have made all eight of their field goals from the 3-point line. Big Shot Da'Sean Butler has arrived in Syracuse with four of the eight threes.
Remember when missing Darryl Bryant was a big story earlier this week for West Virginia? Well, Joe Mazzulla has shown no signs of being a player with a bum shoulder. Mazzulla has tossed his body around with no reservation, going to the basket and trying to create. He made a 3-pointer, his first of the season, after missing the previous six. He also came up with a huge steal on a long pass that set up a 3-pointer at the other end for Butler.
West Virginia's 1-3-1 defense was much more of a problem for Kentucky then I think anyone realized it would be prior to the start of the game.
Kentucky's John Wall is getting to the basket but he's having problems finishing. The Mountaineers are there to challenge him at almost every shot. The most impressive came when John Flowers rose above the back line to swat away his shot.
Quick draw Curtis Shaw served up a technical on DeAndre Liggins that seemed a bit excessive. He also then warned the Kentucky players and bench. NCAA coordinator of officials John Adams headed into the locker room to talk to Shaw. I asked him what he thought of the rough half and he said, "interesting half."
The Wildcats dominated the backboard at 29-13, but the Wildcats aren't converting much. The Wildcats have only four points off the bench. That has to change here in the second. Kentucky coach John Calipari isn't getting much production out of that second unit.
Not sure I saw Kentucky having a 10-3 advantage in – turnovers at the half.
Impressed with the turnout here at the Carrier Dome. Solid crowd. The entire lower bowl is filled with Kentucky and West Virginia fans. Lots of blue and yellow here.
Selection committee chair Dan Guerrero (UCLA athletic director) has made his way here for the championship game of the East.
Still can't believe Butler is in the Final Four. What a great story. Oops, wrong regional.
March, 27, 2010
3/27/10
12:45
PM ET
SYRACUSE, N.Y. – Quick thoughts on the lead up to the East Regional title game 7 p.m. Saturday at the Carrier Dome:
Both teams expect a physical game, as physical as either has played this season. One of the first things I was asked in the locker room Friday by a Kentucky official was, "Where will the officials be from?" Who knows, but how they call the game could be interesting.
West Virginia's Da'Sean Butler jokingly said he doesn't need a last-possession game because he's itching to take another last-second shot. But he wouldn't mind. He loves it. He reminisced about being an only child and taking the last-second shots in front of his "hood" all the time, changing the score, saying there was more time left and always redoing until he really made the shot. Big Shot Butler has been quiet since the Big East tournament title game because West Virginia hasn't needed his services in the final possession.
West Virginia's Devin Ebanks announced he will draw Kentucky's John Wall on a defensive assignment. He said that his length could be a problem for Wall and he has defended smaller guards in the past. I concur. I saw it when Ebanks gave Texas A&M issues in the Anaheim Classic in November. Ebanks said the quickest player -- or rather, toughest guard -- he has had to defend this season was Connecticut's Jerome Dyson.
West Virginia guard Joe Mazzulla has been much more aggressive of late taking the ball to the basket. He didn't seem to wince as he has in the past with his shoulder ailing him throughout the season. Mazzulla isn't as much of a driving liability offensively. No one is going to expect him to shoot and Kentucky would likely slack off guarding him. But Mazzulla knows this and won't put himself in position to take a 3-pointer.
Kentucky freshman DeMarcus Cousins and Wall both said this is what they came for, to get to a Final Four. The goal has never wavered with these freshmen. Cousins also said rather candidly that he and Wall were going to be a package deal no matter where they landed and even tossed out NC State as a possible destination. That's a bit of a surprise since Wall was always on the Wolfpack target being from Raleigh, but Cousins wasn't necessarily on the radar from Alabama.
Local Syracuse fans tended to stay away Thursday night. I'll be interested to see how many return Saturday night to fill up the Carrier Dome with the Orange now dispatched from the tournament.
A number of Kentucky officials said Kentucky fans spent thousands of dollars -- in the $2000 to $4000 range -- to go to the SEC tournament in Nashville and that's one reason Kentucky fans have passed on going to New Orleans and now to Syracuse with the possibility of driving to Indianapolis next weekend.
West Virginia coach Bob Huggins went with Casey Mitchell in the starting lineup against Washington. Not sure if he'll do the same against Kentucky.
Deniz Kilicli should have some interesting tussles with Cousins in the low post. Kilicli has been highly productive in the limited minutes and Huggins might use him more in this game with the slew of big bodies the Wildcats can toss at the Mountaineers.
Huggins and John Calipari continue to be miffed with Kentucky and West Virginia being in the same bracket -- the lone 1 vs. 2 game remaining. Remember, Kentucky was the second No. 1 seed and West Virginia was said to be the first No. 2 according to Dan Guerrero, the UCLA athletic director and chair of the selection committee.
Ebanks and others said they could look at this as a mini national championship game. It could. I think it will be the best of the Elite Eight. I know I'm not stepping too far out on a limb to say that at all.
Kentucky's Patrick Patterson was in his glory discussing how things have changed at Kentucky in a year. It's really amazing to see how the Wildcats' returnees are relishing in being on the verge of a Final Four after the chaos of a year ago. It's one of the more remarkable turnarounds of a high-major program that I've ever seen. A year ago Kentucky seemed headed for an abyss and now it's a steam train that isn't stopping.
March, 27, 2010
3/27/10
1:22
AM ET
SYRACUSE, N.Y. -- Bob Huggins had to ease into the West Virginia job three years ago, meeting the players in the middle at times after they were schooled in the nuances of John Beilein's system.
John Calipari didn't necessarily force his dribble-drive-motion offense on any of Kentucky's returning players. But he had the luxury of knowing that they would do what he wanted without question in the fall since there were more contributing newcomers than returnees.
How each of the coaches seamlessly handled meshing former players and their own recruited talent helped speed up the process that put Kentucky and West Virginia on a collision course for a Final Four berth on Saturday at the Carrier Dome.
More ...