College Basketball Nation:

032810 baylor-duke
March, 28, 2010
3/28/10
7:21
PM ET
HOUSTON -- Some quick thoughts from a great South Regional final where Duke beat Baylor
78-71
. I think that makes this tourney 4-for-4 in entertaining Elite Eight games.
Absolutely great game here. Anyone who thought these teams didn't belong in the Elite Eight has been proven wrong. Both teams played with intensity on either ends of the floor from the opening tip. The defensive pressure brought by both teams was impressive. Every bucket was hard earned.
The crowd, egged on by a jumping-jack Scott Drew, was sensational. As loud and intense as it was in Detroit last year for Michigan State.
That long-awaited return to the Final Four is finally over for Duke. No more "since" questions for Mike Krzyzewski, no more "what's wrong" questions for this senior class. The Devils are back for the first time since (one last time on the since) 2004 and the team most vilified for its No. 1 seed will be the only No. 1 seed in Indianapolis.
Of the big three, Nolan Smith might be the least talked about, but he shouldn't be after today. With Kyle Singler unable to buy a bucket and Jon Scheyer hot and cold, Smith was magnificent from the start of the game. He was the only guy fast enough to blow by Baylor's guards. He finished with 29 points and almost single handedly put the Devils back in the Final Four.
Other than Smith, the difference in this game was the same as it's been all year for Duke -- defense and rebounding. The Blue Devils made the Bears work for every basket and then outworked them on the boards. Duke had 41 rebounds to Baylor's 33, but more importantly, pulled down 22 off the offensive glass. Every one extended the possession, giving the Devils second shot after second shot.
Singler was 0-for-10 from the field. And Duke won. Think about that.
Ekpe Udoh just made himself a bunch of money. The Baylor big man was terrific and there was nothing anyone in a Duke uniform could do about it. He finished with 18 points, 10 rebounds, six assists and five blocks.
Credit absolutely has to be given to Baylor here. In a year of Cinderella, no one's story is maybe more improbable than the Bears'. They were a program in shambles seven years ago, unable to play a full conference slate five years ago, but finished today on the precipice of the Final Four.
March, 28, 2010
3/28/10
6:01
PM ET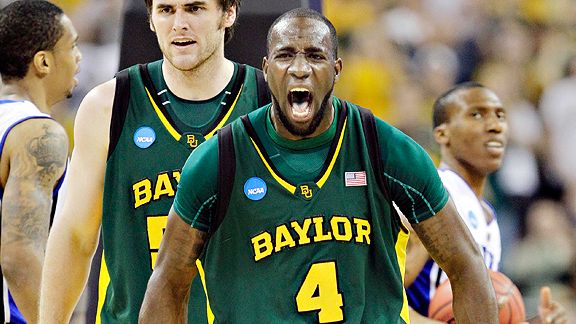 AP Photo/David J. PhillipQuincy Acy came off the bench to score eight points for the Bears in the first half.
HOUSTON -- Some quick thoughts from a
high-energy game
in front of a highly-energized crowd here at Reliant Stadium:
The crowd advantage does matter. This place is green and it's LOUD. In the last five minutes of the half, Duke looked completely rattled. Remember, these Blue Devils have never played for a chance at the Final Four. The name on the jersey doesn't mean diddly in this building.

Baylor's athleticism is showing up all over the court. The Bears are much better in transition (7-0 edge in fast-break points) and the explosiveness of Ekpe Udoh and Quincy Acy is something Duke simply can't match. The big men have 12 combined points for Baylor, and the Bears are dominating Duke inside, with 20 points in the paint.

And forget about Tweety Carter and LaceDarius Dunn. No one in a Duke uniform can match them. The guards have been sensational and forcing tempo and upping the freneticism for Baylor. Carter has 10 and Dunn 13.

Brian Zoubek's three fouls hurt but aren't a killer. The 7-footer looks extremely frustrated and hasn't really been effective in this game in the face of guys as big as him but more athletic. The Plumlee brothers have given the Devils critical minutes here, and with their skill set, might be a better option anyway.

Duke isn't going to win with Kyle Singler going scoreless. The junior is 0-for-6 from the floor, saddled in part by foul trouble. Take Nolan Smith out of the equation and the Blue Devils are 7-of-19. They can't win that way.
March, 28, 2010
3/28/10
11:10
AM ET
HOUSTON -- A quick look to the Elite Eight matchup in the South Region, where the last Final Four ticket will be awarded:
Key to the game:
The battle on the boards just might decide who goes to the Final Four. Between
Brian Zoubek
,
Lance Thomas
, the Plumlee brothers,
Ekpe Udoh
and
Josh Lomers
, there's more than enough heft in the post to make things interesting.


In its first three games of this NCAA tournament, Duke is outrebounding its opponents by an average of 14.3 boards per game. That not only leads to easy putbacks, but it extends Duke's possessions. Never was that more important than against slow-down Purdue, when the Blue Devils topped the Boilers by 21 on the backboards.
Baylor, meanwhile, is up eight boards per game on opponents and really took it to
Omar Samhan
and Saint Mary's in the Sweet 16. The Bears topped the Gaels by 12 on the boards, but it was their 14 offensive rebounds that really made the difference.
"We can't jump with them,'' Thomas said. "We're going to have to put bodies on them and let them know it's going to be a game for 40 minutes.''
Player to watch:
Kyle Singler
. He has been the difference maker for the Blue Devils, especially as
Jon Scheyer
has struggled in this NCAA tournament (just 6-for-26 from the arc). Singler is 13-for-22 outside of the paint, while his teammates are only 19-of-58. He's also drained eight 3-pointers, and against Baylor's zone, his ability or inability to get off a good shot will drastically affect Duke's chances.
"I don't know if he's an X factor, but he's probably an A, B, C, D, E, F, G factor,'' Baylor coach Scott Drew said. "Singler is one of the best players in the nation for a reason. He's tremendous. He's been playing great basketball and he's a great player.'
Who has the edge:
It's open season on No. 1 seeds (perhaps West Virginia feels less unhappy about the perceived slight now?), and I think Duke might just fall into the heap as well. I expect a close game and a well-played matchup, but I'm not sure that the Blue Devils have what it takes to counter the athleticism of the Bears' guards. If
LaceDarius Dunn
and
Tweety Carter
can shoot it, I think Baylor makes its first Final Four since 1950.
March, 28, 2010
3/28/10
2:05
AM ET
Sure, Baylor is in unfamiliar territory. But no player on the Duke side has played in an Elite Eight game either.
It makes for an intriguing regional final between two teams perhaps more similar than we might think.
More...