College Basketball Nation:

100130 hoyas-blue devils
January, 30, 2010
1/30/10
5:30
PM ET
WASHINGTON -- It has literally been decades since Duke has allowed a team to shoot 70 percent from the field -- 1984 to be exact. And the last time Duke was 1-4 on the road? The 2002-2003 season.
[+] Enlarge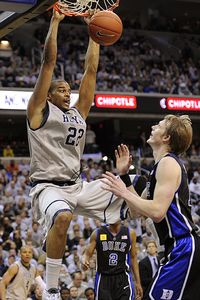 AP Photo/Nick WassJulian Vaughn and the Hoyas couldn't miss against Duke on Saturday, shooting 71.1 percent.
If those unflattering numbers don't sound like a team capable of making a run deep into March, that's because Duke didn't look like one on Saturday afternoon.
The Blue Devils faltered on both sides of the ball in their
89-77 loss
to Georgetown, and looked rather pedestrian in the process. They turned the ball over 15 times and shot just 37.1 percent from the field. And defense? They left it in Durham.
"They were just sharper than us on both sides of the ball,"
Kyle Singler
said. "They just picked us apart."
Against nonconference opponents, Duke has struggled on the road beyond the cozy confines of Cameron Indoor Stadium. They also struggled on the road against neighboring NC State, playing a similarly poor game on defense in an 88-74 loss.
Duke coach Mike Krzyzewski said there were no excuses.
"I don't think we made some wise decisions," he said. "... We have to know the game. When a team's playing that well, sometimes they put you in a position where you hurry or scurry and it's not just their defense that does it, but it's just the presence that team has that day that forces you to come out and make quick decisions that are not the appropriate ones. They're real good, and they are very well coached and they just had it on us today."
The problem for Duke, though, is that Georgetown hasn't been the only one.
January, 30, 2010
1/30/10
3:22
PM ET
WASHINGTON -- Georgetown played a complete game, and even the President of the United States was here to witness it. The question is how far the
Hoyas can ride this momentum
. Duke, on the other hand, dropped to 1-4 on the road -- not exactly the resume of a Final Four team. The Blue Devils shot poorly, turned the ball over, and lost an opportunity to assert themselves a team worthy of working its way deep into the tournament.
January, 30, 2010
1/30/10
3:01
PM ET
WASHINGTON -- At this point, it's the Hoyas' game to lose.

Georgetown is leading 78-58, working their way inside, making their layups, waving their arms and the Verizon Center crowd is deafening. Duke, on the other hand, can't even make its free throws.

Instead of a matchup between two top 10 teams, this has turned into a showcase of one team on the rise, and another looking overrated and average. The disparity on the court this afternoon has been greater than the team's rankings, and there has been little Duke can do about it. That's unlikely to change in the final five minutes.
January, 30, 2010
1/30/10
2:44
PM ET
WASHINGTON--
Nolan Smith
,
Jon Scheyer
and
Kyle Singler
have been logging all the minutes for the Blue Devils -- so many, in fact, that some outside the program have questioned whether they're being used too much.
Against Georgetown, though, the Blue Devils can't seem to squeeze enough out of them. This is where depth comes into play, and where it could hurt Duke down the stretch. Nobody in Duke's top trio has made more than four field goals so far. In order for Duke to make a comeback, one of those guys -- most likely Smith -- is going to have to carry the team here in the final 10 minutes.
January, 30, 2010
1/30/10
2:01
PM ET
WASHINGTON -- Only four other times this season has Duke allowed 40 points in a half, and the last time it happened -- against NC State, the Blue Devils lost, 88-74. Duke is struggling on both ends of court, while Georgetown guards
Chris Wright
and
Austin Freeman
have combined to make 11 of 12 field goals.
Part of the problem for Duke is that leading scorer
Nolan Smith
-- who has scored at least 20 points in seven of the past 11 games -- was held without a field goal. Credit the Hoyas' defense for much of Duke's struggles offensively. Georgetown is shooting 77.3 percent from the floor compared to Duke's 33.3 percent.
Georgetown has the momentum at the break, but both teams will need to stay out of foul trouble in the second half. One thing that could hurt both programs come March is their lack of depth, and this is why.
Hollis Thompson
already has three fouls for Georgetown, and together Duke's Plumlee brothers have combined to foul out.
January, 30, 2010
1/30/10
1:41
PM ET
By
ESPN.com's Heather Dinich
| ESPN.com
WASHINGTON -- Duke has been known for its defense, but it's Georgetown's ability to pluck the ball away that has the
Hoyas up 31-20
with 7:05 left to play in the first half. Back-to-back steals led to buckets and fans in the Verizon Center were on their feet. It seems like every shot is falling for Georgetown this afternoon, but they're making it even more difficult for Duke by taking away their opportunities to score with gritty defense. The Blue Devils have seven turnovers so far, and Georgetown has five steals.
January, 30, 2010
1/30/10
1:22
PM ET
WASHINGTON -- Are there two top 10 teams playing here today?

Because it officially feels more like Pennsylvania Ave. in the Verizon Center. Vice President Biden has joined President Obama courtside for this matchup. This is either the safest place in the world to be right now, or the scariest. Considering the number of Secret Service milling about, I'll go with the former ...
January, 30, 2010
1/30/10
1:17
PM ET
WASHINGTON -- No. 8 Duke has made just 1-of-8 from the field so far and
Brian Zoubek
already has two fouls, while Georgetown has missed just one shot. The momentum is clearly in Georgetown's favor, as is the crowd here. It's unusually hard to find -- or hear -- Duke fans today. I'll admit, sitting within shouting distance of the president while flanked by the White House press corps on my left makes it a little difficult to concentrate.
January, 30, 2010
1/30/10
1:07
PM ET
WASHINGTON -- President Obama arrived at the Verizon Center today to chants of "USA! USA!" prior to the start of the Duke-Georgetown matchup.

Obama is about 20 feet from press row on the baseline, across from Georgetown's bench, and was still being photographed prior to the tip off here. The Secret Service is out in full force here, but now the only thing anyone is watching is the game.