College Basketball Nation:

100319 cornell-temple
March, 19, 2010
3/19/10
4:34
PM ET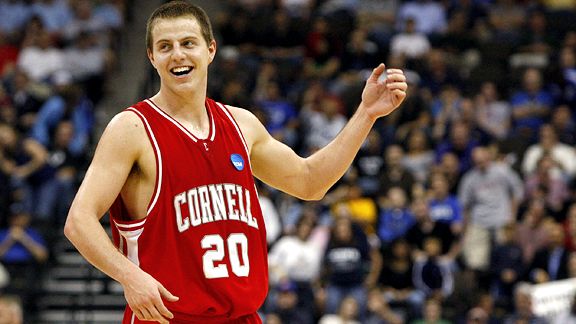 Andy Lyons/Getty ImagesCornell guard Ryan Wittman and the rest of his Big Red teammates are moving into the second round.
JACKSONVILLE, Fla. -- Cornell guard
Ryan Wittman
started to spout the old one-game-at-a-time cliché when asked about his team's NCAA tournament future Thursday afternoon. Then he started chuckling.
The oddness of the answer must have struck him. When was the last time an Ivy League school had to guard against looking ahead in March?
We may need to rethink a lot of preconceived conceptions if the Big Red are going to play like they did in a thoroughly impressive
78-65 undressing of No. 5 seed Temple
on Thursday.
"To the rest of the world, this might have been an upset," center
Jeff Foote
said. "But not to us."
You paid attention to Cornell this year when it cracked the Top 25 and when it battled Kansas to the wire in Lawrence in January. But did you know it was actually
this
good?
Temple is no slouch. The Owls went 29-5, won the Atlantic 10 regular season and conference titles and beat Villanova this season. Many people thought they deserved better than a No. 5 seed.
Yet Cornell controlled the game from the opening tip, first by pounding the ball in to the 7-foot Foote and driving to the basket as Temple concentrated on stopping the 3-point shot. That's why the Big Red shot a sizzling 68.4 percent in the first half en route to taking a 37-29 lead into intermission.
When Temple tried to adjust in the second half, Cornell banged home seven 3-pointers, including three in a row in one crucial early stretch. Cornell ran the dribble handoff to perfection with Foote most of the game. When the Owls stretched out their defense, Foote found cutters for layups. When they stayed underneath Foote,
Louis Dale
(21 points) and Wittman (20) drilled 3s.
"They looked great out there running their offense," Temple coach Fran Dunphy said in admiration.
Cornell led by as many as 19 points in the second half, and even Wittman admitted that margin surprised him. The result, however, was not unexpected for a team playing in the NCAA tournament for the third straight time.
"That's the difference between the last few years and this year," said Dale, whose team lost to Stanford by 24 points in 2008 and by 19 to Missouri last March. "We came into this game confident, and we expected to win."
Not just confident, but loose. Players joked around during Thursday's media session, not at all in awe of the environment. When they hit the court early for warm-ups Friday and were told by NCAA officials that they couldn't touch the basketballs yet, they teasingly went through some phantom layup drills.
This group is extremely comfortable around one another. Most were barely recruited -- Foote began his career as a walk-on at St. Bonaventure, and Dale personally delivered his highlight tape to coach Steve Donahue after no one else showed interest. Thirteen players -- including all the seniors -- and a team manager share a 14-bedroom house just off campus.
"I may never coach a group this special again," Donahue said. "And one that can compete on the national stage."
Still, the Ivy League is supposed to dominate debate contests, presidential races and job searches, not NCAA tournament games. The Ancient Eight's last March Madness moment in the sun was Princeton's upset of UCLA in 1996 on the most famous backdoor pass ever delivered. Since then, the Ivy had lost in the first round 11 straight years, the longest active losing streak by any conference coming into Friday.
Cornell needed no Princeton-style late heroics. In the locker room after the game, Donahue told the players they should be excited about the moment, but that it's not over yet.
"He wants more," Wittman said.
More than one win from an Ivy League team? It's time to consider that as a real possibility.
March, 19, 2010
3/19/10
2:39
PM ET
JACKSONVILLE, Fla. -- Cornell is for real.


The 12th-seeded Big Red didn't just
beat fifth-seeded Temple
. They controlled the game from start to finish, leading by as many as 19 points in the second half. There was never any question of which team was better in all facets.
Cornell shot 56 percent for the game and was over the 60 percent mark until missing some meaningless shots late. After making just two 3-pointers in the first half, the Big Red buried seven treys in the second half.
Louis Dale
(21),
Ryan Wittman
(20 points) and
Jeff Foote
(16) all had big scoring days and were a combined 19-of-32 from the floor.
Temple didn't play that poorly, shooting 51.9 percent itself. But Cornell simply outplayed the Atlantic-10 regular-season and tournament champions. It's the first win for the Ivy League since Princeton in 1998.
But it's clear that the Big Red aren't just some Ivy League curiosity. They're for real, and they'll be tough to handle in the second round.
March, 19, 2010
3/19/10
1:30
PM ET
JACKSONVILLE, Fla. -- Quick halftime thoughts from Jacksonville Memorial Arena, where 12th-seeded Cornell leads fifth-seeded Temple 37-29:


This is no fluke. Cornell has been the better team on both ends, making more decisive cuts, playing solid defense and getting to loose balls. The Big Red are known for their three-point shooting, but they spread Temple out and drove to the basket. Cornell was just 2-for-7 behind the arc but made 11 of its 12 two-point attempts, most from point-blank range.
Temple rarely turns the ball over, but the Owls have been flustered against Cornell's defense. They have nine turnovers at halftime, nearly matching their season average already. That gave the Big Red some run-out opportunities and pushed the game's pace in favor of the Ivy Leaguers, who've scored 15 points off those miscues. Temple's deliberate style is not really built for big comebacks.
Jeff Foote is the best big man on the floor. Cornell's 7-footer is being used as a highly effective screener and passer, and he's scored nine points already, to go along with two blocks and a steal. Foote played near the top of a zone defense at times during the first half and disrupted Temple's passing lanes with his long arms.
Lots of empty seats here in this first session, but Cornell has more fans and is clearly the rooting interest of choice for the non-partisans in the building.