College Basketball Nation:

100319 louisville-cal
March, 20, 2010
3/20/10
1:37
AM ET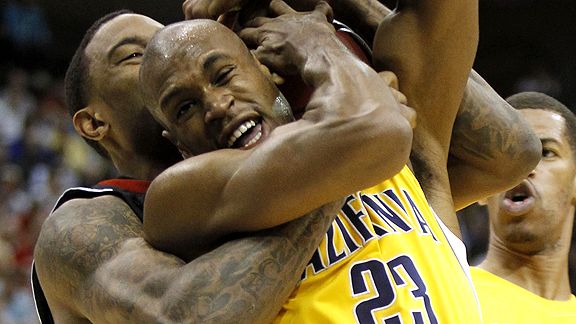 Bob Donnan/US PresswirePatrick Christopher finished with 17 points and eight rebounds in Cal's win over Louisville.
JACKSONVILLE, Fla. -- We take it all back, Pac-10.
Sure, all year we held our noses while looking at your standings. Maybe we scoffed at your lack of marquee wins or ranked teams. We said some things we regret, like you were one of the worst major leagues in recent memory and that you only deserved one NCAA Tournament bid this year.
Our bad.
Clearly, you must still know how to play a little basketball. Washington knocked off Marquette on Thursday, and then here in Jacksonville on Friday night, California stomped Louisville
77-62
. That's Marquette and Louisville from the Big East, supposedly the king of all conferences. Before this week, the Pac-10 had scored only one first-round win over the Big East in NCAA tournament play since the field expanded to 64 teams in 1985.
So go ahead. Crow a little bit.
[+] Enlarge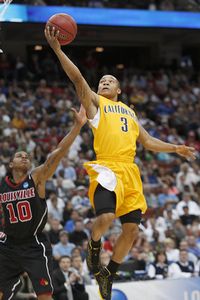 AP Photo/Steve HelberRandle finished with a team-high 21 points.
"I've been listening to a lot of things that have been said about the Pac-10, and honestly I feel like we have great players and great teams," Cal senior guard
Jerome Randle
said. "Just because we didn't have any Top 25 teams, people were trashing our league. But we were competitive every night. Luckily, Cal and Washington got in, and we were able to send a message in the first round."
Some had wondered if the Bears even deserved to make the field. Despite winning the Pac-10 regular season title and boasting a high RPI, they didn't have any great wins this season. They felt they had something to prove as a No. 8 seed.
"No matter what people were saying about the league, we still felt like it was a tremendous accomplishment to win the conference," forward
Theo Robertson
said. "We wanted to come out here and show the nation, really, that we're a good basketball team."
It didn't take Louisville long to find that out. The Bears opened with a blitzkrieg, scoring the game's first 12 points and racing out to leads of 22-4 and 30-12.
"I was a little upset that Obama didn't put us in his bracketology," Randle joked, referring to the president's own Pac-10 doubting picks. "So I just wanted to come out strong."
What Cal lacked in big bodies and physical play -- a strength of the purportedly superior Big East -- it more than made up for with speed and shooting. When the Cardinals tried to press, Randle zipped right by them. When Louisville made two serious runs to get within striking distance, Randle, Robertson and
Patrick Christopher
made key shots to keep the lead afloat.
"Just bang, bang, bang," coach Mike Montgomery said. "We shot the ball and probably caught them off guard, which we do occasionally."
Montgomery doesn't have a deep team, and his bench was shorter than normal after the suspension of starting forward
Omondi Amoke
. Randle played all 40 minutes, while Robertson and Christopher logged 38 minutes each against Louisville's constant full-court pressure defense. Yet it was Cal that ended the game on a 12-2 run over the final six minutes.
The small rotation and lack of size figures to be a factor against top-seeded Duke on Sunday. But the Bears are still carrying the Pac-10 banner.
"Now we want to prove to people that we are capable of wining more than one game," Randle said.
We promise not to doubt you anymore, Pac-10. Can we be friends again?
March, 20, 2010
3/20/10
12:33
AM ET
JACKSONVILLE, Fla. -- To say California vs. Louisville was a game of runs is like saying the ocean has a few waves.


The Bears opened the game with a 22-4 lead, then saw Louisville get it back to single digits late in the first half. After Cal built a 14-point edge in the second half, the Cardinals stormed back to get within four points with seven minutes left.
But Cal had the last run and the last laugh, advancing to play Duke on Sunday with a
77-62 win
.
The end came for Louisville when the Cardinals were called for an intentional foul with 2:43 left after coach Rick Pitino yelled for his team to foul. Pitino argued and was slapped with a technical, giving California four free throws and the ball.
Really, though, the Bears won with their outside shooting. Every time Louisville got close, a Cal shooter would hit a big jumper.
Jerome Randle
,
Theo Robertson
and
Patrick Christopher
combined to make all eight of the team's 3-pointers and scored 59 points together.
The Cardinals, on the other hand, got very little from their backcourt outside of
Edgar Sosa
. Starting guards
Jerry Smith
and
Reginald Delk
and top reserve
Preston Knowles
were a combined 3-for-17 from the floor.
March, 19, 2010
3/19/10
11:19
PM ET
JACKSONVILLE, Fla. -- Quick halftime thoughts from the final game of the day here at Jacksonville Veterans Memorial Arena, where No. 8 seed Cal leads No. 9 Louisville 41-30:
The start of the game was delayed by 20 minutes as arena workers fixed a malfunctioning clock above one of the baskets. The teams retreated to the locker room while the work was performed, and Louisville might as well not have even come out for the first six minutes of the game.

Cal scored the first 12 points and held a bloated 22-4 lead after an intentional foul on Terrence Jennings resulted in a five-point trip. The start resembled the blowout runs Rick Pitino's old Kentucky teams used to put on tournament opponents, but the other way around. Patrick Christopher hit three 3-pointers early and finished the half with 13 points
The Cardinals, though, didn't fold. They used a 12-0 run midway through the half to get back in it as the Bears started to get sloppy with the ball. The lead shrank to six points late in the half, but Jerome Randle's 35-foot buzzer-beater put Cal back on top by 11 points and could be a huge momentum changer.
Rick Pitino rolled the dice and let point guard Edgar Sosa play with two fouls in the first half. Sosa picked up his third foul on a charge with a little more than five minutes to go. Pitino has shown little faith in freshman Peyton Siva, so the point guard situation is one to watch in the second half.
Louisville's press didn't seem to bother Cal much as the Bears used their quickness to break it several times for easy scores. But Mike Montgomery's team isn't very deep with the suspension of starting forward Omondi Amoke, and all five starters played at least 17 minutes in the first half. Can they avoid fatigue and hang on to this lead?
March, 19, 2010
3/19/10
10:04
PM ET
JACKSONVILLE, Fla. -- The start of the final game here in Jacksonville is delayed as arena officials try to fix the clock above one of the baskets.

The game was scheduled to start at 10 p.m. Louisville and Cal just headed back to their locker rooms as arena workers brought out a ladder to inspect the malfunctioning clock.

Cal's body clocks are on West Coast time, so they probably don't mind the delay. Writers for newspapers with East Coast deadlines are sweating it out, however.