College Basketball Nation:

100319 minnesota-xavier
March, 19, 2010
3/19/10
3:23
PM ET
MILWAUKEE --
Jordan Crawford
has a come a long way.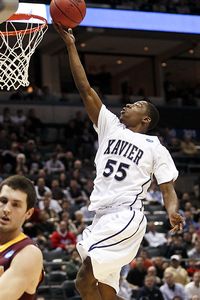 AP Photo/Morry GashJordan Crawford's 28 points led Xavier to a first-round win over Minnesota.
That's both rhetorical and literal. Crawford's talent has developed in a way most of those who saw him play as a freshman at Indiana University, where he was recruited by Kelvin Sampson, wouldn't believe. The gangly guard shoots, passes, drives, scores, steals -- in the matter of a full season under Xavier coach Chris Mack, Crawford has blossomed from a marginal talent with tons of potential into a bonafide star.
Exhibit A:
Xavier's 65-54 win
over Minnesota Friday,
in which Crawford scored 28 points on 21 shots
, adding six rebounds, five assists and two steals in the Musketeers' impressive first round NCAA tournament victory.
To do that, Crawford had to travel. He left Indiana University in the wake of the fallout from Sampson's dismissal and subsequent show-cause penalty. Crawford landed at Xavier, where he sat out for the year-long transfer period, all the while working on his game. Two years later, that awkward freshman with all that potential has turned into one of the best guards in the country.
"I think you have to give Jordan a lot of credit," Mack said following Xavier's win. "But I also think the environment that he's in now is one that really, truly cares about the student athlete. ... We're a family, and when you're in that type of environment, it helps you grow as a person."
Crawford's star turn isn't as sudden as some NCAA tournament viewers might think. Remember the
infamous, mysterious LeBron Video from last summer
, the one in which a camper at LeBron James' elite camp allegedly "dunked" on the King? After attempts to stifle the video, it became the hottest thing on the Internet -- even if it ended up being a massive disappointment -- and yes, the dunker in question was Jordan Crawford. The mini-fervor over the video "got his name out there" after sitting out for a year, Crawford said, even if he seemed less impressed with the play than most.
"I think people already knew I could play a little bit," Crawford said.
Maybe. They probably didn't know he could dunk on the world's greatest basketball player. They certainly didn't know he was
this
good. But they do now.
March, 19, 2010
3/19/10
2:34
PM ET
MILWAUKEE -- Some quick postgame thoughts on
Xavier's 65-54 win over Minnesota
:
[+] Enlarge

Bob Donnan/US PresswireCornell's Chris Wroblewski looks to pass during the Big Red's win over Temple.

Rebounds: It's hard to win without them. Xavier had 15 offensive rebounds in the first half, 10 more than the Gophers, and the only thing that prevented Xavier from getting more easy put-backs was Minnesota's smothering interior defense, which registered a whopping 10 blocks in the first. The Gophers did a good job pushing Xavier away from the basket in the first half, and the Musketeers' 20 percent 3-point field goal percentage helped keep the game close.

Those margins caught up with Minnesota in the second half. Xavier started making shots, forcing Minnesota to stretch its defense, especially in the secondary break, which in turn gave Xavier better chances to get at the rim. The Gophers 3s weren't falling, and Tubby Smith's team fell off the pace in the second half. By then, Minnesota had caught up on the boards. But it was too late.

Indiana fans, eat your downtrodden hearts out. A day after former Hoosiers Armon Bassett and Ben Allen both registered upset first-round tournament wins with their post-Indiana teams (Ohio and St. Mary's, respectively), former Bloomington cohort Jordan Crawford added his name to the list of players Indiana fans sure wish hadn't transferred following the Kelvin Sampson fracas. Crawford is a much different, better player than he was earlier in his career. It shows. The guard gets to the rim at will and finishes with flair. He sinks 3-pointers from anywhere on the court. He draws defenders with jump stops and flicks perfect passes to open teammates. When Crawford sits, the Xavier offense stalls; when he's on the court, it's very difficult to keep the ball out of the hoop. Crawford finished with 28 points in the win -- and a whole bunch of "oohs" and "ahhs", too.

For a team not especially known for its defense, the Musketeers put on an impressive performance Friday. In the first half, they made Minnesota uncomfortable with slaps and deflections. In the second half, they clamped down on the Gophers' half-court sets, closing off the pick-and-roll action that had been Minnesota's most effective weapon in the first 20. Minnesota started launching 3s, they didn't fall, and that was that.

Minnesota guard Lawrence Westbrook seemed to float a bit in the second half. After scoring 15 points in the first 20 minutes, Westbrook got a mere four in the final 20. He also had a couple of conversations with referees, and was even caught looking at the crowd when he was supposed to be receiving a pass on the wing. Not Westbrook's best closing stretch, to say the least.
More from Xavier-Minnesota after coaches and players address the media.
March, 19, 2010
3/19/10
1:18
PM ET
MILWAUKEE -- It's been a hard-fought, sloppy first half between the Musketeers and Gophers,
and the end result is a 26-26 tie at halftime
. Some assorted thoughts from the first 20 minutes of today's first Milwaukee regional game:


Both teams are defending well. This was slightly unexpected. Both Xavier and Minnesota register in the 40s in defensive efficiency. Xavier especially has thrived on its offense for much of the year. Minnesota's number is a little deceptive, as the Gophers have played much better defense entering the NCAA tournament (see their Big Ten tournament win over Purdue, in which the Boilermakers registered a record-low 11 first-half points.) But both teams are scrapping hard on the defensive side of the ball. Xavier is making things difficult for Minnesota with good hands -- the Musketeers are slapping and deflecting the ball all over the court. Meanwhile, Minnesota has defended its own rim with alacrity -- the Gophers had 10 (!) blocks in the first half -- forcing Xavier to get their best looks from outside.
Jordan Crawford is a lot of fun to watch. The Xavier guard -- another of the former Indiana transfers making waves in this tournament, alongside Ohio guard Armon Bassett and St. Mary's forward Ben Allen -- is as confident as they come. He doesn't just finish breakaways. He scoops in pretty finger rolls. Crawford doesn't just take on his defender. He sets him up, stares him down, and hits a three-pointer in his eye. It was a struggle on the offensive end for Xavier in the first half, but Crawford, who scored 11 points, still got his.
The referees are not popular here thus far, but this unpopularity is mostly confined to two calls Minnesota originally got but which were quickly reversed after a second ref stepped in. Memo to the various boo-birds here: Both calls were right. (A third near the end of the half was less, um, correct.)
If there's one word to describe the first half, it's sloppy. Minnesota has made Xavier look like a very average offensive team, especially around the bucket, while Xavier's pressure has made the Gophers look haphazard in their own half-court. The quality here is not exactly high. But it is entertaining.
Sitting in front of players' families is always a good time. It's proof that no matter how high the level of basketball on display, the same issues that plagued the parents of your under-13 club soccer team plague the parents and relatives of college basketball players. Everyone wants their son to play, and everyone wants their son to get the ball. And, when in doubt, the consensus cheer is "Come on guys! Teamwork!" Always a good time.
I'll have plenty more after the second half finishes up, so check back here for more. And be sure to stop by
our chat
, where I'm popping in whenever my Internet connection allows.