College Basketball Nation:

100319 missouri-clemson
March, 19, 2010
3/19/10
6:43
PM ET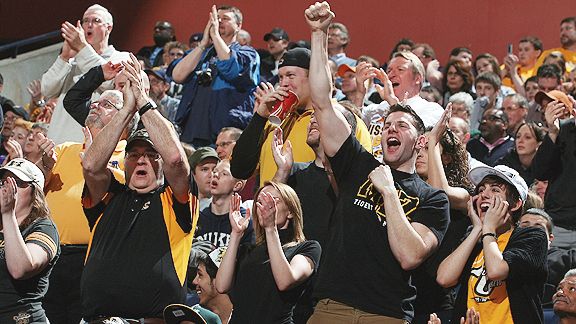 Rick Stewart/Getty ImagesMissouri fans cheer as the their Tigers beat No. 7-seeded Clemson.
BUFFALO -- Between the humbling loss to Nebraska in the Big 12 Tournament and the first-round game against Clemson, Mike Anderson dug deep into his bag of torture treatments.
He pulled out the defensive slide drills and the full-court 1-on-1, 2-on-2 exercises of misery. The calendar said March but the revert to the basics read October.
The message to Mizzou was clear: That team that was run out by the Cornhuskers in Kansas City? Those were Paper Tigers.
The real Tigers showed up in Buffalo. Missouri showed a Clemson team that prides itself on playing uptempo what uptempo really looks like.
It looks like 15 steals and 20 forced turnovers.
It looks like an eye-popping 20 points off turnovers and an even more amazing, 22-2 edge in fast-break points.
It looks like an
86-78 win
.
"We haven't played that way in a long time,''
Keith Ramsey
said.
The (Gold) Tigers picked a perfect time to rediscover themselves. They will face West Virginia in the second round, a team that is far more content playing in the half court than running up and down and a team whose best point guard,
Joe Mazzulla
, is playing with one bad wing.
And Anderson, who has made a career out of turning under-recruited talent into overachieving success, could be itching to add another chapter to his bio.
"Our teams typically start playing some of their better basketball right around late February, March,'' said Anderson, whose Tigers last year streaked to the Elite Eight. "I guess we really turned up the intensity and I think it was reflective today. I think you build your team up until you get to this point because to me, this is what you work towards.''
Oliver Purnell will have to take his word for it. The Clemson coach remains the Susan Lucci of college basketball -- six trips to the NCAA Tournament, three schools, zero wins.
Not even the orange blazer could work its magic.
"There will be a perception among some people (that Clemson can't win in the tourney). I certainly don't subscribe to that,'' Purnell said. "I wouldn't say we play extremely well but we competed, we were ready, they wanted it and it just didn't happen for us.''
It didn't happen because the (Gold) Tigers turned the tables on what the (Orange) Tigers were supposed to do.
Laurence Bowers
and his injured wrist and Keith Ramsey weren't supposed to be able to handle monstrous
Trevor Booker
.
Individually they probably couldn't.
But together? Together the two made like a Venus flytrap, double-teaming Booker every time he touched the ball.
The result, just 12 points from Booker and a win for Missouri.
"We hear that all the time, what we can't do,'' Bowers said. "We hear it when we go up against
Cole Aldrich
,
Ekpe Udoh
. We have a lot of experience handling talented big men.''
And the other little pointed-out fact: Ramsey and Bowers are talented big men in their own right. Ramsey had a season-high 20 points and eight rebounds while Bowers, who was thrilled to shave the splint on his injured wrist enough to expose his whole palm, had 15.
But with Mizzou it is never about offense it's always about defense. They swarm and swat and pester and annoy teams yet never seem to foul up themselves. Missouri, the second best team in the nation in turnover margin, lived up to its billing with only nine miscues in a frenetically paced game.
"Our pressure is constant,'' assistant coach Matt Zimmerman said. "Coach is always big on wear and tear.''
And the (Gold) Tigers, seasoned by a re-introduction to the hellacious basics that make them special, wore and tore the (Orange) Tigers apart.
"This is who we are,'' Taylor said. "The question is, will we play like this the rest of the tournament? I think we're capable, but can we do it. We'll see.''
March, 19, 2010
3/19/10
5:05
PM ET


BUFFALO -- A few quick impressions after Missouri's upset of Clemson.
For starters, this isn't an upset. Yes, Mizzou was a No. 10 seed Clemson a 7, but anyone who has been paying attention all season knows that the (gold) Tigers are a very good team. Mix in the Susan Lucci curse on Oliver Purnell -- 0-for-6 in the NCAA tournament with three different schools now -- and this cannot in good conscience be called an upset.
Mizzou could give West Virginia absolute fits. The speed of the game and the Tigers gnat-like peskiness will certainly disrupt the Mountaineers. Joe Mazzulla is going to have to steer a steady ship.
Tons of credit to the undermanned Mizzou frontcourt. Without Justin Safford (ACL) and with Laurence Bowers playing with a club on his injured left wrist, they still managed to contain Trevor Booker and Jerai Grant (11 and 12 points respectively). Keith Ramsey was a monster with 20 points and seven rebounds and Bowers was equally tough with 15.
And if there is a bigger pain in the posterior (and I mean that in the best sense of the word) in college basketball than J.T. Tiller I'd like to meet him. The senior runs around like his shorts are on fire and is absolutely everywhere. He sets the tone for this 40 minutes of speed that is Mizzou basketball. He finished with 10 points, four assists and five steals.
March, 19, 2010
3/19/10
3:46
PM ET


BUFFALO -- Some halftime observations from the HSBC Arena:
No big surprise, this is a track meet. Both teams love to get out and go and are happily getting out and going.
Clemson is playing right into Missouri's hands. The Orange Tigers (we have to differentiate somehow) have coughed up 13 turnovers, leading to 16 easy points. Nothing makes Mizzou's eyes light up more than a chance for a runout and the Gold Tigers have been given ample opportunity with 10 fast-break points.
Clemson's ability to score from outside has been critical. The Orange Tigers are 8-of-13 from the arc but they ought to be able to expose Mizzou's beat-up interior more with Trevor Booker. The big man only has three touches and two points.
Meanwhile, the undermanned Gold Tiger interior (Justin Safford done with an ACL and Laurence Bowers is playing with a bad wrist) has 12 points in the form of Keith Ramsey in a head-scratching surprise.