College Basketball Nation:

100319 newmexicost-michiganst
March, 19, 2010
3/19/10
11:29
PM ET
SPOKANE, Wash. -- It was a rough, physical game. It had a big comeback. It had a controversial ending.
But, as Michigan State coach Tom Izzo said multiple times afterwards, the NCAA tournament is only about survival, which is what his Spartans did in a
70-67 win over a New Mexico State team
that would not, to borrow a term from Aggies outspoken guard
Jahmar Young
, "bow down."
[+] Enlarge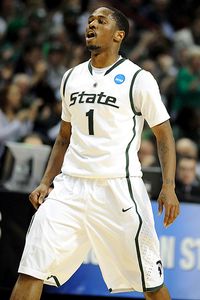 Steve Dykes/US PresswireMichigan State's Kalin Lucas made himself known with 25 points against New Mexico State.
Young, who made news before the game when he replied,"Who?" when asked about Michigan State's two-time first-team All-Big Ten point guard
Kalin Lucas
, said after the game he thought the officials jobbed his team.
Many Aggies fans shared his feelings, particularly over a lane violation call that gave
Raymar Morgan
a second chance on a free throw to extend the Spartans lead to three points with :18.6 seconds left.
Morgan connected on the do-over, and that proved the winning margin.
Aggies coach Marvin Menzies was a bit more diplomatic afterwards, but his feelings were fairly clear, too.
"It was one of those calls you wish could have gone uncalled," he said.
He was asked if it changed the game.
"How it affected the game? Hard to tell," he said. "If we only needed two, we would have had a much different approach."
There was also a bit of controversy on the final possession, when the ball touched the ground out-of-bounds with what appeared to be 0.6 seconds left. The Aggies, however, were left with just 0.3 on the clock, making a potential game-tying 3 basically impossible. The officials chose not to review the sequence at the courtside monitors.
Regardless, Menzies was proud of his team's fight. Izzo wasn't too thrilled with the physical play, which he said he warned his team to expect before and during the game.
He went to great lengths, however, to praise his team.
"In some ways I saw my team grow up before my eyes," he said.
Of course, he liked the first half much better. The Spartans dominated and took a 42-29 lead into the locker room. Izzo said it might have been his team's best half of the year.
But the Aggies charged out in the second half, using a 13-2 run to overcome the deficit.
From then on, it was a tight, chippy, physical affair with lots of extra contact in the lane and plenty of trash talk.
Izzo's team survived, yes. But it's clearly beat up going forward. Guard
Chris Allen
hurt his ankle late, while Lucas also tweaked his ankle.
Those might be issues going forward.
March, 19, 2010
3/19/10
10:11
PM ET
SPOKANE, Wash. -- The first half suggested this might be an easy one for Michigan State. It wasn't.


The Spartans survived a furious second-half rally from New Mexico State and prevailed 70-67 in the first round of the Midwest Regional.
Some thoughts.
New Mexico State fans were unhappy with a lane violation on a missed Spartans free throw with :18.6 seconds left. Given a second chance, Raymar Morgan was on target, making the score 70-67, and thereby forcing the Aggies to shoot threes for the tie. They missed two chances on the other end.
The Spartans led 42-29 at the half, but the Aggies made it a game with a 13-2 run to start the second half. How on fire were the Aggies? When they took a 53-52 lead, they were 10-of-12 from the field and 3-of-3 from 3-point range in the half. During that span, the Spartans were 4-of-16 from the field and 0-for-2 from 3-point range.
As New Mexico State cranked open the offense, it also cranked up its defense, showing it was willing to get physical with the Spartans, unlike the first half. Let's just say things got chippy a few times.
March, 19, 2010
3/19/10
9:10
PM ET
SPOKANE, Wash. -- Michigan State is all over New Mexico State.
The Spartans are doing just about everything right and lead 42-29 at halftime.


Some thoughts.
The Spartans were didn't look anything like the team that flopped in the Big Ten tournament. They shot 56 percent from the field and were 6-of-12 from 3-point range. New Mexico State is at 33 percent from the field.
Durrell Summers has been inconsistent for MSU much of the year, but he scored 12 points in the first half.
It caused a bit of a stir before the game when New Mexico State's leading scorer Jahmar Young replied,"Who?" when asked about Michigan State's two-time first-team All-Big Ten point guard Kalin Lucas, who said he felt disrespected. Lucas scored 14 points in the first half, while Young had just two point, is 0-for-4 from the field a was whistled for a technical foul.
See if you can figure out which team is getting better guard play: The Aggies have six assists and eight turnovers. The Spartans have 12 assists and seven turnovers.
As expected, the Spartans have an advantage on the offensive boards: seven to three.