College Basketball Nation:

100319 ucsb-ohiost
March, 20, 2010
3/20/10
12:23
AM ET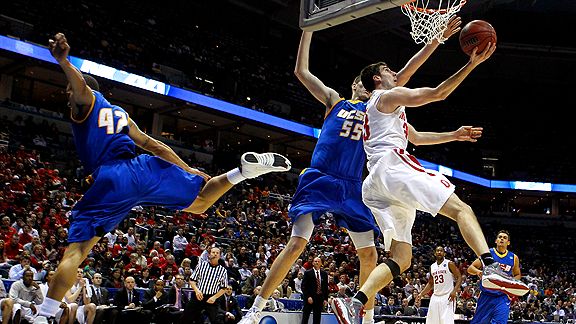 Jonathan Daniel/Getty ImagesJon Diebler filled a void for Ohio after Evan Turner struggled against UC Santa Barbara.
MILWAUKEE -- You almost have to feel for the Gauchos. UC Santa Barbara clawed, fought, stripped, poked, prodded -- and, yes, hacked --
Evan Turner
into one of the worst games the surefire national player of the year has had in all of 2009-10.
It didn't matter. Not one bit.
With Turner off, Ohio State sharpshooter
Jon Diebler
more than picked up his star teammate's slack -- scoring 23 points, hitting a barrage of 3-pointers and giving the Buckeyes an easy
68-51 win
over the No. 15-seeded Gauchos Friday night.
"Evan was struggling a little bit," Diebler said. "He did a good job of finding the open guy."
By the time Turner came out of the game with less than four minutes left, he looked as frustrated as he has, well, maybe ever. UCSB had a very clear strategy for dealing with the Buckeyes' star -- harassment.
For the most part, it worked: The usually demure Turner was noticeably agitated throughout the second half, smiling incredulously at times, shaking his head at others. (Even after he was removed, Turner was sharing what appeared to be friendly conversations with the referees, even if the referees didn't seem quite so friendly in return.) Turner finished with a very un-Evan nine points on 2-of-14 shooting. (Though he did add 10 rebounds.)
"I thought there was a couple things that were happening that I was trying to get changed as well," OSU coach Thad Matta said, when asked about Turner's body language. "Evan's got to keep his composure and keep playing through it. He'll be all right."
Fortunately, the Buckeyes aren't a one-man team. Fortunately, Diebler -- along with fellow guard
William Buford
, who finished with 16 points -- weren't a focus of UCSB's campaign of irritation. OSU big man
Dallas Lauderdale
anchored the Buckeyes' middle, turning away eight Gauchos shots and grabbing 12 rebounds in the process.
Diebler's performance was especially impressive, given the guard has spent much of the past week suffering from the flu. Diebler didn't practice Tuesday and was sick at practice on Thursday; he ate for the first time in several days Friday. Feeling better, the sharpshooting guard played all 40 minutes Friday night.
"I was feeling pretty good," Diebler said. "Now I'm really tired, and really hungry. I can't wait to go back to the hotel and eat."
March, 20, 2010
3/20/10
12:03
AM ET
MILWAUKEE -- Some quick postgame thoughts on Ohio State's relatively easy 68-51 win before
Jon Diebler
splashes another three-pointer:
The Gauchos found a way to get to Evan Turner -- hack him. The putative player of the year was hounded relentlessly in the second half, the worst of which came in an early sequence when Turner nearly gave the ball up at the top of the key, got it back, tried to drive to the rim again, seemed to get fouled, grabbed the ball, passed it, seemed to get fouled again, gave the ball up, and then was clearly shoved by UCSB guard Jordan Weiner. Turner walked away from the play, shaking his head and smiling.
The fun didn't end there -- Turner, usually a mild-mannered guy on the court, became noticeably chatty with UCSB guard James Nunnally. Diebler got in on the action, too, staring Dunnally down after he a made 3-pointer. Dallas Lauderdale added to the festivities with a pair of huge dunks; after both, Turner stood at the free throw line, set up in the Buckeyes' press, giving one of those stone-cold "don't mess with us" looks you rarely see from the demure All-American. If anything, it was entertaining. Note to the Gauchos again: Guard Diebler. And don't make Turner angry. I was intimidated, and I was sitting on the sideline with a laptop.
Jawing aside, there's no question Turner didn't open the tournament with his finest performance: nine points on 2-of-14 from the field. It goes without saying that Turner will have to be more efficient -- and less willing to settle for the jump shot -- in Sunday's second-round game with Georgia Tech.
Diebler's performance more than made up for Turner's lack of points. The Buckeyes' designated sharpshooter went 7-of-11 from 3 to score 23 points and buoy the Buckeyes' offense when Turner couldn't get things working.
Fellow guard William Buford contributed 16 points, while Lauderdale added eight blocks and 12 rebounds on the way to the win.
March, 19, 2010
3/19/10
10:56
PM ET
MILWAUKEE -- Some halftime thoughts as Ohio State fights off the pesky Gauchos and
goes into the half with a 30-17 lead
:
I'm not just being polite: UC Santa Barbara is pesky. Before Ohio State built an early 13-3 lead, I tweeted that tonight's late game had the look of a blowout. Sometimes the little guys look game. Sometimes the mid-major has the sort of size and athleticism you see at any major school. Sometimes the talent difference is just too blatant to ignore. And no sooner than I announced that to the world than the Gauchos put on a run of their own, cutting the lead to 13-12 and getting the entire Bradley Center crowd -- well, except for the OSU section -- on its feet. Ohio State soon got its bearings; Jon Diebler hit a few wide-open 3-pointers, Dallas Lauderdale swatted a few Gauchos chances, and the lead was right back to 27-13 at the 3:32 mark. But for a minute there, the upset looked not only possible, but plausible.
Oh, and note to the Gauchos: Don't leave Diebler open. Ever. Surely the scouting report had something like this in there. (Diebler is 4-of-6 from behind the arc thus far.)
Evan Turner is the best player in this pod, but he isn't playing like it tonight: The Villian is 1-for-6 from the field with five points (though he does have six rebounds, which is proof that you can never really stop The Villian, even when you are). Thus far, Turner seems a little too content to settle for his jump shot, which is undoubtedly the weakest part of his game.
UCSB's band is dressed in full Gaucho attire, complete with gaucho hat, blue-and-gold poncho, and even the occasional thick-bristle mustache. It can't be the most comfortable garb; gauchos off to the band (see what I did there?) for the dedication.
Among the things I mentally checked off on the UCSB scouting report: Greg Somogyi, the Gauchos' 7-foot-2 reserve center who towers over the Buckeyes, including big man Dallas Lauderdale. Somogyi is clearly a 7-foot-2 center at a place like UCSB for a reason -- he's paper-thin and struggles to hold his position on offense. But there's no question he's affected several of the Buckeyes' shots on the defensive end.