College Basketball Nation:

100320 northerniowa-kansas
March, 21, 2010
3/21/10
12:37
AM ET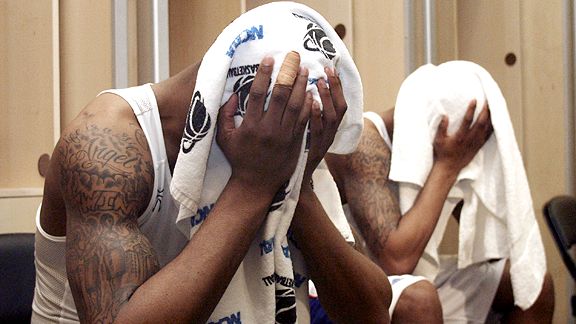 AP Photo/Sue OgrockiMarcus, left, and Markieff Morris sit in the locker room after a disappointing loss to Northern Iowa.
OKLAHOMA CITY -- I took a left out of the triumphant Northern Iowa locker room and saw the saddest sight of the NCAA tournament to date.
Kansas Jayhawks
Cole Aldrich
and
Tyrel Reed
were walking down the hallway toward their locker room after doing the post-shocker news conference. Aldrich had his left arm draped over Reed's shoulders. Reed had his right arm around Aldrich's waist. Their eyes were on the floor and their mouths were silent.
This was more a case of misery needing company, than loving it. It looked for all the world as though the teammates might sit down and cry if they didn't have each other to lean on.
"We had a good season," Reed said. "Just didn't end the way we wanted it to."
That is the cruel reality of the Big Dance. The outcome here can completely alter perceptions of an entire season -- for better or worse. And for Kansas, it is immeasurably worse.
[+] Enlarge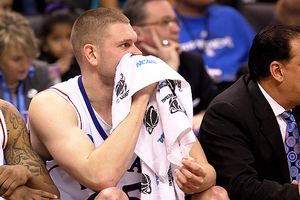 Ronald Martinez/Getty ImagesDespite a Big 12 regular-season and conference-tournament championship, multiple weeks at No. 1 and the No. 1 overall seed in the tournament, Cole Aldrich and Kansas fell far short of expectations.
Thirty-three wins, all but wasted. All that time ranked No. 1, and the No. 1 overall NCAA seed? Virtually worthless.
And now all those tickets Kansas fans already had bought for the Midwest Regional in St. Louis next week? Almost worthless as well. Good luck getting those sold for decent value.
A shocking upset ending to a Kansas season is not unusual -- no team can match the school's three second-round defeats as a No. 1 seed. The losses in 1994 to UTEP and '98 to Rhode Island -- those were on Roy Williams' record. This one belongs to Bill Self.
And it marks the third ghastly NCAA upset for Self since he's been in Lawrence. In 2005, the third-seeded Jayhawks lost in the first round to No. 14 Bucknell, and in '06 as a No. 4 seed to No. 13 Bradley. This time, Kansas lost to a better team -- but this was a better Jayhawks team, too.
No wonder Self told his staff afterward that this was the toughest loss of his career.
"You operate under duress, you operate under pressures the whole year that a lot of teams don't operate under because of where we were ranked and the expectations," Self said. "And to put ourselves in a position that we were in, they don't come around every year. You got to make the most of those opportunities when you're granted them. That's probably what stings the most."
In the stinging end, KU fans are left to recriminate over a night of poor shooting (just 6-of-23 from 3-point range, with
Sherron Collins
and
Tyshawn Taylor
combining to go 0-for-11). And a night of sloppy ball handling (15 turnovers). And a night of questionable strategy.
Knowing that Northern Iowa's best weapon would be its slow-down tempo, Kansas played directly into the Panthers' hands for most of the night. Even though UNLV nearly eliminated Northern Iowa on Thursday with full-game pressure defense, the Jayhawks didn't turn to that option until late in the game and were well behind.
When they did, it worked wonders. UNI handled the pressure atrociously, nearly giving away the game in the final minutes. But it turned out to be too little and way too late.
"We would love to get after them, love to pressure, love to press," Self said. "But when they were in the bonus at the under-12 timeout (of the first half), it maybe took a little aggressiveness out of us."
It's also fair to wonder whether Kansas was lacking some aggressiveness from the opening tip due to overconfidence. Aldrich and Reed both said that wasn't the case.
"I don't think we overlooked them at all," Reed said. "I think we knew what they were capable of. They're just a great all-around team, play in a tough league, and they've got a lot of great players."

So did this Kansas team. And now its great season has been sullied by a disastrous early exit.
March, 20, 2010
3/20/10
8:22
PM ET
By
Brett Edgerton
| ESPN.com
How surprised is America about Northern Iowa? Let's take a look at ESPN.com's Tournament Challenge, which includes just under 4.8 million brackets:
Northern Iowa:
42,500 brackets (0.9%) had Northern Iowa making the Sweet 16
16,169 (0.3%) have them in the Elite Eight
5,720 (0.1%) have them in the Final Four
2,620 (0.005%) have them in the championship game
1,546 (0.003%) have them winning it all
And what about Kansas?
98% had Kansas in the Sweet 16
59% had them in the Final Four
42% had them winning it all

President Obama's bracket
is among the 4,689,556 that had Kansas in the Sweet 16 and the 2,017,360 that had Kansas winning it all. With Villanova and Georgetown also losing, the President has now lost 3 of his Elite 8.
March, 20, 2010
3/20/10
8:05
PM ET
OKLAHOMA CITY --
Northern Iowa 69, Kansas 67
.
Yes, you read that right. Someone other than the Jayhawks will win this tournament.
Northern Iowa controlled this game from start to finish but needed some unbelievable heroics to pull it out in the end. Ali Farokhmanesh, hero of March, did it again. After hitting the 3 that beat UNLV on Thursday, he hit another one -- and a questionable shot it was -- with 35 seconds left for a four-point UNI lead, then made two free throws to clinch it.
Northern Iowa epitomized team, getting something from everyone it played. Ben Jacobson, coaching star of March, regularly plays 10 men and it paid off brilliantly in this game. So many Panthers stepped up and made huge plays.
For Kansas, it is a gruesome underachievement. The solid favorite to win the national title doesn't even make the Sweet Sixteen. Bill Self has his title, but also now another crashing NCAA tourney disappointment. Kansas has now lost in the second round three times as a No. 1 seed, most of any school.
March, 20, 2010
3/20/10
6:46
PM ET
OKLAHOMA CITY -- Quick halftime thoughts from Northern Iowa 36, Kansas 28.


Hang on to your hats. The entire tournament is 20 minutes away from being broken wide open. Overall No. 1 seed and solid pre-tournament favorite Kansas is fighting for its life against poised, tough, shot-making Nothern Iowa.
This is a clinic in Panthers basketball. Ben Jacobson's team looks exactly the same as it did in dominating the Missouri Valley Conference -- controlling tempo, almost error-free on defense and hitting open shots when they present themselves (6-for-12 from three-point range). Simply put, Northern Iowa is taking the fight to Kansas, dictating the terms, and appears very unsurprised to be ahead by eight points at intermission.
Ali Farokhmanesh, the undersized shooting guard who got the Panthers into the second round with a 25-foot 3-pointer to beat UNLV, is still hot. He's 4-of-4 from the field, 3-for-3 from 3-point range, and has a game-high 11 points. Hulking Northern Iowa center Jordan Eglseder added 10 points, hitting his second and third 3s of the season. When those were going in, you knew Kansas was in trouble.
Sherron Collins is Kansas' best player, but he had one of his worst halves of his career. Collins scored just two points, had two assists and committed two turnovers. He lost his cool to the point that he stayed on the floor at halftime to complain to one of the officials. Might have deserved a technical foul there, but did not get whistled for one. Coaches can get away with that sort of thing, but not often players.
Northern Iowas is dead even on the glass -- 16 rebounds for each team, six offensive apiece.
A sign of excellent depth: Northern Iowa leads by eight, and the MVC Player of the Year, Adam Koch, hasn't scored a point. It hasn't mattered.
The only foul trouble to speak of is Marcus Morris with two.