College Basketball Nation:

100320 olddominion-baylor
March, 20, 2010
3/20/10
10:03
PM ET
NEW ORLEANS --
LaceDarius Dunn
, Baylor's sharpshooting junior guard, said the beauty of the Bears' team is that anybody can beat you on any given night.
But
Josh Lomers
?
[+] Enlarge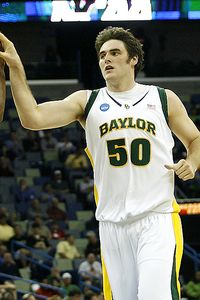 Crystal LoGiudice/US PresswireJosh Lomers was dominant in the second half and was a key reason No. 3 seed Baylor advanced.
Even the 7-foot, 280-pound Lomers describes himself as a "big goofy white guy."
Or as somebody put it in the postgame press conference, "the big clumsy guy that sets screens."
That may be, but Lomers was dominant Saturday in the second half and the chief reason No. 3 seed Baylor was finally able to shake Old Dominion for a 76-68 victory at New Orleans Arena, sending the Bears to the Sweet 16 for the first time in school history.
They were national runners-up in 1948 and lost in the national championship game to Kentucky, but that's when the NCAA tournament had just eight teams.
Lomers, surrounded by reporters in the locker room afterward, admitted he wasn't a big talker. He also downplayed his contribution.
His 14 points matched a career high, and six of his eight rebounds came in the second half. He also had four steals and three blocks and kept the ball alive on the offensive glass several times, leading to key second-chance points for the Bears.
Keep in mind that this is the same guy who took one shot in 14 minutes against Sam Houston State in the first round and had scored in double figures only three times in his last 18 games entering Saturday's contest.
"It's great to win. I don't know that contributing really matters to me," shrugged Lomers, a three-time Academic All-Big 12 first-team selection. "I'd rather have a bad game and win rather than a good game and lose. The 'W' is what counts.
"But it definitely feels good that this is not the last time I'm going to put on this jersey."
Dunn, who led the Bears with 26 points, said Lomers was being modest. He said there was a stretch there in the second half after Old Dominion surged ahead by two points with 6:29 to play where Lomers put the Bears on his wide shoulders and carried them.
"He woke up with something different on his mind today," Dunn said. "He didn't want this to be his last game in a Baylor jersey, and I hope he brings that same game next week.
"He came out and played his butt off."
Lomers picked a good time to have the game of his career, too, because junior forward
Ekpe Udoh
hit just 2-of-7 shots and was held to eight points and four rebounds.
The Monarchs, an excellent rebounding team and equally good on the defensive end, had to be wondering where Lomers came from.
Something says he wasn't at the top of their scouting report.
"I mean, he's 7-foot. You can't teach that," Old Dominion junior forward
Frank Hassell
said. "He was pretty heavy. I was trying to box him out and push him out, but I guess I didn't get low enough."
Baylor coach Scott Drew has seen Lomars assert himself like that in practice.
"And he's had them in different spurts of the game in games," Drew said. "He just hasn't had them on as big a stage as today."
Lomers, who was 6-of-7 from the field, said he'll gladly be there for his team in whatever role the Bears need him the rest of this tournament. If that means setting screens and clogging up traffic in the lane, so be it.
You know, the stuff the big goofy guys do.
"We have so many weapons and such a unity on this team that we're not worried about one person stepping up," Lomers said. "We're worried about the team stepping up."
March, 20, 2010
3/20/10
8:21
PM ET
NEW ORLEANS -- Baylor is headed to the Sweet 16 for the first time in school history and had to earn it.


A scrappy Old Dominion team fought the No. 3 seed Bears every step of the way, even after falling behind by as many as 14 points in the first half, but Baylor used its inside muscle to pull away in the final minutes for a
76-68 victory
in the second round of the NCAA tournament at New Orleans Arena.
The Bears (27-7) will face St. Mary's on Friday in Houston in the South Regional semifinals.
Had it not been for 7-foot senior center
Josh Lomers
, they might be watching at home.
Lomers dominated the interior in the second half, scoring 12 of his 14 points. He also pulled down eight rebounds, collected four steals and blocked three shots. Six of his rebounds were on the offensive glass, as he kept giving the Bears second chances after keeping the ball alive. He matched his career high in points before fouling out with 1:05 to play.
By that time, the Bears already had the game in hand. Even though this will be their first Sweet 16 trip, they were national runners-up in 1948 when they lost to Kentucky in the championship game. The NCAA tournament included just eight teams back then.
The Bears shot 51.9 percent from the field, and when things got tight down the stretch, they took the ball inside every time.
After the Monarchs (27-9) went ahead 58-56 with 6:29 to play on
Gerald Lee
's three-point play, the Bears scored five of their next six field goals on layups, put-backs or drives to the basket. The only one that wasn't inside was
LaceDarius Dunn
's 3-pointer at the 3:25 mark.
Dunn led all scorers with 26 points and was 4-of-11 from 3-point range.
March, 20, 2010
3/20/10
7:00
PM ET
NEW ORLEANS -- A red-hot start carried Baylor to a 38-28 halftime lead over Old Dominion on Saturday in their second-round East Regional game at New Orleans Arena.


The Bears, who looked jittery for much of their first-round game on Thursday, raced out of the gate in this one and built a quick 10-1 lead behind the shooting of
Tweety Carter
. That's significant because Carter was held to a season-low two points in the first round and only took three shots.
He was more active in the first half and was clearly looking for his shot. His runner at the halftime buzzer padded the Bears' lead to 10 points.
The backcourt tandem of
LaceDarius Dunn
and Carter was too much for Old Dominion in the first half. Dunn and Carter combined for 24 points and hit 9-of-14 shots.
Give the Monarchs credit for battling and hanging around despite the Bears shooting 55.6 percent from the field.
Gerald Lee
had 10 points in the first half for ODU, but they didn't come easily against Baylor's big front line. Lee's been a little under the weather this week and hasn't been 100 percent.
The pace of the game is also much more to Baylor's liking. Old Dominion has to find a way to slow it down in the second half with its defense. The Bears thrive when the game is played in the 80s. The Monarchs would prefer it to be in the 60s.