College Basketball Nation:

100320 washington-newmexico
March, 20, 2010
3/20/10
10:21
PM ET
By
Diamond Leung
| ESPN.com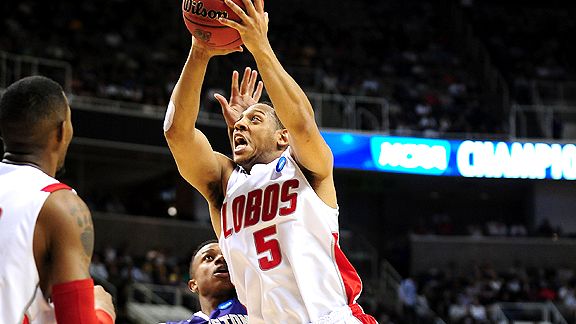 Kyle Terada/US PresswireNew Mexico guard Dairese Gary is one of a handful of players providing a bright future for the Lobos despite their loss Saturday.
SAN JOSE, Calif. -- Sitting away from his teammates in the postgame locker room, Darington Hobson cut the tape off his ankles and began flexing his wrist.
With his head bowed, the New Mexico star opened and closed his hand, trying to make a fist, only to watch it quiver.
"It hurt a lot," Hobson said quietly after letting out a long sigh. "No excuses. They beat us. They played the best game of their life tonight."
New Mexico, after winning 30 games and their first NCAA tournament game since 1999, was
routed by Washington, 82-64
, and largely unrecognizable playing a Pac-10 team that ran away from them, muscled up, and dominated.
Hobson, the Mountain West's Player of the Year, filled up the stat sheet with 11 points and nine rebounds, but also found passing lanes closed and didn't look himself playing with a sore wrist on his shooting hand.
"This morning at breakfast, that thing was swollen," Lobos coach Steve Alford said.
Roman Martinez, New Mexico's lone senior, had to leave the game briefly needing four sutures about his left eye after colliding with his own teammate.
The team's heart and soul was left with blood on his uniform and returned to play his final minutes as a senior wearing a new jersey with a number that wasn't his.
So woozy was Martinez that he headed to the opponent's bench after getting hit, and by the end of the game, he went down his own bench giving long hugs.
"They looked like San Diego State and ran like BYU," Martinez said of the Huskies.
Alford called Washington not only the best team New Mexico faced all season, but also the fastest. The Lobos weren't able to penetrate the UW defense like they had hoped.
"No penetration, no easy shots," Martinez said.
In the end, New Mexico struggled a bit down the stretch. When the Lobos were upset by San Diego State in the semifinals of the MWC tournament, it was their first loss in more than two months. They were slow to close out Montana in the first round and were out-matched against Washington.
But the future is bright. New Mexico is bringing in what Alford has said is his best recruiting class, including transfer Drew Gordon from UCLA to provide another post presence. And The Pit will reopen with $60 million worth of renovations.
The team would be highlighted by guard Dairese Gary, who scored 25 against Washington. And it gets even better if Hobson, an NBA prospect, returns for his senior season as well.
Asked after the game if he was coming back next year, Hobson gave an answer that many Lobos fans will echo when asked how the game today went:
"No comment."
March, 20, 2010
3/20/10
8:22
PM ET
By
Diamond Leung
| ESPN.com
SAN JOSE, Calif. -- Washington might have entered the NCAA tournament a No. 11 seed, but the Huskies crushed
New Mexico 82-64 to advance to the Sweet 16
.


Quincy Pondexter
scored 18, and
Matthew Bryan-Amaning
came up huge down low with 15 points and nine rebounds for the Huskies, now winners of nine in a row.
Bryan-Amaning had numerous monster dunks and finished 7-for-10 from the field, as Washington simply bullied No. 3-seeded New Mexico.
Dairese Gary
led all scorers with 25 points, and
Darington Hobson
had 11 points and nine rebounds, but the Lobos were never really in the game in the second half with the Huskies on fire and committing only five turnovers.
Isaiah Thomas
scored 15, and
Elston Turner
provided a lift off the bench again with 10 points for Washington.
Justin Holiday
had three blocked shots.
The Huskies, who move on to face the winner of the West-Virginia-Missouri game, played their most complete game of the season.
March, 20, 2010
3/20/10
7:13
PM ET
By
Diamond Leung
| ESPN.com
SAN JOSE, Calif. -- Quick thoughts from the Pac-10 vs. Mountain West game...
Washington is off to a fast start, with Quincy Pondexter scoring 10 points and Isaiah Thomas scoring nine. All of Thomas' points have come on 3-pointers. The Huskies as a team are shooting 51.5 percent from the field.
New Mexico is struggling by shooting 38.9 percent from the field, 3-for-12 from beyond the arc and 1-for-6 on free throws.
Elston Turner knocked down two more big 3-pointers for Washington. One came while he was fouled, but the free throw missed on what would have been a 4-point play. But that 3 gave the Huskies a 41-27 lead.
Dairese Gary has a game-high 15 points on 7-of-11 shooting. Darington Hobson has three points, five rebounds and two assists playing with a sore wrist.