College Basketball Nation:

101613 impressions
October, 16, 2013
Oct 16
9:25
PM ET
BIRMINGHAM, Ala. -- For a conference accustomed to hosting thousands of media for its football events, and for a blueblood program obsessively tracked by one of the largest hordes in the country, the first day of the SEC's 2013 media days almost felt like a friends and family affair.
You could blame it on basketball's second-fiddle status in SEC country, or the down 2013-14 expectations for many teams. But the more likely cause -- Kentucky having its own media day earlier this week -- kept most of the Wildcats faction home.
Don't let the cognitive dissonance fool you. All eyes remain very much focused on Kentucky.
This is usually the case, but never more so than this season. Just a few months after a first-round NIT loss to Robert Morris, and two seasons after a dominant national title run, Kentucky coach John Calipari has reloaded with what most believe is the best group of freshmen
ever
. Nor is Calipari interested in keeping expectations in check. Many coaches would never come close to mentioning even the remote thought of the possibility of
the inkling
of going undefeated. On Tuesday in Lexington, Ky.,
Calipari was happy to discuss it
.
[+] Enlarge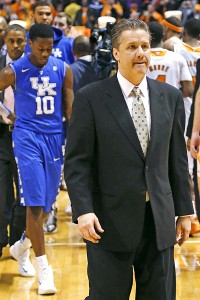 MCT/ZUMA Press/Icon SMIAs expected, most of the talk during the Day 1 of SEC media days centered around John Calipari and Kentucky.
"The other option is to go into the season with no expectations," Calipari said. "I'm not sure I'd prefer that."
But that doesn't mean he's predicting an undefeated season. Indeed, the outsized hype surrounding the Wildcats was belied by many of Calipari's comments Wednesday. Though he cited the huge number of NBA scouts at UK practices this fall -- over 40 to date, he said -- he just as quickly admitted that he is still installing the bare-bones basics of his offensive scheme. Forward
Julius Randle
, selected by the SEC media as the preseason player of the year, is playing slightly out of position in practice; the whole team is still adjusting to the system's improvisational imperatives. The process is intense enough that the topic of defense -- where Calipari has been the most consistently effective with his young teams in the past decade -- hasn't even been broached.
"The practices have been pretty good," Calipari said. "Very competitive. High energy ... We're not a good defensive team right now. We're not a good rebounding team. We haven't worked on it.
"We're scrimmaging three-quarters of our practices right now. It's controlled, but it's scrimmaging. What I'm saying is 'fail fast.' It means, play uncomfortable. Go harder, so we can correct you, so you can feel what works and doesn't work
now
. ... We're all offense, because I'm trying to build their confidence. No defense. And it shows. No rebounding stuff right now, and it shows. But they pick [things] up."
The result of Calipari's unconventional developmental process is almost as much of a question as what kind of league the Cats will be attempting to win when SEC play begins in January.
The 2012-13 season was nobody's idea of a banner season. Ken Pomeroy's adjusted efficiency metric tracks and ranks conferences based on overall, pound-for-pound strength; last season the SEC ranked seventh, behind its traditional power conference brethren
and
the Mountain West. It earned just three tournament bids.
Those struggles caused no small measure of soul-searching in the league's Birmingham offices this offseason. When Wednesday's media day queries
didn't
revolve around Kentucky's incoming class or Ole Miss guard
Marshall Henderson
(which was rare), they focused on the current state of the SEC.
One measure designed to alleviate the SEC's at-large issues last season is this summer's collective agreement, spearheaded by commissioner Mike Slive and consulted on with former NCAA basketball operations VP Greg Shaheen, on nonconference scheduling. Collectively, the league is working with coaches and administrators on scheduling tougher in November and December in the hopes of boosting everyone's RPI come March.
"It's a responsibility for all of us," Calipari said. "We can all be about our own programs and we'll all go down one by one. Or we can be about each other. You gotta bury the jealousy. Let's go."
Most coaches seem to be in favor of the effort, at least where applicable. Vanderbilt coach Kevin Stallings said it's important that members realize the impact they have on each other, but wasn't totally convinced SEC coaches needed to start scheduling like Long Beach State.
"I told this to an administrator the other day: 'If your team is bad, you're bad,'" Stallings said. "All conferences have ebbs and flows to them. Last year might not have been our best year, but don't be surprised if this year is dramatically, dramatically different than that. If we get six or seven teams in the tournament this year, which will not surprise me in the least, nobody will be talking about that anymore."
However strong the rest of the SEC ends up being, Kentucky is sure to improve. The question is how
much
better the Wildcats will be, whether Calipari's high expectations -- his "dream" of coaching an undefeated team before he retires -- make the man at the center of it all look prescient, or silly.
October, 16, 2013
Oct 16
8:24
PM ET
CHARLOTTE, N.C. -- The slogan plastered across the Atlantic Coast Conference's signage read: "The Best Get Better." And it seemed every coach and player who sat down for an interview pitched from the same talking points to that end.
The additions of Syracuse, Pittsburgh and Notre Dame will unequivocally make the league that grew up on basketball the nation's best. And at least on paper, it's hard to argue against it.
"For 60 years the ACC has been the best conference in college basketball," North Carolina coach Roy Williams said. "… There may have been a little lull where the Big East, the [SEC] or Big Ten -- I don't see anybody being the best –- any better than us now. I don't care what year it is."
Duke was the overwhelming choice to win the conference by media attending today's event. The Blue Devils garnered 50 first-place votes out of 54. Syracuse received three first-place votes and was picked second. North Carolina, which got one first place vote, was picked third.
Since 1997, there have only been three years when the Tar Heels or Blue Devils didn't have at least a share of the ACC regular-season championship. The newcomers are expected to challenge the stranglehold UNC and Duke have had on the title.
[+] Enlarge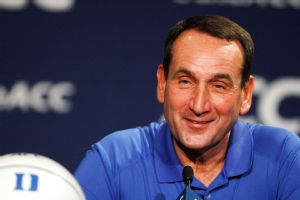 AP Photo/Nell RedmondMike Krzyzewski's Duke team was picked by the media to win the conference title.
"We'll have instant rivalries," Duke coach Mike Krzyzewski said. "It won't take long to develop a Duke-Syracuse … that's why I think our conference is way ahead -- of anybody."
At the very least, the newest league members should add needed depth after the ACC received only four NCAA tournament bids last season.
The league will have three active Hall of Fame coaches in Krzyzewski, Williams and Syracuse's Jim Boeheim -- and add a fourth next season when Rick Pitino and Louisville become a member.
Boeheim once voiced resistance to the move when talk of the Orange joining the ACC remained just talk. Now that Syracuse is in the league, he spoke like a longtime resident of Tobacco Road.
Boeheim said the transition from being a charter member of the Big East to the ACC wasn't difficult because his former league changed so much. He pointed out the ACC now has more former Big East schools (including Virginia Tech, Miami and Boston College) than the current Big East (Villanova, Providence, Seton Hall, St. John's, Georgetown.)
"I mean, there's a certain degree of nostalgia of being in that league because that's where you worked 34 years," Boeheim said. "But this is a better league."
Boeheim pointed out that Syracuse has sold more than 20,000 season tickets, which has already surpassed last season's total of about 15,000. Duke's visit to the Carrier Dome on Feb. 1 is already sold out and the North Carolina game on Jan. 11 isn't far behind.
"The only thing our fans will miss," Boeheim said, "is the Big East tournament."
Other notes:
Many players hate that Maryland is playing in its final season before joining the Big Ten, but it has nothing to do with the Terrapins being an ACC charter member or the tradition it's had in the league. The Maryland/Washington, D.C. area has produced a lot of players who were looking forward to coming home to College Park. "It still feels weird to think about they're not going to be there," said Notre Dame guard Eric Atkins, a Columbia, Md., native. "The only thing I think about is beating them, actually. That's the only thing I can think about. I'm really looking forward to that Jan. 15 game." Pitt forward Talib Zanna said facing Maryland was what excited him most about joining the league. "I know a lot of people when you don't say Duke or North Carolina they look at you like you're crazy," Zanna said. "Duke and North Carolina have a lot of history, they win a lot of games but I'm looking up to playing Maryland just because that's where I grew up. I just want to play in the arena."


The ACC will have its share of impact transfers this season, including Duke's Rodney Hood, who came from Mississippi State; Virginia's Anthony Gill, who came from South Carolina; and Maryland's Evan Smotrycz, who played at Michigan. Hood thinks it is a trend that will only increase. "Other than the money, it does feel like free agency," Hood said. "Guys transfer for different reasons. I'm sure mine was different than a lot of other guys. I really like the school I was at and made a basketball decision."


Syracuse senior forward C.J. Fair was selected the ACC preseason Player of the Year by the media. Fair was the leading scorer for the Orange last season, but it's his leadership role that will have to expand this season after the departures of Michael Carter-Williams and Brandon Triche. "It's something I haven't experienced since high school," Fair said. "Not so much to carry the team, but lead the team."

October, 16, 2013
Oct 16
3:45
PM ET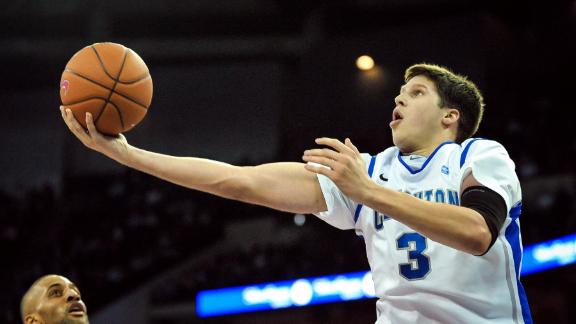 NEW YORK CITY -- Val Ackerman believes the Big East is still the Big East.
In her opening address during the league's media day event at Chelsea Piers on Wednesday, the Big East commissioner told reporters that she expects the conference to possess the same strength that it had in the pre-realignment years.
Ackerman, the former president of the WNBA, turned into a boxing promoter while she hyped the league as it prepares for its new beginning.
[+] Enlarge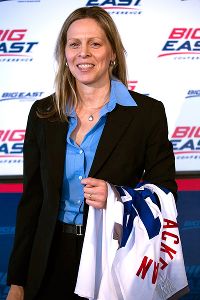 AP Photo/Craig RuttleBig East commissioner Val Ackerman said the conference isn't looking to expand from 10 teams.
"We're going to make this basketball conference a force," she said.
This league is obviously different. A summer split with the previous version of the Big East resulted in seven former Big East squads linking up with Creighton, Xavier and Butler to form the new conference.
She acknowledged that the conference feels some pressure to prove that it's still a power league in its inaugural year.
"There's no doubt the eyes of the basketball world and the eyes of others in college sports are definitely on the Big East," she said. "I think everybody in our league uses that as a source of motivation."
There are, however, no immediate plans to expand. Ackerman said the conference will be "very selective" if it ever decides to add teams.
"Ten is a good number," she said.
I think the Big East recognizes that it is not the same league, now that former powers Louisville, Syracuse, UConn, Pitt and Notre Dame are gone. But the new members certainly believe in the Big East's ability to maintain a slot as one of college basketball's power conferences this season.
The overall success of league favorites Marquette, Georgetown and Creighton will certainly be pivotal in that aspiration.
Other impressions and notes:
Doug McDermott, a strong contender for national player of the year honors, said Creighton's transition to the Big East was a major factor in his decision to come back for his senior season. "If it was the Missouri Valley, I don't know if I would've come back," he said. "This is just a new challenge." That shows that McDermott still believes he has more to prove. He is not running from the new spotlight that he and his program are under now. He's embracing it.
John Thompson III doesn't seem too worried about the loss of standout Greg Whittington, and maybe he shouldn't be. The team played without him for a chunk of the 2012-13 season when he was suspended midyear due to academic issues. Whittington could miss the entire 2013-14 season due to an ACL injury he suffered in June. "Greg played in, I think, one conference game last year and we won the conference," Thompson said. "We have a group of guys that do not have to make the adjustment to playing without Greg."
Villanova's Jay Wright is one of multiple Big East coaches who have some concerns about the new handchecking rules. How do you play tough defense with the new rules that will be implemented this season? Coaches, although excited about the impact the rules could have on offense, aren't completely sure. "That's going to be interesting in the Big East because we've all taken pride in our defense," he said. "And the three teams that are coming in are the same way. ... I think you're going to see some ugly games early."
When a teary-eyed Brad Stevens walked into their locker room, his former players were nervous. When he told them he was leaving, they were lost. But, Khyle Marshall said, players weren't mad when Stevens announced that he was taking a job with the Boston Celtics. "Once he said the Boston Celtics, I was like, 'I completely understand,'" Marshall said. Marshall and new coach Brandon Miller didn't dwell on the past Wednesday. They're ready to move forward. "I can only be like myself," Miller said when asked about following Stevens.
St. John's is the league's most difficult team to project. Steve Lavin's squad, which finished 17-16 last season, is arguably as talented and athletic as any team in the Big East. But it needs leaders to emerge. Lavin said D'Angelo Harrison, the team's leading scorer who was suspended late last season, is staying on track to have a productive season. He said the talented junior underwent counseling to help him deal with some of his anger issues this offseason. "We sat down when he was dismissed and developed a road map where he could earn his way back the old-fashioned way," Lavin said. "That checklist ... he's taken care of."