College Basketball Nation:

112113 weekend homework
November, 21, 2013
11/21/13
11:00
AM ET
There is always danger in the sentimental hire.
Just ask NC State. In spring of 2006, after the conspicously unloved Herb Sendek fled Raleigh, N.C., for Arizona State, Wolfpack fans got one of their own: Sidney Lowe, point guard for Jim Valvano's legendary 1983 title team, a man with no shortage of blood-red sportcoats. After a decade bouncing around various NBA jobs, Lowe had come home, and the Wolfpack family was ready to fall back in love.

Five years, 86 wins and zero NCAA tournament berths later, Lowe was fired. Such are the perils of sentiment. The warm and fuzzy hire is not always the right one.
Three years ago, when Iowa State coach Greg McDermott saw the writing on the wall, the Cyclones went sentimental, too. It was fair to raise concerns about Fred Hoiberg. He was an Iowa State legend with a solid NBA track record and zero experience as a college coach. Sound familiar? But Hoiberg has defied any such concerns. Not only have his teams been immediately successful, they've been thrilling, too. Iowa State is as consistently entertaining a program as there is in college basketball; Hoiberg is one of the hottest names in the sport.
Third-year Providence coach Ed Cooley, a hometown kid who struggled in the poverty of South Providence before scratching his way into college basketball -- first as a player then a coach -- appears to sit far closer to the Hoiberg end of the spectrum. Three years in, the jury is leaning that way, but it is still out.
It is this season -- and, in the immediate term, this weekend -- that will tell us much about whether that verdict should stick.
Why this weekend? After three years of suddenly competitive recruiting and steady on-court improvement, Providence has begun its 2013-14 season 4-0. That's all well and good, but the only notable win came on opening night at home against a better-but-hardly-elite Boston College. But this weekend at the Paradise Jam, Providence's mix of impressive seniors (Bryce Cotton, Kadeem Batts) and emerging sophomores (Josh Fortune, Tyler Harris, former top-five guard prospect Kris Dunn, who is still recovering from a shoulder injury) get a mix of totally winnable but nonetheless intriguing tests. The first comes in Friday's opening round against a depleted Vanderbilt, but the especially interesting stuff comes later -- a possible second-round matchup with La Salle, and a shot, if seeds hold, to play Maryland in the title game next week.
A few months ago, you'd have picked Maryland to win the Paradise. But the Terps have stumbled -- they allowed 90 points in a home loss to Oregon State Sunday night -- while Providence has looked like a top-half Big East team or better.
Early as it is, this is one of those prove-it weekends for Friars hoops, and for Cooley generally. Providence should get to the NCAA tournament. It should be better this year. Cooley's resurrection of a proud but long-dormant program should continue. Should the Paradise Jam be a referendum on all of the above? Of course not. But these are the kinds of games you win on the way there.
November, 21, 2013
11/21/13
10:30
AM ET
We have given Richmond fodder for this weekend.
North Carolina has given the Spiders reason to believe.
No one is giving Fairfield a shot against Louisville in the Hall of Fame Classic at the Mohegan Sun in Uncasville, Conn. So pencil in the Cardinals into Sunday's championship game.
But we have anticipated a Louisville-North Carolina matchup for the title. And we are not alone. The organizers planned this accordingly, selling the event as a major showdown between two Hall of Fame coaches and storied programs.
[+] Enlarge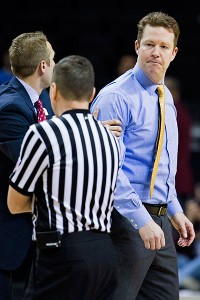 AP Photo/John MinchilloCoach Chris Mooney and the Richmond Spiders could be bracket busters in the Hall of Fame Classic.
And then the Tar Heels started to implode, losing
P.J. Hairston
over the summer and then again into the fall as the NCAA and the school investigate possible extra benefits. Toss in
Leslie McDonald
for similar reasons and the Tar Heels are now officially less than whole. It showed when they struggled with Holy Cross and lost at home to a traditionally pesky -- but not as strong as in the past -- Belmont.
Oh, and Richmond beat Belmont earlier this season. Could the Spiders spoil this planned matchup?
Of course.
"I've noticed that," Richmond coach Chris Mooney said of the hype for Louisville-North Carolina any time the Hall of Fame Classic bracket is posted on television or online. "Hopefully we can [upset the plans]. It's a huge opportunity for us. We are pretty good, I think."
Here's why:
The Spiders, two years removed from a Sweet 16 appearance, have the type of point guard they need under Mooney and must have to beat out a player like North Carolina's
Marcus Paige
.
Cedrick Lindsay
is averaging 19 points and has nearly as many steals (7) as turnovers (8) in four games.
The Spiders have defended well, save the only loss, to Minnesota. Richmond didn't give up 3s to Belmont (4-of-18); North Carolina did (Belmont was 15-of-37).
The issue for Richmond is its own perimeter shooting.
"We have shot horribly so far [9-for-65 in the first three games, 8-of-26 against zone against Hofstra]," Mooney said. "We are a pretty good shooting team, so those numbers will go up, of course."
They must if the Spiders are to pull off the upset. The frontcourt is still green and
James Michael McAdoo
has been one of the few strengths for the Tar Heels. This is a wounded UNC team that can't afford to be bruised again so soon after the Belmont loss. UNC sees the need to play Louisville as well, especially with Michigan State in East Lansing, Mich., and Kentucky at home within the next few weeks.
The Spiders have an opportunity in an Atlantic 10 that will be led by VCU, UMass and Saint Louis. There is room for a fourth challenger. La Salle has struggled of late. Richmond can seize the spotlight with a win this weekend. The chance is at hand.
November, 21, 2013
11/21/13
10:00
AM ET
Will North Carolina's nightmarish outing at the free throw line against Belmont carry over into Saturday's meeting with Richmond?

The Tar Heels repeatedly talked about the mental aspect of free throw shooting after missing 26 free throws in Sunday's 83-80 loss to the Bruins. They talked about misses in the first half having a snowball effect and spreading no matter which player went to the line.
"You can talk about it, you can not talk about it -- I mean, it's free throws," sophomore guard
Marcus Paige
said. "He [Roy Williams] can't make them for us, there's really not anything you can say to a guy struggling on the line. I mean, what do you say to him?"
So if they miss a few early against the Spiders, does the Belmont outing creep back into their collective minds?
Sophomore
J.P. Tokoto
's first trip to the line will be the litmus test because he had the toughest outing against Belmont.
Coach Roy Williams said the last time he had the team shoot 200 free throws in practice, Tokoto shot 84 percent. He made his first free throw against Belmont -- then missed the next nine en route to 4-of-16 shooting.
His body language grew increasingly worse with every trip to the line. The uneasiness within the Dean E. Smith Center crowd was palpable until they finally just started clapping in support for Tokoto before he shot his final few free throws.
"That's pretty much all it was, just mental for me," he said.
Tokoto was back in the gym Sunday night practicing free throws before reporters had completely cleared out of the media room.
It's inevitable that he'll get to the line -- he's the only natural small forward on the team, and his game is to slash to the rim. Tokoto has the second-most attempts on the team (25), just four behind
James Michael McAdoo
. No other Carolina player has registered 10 attempts.
Considering that the Heels lost to Belmont and Richmond beat the Bruins, UNC could again be locked in a close game in which free throws matter. Will it be strong enough to handle it?
November, 21, 2013
11/21/13
9:30
AM ET
Last week, I
talked to Memphis coach Josh Pastner
about the state of his program.
He was hopeful. He had every reason to be. The addition of Michael Dixon Jr. to a veteran backcourt solidified the most important element of his program. And his third-ranked recruiting class gave him the services of forwards
Nick King
and
Austin Nichols
.

Pastner has a nonconference slate that will give him and his team another chance to prove that it can win big games (1-13 overall against the Top 25 in the USA Today coaches' poll) and possibly make a run in the NCAA tournament.
That's why Tuesday's 101-80 loss to No. 7 Oklahoma State was such a devastating blow for the program. Losing is one thing. Taking a 21-point punch to the gut and failing to do anything to stop
Marcus Smart
could have a lasting effect on a Memphis team that looked imbalanced and disjointed in a tough road game. Pastner's starting guards went 0-for-7 from the 3-point line and committed 10 turnovers.
The good news for the Tigers? That was only their first major test. They could face Oklahoma State in the Old Spice Classic next week. They'll play Florida in mid-December, a few weeks prior to the start of American Athletic Conference action.
They have time to regroup. But for a program with so many new faces, every game will influence whether that becomes a reality. Yes, the team's Saturday opponent, Nicholls State, is 0-3. Memphis, however, was a mess on Tuesday.
The American features two premier programs, Louisville and UConn, at the top. Will Memphis compete with those teams and make a serious push for the conference crown? The team that got bullied by Oklahoma State won't. But it's early.
Memphis needs a win, a restart and a short memory, especially with another potential shot at the Pokes on the horizon. Saturday's opponent might not be pivotal for the Tigers, but their performance certainly could be.
November, 21, 2013
11/21/13
9:00
AM ET
So when do we start talking about
Louisville
?

And by that I mean the team, not the
Chane Behanan
-
Kevin Ware
soap opera?
In any other year, the defending national champions would be
the
big story of the college basketball season -- a stocked returning roster coming off a title-winning story would dominant the preseason conversation, and what Louisville has done in its first four games would keep tongues wagging.
Because what the Cardinals have done is not only beat opponents; they've steamrolled them.
While Michigan State has had to fend off Columbia and Portland, while one-loss Duke had to hold back East Carolina, while Kansas looked sluggish in the first half against Iona, while Syracuse was fending off St. Francis (NY), and while Kentucky is already out of the 40-0 race, Louisville is beating its opponents by an average of 33.5 points per game.
No one has broken the 70-point threshold against the Cards. Despite the new hand-checking rules that many thought would be the death of Rick Pitino's swarming defense, Louisville is back at it, seventh in the nation in steals, averaging 12.5 swipes per game.
Except the Cards don't have a fabulous freshman. Nor do they have a super sophomore (though
Montrezl Harrell
is nothing to sneeze at). Their star player (
Russ Smith
) has had a ridiculous-ectomy, in an effort to prove his NBA worth.
So they don't fit the season's themes. And they aren't sexy. And aside from the off-court drama, they aren't overly compelling.
What Louisville is, however, is good -- very good, in fact -- and the Cards also own that big fat championship trophy, so what will it take to start talking about them?
Maybe this weekend will help.
Presuming the Cards get past Fairfield on Saturday they'll get North Carolina on Sunday. That game lost some oomph with the Tar Heels' loss to Belmont but if Louisville can do unto UNC what it has done unto others, that ought to open some eyes.
And then maybe we can talk about the defending national champions.