College Basketball Nation:

121213 weekend homework
December, 12, 2013
12/12/13
11:00
AM ET
Was Wednesday night Arizona's most impressive win of the season?
That might be pushing it, I admit. But New Mexico State -- held to just 48 points in 62 possessions in Tucson, Ariz., Wednesday -- is a good team, a good
program
, the WAC's best of the past five seasons and a three-time tournament team since 2009-10. Arizona treated the Aggies like something out of Division III.

Sean Miller's team was good offensively, of course; you can't really blow out a capable team like that if you're not scoring with ease. (That was never more true than when
Rondae Hollis-Jefferson
did …
well, just watch
.) But even as the Wildcats took their time figuring out NMSU's well-conceived, off-kilter defense in the first half, they maintained a mostly comfortable lead by doing what they've done best in 2013-14: playing defense.
This is an easy point to lose amid all of the
Aaron Gordon
(and Hollis-Jefferson) highlights: The Wildcats are a much better defensive team than they were a year ago. Last season, they hovered around the top 50 in adjusted defensive efficiency. In 2013-14, they're No. 5 overall. Thus far, Arizona is holding opponents to just 40.3 percent shooting from inside the arc and 27.2 percent outside of it, the product of a defensive reorientation that Stan Van Gundy could love.
Van Gundy's Orlando Magic teams were probably the first NBA teams to understand one of the core truths behind offense: midrange scoring is less efficient. The ease of layups and dunks is wiped away; the reward of three points is not a factor. So Van Gundy's best defenses, anchored by Dwight Howard in the middle, obsessively pressured the perimeter, happy to close out a little
too
hard if it meant giving up an 18-foot jumper instead of a 3.
Kentucky's 2011-12 national championship group was wired similarly. With Anthony Davis blocking everything in sight, UK's perimeter defenders could rush 3-point shooters and force them to put the ball on the floor.
According to Hoop-Math.com
, that team forced 39.2 percent of opponents' shots to come from midrange. It blocked 20.3 percent of them, which is completely insane, and opponents shot just 26.7.
In a much smaller sample size,
the 2013-14 Wildcats have been even better at forcing opponents into inefficient choices
. To date, 52.1 percent of shots by Arizona's foes have come in the midrange, and just 32.1 percent of those shots have connected. Arizona allows just 18.9 percent of field goal attempts at or around the rim. Thanks to the arrival of Gordon, as well as improved interior defense from just about everybody, it blocks a high rate of both kinds of attempts.
The development of
Nick Johnson
has been huge, and the arrival of
T.J. McConnell
has given the Wildcats a cohesion-minded distributor to help keep everything aligned. If Arizona goes to Ann Arbor, Mich., this weekend and comes away with one of the most impressive nonconference victories of the season, those will be among the storylines. Gordon will be sure to provide highlights since NBA scouts will be in the building.
But the biggest difference between the merely good team of 2012-13 and the national title contender you see now goes beyond the immediately obvious. The real reason Miller's team has been the premier outfit of November and December is defense. The Wildcats are dictating terms.
December, 12, 2013
12/12/13
10:30
AM ET
Former
New Mexico
head coach Steve Alford scheduled the
Kansas
game.
Current UNM head coach Craig Neal inherited it.
And he couldn't be more pleased.

Neal isn't overconfident with the Jayhawks stumbling into the sold-out game in Kansas City Saturday. Nope, this is much more about New Mexico than Kansas for Neal. The Lobos have one blemish on their record, a loss to undefeated UMass in the semifinals of the Charleston Classic. That game came a day after a brutal overtime affair with UAB (proving to be a quality win after the Blazers' victory against North Carolina).
Since then, the Lobos have won at New Mexico State and took out a solid Cincinnati. They will follow up this Kansas game with a home game against New Mexico State and a neutral-site game against Marquette next Saturday at the MGM Grand in Las Vegas.
"If you told me when we were in Australia (for a summer trip in August) that we'd be 7-1 going into the Kansas game with this schedule I would have taken it," Neal said. "This is a tough stretch for us."
Neal said the freshmen haven't progressed to the point he thought they would, but that's fine. Australian senior forward
Cameron Bairstow
has been better. He's averaging 19.8 points and 7.1 rebounds.
Alex Kirk
was the headline name inside and
Kendall Williams
the marquee name on the perimeter, so getting the unexpected high level of production from Bairstow has elevated the Lobos.
Kansas poses plenty of matchup problems with defending
Andrew Wiggins
or hanging with
Joel Embiid
. But the Jayhawks will have to worry about Bairstow. And after losing on a last-second 3-pointer at Colorado and being unable to catch Florida in the second half, the Jayhawks have no room for error.
"He's doing everything," said Neal of Bairstow. "He can shoot it, drive it and is a helluva rebounder. He's physical and he can stay in front of people. He's guarding, too."
Neal said he's not thinking about the KU talent -- on the court. Rather, he holds Kansas coach Bill Self in such high regard that he fully expects the Jayhawks to be even stronger than they were in Gainesville on Tuesday because of Self alone.
The Lobos and Wooden Legacy champion San Diego State are the two clear favorites in the Mountain West. Boise State got rocked in its first test of the season at Kentucky. The Lobos would jump back into the polls with a neutral-site win over Kansas and re-emerge in the national conversation. Look what beating Kansas did for Colorado (ranked) and Florida (suddenly discussed as a national title contender).
"This is a huge barometer," Neal said. "The challenges keep coming. We won't play like Florida with a 1-3-1. But our guys are competing at a high level. We needed a game like this. We needed the Marquette game. We knew Kansas would be good, reloaded and a major challenge for us. We've got five neutral-court games and hopefully it will prepare us for three more of those in the Mountain West tournament [in Las Vegas in March]."
December, 12, 2013
12/12/13
10:00
AM ET
After a one-year hiatus, North Carolina and Kentucky renew their rivalry in Chapel Hill on Saturday.
Ol' Roy versus coach Cal.
One embraces the past. One constantly chases the future. They do things differently, but their contrasting philosophies often end with the same results.
[+] Enlarge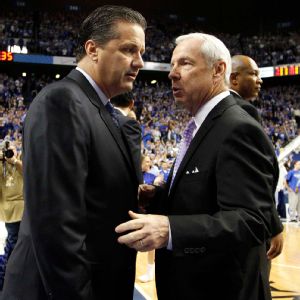 Mark Zerof/USA TODAY SportsJohn Calipari and Roy Williams have had similar up-and-down seasons so far this year.
Since the 2008 season, North Carolina's Roy Williams and Kentucky's John Calipari have won a national title and coached in two Final Fours. Williams also has reached two Elite Eights to Calipari's one during that span, but UK ended the Heels' season in the 2011 Elite Eight. (Both also finished at least one humbling season in the NIT.)
The Tar Heels, who lead the all-time series 22-13, have a "White Out" promotion planned. Williams is too old school to go along with the theme by wearing a white suit. But that doesn't mean he's outdated.
Perhaps that's what provoked UNC assistant coach C.B. McGrath, filling in on Williams' radio show Monday, to go on a rant reminding listeners of Williams' achievements at Carolina.
"Coach obviously has done a great job, with Twitter and this kind of stuff now, it's all about self-promotion," McGrath said. "Coach doesn't have a Twitter account, he's not going to brag about himself."
Never mind that Calipari has his own website and Twitter account while Williams would like to retire never knowing what it's like to maintain either. Or that Williams once starred on his high school square dance team while Calipari once welcomed Jay Z into his locker room. Or even that Calipari's rosters tend to turn over from the exodus of players to the pros while Williams likes to add pieces each year to build a contender. When the teams meet at 5 p.m. ET in the Dean E. Smith Center, it's not a matchup of whose style is right and whose is wrong.
Williams and Calipari will have more in common than many realize. The Heels and Wildcats have both been a bit unpredictable this season.
Carolina players are still adapting to playing without
P.J. Hairston
and
Leslie McDonald
, who are still awaiting word on their eligibility. Their highs have included wins over Louisville and Michigan State, but their lows came in losses to Belmont and UAB.
UK assembled arguably the best freshman class in history, but relying on freshmen -- no matter how talented -- comes with some inconsistency. Earlier in the week Calipari said his team was so young, he had to teach them how to huddle. The Cats' losses were to ranked teams in Michigan State and Baylor, but they've still struggled to find their groove.
The team that wins Saturday will be one step closer to finding it.
December, 12, 2013
12/12/13
9:30
AM ET
Last season, Tennessee put together a strong run in the second half of SEC play, which placed the program on the bubble. On Selection Sunday, however, the Vols were disappointed.
They didn't have enough signature nonconference victories and they'd lost too many conference games to convince the selection committee that they deserved a bid.

Cuonzo Martin hopes to avoid the same situation in 2013-14. But the Vols have already suffered losses to Xavier and UTEP and are running out of opportunities to secure significant nonconference wins.
That's why Saturday's game at No. 12 Wichita State is so important for a team that doesn't want to enter another Selection Sunday guessing about its fate. A road victory over the Shockers could be the difference on Selection Sunday 2014.
The Vols, who are ranked 15
th
in adjusted offensive efficiency per KenPom.com, have endured injuries. And they're giving freshmen, who are still adjusting, significant minutes.
But they added enough to be considered SEC sleepers.
Jarnell Stokes
wisely returned to school.
Jeronne Maymon
is back and healthy after missing last season with a knee injury.
Antonio Barton
transferred in from Memphis.
They're all still jelling.
But Saturday could boost Tennessee's prospects, or leave the Vols in an uneasy position. Last year, the Vols beat a similar Wichita State squad 69-60 in Knoxville. But the matchup in Wichita, Kan., this weekend will be a more difficult test.
The Shockers haven't lost a game this season and are still feeding off the confidence that they gained by reaching the Final Four last season.
A victory over Wichita State would not only change Tennessee's confidence but it would enhance its tourney resume. The Vols will play Virginia prior to SEC play, too. But Saturday's matchup at Wichita State is the most valuable opportunity on their nonconference slate and alleviate a lot of pressure for Martin's program.
December, 12, 2013
12/12/13
9:00
AM ET
The guards are quick. They can score. They can defend.

And they aren't from Oklahoma State.
Nope, not Memphis, either.
But
Louisiana Tech
is not entirely different from either team, and while Saturday's game against the Bulldogs doesn't jump off the
Oklahoma State
schedule game like the two dates with the Tigers, it could prove every bit as difficult.
It's not so much a trap as it is a legitimately tough game.
The Bulldogs, if you recall, put together a 27-win season and a regular-season conference title in 2012-13 before stumbling down the stretch to miss out on a coveted NCAA tournament bid.
From that team, four starters and 11 players return, including most critically
Raheem Appleby
and
Kenneth "Speedy" Smith
. Appleby takes care of much of the scoring -- he's averaging 15.6 points -- and Smith, a defensive specialist, probably will be charged with the task of handling
Marcus Smart
. He's a pesky point guard who excels equally as a setup man (averaging 5.9 assists per game) and a swiper (2.83 steals).
Handling Smart is no small task, for certain, and will easily be the toughest assignment Smith faces all season, but if he can limit Smart's shots, this game could become very interesting.
The Bulldogs play the same uptempo style as Memphis and might even be a little more in control. Louisiana Tech averages 85 points and ranks sixth in the nation in steals, yet commits only 11 turnovers.
This is the biggest game Louisiana Tech will play this season. The Bulldogs jumped to Conference USA this season, and while an upgrade from the WAC, it still won't offer a lot of opportunities to impress the selection committee.
This one will.
And a year after a less-than-meaty schedule denied Louisiana Tech an NCAA bid, don't think the Bulldogs and their fans won't be all in when Oklahoma State pulls in to town.