College Basketball Nation:

121913 weekend homework
December, 19, 2013
12/19/13
11:00
AM ET
Last season, as
Marcus Smart
revitalized Oklahoma State -- when the Cowboys defense went from one ranked outside the tempo-free top 100 to the 15th-best group in the country, and the team went from 15 wins to 24 — a fascinating little subplot emerged.

Actually, emerged isn't the word. "Existed" is more like it. Because while Smart soaked up all of the attention, and deservedly so, Oklahoma State guard
Markel Brown
, without whom the Cowboys would have been moribund on offense, flew disproportionately under the radar.
Let's not repeat that mistake.
[+] Enlarge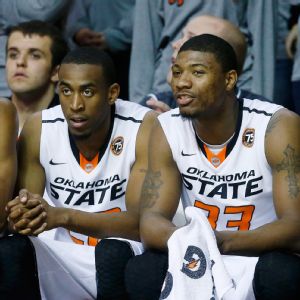 AP Photo/Sue Ogrocki
Smart has, to no one's surprise, stepped forward as a player-of-the-year candidate this season; he is playing more efficiently despite a greater share of the Cowboys' attack and he's every bit as good as he was (if not better) on the defensive end. He deserves his plaudits, and Oklahoma State appears to be a much better team on both ends of the floor. But the team's drastically improved offense from a year ago has as much, if not more, to do with Brown, who is playing the smoothest, most balanced and most effective offense of his career.
This has a lot to do with simple perimeter shooting. As a freshman, Brown shot 26.2 percent from 3-point range. As a sophomore, 31.9. Last season, as a junior, with nearly double the attempts (143) over the previous season (72), Brown boosted his percentage to 36.4. This season, he has shot 42.9 percent. That kind of leap in 3-point percentage might seem like an outlier for most players. But Brown's entire career 3-point shooting chart has comprised almost exactly that sort of year-over-year improvement. If he keeps it up, don't be surprised.
That accuracy has made Oklahoma State's offense go.
Phil Forte
and suspended freshman
Stevie Clark
have shot the ball better, yes, but neither player presents the kind of choice Brown, in his wiry and athletic frame, forces defenses into. He can spot up and shoot on the wing -- and he often does, frequently when the ball is swung from a penetrating Smart; 26 percent of Brown's possessions come from spot-ups, per Synergy data. But if the defense closes out, Brown can put it on the floor and get to the rim, or pull up, and his field goal percentage doesn't suffer no matter what he decides.
Combine that with his athleticism in transition and with his defense -- Brown is blocking more shots this year than ever before, too -- and you could quite easily argue that Brown has been better than his fêted point guard to date. (Not "more important," necessarily. "Better?" I can swish that around.)
Of course, paying attention to Brown might distract from another unsung piece of Oklahoma State's success, junior forward
Le'Bryan Nash
, currently having his most fulfilling season since arriving as a star prospect three years ago.
But that's homework for another weekend. As Oklahoma State prepares for Saturday night's 11:30 p.m. ET start against Colorado's big, physical perimeter at the MGM Grand, pay close attention to Brown -- he, more than any Cowboy save Smart, makes Travis Ford's team go.
December, 19, 2013
12/19/13
10:30
AM ET
The last traditional neutral-site tournament, this weekend's Diamond Head Classic in Honolulu, could end up being a memorable event for at least three teams with high hopes.

And all for different reasons in their respective conferences.
Iowa State.
Saint Mary's.
Boise State.
The Cyclones are rolling, undefeated and poised to be a Big 12 title contender with Kansas, Oklahoma State, Baylor and now perhaps Texas.
Saint Mary's suddenly is surging, undefeated, underappreciated and ready to resume being the pest to Gonzaga that the Zags seemingly cannot dismiss in the WCC.
Boise State, which is off its axis after losing at Kentucky and in Boise last week to the Gaels, must find its footing or face a long road to an NCAA tournament bid after making the NCAAs a year ago out of the Mountain West.
The bracket is favorable for the Cyclones, matching Iowa State against George Mason first (Sunday, 5:30 p.m. ET, ESPNU), then an erratic Oregon State or untested Akron.

The other side of the bracket pits Saint Mary's against South Carolina (Sunday, 11 p.m. ET, ESPNU), which has played only a handful of games, while Boise State drew the short straw and has to play a true road game against hometown Hawaii (Monday, 1 a.m. ET, ESPNU).
If the two meet in the semifinals, Boise State must avenge the loss, much in the way Memphis did in beating Oklahoma State after losing to the Cowboys in Stillwater.
If Iowa State gets derailed, the Cyclones will take a hit, but it won't take the luster off the Cyclones' home game against Kansas in early January. Iowa State already has wins over BYU on the road and over Michigan, Iowa and Northern Iowa.

Boise State is yearning for something to put on the shelf for the selection committee. Saint Mary's could use another neutral-site win of note to put it back in play for a spot if it is in the mix in the WCC.
The Beavers boast a prolific scorer in
Roberto Nelson
and could spoil the party and boost the Pac-12's power rating if they could pull off a few upsets.
A win by Mason, Akron, South Carolina or the hometown Warriors would shift the momentum of the event and for the losers who went to paradise looking for a springboard to March.
This event can get swallowed up by Christmas, but it has a chance to be a window again into a legitimate sleeper in Iowa State and a new darling in the Gaels or a much-needed restart for Boise.
December, 19, 2013
12/19/13
10:00
AM ET
North Carolina coach Roy Williams scheduled a 5 a.m. Thursday practice immediately following the Tar Heels'
86-83 loss
to Texas on Wednesday night. He's tired of preaching effort to his team, which has had a tendency to elevate its play against ranked teams and go through the motions against the rest.
Davidson normally would command respect, but this season it's not a team that has proved capable of an upset. The Wildcats will stumble into Chapel Hill on Saturday with a 4-7 record. They lost leading scorer
De'Mon Brooks
to a knee injury after just five games.
In other words, Williams should have an indication pretty quickly about the Heels' effort levels because the opponent isn't inspiring. One barometer will be rebounding, as they were outrebounded for the second consecutive game and the third time this season.
[+] Enlarge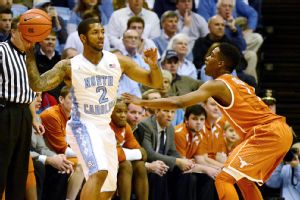 Rob Kinnan/USA TODAY SportsLeslie McDonald made his season debut and made four 3-pointers, but was part of the problem at the free throw line.
Sophomore guard
Marcus Paige
said he hopes it doesn't take more early-morning practices -- or losses -- to learn their lesson.
"If we didn't give enough effort in the game, he's got to drill it in somehow," Paige said. "I mean, we've had a couple of games now where we're saying the same thing. Effort is what got us. Effort is what got us. Either we have to change it or it is going to be forced to be changed."
Williams is also looking to force a change from the free throw line. The Heels missed 23 free throws against Texas, which wasn't even the worst this season. That number is 26, from their 83-80 loss to Belmont.
Paige is shooting 91 percent from the line, while the rest of the team is making just 52 percent. Even senior
Leslie McDonald
, a career 73 percent shooter, seemed hexed. Although he made 4 of 9 3-pointers, he was just 3-of-8 from the free throw line against the Longhorns.
McDonald played his first game this season after being cleared by the NCAA on Wednesday afternoon. An announcement was forthcoming on junior guard
P.J. Hairston
, but he is likely out for the season, based on the fact that the school did not submit his reinstatement papers to the NCAA.
The Heels could also be without center
Joel James
, who was injured just seconds into the game against Texas. The coaching staff will have to make more adjustments if James is out, but Paige said effort should never be one of them.
"You come here to play for North Carolina, you shouldn't be coached on effort," Paige said. "Effort is something you bring because you want to be here and you want to be successful. It's frustrating."
Davidson has lost to Duke by 34, Virginia by 13 and Clemson by 31. In other words, it's exactly the kind of opponent that the Tar Heels should overpower. Will they? That's been question North Carolina hasn't answered consistently all season.
December, 19, 2013
12/19/13
9:30
AM ET
Thad Matta assembles top-10 squads most years. The only thing missing from his pristine tenure at
Ohio State
, which faces
Notre Dame
on Saturday at Madison Square Garden in New York, is a national title.
In 2013-14, like most seasons, that goal seems attainable. The Buckeyes haven't played a great nonconference schedule, so they're still a difficult group to accurately judge right now. We'll know soon enough, though, as they'll play
Michigan State
in East Lansing, Mich., on Jan. 7.

The Buckeyes are statistical juggernauts right now. That can't be ignored, even though their résumé lacks a win against a team that's currently ranked in the top 25.
The Buckeyes held
Marquette
to 35 points and have held seven opponents to 60 or less. They're ranked first in Ken Pomeroy's adjusted defensive efficiency rankings.
Louisville
was ranked third when it won the national title last season.
Kentucky
was eighth during its title run in 2012.
The rules have changed, but Ohio State's ability to constrict offensive flow has not.
Aaron Craft
,
LaQuinton Ross
,
Shannon Scott
and
Lenzelle Smith Jr
. put a lot of pressure on perimeter players. The Buckeyes are ninth in defensive turnover percentage, per Pomeroy. Former McDonald's All-American
Amir Williams
(2.4 BPG) is third in the Big Ten in block percentage.
That's a dangerous defensive group.
Most of the concerns and questions about Ohio State center on its offense. With Deshaun Thomas gone, scoring by committee is Ohio State's approach this season, which isn't a bad thing.
Too many teams earn exaggerated praise for scoring in bunches. That doesn't necessarily suggest that they're good, though.
Plus, the Buckeyes are a solid offensive team (31st in adjusted offensive efficiency). They're just anchored by their defense.
Ohio State doesn't have to win a shootout over the weekend to prove folks wrong, but a victory over the Fighting Irish might be more valuable if Mike Brey's squad continues to shake its early rust and excel in the ACC.
The Buckeyes don't need a guy who can score 25 per night to be viewed as a great team. Their defensive approach proves that they are.
They've scored 80 or more three times this season, but those tallies came against subpar competition.
Level of competition won't be an issue in the Big Ten. If the Buckeyes continue their defensive prowess, they could end the season at the top of the Big Ten and with a slot in Arlington.
December, 19, 2013
12/19/13
9:00
AM ET
The natives are getting restless across the Bluegrass State, which isn't necessarily unusual. Postgame panic after a loss is as certain as a sunrise in Kentucky. But the worry is especially pointed -- and maybe even a little merited -- this season after the Wildcats' uninspiring 8-3 start.

The issue with Kentucky, as has been well documented by media and the Wildcats' coach, isn't talent. There's more than enough to go around. It's all the little things -- cohesion and attitude, determination and focus -- that are missing. The players' body language speaks volumes, with eye rolls and slumped shoulders, showing a team that isn't at all connected to one another. The Harrison twins are especially guilty, and a point guard that isn't in on the team concept is more than a problem; it's a potential disaster.
All of those are much harder to fix than a simple solution for boxing out, which is why the Kentucky faithful's hand-wringing isn't entirely misplaced.
So when Kentucky hosts Belmont on Saturday, the final score might not matter as much as how the Wildcats play. (Although there is potential for the final score to matter, too. Though the Bruins have lost three of their past four and looked bad in the fourth against Denver, this is still a team that beat North Carolina).
This is Kentucky's final warm-up before the annual Civil War tilt against Louisville, and simply winning the game isn't enough anymore. The Wildcats have to win it decisively, as a team with their talent is expected to do, and they have to look like a team doing it.
May we suggest a few fist bumps and high-fives?
The atmosphere in Rupp Arena during the Cats' last home game against Boise State was more apprehensive than excited, because along with being rabid, the fans there are pretty smart. They know a good team when they see it, and right now Kentucky isn't playing like a good team.
There is more than enough time in the season to fix what ails Kentucky, but in the short term -- with Louisville looming in just a week -- time is of the essence.