Kansas earns the No. 1 overall seed in the NCAA tournament.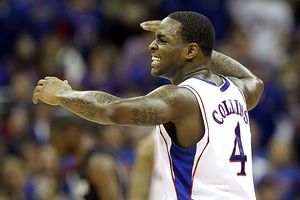 KANSAS CITY, Mo. -- Thousands of players have come through college basketball in the last 18 years.Only 15 have two national titles. Since 1992 only three head coaches have won two national championships -- North Carolina's Roy Williams, Florida's Billy Donovan and Connecticut's Jim Calhoun.
KANSAS CITY, Mo. – Kansas took its most significant step toward winning a second NCAA title in three seasons with a Big 12 tournament championship after winning the top-rated conference by four full games during the regular season.
KANSAS CITY, Mo. – Quick hitters here at Sunflower State central: Kansas probably has a 65-35 split in fans. That was evident during introductions when the two team videos were unveiled.
KANSAS CITY, Mo. -- The Big 12 has the perfect storm.So, too does the NCAA tournament selection committee if it wanted to get a primer to hype up their main event next week.
KANSAS CITY, Mo. – Tickets may never be this hard to get in Kansas City again with a Kansas State-Kansas Big 12 tournament title game at the Sprint Center Saturday at 5 p.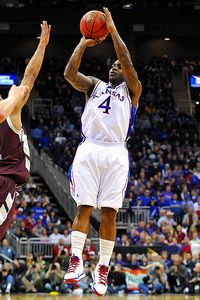 KANSAS CITY, Mo. – Forget what's happening to the other top seeds for a minute, and whether or not they're being pushed, losing or coming back.
KANSAS CITY, Mo. – This is from Kansas State coach Frank Martin.No just kidding. But a young fan thought I was Martin. Who knew? I said this Thursday night and I'll add it again: Baylor is a lot tougher than I ever thought.
KANSAS CITY, Mo. -- Kansas has one more game left before it can probably rid itself of Big 12 opponent intensity until possibly the Elite Eight.The Jayhawks have dominated the Big 12 this season, losing only once.
Baylor tips off against Kansas State in 20 minutes, but regardless of what the Bears do tonight, there's no doubt they'll be in the NCAA tournament. That bridge has been crossed.
KANSAS CITY, Mo. -- Quick hitters here at Phog Allen Fieldhouse East as Texas A&M leads Kansas 38-35 in the Big 12 semifinals. Texas A&M is playing with the right amount of aggression to try and beat the top-ranked Jayhawks.
KANSAS CITY, Mo. -- Give the Big 12 credit. They know how to create an NCAA tournament atmosphere here in Kansas City.The pre-game aura around the Sprint Center rivaled when I was here for the NCAA tournament a year ago.
KANSAS CITY, Mo. -- Baylor coach Scott Drew had the Bears in the Big 12 final a year ago, finishing strong after a disappointing conference season.The Bears lost to Missouri, missed the NCAAs but raced out to the NIT final.
KANSAS CITY, Mo. -- A quick rundown from the end of the night here:1. Baylor can win multiple games in the NCAA tournament. Heck, the Bears are talented enough to win this tournament.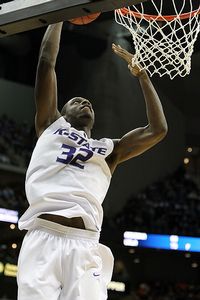 KANSAS CITY, Mo. – Kansas State got complacent. The Wildcats lost their edge. They no longer were the team that played the role of being the unwanted.