College Basketball Nation:

2010 NCAA tournament
March, 23, 2010
3/23/10
5:03
PM ET
ESPN's Tournament Challenge is currently hosting 4.78 million -- yes, million -- 2010 NCAA tournament bracket entries. After two rounds,
not a single one of them is perfect
. But the feat has, miraculously enough, been accomplished.
Who did it?
His name is Alex Herrman
, and he's a 17-year-old student at Glenbrook South High School in Glenview, Ill., one of Chicago's north suburbs. Herrmann, who is autistic, picked all the wild upsets you and I didn't see happening. UNI over Kansas. Ohio over Georgetown. Cornell over Wisconsin. Your bracket may have survived. Your bracket might be good. Herrmann's bracket is 100 percent perfect.
"It's amazing," Hermann said. "I'm good at math. I'm kind of good at math and at stats I see on TV during the game."

Alex entered the bracket on CBSsports.com's bracket challenge. CBS did not return several phone calls to confirm entries into its game. His 24-year-old brother Andrew, who helped him enter his picks into CBS' bracket manager, also entered the contest -- and ranks behind 500,000 other people.

"My bracket is totally shot," his 24-year-old brother Andrew said. "So is everyone else I know."
Us too, Andrew. Us too.
In case you needed the visual proof,
NBC Chicago has the PDF right here
. Another fun fact:
According to Book Of Odds
, the chances of picking the first two rounds of this NCAA tournament are one in 13,460,000, which means you have a better chance of winning the lottery twice over.
Two rounds is incredibly impressive, obviously, but the next step is seeing if Alex's picks can go the distance. Can he complete the holy grail? Can he seal the perfect bracket? Herrmann's Final Four is a bit dubious -- he has Tennessee coming out of the Midwest and Purdue overcoming the
Robbie Hummel
injury to make it out of the South -- not to mention the fact that the odds of attaining a perfect bracket are 1 in 35,360,000,000. (Or, according to Book Of Odds, "almost 18 times worse than your odds of being killed by a waterspout in a year [1 in 1,988,000,000]." So, um, yeah.) But doubting Alex now means doubting the one person who managed to get the entire bracket correct. In other words, I'm not going to do it.
March, 21, 2010
3/21/10
6:40
PM ET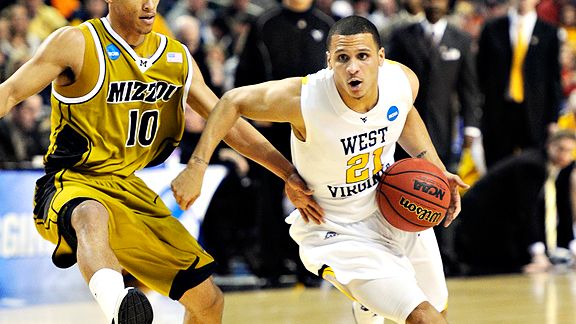 Richard Mackson/US PresswireWVU's Joe Mazzulla led the Mountaineers to a second-round win over Missouri.
BUFFALO, N.Y. -- The lowest point wasn't after he suffered the injury that some suspected could end his collegiate career.
It wasn't when he turned himself into police after being charged with domestic violence.
It wasn't when he was indefinitely suspended from the West Virginia basketball team.
For
Joe Mazzulla
, the lowest point was much subtler.
"I started to really shut out the people around me,'' the WVU point guard said. "I didn't want them in my life because I was so embarrassed. If they had given up on me, I don't know what would have happened. I know I wouldn't be here.''
The much-maligned tandem of Mazzulla and Darryl 'Truck' Bryant ground Missouri's fastest 40 minutes of basketball to a halt, limiting the turnovers and controlling the tempo to
lift WVU to a 68-59 win
.
In the celebratory locker room, Mazzula sat amid a room of guys who buoyed their teammate along through his rough patches. There was also a coach, admittedly flawed himself, who challenged Mazzulla to get stronger.
Mazzulla doesn't know where he'd be without the Mountaineers but there's no question the Mountaineers wouldn't be headed to the Sweet 16 without Mazzulla.
"All we've been hearing about all year is how West Virginia doesn't have any point guards,'' Bryant said. "All I can say is we're winning, we're No. 6 in the country, the No. 2 seed and we're in the Sweet 16. We can't be that bad.''
Challenged by Bob Huggins to stand in the face of the Tigers' pressure, the two players considered the weakest link on the Mountaineers' roster combined to commit only three turnovers, part of a tiny 10-turnover afternoon for West Virginia.
That marks the fewest mistakes a team has made against Mizzou this season and continues an obvious trend: When the Tigers don't draw turnovers, they don't win. WVU, Nebraska (twice) and Baylor all made 13 or fewer mistakes against Missouri. The Tigers were 1-3 in those games.
The Tigers tried frantically to speed the game up, amping their pressure in the final seven minutes and cutting the lead to 56-53.
But they could never entirely take West Virginia out of its game. The Mountaineers inbounded the ball to Da'Sean Butler, who handled the initial trap and then passed to Mazzulla or Bryant to start the offense.
"We talk about his 29 points, but he's the guy who really handled the double-team for us,'' Bob Huggins said of Butler. "And then Truck and Joe both did a good job advancing the ball.''
To earn their coach's high praise, both Mazzulla and Bryant had to take a twisted path. Mazzulla's wounds were both bad luck and bad behavior. He fractured the growth plate in his right shoulder in early December of last season. After learning that surgery only had a 50-50 success rate, decided to hold off on the repair and try to play through it, but within two weeks, he elected to take a medical redshirt.
"By far one of the toughest people we have on this team,'' Butler said. "He's played with one arm the majority of the year. He hasn't complained about it or cried or anything.''
A month after the season ended, Mazzulla was charged with a domestic attack outside of a club in Morgantown. It was Mazzulla's second strike. A year earlier, he and teammate
Cam Thoroughman
were charged at a Pittsburgh Pirates game for getting in a scuffle with a police office and for underage drinking.
"Now that I'm on the other side I can say it; I don't think you can become a man or a woman without making mistakes,'' Mazzulla said. "I regret what I did but I don't regret learning from my mistakes.''
Bryant's challenges were far less overwhelming, but no less trying.
A prolific scorer out of St. Raymond's High School in the Bronx, he has logged plenty of minutes in Huggins' doghouse.
Forced to shoulder much of the point guard duties while Mazzulla recovered, he struggled with scoring while also distributing the basketball and Huggins let him know it. Often.
"He has a way of getting his point across -- in practice, on the court, when you're sleeping, whenever,'' Bryant said. "It took me a long time to get used to it. I talked to Nick Van Exel a lot. He told me I had to learn to let it go in one ear and out the other, but it was hard. There are still times I find myself getting caught up in what he's saying instead of why he's saying it.''
What Huggins said before the Mizzou game, Mazzulla and Bryant agreed couldn't be printed. But compared to the pressure their coach put on them, the Mizzou pressure defense was a walk in the park.
"Everyone sees him on television, where he's yelling 90 percent of the time and coaching 10 percent; in practice it can be completely the opposite but he always has a way of motivating you,'' Mazzulla said. "He'll just throw out little innuendos -- 'You can't do this,' whatever -- during practice. He's really good at getting the most out of you.''
And in return, Mazzulla is getting the most out of his second chance.
March, 19, 2010
3/19/10
7:05
PM ET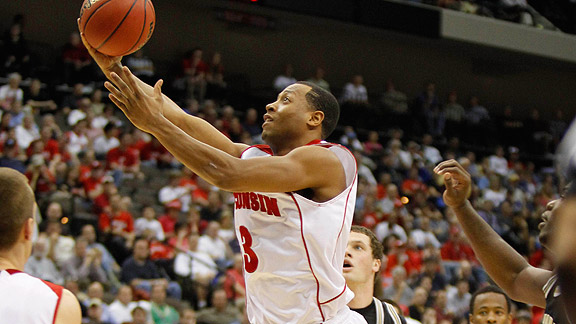 Bob Donnan/US PRESSWIREWisconsin Badgers guard Trevon Hughes teamed up with Jon Leuer to give the Badgers a fierce 1-2 punch in a 53-49 win over Wofford.
JACKSONVILLE, Fla. -- With just one look from teammate
Trevon Hughes
,
Jon Leuer
knew what was coming.
Wisconsin had the ball, trailing Wofford by a point with the clock dwindling under 30 seconds. Leuer flashed out high, ready to set a ball screen for Hughes. But Hughes told him to "go flat," meaning head to the baseline. And that's when the two made eye contact.
"I knew then that if my guy came off, he was going to find me," Leuer said.
That's how it happened, too. Hughes drove into the lane, drawing a double team that left Leuer open in the corner. Hughes delivered the pass, and Leuer drilled a 17-foot jumper with 17 seconds left as the fourth-seeded Badgers held off No. 13 seed Wofford 53-49.
The two-man game worked all day for Wisconsin. Leuer had 20 points and Hughes scored 19, with the rest of the team adding only 14. But if the Badgers want to win more than one game in this tournament, they'll need more than just a pair of contributors.
Continuing a troubling trend that started in the Big Ten tournament loss to Illinois, Wisconsin struggled to get anybody other than Leuer and Hughes going. They combined to go 14-for-29 against Wofford while the rest of the team shot just 6-for-35. Against the Illini, the supporting cast was only 9-of-34 from the field. Third leading scorer
Jason Bohannon
is mired in an awful slump. He missed all four of his shots against Wofford and is 2-for-20 in his last three games.
"People game plan to not give up the three and that's his game," Hughes said of his backcourt mate. "He's going to come around, and I feel sorry for whatever team we play when he does."
Maybe, but until then the Badgers are living on the edge. If Wofford had made more than one of its seven second-half free throws, or if the Terriers'
Cameron Rundles
hadn't lost the ball out of bounds with 4.9 seconds left, Wisconsin might already be done. Hughes acknowledged that his team has to play a whole lot better against Cornell on Sunday.
This was a weird game in a lot of ways. Wofford couldn't make a shot most of the first half, and then it couldn't miss. The much smaller Terriers outrebounded Wisconsin 37-30. The Badgers had only four turnovers, but only dished out three assists.
"Sometimes it doesn't always go as scripted," Leuer said.
Luckily for he and his teammates, the most important play of the game developed just as he thought it would.
March, 17, 2010
3/17/10
8:43
PM ET
NEW ORLEANS -- Listening to Kentucky coach John Calipari on the eve of the Wildcats' NCAA tournament opener, you'd think the old Soviet Union was coming back to play the Americans in a Miracle on Ice rematch.
[+] Enlarge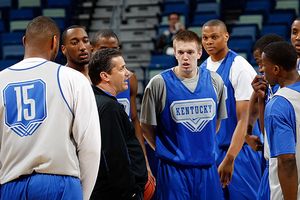 Chris Graythen/Getty ImagesCoach John Calipari is trying to take Kentucky to its first Final Four since 1998.
But, then, when is it not entertaining with Cal?
"There's storms, there's lightning, people drinking their 'Hater-ade' and coming at you," said Calipari, repeating the message he delivered to his No. 1 seeded Wildcats. "There are going to be things written and said. It's all coming at you."
And then the clincher ...
"Land the plane. Survive and advance," Calipari said. "That's all we're thinking about. We're not worried about the score and who scores and what. Just land the plane and move on."
Kentucky, which faces No. 16 seed East Tennessee State on Thursday in the first round of the East Regional, has been both dazzling and puzzling this season -- but always ridiculously talented.
Calipari wouldn't expect anything different from a team this young, one he's repeatedly hailed as the youngest in the country, even though it's actually about the 15
th
youngest team.
That's OK, we won't worry about the details.
The bigger picture is that despite Kentucky's youth, Calipari has a team with enough talent, size and depth to win the Wildcats' first national championship since 1998.
Of course, the first order of business is getting back to the Final Four, something Kentucky hasn't done since its last championship season in 1998. The Big Blue Empire doesn't need to be reminded that it's the longest drought in Kentucky basketball history between Final Fours.
This is Calipari's first chance to do something about that drought, but he's more concerned about how a bunch of 18- and 19-year-olds will respond to playing in their first NCAA tournament than he is any historical significance.
"If you're coaching in this tournament, everything is geared toward playing your best right now," Calipari said. "You have this weekend, if you're good enough to move on to another weekend, and then one more.
"Can you get your guys playing their best? That's all we're thinking."