College Basketball Nation:

2011 Big 12 tournament
March, 12, 2011
3/12/11
10:25
PM ET
KANSAS CITY, Mo. -- After the buzzer blared, Kansas forward
Marcus Morris
turned to the Texas bench and soundly shushed them. A TV camera that quickly approached him on the court received the same treatment.
Morris and the Jayhawks had sent a clear message with their
85-73 win
: Kansas is the King of the Big 12. For all the talk that preceded Saturday's game, there was nothing left to say.
"Since the loss, we've been talking about that we really wanted another shot at them, because a lot of people have been saying that they were the best team in the Big 12," Morris said. "It just happened in a perfect way for us to get them in the Big 12 Championship and for all the marbles."
[+] Enlarge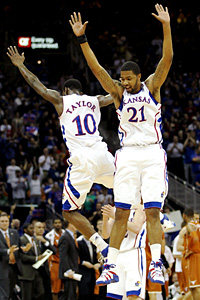 Jamie Squire/Getty ImagesTyshawn Taylor and Markieff Morris combined for 34 points and 13 rebounds in Kansas' win.
"The loss" came on Jan. 22, one of just two for Kansas on the season. With Saturday night's win, the Jayhawks improved to 32-2, sent Texas to 27-7, and wrapped up a No. 1 seed in the NCAA Tournament next week.
"We've been so excited to get out there and play against them and show everybody. I'm not saying the first game was a fluke, but we wasn't at full strength," Morris said. "Today we were playing our best and we were at full strength and we showed everybody."
Morris' twin brother
Markieff Morris
talked a little trash with the Longhorns after Friday's semifinal win over Colorado. He told them that ever since the January loss, Kansas has wanted a rematch on Saturday.
Kansas fans serenaded the twins, both juniors, late in the game and and again as they cut down the nets at the Sprint Center: "One more year!"
The Jayhawks danced on the podium while waiting for the trophy -- not worried about draft decisions or yet-to-be-drawn NCAA tournament opponents. Instead they celebrated an accomplishment few elsewhere could duplicate: It took two tries to get past Kansas State and Texas, but Kansas beat every team it has played this season.
"We're a good team. We can beat anybody. There's no doubt in my mind," Texas coach Rick Barnes said. "We're capable on any given night to beat anybody."
That's the difference between the Big 12's No. 1 and No. 2 teams. Texas can do it. Kansas does it.
On Saturday, it did it with a new starting point guard,
Tyshawn Taylor
, who fell out of the starting lineup after a suspension late in the regular season. He came off the bench in the Jayhawks' semifinal win over Colorado, but returned to start on Saturday. He said he played his best back-to-back games of the season and he finished with a team-high 20 points.
"Tonight he was fabulous," Kansas coach Bill Self said. "He played like a point guard should play. He initiated. He finished when he needed to."
He was also on the floor for 38 minutes, running a Kansas offense that looked nearly unstoppable. The Jayhawks finished the night with six players who had double-digit scores.
"When one guy is playing that well, he needs to be in there, and Tyshawn just put so much pressure on their defense by being able to drive it and get to the paint," Self said. "He helped himself score by getting there, but he also created for others and put pressure on them for the entire 40 minutes for the most part."
Kansas wanted another shot at the only team that held bragging rights over them to end the regular season. They got it. The win also ended the Longhorns' chance at their first Big 12 tournament title in program history -- falling to 0-6 all-time on this stage.
Kansas, meanwhile, launched a three-week campaign at a national title with one last Big 12 game that played out exactly like they spent the last month and a half imagining it would.
"If we play like that every game," Marcus Morris said, "it's definitely going to be hard to stop us."
March, 12, 2011
3/12/11
8:29
PM ET
KANSAS CITY, Mo. -- Kansas' offense dominated Texas in the first half, hanging 48 points on the board and the Longhorns never got closer than eight points in the second half. Only six Jayhawks scored, but they all put up double figures to help Kansas beat Texas,
85-73
in the Big 12 title game. The Longhorns' defense improved in the second half, but the first-half hole was too much to overcome.


Turning point:
Texas creeped to within eight with 8:55 to play after trailing by double digits for most of the game, but Kansas answered with a pair of 3-pointers by
Tyshawn Taylor
and
Tyrel Reed
, a
Marcus Morris
tip slam and a
Markieff Morris
free throw to stretch the lead to 69-55. Texas wouldn't trim the lead below eight again, thanks to the run.
Key player:
Taylor moved into the starting lineup ahead of
Elijah Johnson
and rewarded head coach Bill Self's confidence in him. Taylor kept the Jayhawks composed and led them in scoring with 20 points and four assists on 7-of-10 shooting. He also played 38 minutes.
Key stat:
Kansas' offense looked unstoppable for much of the first half while the Jayhawks rolled to a 15-point halftime lead. KU outscored Texas 22-4 in the paint in the first half with transition buckets and dominant play inside by the Morris twins.
Key stat II:
Texas fell to 0-6 all-time in Big 12 Tournament finals with the loss. Kansas improved to 8-1 all-time.
Thompson in trouble:
Texas forward
Tristan Thompson
, the Big 12 Freshman of the Year, was strapped to the bench with foul trouble. Shortly after returning to the game with three fouls, he picked up his fourth on an attempted tip slam over a Kansas defender with 12:30 to play.
What's next:
Kansas wins its eighth Big 12 title in the 15-year history of the league and fifth in six years under Self. Kansas improved to 32-2 while Texas fell to 27-7. It's a big win for the Jayhawks, but shouldn't affect seeding in next week's NCAA tournament. Kansas should safely be a No. 1 seed, and Texas will likely be a 2, with both teams likely headed for the Tulsa Regional on the first weekend of the three-week tournament. With an Ohio State loss on Sunday, the Jayhawks could end up the No. 1 overall seed in the Big Dance.
March, 12, 2011
3/12/11
12:00
PM ET
KANSAS CITY, Mo. --Three things to watch when Kansas faces Texas.
Big men on big men


You won't find many matchups with more skilled big men than the ones going to be on display Saturday when Kansas and Texas meet for the Big 12 tournament title. Kansas' twins,
Marcus
and
Markieff Morris
, have the size advantage over Texas'
Tristan Thompson
and
Gary Johnson
, but the Longhorns have the league's premier swing man in 6-foot-7
Jordan Hamilton
. Johnson will draw the task of trying to shut down Big 12 Player of the Year Marcus Morris. In the semifinal against Colorado, the Morris brothers each scored 20 points for the first time in the same game. They combined for 40 points and 21 rebounds. Thompson scored 13 in the Longhorns' win against Texas A&M on Friday and grabbed 10 offensive rebounds. Making matters more interesting is the chippiness between the groups. Markieff Morris talked a little trash to the Longhorns waiting in the tunnel between games on Friday night, and the Longhorns reciprocated.
There's no doubt about it, this game will ultimately be decided in the paint. Win the glass and win points in the paint, and the title is there for the taking.
The start
Kansas has stumbled to early deficits against Oklahoma State (seven points) and Colorado (12 points) before rebounding for wins, though it took a miss by the Cowboys at the buzzer for the Jayhawks to advance.
The first time the Jayhawks played Texas, they sprinted to an 18-3 lead in the opening minutes before losing, 74-63. That loss ended Kansas' 69-game winning streak in Allen Fieldhouse. The atmosphere in the Spring Center will be similar this time around, but Kansas might find making a comeback much more difficult against top-10 team Texas. A good start will be important, and most often that means getting the Morris twins touches early on.
Making history?
Big 12 titles are nothing new for Kansas, which is 7-1 in championship games. The Jayhawks have won the tournament in four of the past five seasons. Texas, meanwhile, has never won the Big 12 tournament, and neither has any other team from Texas. The Longhorns are 0-5 in championship games. They'll get a sixth try tonight, with a chance to make a little history and reserve a spot in Texas hoops history as a team that's done something no other Longhorns team has been able to achieve.
March, 12, 2011
3/12/11
1:16
AM ET
KANSAS CITY, Mo. -- Texas and Kansas played a classic game on Jan. 22 that left those who witnessed the matchup wanting more.
Finally, a month and a half later, they'll get it.
Texas beat Texas A&M
70-58
on Friday in the Sprint Center to advance to the Big 12 Championship against the Jayhawks on Saturday night.
"I know it's going to be hard," said Texas guard
J'Covan Brown
. "Kansas is probably upset about what happened at their place, so they're going to come out and just try to fight a whole lot, try and out rebound us and everything."
[+] Enlarge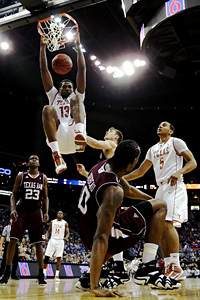 Jamie Squire/Getty ImagesTristan Thompson and the Longhorns easily beat the Aggies and advanced to the title game.
Kansas raced to an 18-3 start in January's game before a stunned Jayhawks crowd watched the Longhorns outscore Kansas 51-28 in the second half and win in Lawrence for the first time in program history.
"They're going to have their fans and they're going to come out hyped up," Texas forward
Jordan Hamilton
said. "Like J'Covan said, they really thought they should have won that last game."
Texas reached a rematch with the top-seeded Jayhawks, Big 12 champions outright, on the backs of Brown, Hamilton and freshman
Tristan Thompson
, the team's three leading scorers on the night. Hamilton led the Longhorns with 17 and Brown added 15 off the bench. Thompson had 13 rebounds -- 10 offensive -- to go with his 14 points on 7-of-9 shooting.
"Coach [Rick Barnes] mentioned to us at the beginning of the game we've got to be really active on the glass and win the rebounding battle," Thompson said. "So I took the initiative upon myself to try to get the rebound and try to own the glass tonight."
Saturday night's title bout rematch will have plenty of intrigue.
After Kansas finished beating Colorado earlier in the day, junior forward
Markieff Morris
shared a few choice words with the Longhorns, who were waiting in the tunnel to take the floor.
"We exchanged a few words," Johnson said, leaving plenty of room for interpretation.
What were they?
"I can't really say," he said. "Let's just say it's going to be more than a basketball game tomorrow," said Texas senior forward
Gary Johnson
.
The Longhorns traded a few words of their own, but Johnson kept his teammate, Brown, from getting too heated with their future opponent.
"It was just Markieff, but I'm pretty sure it would have been Marcus [Morris] if he didn't have to do media after the game," he said. "They're known for being chippy, and we talk as well, so it's going to be a fun game."
Don't expect the Longhorns to complain. They know what they'll be facing on Saturday with a Big 12 title on the line. A title that eluded them after the Longhorns lost three of five games to close the regular season.
"Obviously it's a mental game when guys talk, but he's the type of guy that can back it up," Johnson said of the Big 12's player of the year,
Marcus Morris
. "When you can back up your talk, that makes things a little bit different."
Markieff Morris' message in the trash talk was simple: "He kind of walked in like, 'This is our game tomorrow,'" Johnson said.
And on paper, it looks like that's the case. A pro-Kansas crowd just 30 minutes east of the Jayhawks home arena will greet Texas on Saturday. Kansas is itching to get a second chance at the team that ended their 69-game winning streak at Allen Fieldhouse. But Texas doesn't see the motivation tilting toward the Jayhawks.
"It's a revenge game for them, I would say. It's a home game for them, it seems. Everything is in their favor, so right now, we feel like we're coming in as an underdog," Johnson said.
He later added. "At the end of the day, they're still Big 12 champions outright. It doesn't matter that we beat them or whatever. It's a revenge game for us as well."
Winner gets to keep talking.
March, 11, 2011
3/11/11
11:58
PM ET


KANSAS CITY, Mo. -- No team established a double digit lead for the game's first 37 minutes, but Texas got buckets and stops when it needed them, and Texas A&M couldn't get either. The Aggies were hurt on the offensive glass, but Texas was too strong and beat rival A&M
70-58
to improve to 27-6, including 3-0 against the Aggies this season.
Turning point:
Texas led the entire second half, but the Aggies inched to within four with five minutes to play and had a little momentum. Texas'
Jordan Hamilton
drained a 3-pointer to give the Longhorns the last boost they needed. Hamilton finished with 17 points and eight rebounds.
Key player:
Texas forward
Tristan Thompson
was a force all night on both ends, finishing with 14 points and 13 rebounds. Of those boards, 10 were offensive and he also had three assists and two blocks.
Key stat:
Texas A&M shot just 17-of-48 (35.4 percent) from the field against a great Texas defense after shooting less than 58 percent in a win over Missouri on Thursday night. Texas, meanwhile, shot just under 50 percent from the field and out rebounded the Aggies 36-28. That's no recipe for an upset.
What's next:
Texas advances to the Big 12 Championship against Kansas. Texas A&M finishes at 24-8 and will await their matchup in the tournament when the NCAA tournament bracket is released on Sunday. Texas was the only team to beat Kansas at home this year, ending the Jayhawks' 69-game winning streak at Allen Fieldhouse. On Saturday night, it might feel pretty similar. Kansas games have been full of Jayhawk blue, and Kansas and its fans will be hoping for some payback in the title game.
March, 11, 2011
3/11/11
10:46
PM ET
KANSAS CITY, Mo. -- For the second time in two days, No. 2 Kansas found itself trailing in the first half. On Thursday, it was Oklahoma State holding a seven-point lead.
On Friday, it was Colorado's turn. But all the Jayhawks needed was some Morris. Kansas' twins took control by combining for Kansas' next 17 points to erase an early 12-point deficit and help Kansas beat Colorado
90-83
and advance to the Big 12 Championship on Sunday.
"We actually played some of our best ball of the year probably from about the 10-minute mark to about the 10-minute mark of the second half and kind of faltered down the stretch," Kansas coach Bill Self said. "But we'll take it.
[+] Enlarge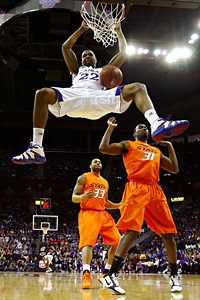 Jamie Squire/Getty ImagesMarcus Morris, along with brother Markieff, combined for 40 points and 21 rebounds in Kansas' win over Colorado.
The reason for that stretch, in which Kansas outscored Colorado 64-35, was simple. A quick pace that favored Colorado's shooters and slashers slowed to a pace that favored the Kansas strategy of pounding it down low to their skilled 6-foot-9 big men.
"I just felt like we started utilizing what we normally do, we went back to the way we normally are, getting the ball down low,"
Marcus Morris
said. "In the beginning we weren't getting too many touches down there, and danger's going to happen that way."
On Thursday, the Cowboys defense held Marcus and
Markieff Morris
to an average night. Colorado, however, had no answer for either on Friday. They combined for 40 points, 21 rebounds and helped the Jayhawks avoid a stumble before what they hope is a deep run in the NCAA Tournament. The Jayhawks should enter as a No. 1 seed.
"We want to play through our bigs. Marcus and Markieff are our best offensive players," said Jayhawks guard
Tyrel Reed
.
The team needed a nudge from Self. He reminded them in his second timeout during an early Buffaloes surge. This time, his team trailed 22-10.
The next time a Kansas player not named Morris scored, the Jayhawks had already climbed back and had a 27-26 lead -- capped by a 3-pointer from Markieff.
"I feel like the entire thing is on us," Marcus said. "We have other core players, but we put ourself in that position where we want that and I feel like a lot of it is on our shoulders. We have to perform every night."
Though the Morrises carried Kansas on offense, the Jayhawks locked down defensively during that stretch. They held Colorado guard
Cory Higgins
, averaging more than 16 points a game this year, to 1-of-11 shooting and just six points.
Alec Burks
finished with 23 points on 9-of-18 shooting, but he was ineffective while the game slipped away from the Buffaloes.
"Tyrel's a modest kid. Tyrel guarded him. That's the bottom line," Self said of Higgins' offensive struggles. "We had a couple other guys guard him a few possessions, but that was Tyrel's job. And if you would have told me going into the game that Tyrel would get 15 and the guy he guarded, who was arguably one of the best offensive players in our league, would get six, I would say that definitely shifted the scale to our favor. So I thought he did a great job on him."
The Morrises know the pressure is on them to perform. On Friday night they did. Without that Morris-fueled run, Kansas might be going home to prepare for a trip to the NCAA tournament. Instead, they're gearing up to face a team from Texas for the Big 12 title. Texas plays Texas A&M for the right to face Kansas, who made their preference clear after the game. The Jayhawks' 69-game home win streak ended at the hands of Texas earlier this season, and there's no one they want to see more on Saturday night.
March, 11, 2011
3/11/11
9:31
PM ET
KANSAS CITY, Mo. -- Kansas trailed by 12 early, but rallied behind big performances from
Marcus Morris
and
Markieff Morris
to take a halftime lead and full control on the way to
a 90-83 win over Colorado
. Kansas scored on its first six possessions of the second half, jumping out to a 19-5 run and never letting CU get back in the game.


The Buffaloes should still get in the NCAA tournament, but it was a disappointing way to make an exit in their final Big 12 game. Colorado is leaving for the Pac-12 next season.
Turning point:
Colorado led 22-10 with 13 minutes to play in the first half, but Kansas outscored the Buffaloes 33-15 over the rest of the half to take a 43-37 lead into halftime. After the 19-5 run to open the second half, the Buffs were done. They held KU to just 16 points over the game's last 10 minutes, but the Buffaloes could never get close enough to make a serious threat.
Key player:
Kansas' Brothers Morris. Marcus, the Big 12's newly crowned Player of the Year, and Markieff were unstoppable as part of that first-half run. At one point, they combined for 17 consecutive points and finished with a combined 40 points and 21 rebounds on 11-of-22 shooting.
Key stat:
Kansas outrebounded Colorado 39-25. Both teams shot well, but giving up a rebounding advantage like that to a team that's clearly more talented is going to be hard to overcome. Colorado couldn't do it.
Miscellaneous:
Colorado star guard
Alec Burks
took a nasty fall early in the second half, being knocked horizontal before landing hard on the floor and leaving the packed Sprint Center silent. He was down for a minute or so before getting back to his feet and looking much like his usual self.
What's next:
On Saturday, Kansas will face the winner of Texas and Texas A&M for the Big 12 title. Colorado finishes 21-13, but has a solid resume that should be worthy of a berth in the NCAA tournament, the first such appearance for the Buffaloes since 2003.
March, 11, 2011
3/11/11
2:00
PM ET
Can Kansas handle Colorado's guards?
The Jayhawks beat Colorado by just four in Boulder earlier this year, but their undersized guards had big problems guarding the Buffaloes' duo of
Cory Higgins
and
Alec Burks
, 6-foot-5 and 6-foot-6, respectively. Both players shot at least 50 percent from the field in their first matchup and combined for 44 of Colorado's 78 points. Another big day for the pair, this time in Kansas City, could mean a Buffaloes upset this time around.
Is Texas' swoon officially over?
The Longhorns reached No. 2 in the polls before losing three of their final five games of the regular season, raising questions about a drop-off similar to last season, when Texas reached No. 1 in the country before falling into a tailspin and an eight seed, finished off by an opening-day exit in the tournament. Though Texas played well against rival Oklahoma on Thursday, beating the Sooners won't impress many. Beating another rival, Texas A&M, on Friday night and taking home the trophy on Saturday would provide the right answers for all the questions about Texas heading into the tournament.
Is the urgency still there for Colorado?
Thanks to wins over Kansas State -- the Buffaloes' third this season over the Wildcats -- and Iowa State, Colorado looks to have secured a bid to the NCAA tournament for the first time since 2003. Now, they'll face a huge test against No. 2 Kansas. The Buffaloes played like their season was on the line against Kansas State because it largely was. Will that urgency continue?
Can the Aggies keep rolling on offense?
Texas A&M got plenty of easy looks and knocked down jumpers against Missouri's frenzied defense, finishing 26-of-45 (57 percent) from the field. It hung 86 points on the Tigers and made 8 of 16 from 3-point range. The Aggies' top three scorers also shot a combined 17-of-24 for 56 points. Those are impressive numbers, but don't look for them to continue against Texas, a defense giving up just over 60 points a game and highlighted by Big 12 Defensive Player of the Year
Dogus Balbay
. If the Aggies can come anywhere close to the type of offensive performance they had in a win over Missouri on Thursday, they could find themselves in the title game on Saturday.