College Basketball Nation:

2011 Casting our ballots
March, 2, 2011
3/02/11
12:40
PM ET
A quick look at the player and coach of the year races in the ACC:
Player of the Year
Thanks to the ascendancy of North Carolina and an injury to
Kyrie Irving
, Duke hasn't quite dominated this conference in the singular style we all expected in the preseason. But the race for conference player of the year has been all Duke. More specifically, it's been all
Nolan Smith
.
[+] Enlarge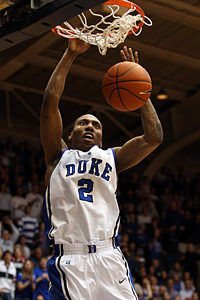 Streeter Lecka/Getty ImagesDuke's Nolan Smith is averaging 21.3 points per game this season.
The numbers are as impressive as they come: Smith leads the ACC in points per game (21.3) and trails
Kendall Marshall
by a tenth of a point (5.3 to 5.2) for the league lead in assists. If Smith can eclipse Marshall by the end of this season, he'll become the first player in the history -- yes,
the history
-- of the ACC to lead the league in both categories. Smith has dominated the ball, but he's been ruthlessly efficient, too. His offensive rating of 117.4 leads the ACC among players who use more than 28 percent of their team's possessions (Smith uses 30.7). He's been the near-perfect player for his team this season, and in the wake of a somewhat disappointing senior season from teammate
Kyle Singler
(the consensus ACC and national player of the year pick in the preseason) and a freak injury to Irving, Smith's contributions have been all the more crucial.
Of course, Smith isn't the only good player in his conference. Guard
Reggie Jackson
has been an underrated offensive force for a surprising Boston College team, and Maryland sophomore
Jordan Williams
is the best big man in the conference. But there will be zero debate when it comes time to cast and collect the votes for ACC Player of the Year. Frankly, it's Smith in a blowout.
Coach of the Year
No one coach has a Nolan Smith-esque chokehold on his league's top individual honors this season, but at the end of the day, Mike Krzyzewski is probably the pick here.
There are a few contenders. One is Steve Donahue, who took over a Boston College team that finished 15-16 overall last season with essentially the same personnel as he has this season. But contrary to expectations, BC isn't a .500 team this season. This season, Donahue has turned BC's so-so offense into Cornell on steroids, and the Eagles have turned into a possible NCAA tournament team, albeit one very much on the bubble.
Like Donahue, Clemson coach Brad Brownell has also exceeded some very low preseason expectations, and like Donahue, Brownell has turned a talent-bereft Tigers team into one with a shot to make the NCAA tournament. And by the way, UNC's Roy Williams deserves some love here, too, if only for turning a marginal, frustrating young team into one with a legitimate chance to make the Final Four. The guy hasn't forgotten how to coach.
But Coach K stands above all. Krzyzewski has coached two teams this season: one with Irving in the lineup and one without him. The adjustments Krzyzewski made after losing a potential No. 1 overall pick in this summer's NBA draft -- moving Smith onto the ball, using
Andre Dawkins
and
Seth Curry
as standstill shooters and adding
Tyler Thornton
to the rotation to take pressure off Smith at the point -- did as much to boost Duke's ACC title chances as Smith himself. Krzyzewski went from winning the national title to a USA Basketball gold medal in the matter of months, and his performance this season has been just as good.
Click here
to find out who our panel of 15 experts picked in each of the nation's 10 best conferences.
March, 2, 2011
3/02/11
12:39
PM ET
A quick look at the player and coach of the year races in the Big East:
Player of the Year
[+] Enlarge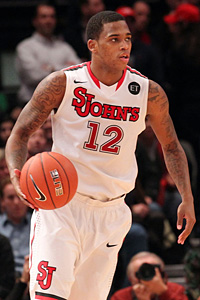 Anthony Gruppuso/US PresswireSt. John's guard Dwight Hardy is averaging 17.9 points per game.
Of course there is no runaway favorite for Big East Player of the Year honors. This topsy-turvy, brutal league has been too wildly entertaining for that. I'd argue there are three front-runners and two darkhorses who are likely to split up the votes.
For much of the season, Connecticut's
Kemba Walker
was (and perhaps still is) on everyone's short list for
national
player of the year. While he might have been Jimmered from that trophy, he remains very much in play for Big East honors. In conference games, he's second in the league at 20.9 ppg (22.8 overall), and perhaps more impressive in the brutal league, he's slogging 38.8 minutes per game and has carried a team with zero expectations into a near-season-long spot in the rankings.
Once Tyler's little brother,
Ben Hansbrough
has morphed into his own phenomenon. In the past 11 games, of which the Irish have won 10, Psycho B is averaging 22.5 points per game, including a 30-point, 10-assist show against Villanova. I like Hansbrough for his intangibles as much as his scoring. He's brought a snarly edge to the Irish.
And then there is the Johnny-come-lately,
Dwight Hardy
of St. John's. During the Red Storm's surge to the top 15 and into the national conscience for the first time in more than a decade, Hardy has been unstoppable. Since the Duke game, the line of demarcation for the Storm, Hardy is averaging 25.1 points per game. He dropped 33 on Connecticut, and 34 on Villanova.
Two others who could get consideration: Scoring machine
Marshon Brooks
of Providence, who averaged 30.9 points in February and is at 26.8 in Big East play. Oh, and the nation's second-leading scorer also set a conference record with 52 points against Notre Dame. And don't forget about preseason POY
Austin Freeman
, who has been a savvy leader for a thriving Georgetown team. His scoring, rebounding and assist numbers are all higher than last season.
I won't be upset if any of the guys listed here take the honor, but my pick is Hardy, who has resurrected a dormant program and turned it into a force to be reckoned with.
Coach of the Year
The Big East has brought us four of the biggest surprise teams nationally, and those four coaches -- Rick Pitino, Steve Lavin, Jim Calhoun and Mike Brey -- headline the candidates for coach of the year.
When Louisville trounced Butler to open the season, most everyone interpreted it as a fluke, a feed off the frenzy of the brand new arena, a one-time rush. Well, we're still waiting for the Cards to crash. Louisville is 22-7, 11-5 in the Big East. Pitino's lone returning starter,
Jared Swopshire
, hasn't played a game because of a groin injury, and nine others have missed at least one game with an injury. Yet the coach has pushed all of the right buttons to keep the Cardinals, picked eighth in the preseason, in the top 25 and among the league's top four.
Lavin had a nice roster to work with -- nine seniors returned to the Red Storm -- but that roster was more or less the same roster that barely scratched .500 last season. Now the Johnnies are ranked 15th in the country and have a mind-boggling six wins against top-15 teams. With a much-heralded recruiting class coming, next season was supposed to be the start of something big for St. John's. Lavin instead fast-tracked the plan.
The sight of Connecticut sitting at the No. 10 spot in the Big East preseason poll, barely ahead of Seton Hall, was pretty stunning. But where else to put a team that had lost three of its top four scorers and would rely heavily on its freshmen to win? How about among the most surprising teams of the season? Certainly Walker has a lot to do with the Huskies' success, but it is Calhoun who has guided UConn's young roster to success. Three of the Huskies' top five scorers are rookies, yet Connecticut has 21 wins and is ranked No. 16 in the country.
Brey has done the impossible, making his team better after losing a three-time All-Big East player and one-time player of the year in Luke Harangody. The Fighting Irish are 13-4 in the Big East (compared to 10-8 last season), and the team that could never win a road game won the ultimate road game, at Pittsburgh. Notre Dame is No. 7 (and rising) in the country? No one saw that coming.
My vote? I'd go with Pitino. Nobody has started with less and done as much.
Click here
to find out who our panel of 15 experts picked in each of the nation's 10 best conferences.
March, 2, 2011
3/02/11
12:38
PM ET
A quick look at the player and coach of the year races in the Big Ten:
Player of the Year
Ohio State fans say
Jared Sullinger
. The Paint Crew wants love for
JaJuan Johnson
and
E'Twaun Moore
. Badgers loyalists will scream "
Jordan Taylor
and/or
Jon Leuer
!" from the mountaintop.
Frankly, whether you're talking about the Big Ten or the national player of the year, you can't go wrong with any of them.
[+] Enlarge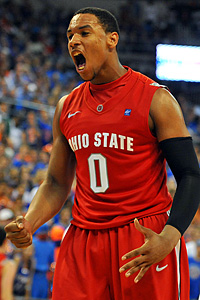 Al Messerschmidt/Getty ImagesJared Sullinger has been as good as advertised in his first season in Columbus.
Johnson is arguably the most important player in the conference. Without him, Purdue would have next to nothing in its frontcourt, and even with consistent, focused defensive attention, Johnson has remained one of the best forwards -- arguably the best -- in the country this season. His teammate, Moore, is just as deserving. Both players are also tremendous on the defensive end, and both can share credit for giving this Purdue team a legitimate chance at a national title even without injured forward Robbie Hummel.
Taylor, meanwhile, is only the most efficient player on the most efficient offense in the country. No big deal, right? He and Leuer are the main reasons Wisconsin has scored at will on its opponents this season. Neither player plays outside of the confines of Bo Ryan's swing offense; both are wondrous to behold within it.
In the end, though, these awards tend to go to the best player on the best team, and that player and that team are Jared Sullinger and Ohio State. That said, this isn't a Derek Jeter-type situation. Sullinger, the rare big man with the body, motor and desire to dominate like a traditional center in the low block, has been brilliant in his freshman season at OSU. Sullinger makes OSU's offense work, and without him, this brilliant OSU team wouldn't be the best team in the country.
Coach of the Year
Tom Izzo has struggled with a disappointing Michigan State team. Bruce Weber has yet to turn all of that frustrating talent into much of anything at Illinois. Minnesota's Tubby Smith has watched his once-promising and now-injured team's tournament chances dissolve. Penn State's Ed DeChellis and Northwestern's Bill Carmody will both miss the tournament again this season.
In fact, Michigan is the only team outside the league's top three to actually exceed expectations this season. John Beilein has done a tremendous job in Ann Arbor, and he should receive more than a few mentions for coach of the year honors, even if his team doesn't sneak into the tournament by season's end.
Still, the best and most important coaching job of the season has come out of the elite triumvirate of Ohio State, Purdue and Wisconsin. The team? Purdue. The coach? Matt Painter.
Few coaches are forced to face what Painter faced in October when Hummel lost his senior season to a second ACL tear. After Hummel's injury, Purdue went from a Final Four favorite to a middling Big Ten team, or so went the common consensus. Instead, the Boilermakers have a shot to share the Big Ten title with Ohio State. Why? Because Painter rebuilt his team around Johnson and Moore, with pieces from the role-player scrapheap -- guys like
Lewis Jackson
,
Ryne Smith
,
D.J. Byrd
and
Kelsey Barlow
.
Who? Exactly. None of those players is a five-star recruit; none of them is near the player Hummel was. But together, thanks to Painter's brilliant guidance, they've made Purdue a legitimate national-title contender. Coaching jobs don't get much better than this.
Click here
to find out who our panel of 15 experts picked in each of the nation's 10 best conferences.
March, 2, 2011
3/02/11
12:37
PM ET
A quick look at the player and coach of the year races in the Big 12:
Player of the Year
[+] Enlarge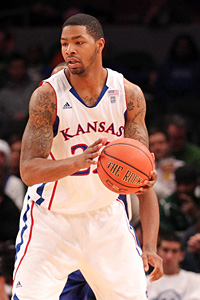 Anthony Gruppuso/US PresswireKansas' Marcus Morris is averaging 17.3 points and 6.9 rebounds.
Marcus Morris
' improvement has been dramatic, enabling him to step into one of Kansas' vacant leading-man roles after being a complimentary part his first two seasons in Lawrence. Morris has raised his scoring average from 12.8 to 17.3, his rebounds from 6.1 to 6.9 and his assists from 1 to 1.4. He's also shooting 61 percent from he field and a no-fluke 36 percent from 3-point range (23 made 3s on the season).
Combine that with KU's top-five ranking and leading position in the Big 12, and Morris is my narrow choice over Kansas State guard
Jacob Pullen
, Colorado swingman
Alec Burks
and Texas forward
Jordan Hamilton
. All of them have their flaws.
Pullen has been the best player in the league of late, but he was suspended three games for NCAA rules violations and failed to take the leadership role Kansas State was lacking early when it floundered under high expectations. Burks might be the league's biggest talent and has had a fine year, but he plays for a mid-pack team -- and this is a team game, so team results matter. Hamilton is a devastating offensive player when he's locked in, but he's shot horribly and indiscriminately as the Longhorns have lost three of their past four, and he seems to be backsliding to some of his bad freshman habits.
So I'll go with Morris, but there's plenty of room for disagreement here.
Coach of the Year
I'll cast a somewhat tepid vote for Texas A&M's Mark Turgeon. Every time I watch the Aggies play, I come back to the same thought: How does this team have the record it does? There is no great talent, no surplus of athleticism, no sprawling collection of McDonald's All-Americans -- yet still, A&M is in the upper echelon of the league. Its 22 victories (nine in Big 12 play) owe a lot to the coach, who has been a consistent winner where many never thought it could be done.
Turgeon lost his top three scorers and leading rebounder from last season's 24-10 team, and it really hasn't mattered. The Aggies, picked to finish sixth in the preseason, still are successful in a tough league (currently third) and have a couple of quality nonconference wins as well (Temple and Washington). They turned freshman role player
Khris Middleton
into a go-to scorer as a sophomore, more than doubling his average from last season (7.2 to 14.6), and filled in everyone else around him.
So he's the choice (narrowly) over Kansas' Bill Self, Texas' Rick Barnes and Colorado's Tad Boyle. As with the player of the year, you can make a compelling case for any of those guys. But the choice here is Turgeon.
Click here
to find out who our panel of 15 experts picked in each of the nation's 10 best conferences.
March, 2, 2011
3/02/11
12:36
PM ET
By
Diamond Leung
| ESPN.com
A quick look at the player and coach of the year races in the Pac-10:
Player of the Year
Derrick Williams
has meant much more to Arizona than the numbers he's put up, but they're so good that we'll look at them anyway.
[+] Enlarge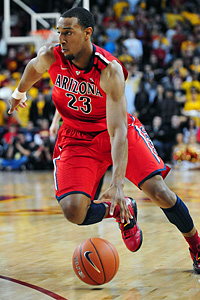 Gary A. Vasquez/US PresswireArizona's Derrick Williams is averaging 19.1 points and 8.1 rebounds per game.
The sophomore forward averages 19.1 points (second in Pac-10) and 8.1 rebounds (fifth) while shooting 61 percent from the field and an amazing 62 percent from beyond the arc. Just how difficult is it to stop this potential NBA lottery pick? He leads the nation with 254 free throw attempts.
And aside from that, Williams is the reason Arizona is in a position to win the conference title. He's done it with highlight-reel dunks, and in a big game against Washington came up with a last-second block of a shot that might have won it for the Huskies.
Williams originally signed with USC before Tim Floyd resigned and ended up being a program-changing player for Zona, even though Williams might have been seen as the sleeper of the class. Now he's the one overshadowing the other contenders for conference player of the year.
Washington State's
Klay Thompson
has had a fine season, leading the league in scoring (21.4) and re-establishing himself as one of the nation's top shooters. Washington's
Isaiah Thomas
is fourth in the conference in scoring (16.9) and first in assists (5.8) after carrying the team with point guard
Abdul Gaddy
out with a season-ending injury. USC's underrated
Nikola Vucevic
averages a double-double, as he's third in the Pac-10 in scoring (17.5) and leads in rebounding (10.3).
But it's Williams whose play has his team on the verge of a conference title and an NCAA tournament bid. He gets my vote.
Coach of the Year
Arizona coach Sean Miller appears to have the edge in this race, as the Wildcats head into the final week of the regular season with a share of the Pac-10 lead and have become a lock to make the NCAA tournament perhaps a year earlier than expected.
The players from Miller's first recruiting class have helped make the rebuilding project a quick one, with Williams developing into a potential NBA lottery pick and fellow sophomores
Lamont Jones
and
Kevin Parrom
also emerging.
The second-year coach has Arizona back in the national rankings again as a team that has distanced itself from preseason favorite Washington. The Wildcats lost in Seattle on Jan. 20, but they proceeded to use their high-scoring offense to win eight in a row, culminating in a big home victory against the Huskies that showed how much the McKale Center had come back to life.
But in a season when the award for conference coach of the year has been renamed for the late John Wooden, it's only fitting that UCLA's Ben Howland is making a late charge. The Bruins are also making a surprising run, as freshman center
Joshua Smith
has gotten better while the rest of the pro talent is blossoming for a UCLA team that is tied with Arizona for the conference lead.
Oregon's Dana Altman and Cal's Mike Montgomery also deserve mentions for keeping their short-handed teams in the middle of the pack. Altman lost numerous players to transfer after coming aboard, while Montgomery's graduation-gutted team has managed to stay competitive with top freshman
Allen Crabbe
leading the way.
Click here
to find out who our panel of 15 experts picked in each of the nation's 10 best conferences.
March, 2, 2011
3/02/11
12:35
PM ET
A quick look at the player and coach of the year races in the SEC:
Player of the Year
[+] Enlarge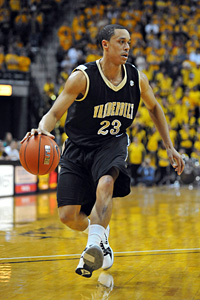 Denny Medley/US PresswireVanderbilt guard John Jenkins leads the SEC in scoring at 19.4 points per game.
Vanderbilt's
John Jenkins
couldn't get free for a potential game-winning 3-point shot Tuesday at Kentucky. But Jenkins still led the Commodores with nearly 20 points a game this season.
Since preseason SEC player of the year
Trey Thompkins
had to deal with a high ankle sprain early on and simply hasn't been consistent or dominant enough for Georgia, the award has been wide-open all season. The conference has plenty of candidates for potential player of the year with Kentucky's
Brandon Knight
and
Terrence Jones
having fabulous freshman campaigns, Alabama's
JaMychal Green
leading a Crimson Tide revival, and Florida's
Chandler Parsons
doing a little bit of everything for the conference champion Gators.
But my choice would be Jenkins.
He's come through time and time again for the Commodores this season, leading the SEC in scoring (19.4 ppg) and 3-pointers made (86) while shooting 41 percent from beyond the arc.
The sophomore guard played all 40 minutes and scored 32 in a memorable win against Kentucky the first time the teams played in Nashville. He was great in big games against Alabama (20), at Georgia (21-point second half) and at Mississippi State (21). The award could go to a number of players, but Jenkins seemed to shine the most when his team needed him most.
Coach of the Year
Billy Donovan's Florida team was the SEC favorite in the preseason. And in the end, the Gators will have at least a share of the title.
The Gators were a frustrating team early on. The home blowout loss to Ohio State early on can be excused, but a neutral-court loss to UCF and home losses to Jacksonville and South Carolina? Huh? But there were still some highs, like beating Florida State on the road, knocking off Xavier in Cincinnati, and Kansas State in South Florida.
Then the Gators really found their stride around mid-January. Donovan had to help mold a team that hadn't won anything since the Gators took the national title in 2007. This crew of seniors and juniors were living in the shadow of the back-to-back national championships. Yet they found a way to win a highly competitive SEC East, and after crushing Alabama on Tuesday night, will at the very least take a share of the overall title.
The team predicted to win doesn't always equate to the coach of the year award. And Alabama's Anthony Grant is certainly a worthy candidate after turning an ugly nonconference season into an 11-4 record in the SEC. But Donovan did his best coaching job since winning the title in 2007 and deserves the honor.
Click here
to find out who our panel of 15 experts voted for in each of the nation's 10 best conferences.