College Basketball Nation:

2011 Elite Eight
March, 27, 2011
3/27/11
6:17
PM ET
For two weeks, the refrain has been the same: "VCU is hot and the Rams have a chance to win, but this is going to be a really tough game for them. I'm not sure they can keep it up."
For the fifth straight time, VCU has made the pregame prognostications obsolete. As a result, the Rams are going to the Final Four.
The lessons, as always: (1) Approach your bracket with the utmost, sincere humility. (2) Never doubt this Virginia Commonwealth team.
[+] Enlarge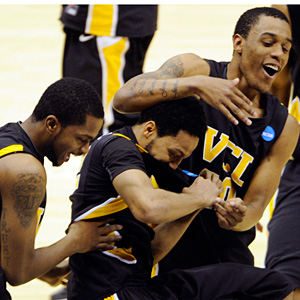 AP Photo/Michael ThomasVirginia Commonwealth players celebrate their stunning 71-61 upset of Kansas in San Antonio.
Facing a No. 1 seed and an overwhelming pro-Kansas crowd in San Antonio on Sunday, the Rams started hot, built a double-digit halftime lead and held off the bigger, stronger Jayhawks
71-61
after Kansas made its inevitable second-half run to cut the lead to two. Kansas was done in by bad defense in the first half and ugly shooting throughout, and with nothing falling down -- free throws included -- Bill Self's team could never truly climb out of the hole dug by VCU's hot shooting in the first half.
You don't have to be a college basketball expert to realize how much of an upset this was. But, wow, what an upset. It practically defies description. Three weeks ago, the Rams -- losers of their final four regular-season conference games -- weren't sure they were going to make the tournament. Now they have a legitimate chance to win the national title.
In other words: The Rams are everything we love about college basketball. VCU
is
the NCAA tournament. And so the magical run rolls on.
Turning point:
KU's second-half run was inevitable. VCU was bound to slow down from 3-point range eventually, and the Jayhawks were able to create plenty of opportunities by owning the offensive boards throughout the game. As Kansas made that run -- cutting the lead to seven points with 15:43 remaining -- VCU coach Shaka Smart was assessed a technical foul by the referee, and all of a sudden, it looked like the Rams were in the midst of a second-half meltdown.
A couple of minutes later, Kansas shrank the gap to two points, and the Jayhawks looked like they were going to storm the Rams for the rest of the second half. Instead, after KU forward
Marcus Morris
made two free throws, the Jayhawks went unusually cold, and -- thanks to a pair of key baskets by
Toby Veal
and
Darius Theus
, and a pair of huge plays from forward
Jamie Skeen
-- VCU rebuilt its lead to double digits and never looked back. The Rams had stared No. 1 in the face and held tall. Meanwhile, Kansas cut the lead to two and proceeded to shoot 6-of-24 afterward, 0-of-10 from 3-point range. That's not standing tall.
Star of the game:
Skeen is the obvious choice here. He had the box score's best line -- 26 points, 10 rebounds, 4-of-7 from 3-point range -- and he made huge plays at the most important times for VCU down the stretch. (These plays ranged from huge shots to heady timeouts, as when Skeen stripped Marcus Morris under the rim and called a timeout to keep a late push by the Jayhawks at bay.) As always, though, VCU point guard
Joey Rodriguez
deserves a nod here, too. His line isn't eye-popping, but his intelligent, poised play at the point is one of the main reasons VCU has been able to maintain its leads against favorites throughout this tournament. Sunday was no different.
Key stat:
Without taking credit away from the Rams -- someone had to make all those first-half 3s, after all -- it's fair to ask whether or not KU's loss deserves the dreaded "choke" label. Whatever you want to call it, Kansas picked a really, really bad time to have its worst shooting game of the season.
According to ESPN Stats and Information, the usually hot-shooting Jayhawks posted season lows in field goal percentage (35.5) and 3-point field goal percentage (9.1), which is about as bad as any team, let alone one that usually drains its open jumpers, can possibly shoot. Nor did it help that Kansas made only 53.6 percent of its free throws. The Jayhawks have always thrived on their ability to drain open shots this season. Needless to say, going 2-of-21 from 3-point range and 15-of-28 from the free throw line is not "thriving" on anything. If the Hawks hadn't dominated the offensive glass so thoroughly, this game would have been another VCU blowout.
Another fun stat:
When VCU hit 12 3s in its second-round win against Georgetown, it was a season high for the Rams. So all they've done since is hit 12 more against Florida State and another 12 today against Kansas. VCU shot just 32.1 percent from 2-point range (9-28), but 48 percent from 3-point range (12-25). Go figure.
History:
Virginia Commonwealth is now one of three teams seeded 11th or lower to make the Final Four (LSU in 1986 and George Mason in 2006 were both 11s). ... The Rams are one of just four double-digit seeds to win a game by double digits in the Sweet 16 or later. ... Shaka Smart is 33. Butler coach Brad Stevens is 34. Both of them combined are younger than UConn coach Jim Calhoun (68).
What's next:
If it feels unfair to call this Kansas season "disappointing" -- the Jayhawks had a great year, won the Big 12 regular-season and conference tournament titles, and finished among the best eight teams in the country -- that's only because this team and its fans had reason to expect so much more. Instead, Kansas ended another season with a loss to a bottom-half seed in the NCAA tournament, with shock and surprise and dismay and disgust.
VCU, meanwhile, will make a historic trip to the Final Four. The Rams will face Butler in the matchup of the two highest combined seed numbers (No. 8, No. 11) to ever meet in a national semifinal (second-highest is 14), and their win ensures that no No. 1 seed will attend the Final Four festivities for the third time since seeding began in 1979.
More than anything, though, VCU's unlikely run to the Final Four merely proves what we always say about the NCAA tournament, and proves it more thoroughly than ever: You never know. That's why we love this tournament, and that's why people will always remember this team.
Even better? VCU's not done yet.
March, 27, 2011
3/27/11
1:35
AM ET
By
Diamond Leung
| ESPN.com
ANAHEIM, Calif. -- The brim of the Final Four hat was pulled down over
Kemba Walker
's tired eyes, but he perked up at one particular question.
Was it a motivating factor this year that the Big East coaches had picked Connecticut to finish ninth in their preseason poll?
"Tenth," Walker said, correcting the reporter.
UConn, an inexperienced team led by an inspired scoring guard and an embattled Hall of Fame coach -- who made sure his players knew few thought they would be a top team -- is off to Houston after beating Arizona
65-63
in the West Regional final Saturday.
The third-seeded Huskies, 9-0 in the past 19 days, embraced one another on the Honda Center floor after two Arizona 3-point attempts missed in the final seconds. The celebration capped off their ninth straight win since the start of a Big East tournament title run -- a streak that gave them momentum and renewed confidence after limping into New York with an 1-4 close to the regular season.
[+] Enlarge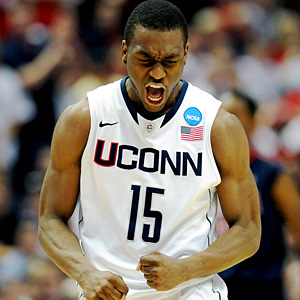 Jayne Kamin-Oncea/US PresswireKemba Walker had 20 points and seven assists as Connecticut advanced to the Final Four.
What motivated them to reach a fourth Final Four under Jim Calhoun was that people doubted the mere possibility. "That became the theme," said Calhoun, who also dealt with an NCAA investigation into prior recruiting violations this season. "I let them know every single day."
Walker was named the Most Outstanding Player of the regional after scoring 20 points and dishing out seven assists Saturday. He didn't have his best shooting performance (7-for-17), and quite possibly his best move was encouraging the team to feed the ball to freshman
Jeremy Lamb
.
"He looked at Jeremy and said, 'And you'll make those shots, too,'" Calhoun said.
After fifth-seeded Arizona came back from a seven-point halftime deficit to take a 55-52 lead, Lamb scored six of his 19 points as part of a 10-0 UConn run -- capped by his steal and dunk. Together, Lamb and Walker have scored 70 percent of Connecticut's points during the NCAA tournament.
"He answered the bell personally after our run," Arizona coach Sean Miller said. "He made it look easy. The fact that he had 19 hurt way more than Kemba having 20."
Derrick Williams
scored 20 points despite playing only seven first-half minutes due to his three personal fouls, and had a chance to win the game. A 60 percent 3-point shooter, Williams missed a 3 with seven seconds left. "I was open," Williams lamented. The shot could be the final attempt of his college career if the sophomore sensation leaves for the NBA draft.
"I was nervous," Walker said. "Derrick's been on fire the whole tournament. It was a clean shot."
Kyle Fogg
, who had spent the game chasing around Walker on defense, corralled the rebound and fed the ball to
Jamelle Horne
in the corner. Horne, the Wildcats' lone senior, missed from beyond the arc as well, and the final buzzer sounded.
"The second one I definitely thought was going in," Lamb said.
UConn, which starts three freshmen and a sophomore alongside Walker, won this game not with an eye-popping performance from the national player of the year candidate, but as a team. Lamb showed so much poise that Walker deferred to him.
Alex Oriakhi
provided a formidable inside presence with seven points and six rebounds. And freshman
Shabazz Napier
came off the bench to score 10 points and grab four rebounds.
"All season I don't think anybody expected us to get to this point," said Walker, who was a freshman on the 2009 Final Four team. "It's special."
[+] Enlarge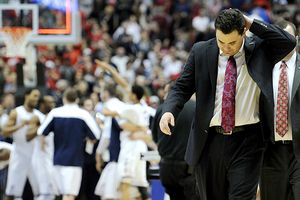 AP Photo/Mark J. TerrillEven after a heartbreaker, Arizona fans have to feel good about their future under Sean Miller.
Miller said he could live with the result given that his team had two shots to win the game that just didn't fall. The Wildcats, the Pac-10's leading 3-point shooting team, were 4-for-21 (19 percent) from beyond the arc Saturday. They did reach the 30-win mark this season and Miller took a team that started three sophomores just one bucket away from the Final Four.
"For us to be one of the last teams standing, a lot of people want to be in our shoes, and we got here," Arizona point guard
Lamont Jones
said. "It's unfortunate that it has to end here, but the feeling of playing here is just a great feeling. It's something that you'll always remember."
Jones wrapped both arms around Walker, his former high school teammate in New York City, at the end of the handshake line. Sandwiched in there was Arizona assistant coach Emanuel "Book" Richardson, who was Walker's AAU coach and had done all he could to game plan against his former player.
In the end, it was Calhoun who had the winning formula. His team made an early statement by winning the Maui Invitational despite the doom and gloom that many predicted in the preseason. The Huskies then endured a Big East season that left them tied for ninth in the standings, all the while waiting for, and accepting, an NCAA punishment that included probation and a three-game conference suspension for Calhoun next season.
Now they're off to Houston after compiling a hard-to-fathom 12-0 record in tournament games this season (Maui, Big East, NCAA).
"A good friend of mine once said, 'I don't mind fighting you in an open space, but I hate to put you in a corner,'" Calhoun said. "If I take something personally, I'm going to do everything humanly possible to make sure your perception is wrong. These kids allowed that to happen."
March, 27, 2011
3/27/11
1:03
AM ET
By
ESPN.com staff
| ESPN.com
Connecticut's
Kemba Walker
on how nervous he was in the closing moments of the Huskies' victory over Arizona.
March, 26, 2011
3/26/11
11:17
PM ET
By
ESPN.com staff
| ESPN.com
Arizona coach Sean Miller commented on the future of star forward
Derrick Williams
, who will soon have to decide whether to return to Tucson for his junior season or jump to the NBA.
March, 26, 2011
3/26/11
8:23
AM ET
By
ESPN.com staff
| ESPN.com


Connecticut freshman Jeremy Lamb, coming off a 24-point performance against San Diego State, discusses the challenges of facing Derrick Williams and the pressures of playing in his first NCAA tournament.
March, 26, 2011
3/26/11
8:19
AM ET
By
Diamond Leung
| ESPN.com
ANAHEIM, Calif. --
Kemba Walker
furrowed his brow a little and slowly shook his head as he smiled. The Connecticut star wasn't buying the idea that Arizona had what it took to stop him -- a scouting report with a unique perspective.
Arizona assistant coach Emanuel "Book" Richardson was Walker's AAU coach. Before it was even determined that the two teams would meet on Saturday for the right to go to the Final Four, Wildcats coach Sean Miller happened to assign the UConn scouting assignment to the man who knew what made one of the nation's top scorers tick.
But Walker didn't think it was a cause for concern that Richardson was on the opposing bench, presumably possessing knowledge of how to slow him down in a way recent opponents have failed to do.
"He doesn't," Walker said. "Everybody who knows me thinks they have a way to stop me."
Richardson is the former director of the star-studded New York Gauchos AAU program in the Bronx and remains close to Walker. In fact, as Walker was taking over Thursday's regional semifinal game with a 36-point outburst against San Diego State, he kept looking over to Richardson seated behind press row and yelling during the contest.
[+] Enlarge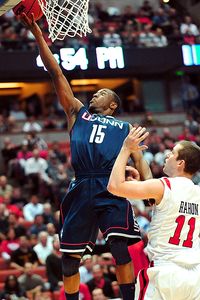 Gary A. Vasquez/US PresswireWith his former AAU coach watching from press row, Kemba Walker lit up SDSU.
"He hit a 3 and said, 'Oh my God, Book. They can't guard me.' He looked over and winked," Richardson said. (Walker told reporters he doesn't recall what was said.)
In response, Richardson found himself actually coaching Walker again just as he was a few years ago. He kept repeating words to Walker and asked him to focus. "I'm like, 'Finish,' " Richardson said. "Win."
Immediately after the Huskies won, Walker spotted Richardson in the tunnel of the Honda Center as Arizona was preparing for its game against Duke and said, "I'll see you on Saturday."
Today, Richardson has mixed feelings as he game plans against Walker, who he has known since age 13. Back then, there were times the kid would crash on his couch and his wife would cook for the impromptu house guest. Walker wore braids, liked dancing and was big into video games.
Richardson sometimes gave tough love, kicking the player out of practice. The Gauchos only lost once with Walker on the team, but Richardson always pushed him to do better.
"He just made you feel he's more than a coach," Walker said.
When Walker told Richardson as a sophomore that Connecticut was the school that he hoped would recruit him, the coach matter-of-factly said he wasn't good enough to go there. "I don't want to watch you cheerlead," Richardson said then.
But because of Walker's confidence in his game and talent that developed, UConn will end up remembering him as one of the school's all-time greats. It's Richardson's job to make sure Walker doesn't get to use the Arizona game to further his legacy.
"I'm fortunate because I understand when he steps back, what he's looking for," Richardson said. "Does that mean you're going to be able to stop it? I don't know.
"The same things you once told him, that's what you're trying to implement. It's bittersweet. You want him to do well, but you want to win."
Said Miller: "You can still have a great gameplan and play hard and well, and he will still have a huge night. He's, to me, the best guard that plays college basketball."
It is Richardson's godson, Arizona point guard
Lamont Jones
, who will be one of the players charged with keeping Walker in check. Walker and Jones shared a backcourt for two years at Rice High School and remain friends. He said Jones was like a little brother.
"He plays so hard that he makes you play hard," Walker said. "I'm pretty sure he's definitely going to bring the best out of me [Saturday]."
Asked once again if Richardson -- or even Jones -- might actually know the secret to stopping him, Walker didn't sound as sure.
"Man, let me think about that," he said. "I don't know. Probably not. I don't think so. I hope they don't."