College Basketball Nation:

2011 NBA Draft
June, 24, 2011
6/24/11
12:56
PM ET
It's the day after the draft. For me, that means sitting at my desk, staring at my computer screen, and wondering if what I saw last night unfold last night is really how things went down. In other words, I'm still processing all this.
You know what else the Draft Day Plus 1 means? Listicles. Lots and lots of listicles.
You know what I always say: If you can't beat them -- if you can't think of a similarly efficient content delivery format that doesn't rely so heavily on lists, basically -- join them. Without further ado, here's one of a few college hoops-inclined looks at last night's action. Next up: The biggest college winners drafted in the second round.
NBA general managers frequently pay homage to the idea of intangibles. They praise players for character, for motor, for having accomplished things during their amateur careers. Then, when the draft clock winds down, those same GMs just as frequently ignore that lip service in favor of drafting the best athlete, or the high-risk, high-reward talent, or the latest 7-foot European sensation.
That's part of the reason why, if
you compare
the
two rounds
of last night's NBA draft, you might find just as many -- if not more -- college hoops wins in the second round as the first. There were a lot of awfully successful college hoopsters drafted in the latter round last night. Here's a few of them.
[+] Enlarge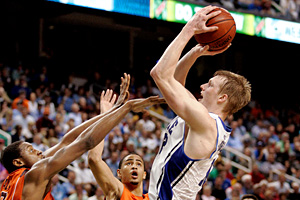 Mark Dolejs/US PresswireKyle Singler was a value pick for the Detroit Pistons in the second round.
1. Kyle Singler, forward, Duke, No. 33:
If it wasn't for
Nolan Smith
being drafted in the first round (Smith went surprisingly early to the Trail Blazers at No. 21), the Duke duo may have tipped the college wins scale fully in the favor of the second round. As it is, Singler stands alone atop this list for his unparalleled college success. Singler was a key contributor in all four of his years at Duke, and in that span the Blue Devils never won fewer than 28 games during his tenure, and they never lost more than seven games in any season. His career record? 125-23. Oh, and there was that 2010 national title, too. Detroit Pistons GM Joe Dumars values character and experience, and he may have been elated that Singler's shooting woes and tweener issues kept him available until the second round.
2. Shelvin Mack, guard, Butler, No. 34:
The Washington Wizards
drew praise from all corners
for their draft selections Thursday night. That praise was cemented when the Wizards landed Mack just one pick after Singler's selection in the second round. Mack's accomplishments in his three years at Butler speak for themselves: An 87-21 record, three straight Horizon League titles, a variety of individual regular season and postseason awards, and, most importantly, a penchant for turning his game on in March. Mack helped engineer two of the most unlikely postseason runs in NCAA tournament history as a sophomore and junior, and with his combination of outside shooting, distribution and lockdown defense, the Bulldogs finished as NCAA runners-up two years in a row.
3. E'Twaun Moore, guard, Purdue, No. 55:
The NBA draft coincidence of the night -- assuming the Celtics didn't plan this out -- was seeing Purdue forward
JaJuan Johnson
and former teammate E'Twaun Moore both land on the same team in Boston. Johnson was selected in the first round, and Moore was taken in the second, but it's not unfair to say Moore might make an easier and more immediate transition to the pros. At the very least, the Celtics know Moore was a quietly effective, consistent collegiate winner. He helped lead Purdue to four straight plus-25-win seasons, became the fourth player in Big Ten history to notch at least 2,000 points, 500 rebounds and 350 assists, and was one of the reasons the Boilermakers were on the precipice of national title runs in 2010 and 2011 before Robbie Hummel's untimely injuries. Moore, Johnson and Hummel led something of a hoops renaissance under Matt Painter at Purdue, and if I'm an NBA GM, that sort of pedigree is worth a pick any day.
4. Jon Leuer, forward, Wisconsin, No. 40:
As go Bo Ryan's teams, so go Bo Ryan's players. Or maybe that's the other way around. However you choose to view it, the bottom line is that Wisconsin wins -- incredibly, Ryan has still never finished worse than fourth in the Big Ten -- as consistently as any program in the country. In the past four years, that winning has had much to do with the play of Jon Leuer, who, in typical Wisconsin fashion, morphed from a so-so prospect into one of the most efficient players in college basketball in his final two seasons. Quiet effectiveness in a versatile 7-foot frame? Yes please.
5. Jon Diebler, guard, Ohio State, No. 51:
With apologies to
Isaiah Thomas
, who snuck into the draft with the final pick in the second round last night (and who might have snuck onto this list if we didn't think Washington limped through so much of their 2010-11 season), Diebler gets the nod at the fifth spot here. The Buckeyes guard had the benefit of playing with some very talented players in his days at Ohio State, but it's worth noting that Diebler wasn't always the hypereffective outside shooter we now know. As a freshman, he shot 29 percent from 3. As a sophomore, he had improved that mark to 42 percent. By the time he was a senior, Diebler was the most dangerous perimeter shooter in the country, making 50 percent (!) of his threes and posting -- check out these stats -- an offensive rating of 140.6 (No. 1 in the country), an effective field goal percentage of 70.6 (No. 2 in the country) and a true shooting percentage of 72.3 (No. 1 in the country). Having Evan Turner and
Jared Sullinger
finding you for open shots in back to back years is a blessing. But it's a blessing Diebler exploited like few other players in the country. There's no reason to expect anything less in the NBA.
June, 24, 2011
6/24/11
10:44
AM ET
It's the day after the draft. For me, that means sitting at my desk, staring at my computer screen, and wondering if what I saw unfold last night is really how things went down. In other words, I'm still processing all this.
You know what else the Draft Day Plus 1 means? Listicles. Lots and lots of listicles.
You know what I always say: If you can't beat them -- if you can't think of a similarly efficient content delivery format that doesn't rely so heavily on lists, basically -- join them. Without further ado, here's one of a few college hoops-inclined looks at last night's action. First up: The five biggest surprises of the 2011 NBA draft.
[+] Enlarge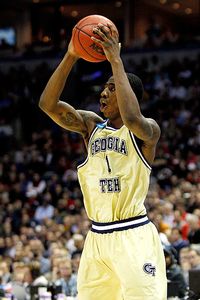 Jonathan Daniel/Getty ImagesIman Shumpert stock rose after testing well at the draft combine.
1. Iman Shumpert drafted No. 17 overall by the New York Knicks:
It's almost like Isiah Thomas never left the Knicks front office. Thing is? If Zeke did one thing well as a general manager, it was find value in the NBA draft. And the Knicks' recent draft history, even under Thomas's successor Donnie Walsh, isn't totally worthy of ridicule. So maybe the Shumpert pick, which the Knicks made just a few spots removed from the lottery Thursday night, will end up looking like a brilliant one. Maybe. From what we know right now -- and
what we know is that Shumpert was a thoroughly mediocre college basketball player
who impressed scouts with individual workouts and athletic measurements -- there were plenty of good reasons for New York fans to boo so lustily after their first-round pick.
2. Cory Joseph drafted No. 29 overall by the San Antonio Spurs:
Remember when Joseph was merely testing the draft waters? And we all thought there was no way he would possibly stay in the draft? Remember when he did stay in the draft, and we all wondered what in tarnation -- I'm bringing "tarnation" back, y'all -- Joseph was thinking? He might not even be drafted? Why not come back to Texas for a year and make a run again next spring? Why rush this? Apparently, Joseph knew better than we did. Not only was the Longhorns guard drafted, he landed a guaranteed contract with the San Antonio Spurs,
who savvily cleared room in their backcourt
by trading George Hill to the Pacers for the rights to
Kawhi Leonard
. If Joseph plays well, he has a chance to be a rotation player on one of the smartest, best-run and most well-coached franchises in professional sports. In other words: jackpot.
3. Jereme Richmond goes undrafted:
When Richmond announced his decision to leave Illinois after a so-so freshman season, the explanations made some sense: Richmond wasn't happy at Illinois, he was reportedly struggling to get along with coaches and teammates, his academics were (again, reportedly) a cause for concern, and besides, while he may not have been ready for the NBA just yet, at least he had the sort of first-round talent that didn't make his one-and-done decision look totally foolish.
Alas, for every Cory Joseph there are 10 Jereme Richmonds, players that should have either a) stayed in school or b) been sure that they could handle the rigors of the draft workout process. Richmond did neither, and for his trouble, he was never selected on draft night. Despite the rumors of poor workouts and bad interviews, Richmond didn't lose that first-round talent; it was a surprise to see him go undrafted. Now, Richmond will have to convince an NBA team he's worth bringing in as an undrafted free agent. If the talented but troubled forward needed a wake-up call, well, here it is.
4. Josh Harrellson takes his jorts to the big city:
Drafting Shumpert at No. 17 was arguably the second-most surprising move the Knicks made Thursday night. In the second round, looking to draft a proven low-post banger, the Knicks went with ... Kentucky's Josh Harrellson? Hey, Jorts just got drafted! All right, Jorts!
Many believed Harrellson would go undrafted, and the fact that he was even a contender for a late second-round pick is a testament to how much the bulky big man improved during his senior season. A year ago, this would have been unthinkable. Even now, the notion of watching Harrellson don the Knicks' timeless uniforms and take the floor in Madison Square Garden ... well, who saw
that
one coming?
5. Is Josh Selby the steal of the draft?
Maybe I'm the only one who thinks NBA scouts and general managers were too wary of Selby's unproductive freshman season. Maybe I'm the only one who thinks his struggles had just as much to do with ineligibility and nagging injuries and a senior-laden Kansas backcourt as any lack of talent on Selby's part. Maybe I'm the only one who thinks that small sample size doesn't necessarily outweigh the massive talent Selby displayed as a high schooler, when he was arguably the best player in the country.
In other words, maybe I'm the only one that was surprised by just how far Selby fell Thursday night. Once considered a mid-to-late first round pick, Selby dropped all the way to the Grizzlies in the second half of the second round, when he was drafted No. 49 overall. I'm not sure how many minutes Selby is going to be able to carve out in the Grizzlies' backcourt, but he was undeniably the most purely talented player selected anywhere near this late in the proceedings. (Harrellson went four picks ahead of him. Jorts!) Now the athletic guard is all upside and no risk for the Grizzlies, who won't have to guarantee his contract and can give him time to figure out the NBA life as a developing reserve on a playoff contender. Why didn't someone roll these dice 15 picks earlier?
June, 23, 2011
6/23/11
3:51
PM ET
OK, NBA draft. I give up. You win.
For all the faux-confusion I frequently direct at the NBA draft --
especially around Seebpomd time
-- typically, I get where NBA general managers are coming from. (Except Timberwolves GM David Kahn.
Kahhhnnn!
) You're drafting players on potential. You're filling needs. You're stockpiling for the future. All of these things aren't mutually exclusive to selecting productive, successful college basketball players, but those interests don't always align. I get it.
Still, sometimes you look at a mock draft board, and you see
Iman Shumpert
being projected as a first-round pick ... and the cognitive dissonance is enough to make you dizzy. What on Earth is going on here? Iman Shumpert? Are we talking about the same player?
As of this writing -- which is just a few hours before what should be a wild and wacky NBA draft; no one really seems to know what's going to happen --
ESPN Insider Chad Ford's mock draft

lists Shumpert as the No. 20 overall pick in the 2011 NBA draft, a pick that belongs to the Minnesota Timberwolves. (Kahhhhnnn!)
That's momentous news for Shumpert, who seemed certain to go low in the second round (or even undrafted) when he decided to forgo his senior season at Georgia Tech and enter the draft this spring. It's also difficult to fathom. Ford's reasoning (read: the reasoning of the NBA general managers who Chad talks to about these things) goes like this:
The Wolves added some serious offensive pop with the arrival of Ricky Rubio and, in this mock, Derrick Williams. Shumpert would give them a major defensive presence in their backcourt. While he's not the most offensively gifted player in the draft, his ability to guard both backcourt positions, combined with his elite athleticism, make him an interesting choice at No. 20.
I suppose I can understand that reasoning. Shumpert is a solid, versatile defender. Fair enough.
Still, there are a handful of other solid, versatile defenders out there, and they happen to be players --
Nolan Smith
,
Shelvin Mack
,
Tyler Honeycutt
,
Jimmy Butler
,
E'Twaun Moore
, even
DeAndre Liggins
! -- who are also a) able to play offense and b) likely to be available in the second round, via trade, or as undrafted free agents. All of those players experienced much greater levels of success in college than Shumpert did. All of them actively made their teams better, which is not something we could always say for the Georgia Tech guard.
In his defense, Shumpert did improve during his junior season, and his 25.7 percent assist rate was encouraging. But it's hard not to feel like Shumpert is the beneficiary of that age-old draft red herring: workouts. Shumpert tested well at the draft combine. Scouts were impressed by his athleticism in individual sessions. "Hey, he jumps higher than we thought. Maybe he's not so bad after all!"
The problem -- and college hoops fans already know this -- is that Shumpert has
always
been a great athlete. He's always "tested well." Between the lines, though, he's never played up to potential. He's never shot the ball well. He's never been an effective distributor. With Shumpert at the helm -- and this isn't entirely his fault; Paul Hewitt shares this blame, too -- Georgia Tech's offense has often looked downright lost.
At the risk of sounding like an old, stodgy baseball writer, winning
does
matter. Shumpert's career record at Georgia Tech? 48-50. Twenty-three of those wins came in 2010, when Derrick Favors, last year's No. 3 overall pick, patrolled the paint next to 2010 second round pick Gani Lawal. And the Yellow Jackets were still pretty mediocre.
Anyway, this isn't meant to pick on Shumpert. Honestly, if he goes first round tonight, good for him. No, this post is for the NBA scouts and general managers who overlook
three years
of
reliable data
and game footage and hastily ignore it for the chance to give an elite athlete a guaranteed first-round contract. It's as valid here as it is when a team selects a foreign prospect thanks to a few exciting shots over the outstretched arms of steel folding chairs. Yes, this is a weak draft, and yes, there's something to be said for filling a need ... but really? Iman Shumpert? A first round pick?
Somebody hold me. The NBA draft is always wild, and the Timberwolves are the Timberwolves (Kahhhhhnn!) but if Shumpert is a first round pick, then tonight can't possibly be anything less than totally insane. Frankly, I can't wait.
June, 22, 2011
6/22/11
11:17
AM ET
Back when
Josh Selby
announced his decision to enter the NBA draft after a disappointing freshman season at Kansas -- Selby's NBA leap was motivated more by his ability to create a better life for his mother,
so it's tough to criticize
-- I, strangely enough, got a little bit excited. For some reason, I felt like I had a slightly sneaky piece of information. Selby was bad as a freshman, yes, but he was ineligible, then injured, then spent most of his time trying to crack a cohesive group of senior guards that were clearly more comfortable running Kansas's high-low motion offense with each other.
[+] Enlarge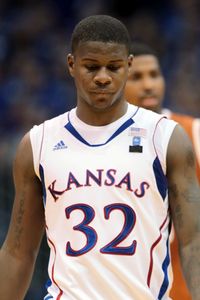 Jamie Squire/Getty Images Former Kansas guard Josh Selby has slipped to No. 37 in a recent NBA draft projection.
But Selby was still hyper-athletic. He still had the size, speed, and strength that caused some recruiting services to call him the best player in the class of 2011. Had his season panned out, he might have been a lottery pick. Now, he was a possible steal in the mid-to-late first round, and I was interested to see which intelligent NBA front office would make a play.
Apparently, the answer is ... none of them.
ESPN Insider Chad Ford released his Mock Draft 6.0 Tuesday
, and Selby is nowhere to be found in the first round. In fact, in Ford's projection,
Selby has dropped all the way to No. 37
, several picks into the second round (which, in Ford's mock, means a trip to L.A. to play for the Clippers). By my count, there are currently 12 guards ranked higher than him in the draft, including players like
Iman Shumpert
and
Travis Leslie
, guys whose upsides seem vastly lower than Selby's.
Just a few weeks ago, scouts raved about Selby's individual workouts. Now, nothing. It begs the question: What happened?
These answers are always hard to decode, and we're still 36 hours from the draft, so anything can still happen. But it appears Selby's individual workouts haven't done enough to convince scouts he's worth the risk of a first-round pick. Or,
as the Lawrence Journal-World's Tom Keegan writes
, some NBA team may be intentionally deflating Selby's stock in the hopes of snatching him risk-free in the second round:
What's up? Maybe scouts are a lot like Kansas fans. The more they saw of Selby, the less they liked him. Or could it be, as one NBA insider wonders, that one team desperately wants Selby to drop to them and has spread rumors that they think he's a bust waiting to happen?
If one NBA team is able to torpedo a player's stock among the rest of the league, well, you have to hand it to them. That is one effective front office.
Another possible problem is the Avery Bradley factor. In 2009, Bradley was the
No. 1 player in the ESPNU 100 rankings
, arriving at Texas with fanfare matched only by Kentucky guard John Wall. Wall, of course, was a national player of the year candidate and went on to be the No. 1 pick in the 2010 draft. Bradley had a so-so freshman season, jumped to the NBA early anyway, was drafted No. 19 overall by the Boston Celtics, and eventually found himself playing as many minutes in the NBA Developmental League as the NBA itself.
Does that mean Bradley won't turn into a solid pro? Of course not. But if I'm an NBA team, and I want to make the most of my first-round pick, maybe I look at Bradley and Selby as similar entities. Maybe I'm hesitant to take the high-risk, huge-upside one-and-done player who failed to make an impact in his eight months on a college campus.
Maybe I'm worried Selby is just in the draft for the money. Maybe I'm fretting about his injury history. Maybe he didn't interview well. Maybe NBA scouts saw Selby's absence in
yesterday's Seebpomd
as a prohibitive sign. (OK, OK, not so much.)
It's hard to divine these sorts of things in the run up to the draft, because you really never know what's going to happen when David Stern takes the podium. Still, it's hard to believe that in this draft -- a weak one by all accounts, and one that features more undersized, risky combo guards with their varied share of negatives -- that Selby isn't at least worth a late-first round flier. As I wrote back in April, one man's one-and-done bust is another man's sleeper. Apparently, as of today, the NBA doesn't seem to agree.
Now watch the Spurs get Selby in the second round, and watch Selby turn in a DeJuan Blair-esque rookie season. The NBA is so weird.
June, 15, 2011
6/15/11
3:15
PM ET
As college stars at Kansas,
Marcus
and
Markieff Morris
were never known for their reserved demeanors. It's not exactly like they needed to come out of a shell. But they were never so overtly cocky -- with the possible exception of the
pregame VCU taunt that turned into an all-time backfire
-- as they've been in the run up to next week's NBA draft.
[+] Enlarge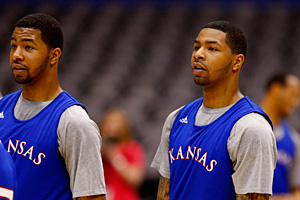 Bob Donnan/US PresswireFormer Kansas forwards Markieff, left and Marcus Morris won't enter the NBA lacking confidence.
Let's start with Marcus, who took to the airwaves in Milwaukee recently,
where he was asked about a potential NBA comparison to Denver Nuggets forward Al Harrington
, a slightly undersized, multi-faceted stretch four that seems like a pretty fair comparison to the Moriis' skill sets. How did Marcus feel about that comparison? He'd like to shoot a little -- OK, a
lot
-- higher.
"I think the Al Harrington comparison is a little accurate, but I think maybe Carmelo (Anthony) I would say because I'm a mid-range king," Marcus told the radio station.
Marcus might have been joking there, but he seems far more serious when asked to describe the differences between the Morii and the Lopez twins, one of whom, Brook, is considered a rising young center for the New Jersey Nets.
"Is that a trick question? Not to take anything away from those guys, I think they are great players, I just think me and Markieff have been through a little bit more," Marcus said. "I mean I think we have different aspects of our game that are just a little bit more than those guys."
Then there's Markieff, who wasn't just content to handle comparisons to current NBA players. He also wanted to express his displeasure with the notion that he and his brother are considered mid-first round picks while Arizona forward
Derrick Williams
was seen as a lock to go within the top two picks of the draft. From
the Washington Post's Michael Lee:
"I didn't think he was as good as advertised," Morris said. "He got the benefit of the calls from the ref and we had to guard him different. He definitely had a good game against us, because we couldn't guard him how we wanted to guard him, and that's what happened."

So when he hears that Williams is a lock to go in the top two, Morris said, "It's still surprises me. What he did to Duke, he wouldn't do that to me or my brother [Marcus]. I'm dead serious. He wouldn't. At all. He's good. But if we was to work out, I would go at him and I would be able to stop him more than people would expect, you know what I mean?"
The only problem with that? The Morii
did
face Williams last season, and
all Williams did was post 27 points on 9-of-15 from the field and grab eight rebounds
. As was the case for most of the season, Williams did that without much frontcourt help from his teammates. As an added bonus, he had that type of comprehensively impressive game against not one but
both
Morii, who combined to play 45 minutes in the Kansas win and had the benefit of another future NBA prospect, forward
Thomas Robinson
, contributing efficient defense and rebounding in 19 minutes off the bench.
In other words, the Morii were very good college basketball players, but Williams was better. Arguably much better. There's a reason he's the likely No. 2 pick in the NBA draft, and there's a reason some think he should be drafted ahead of
Kyrie Irving
at No. 1. A few brash statements to the contrary aren't going to change that perception, especially when the player you're dissing torched you head-to-head all the way back in November. What, exactly, is inconclusive about that?
There's no reason for outrage here. The Morii are trying to convince NBA general managers not only that they belong in the league, but that they're better than most people have given them credit for. Maybe they have a point.
But digging on Derrick Williams? Comparing yourself to Carmelo Anthony? Come on, fellas. If this is a strategy, try a different one. Or just put your head down and do your talking after your surprising rookie season. Until then, this stuff just sounds silly.
June, 14, 2011
6/14/11
1:11
PM ET

Which is not at all a surprise, of course. National player of the year
Jimmer Fredette
is a hero to his hometown denizens in Glens Falls, N.Y., and
when he returned to play in front of the hometown fans in December
, he was greeted with a hero's welcome. Not to mention
a nice boost to the local economy
.
But in case you were wondering -- and you probably weren't, but hey, maybe! -- if Jimmer Mania was going to die down in Glens Falls, well, wonder no more. It will not.
How do I know? I'd say the "Jimmer Jam" -- a party and skills competition scheduled for June 23, the night Fredette is expected to be taken in the first round of the NBA draft -- is a pretty good indicator that interest in Fredette remains high. Via
The Post-Star comes an itinerary for the event
, which is being put on by the Glens Falls tourism board at the local civic center and an adjacent park:
The skills competition is open to anyone from preschool age through senior citizens. [...] Other activities will include projection of television coverage of the National Basketball Association draft on large screens on the arena's main floor, interspersed with highlight videos of Fredette's college basketball games.
I would totally attend that party. Not for the draft coverage -- I can get that anywhere. No, I want to see the senior citizens of Glens Falls participate in a skills competition. Has some 65-year-old retiree mastered Jimmer's double-crossover? There's only one way to find out.