College Basketball Nation:

2011 NCAA Bearcats-Tigers
March, 18, 2011
3/18/11
12:51
AM ET
WASHINGTON, D.C. -- Mick Cronin acknowledged the elephant in the room, stared the pesky pachyderm right in the face and admitted what he was up against.
It was October and Cronin hadn't coached a single basketball game yet this season but already he knew what was at stake.
"Once you get to Year 3, there's pressure,'' he said in the middle of Big East media day five months ago. "That's the reality of this job. In this league, you come in with all of these Hall of Fame coaches, you're under pressure to win. You're crazy if you think you're not.''
Cronin is a ways from walking step for step with the Hall of Famers but at least he can finally hold his head up on his alma mater's campus.
Cincinnati has gone from oh-fer the tourney under Cronin to NCAA winners after the Bearcats topped Missouri,
78-63
, for their first tournament win since 2005.
[+] Enlarge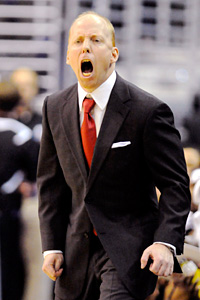 Brad Mills/US PresswireMick Cronin and the Cincinnati Bearcats are looking to be a force in the Big East this season.
Cincy will get a familiar opponent on Saturday, squaring off against fellow Big East foe, Connecticut.
Missouri, once ranked as high as No. 8 in the country, slinks out of the NCAA tournament after completing an undistinguished season with a forgettable loss.
"This is huge for us,'' Cronin said. "We've fought all season long for respect. A lot of my friends picked against us in this game and I understand that, but we've got guys who have fought all year.''
Once criticized for all of the things he is not -- namely the entertaining and high-wattage personality of his predecessor, Bob Huggins -- Cronin now can be celebrated for what he is: deliberate and patient. He has deftly handled this team as he has handled his entire career at Cincinnati, aware that there is little time to waste but understanding that nothing happens quickly.
Before this program could win again, he would have to get it out of an academic quagmire. Before this team could be successful, he would have to get the house in order.
Cronin took care of the first step slowly. He edged Cincinnati from the brink of academic probation by recruiting four-year players who might not get him the quick wins of the one-and-done players, but would stabilize his program. The result: All but one of his players has graduated.
As for the second step, he got his team together in February. Cronin benched Cincinnati native
Yancy Gates
against Pittsburgh and used him only sporadically against DePaul and St. John's.
The Bearcats lost two of those three.
He said on Wednesday that the decision wasn't a risk, that he "spells love and discipline the same way.''
But had the decision backfired, had Cronin lost Gates forever, he could have lost his job too.
Instead Gates responded and has scored in double figures in every game but one since that critical juncture.
"I think that did fuel me,'' Gates said. "When I was going through that, a lot of people started counting me out. I was even reading things that my career was over. I kind of laughed at that stuff but that stuff really fuels a player.''
The fuel continues to flow through March.
Gates was simply too everything for Mizzou -- too big, too powerful. He banged the undersized Tigers down low to the tune of 18 points and 11 rebounds, his offensive confidence so high he even drilled two 3-pointers.
"Worst thing that ever happened,'' Cronin joked.
And now the Bearcats move on to a familiar opponent, facing Connecticut a team they actually finished above in the Big East standings.
It is yet another proving ground for a team that still feels like it has something to prove.
Cronin has chased the elephant out of the room. Now it's time to get rid of the doubters.
"I'm not a Hall of Fame coach, we don't have any all-league players, so I understand why people think the way they do,'' Cronin said. "We're just trying to win games and earn respect.''
March, 17, 2011
3/17/11
11:58
PM ET
WASHINGTON D.C. -- A quick look at
Cincinnati's 78-63 win
against Missouri from the Verizon Center.


Overview:
The Bearcats dictated the tempo and the game. Cincinnati relied on the inside presence of
Yancy Gates
and
Ibrahima Thomas
but also trusted its backcourt of
Cashmere Wright
and
Dion Dixon
to handle Missouri's pressure. Meanwhile, the Tigers limped out of the NCAA tournament much like they limped out of the season. Missouri struggled to score, which means it couldn't start its press, which equated to disaster.
Turning point:
Mizzou failed to hit a field goal in the final 7:25 of the first half and Cincinnati took advantage. The Bearcats easily picked apart the Tigers' halfcourt defense, turning a tight game into a 39-28 advantage at the break. Though Missouri made it interesting in the second half -- cutting the deficeit to six points -- the Tigers could never overcome their early inefficiency.
Key player:
Cashmere Wright handled Missouri's pressure -- when the Tigers were able to apply it -- and directed the offense inside. Wright dished out six assists to just three turnovers, to go along with 11 points.
Key stat:
Cincinnati committed only nine turnovers, a critical number against the Missouri pressure.
Miscellaneous:
Cincinnati won its first NCAA tournament game since 2005 when Bob Huggins was head coach. ... Simple game to figure out: Missouri's fastest 40 minutes is predicated on pressing. You can't press if you can't score or shoot and the Tigers struggled to do both.
What's next:
Welcome to the Big East tournament Part II. Here on Georgetown's homecourt, three of the four teams in play on Saturday will be from the Big East now that Cincinnati advances to meet Connecticut. The two played one another just once in the regular season, with the Huskies winning, 67-59.
March, 17, 2011
3/17/11
7:09
AM ET
A look at the evening action set for the Verizon Center in Washington, D.C.:
Connecticut vs. Bucknell, 7:20 p.m. ET


What to watch:
The gas level in Connecticut's tank. The Huskies, as the entire basketball universe by now knows, played (and won) five games in as many nights last week in New York City. In the past, such a run in the Big East Tournament hasn't boded well for the victors -- Syracuse was ousted in the first round and Pittsburgh in the second after both won four games in four nights. On the flip side, the Bison, winners of 23 of their past 25, haven't had to play a game since March 11.
Who to watch:
Gonna go with
Kemba Walker
here. Though Pittsburgh is the top draw here by seed, no single player will be more watched than Walker. His yeoman's effort to take Manhattan will long be the stuff of legends. Now the question is, can he take it a step further? Bucknell's
Mike Muscala
is a 6-11 big man compared to Jeff Foote of Cornell from a year ago. Only a sophomore, he earned Patriot League player of the year honors after topping the 20-point mark nine times this year. He could be a handful for
Alex Oriakhi
and
Charles Okwandu
down low.
Why to watch:
In 2005 the Bison entered the NCAA Tournament as the No. 14 seed and pulled off one of the all-time shockers: beating No. 3 seeded Kansas in the first round. Who says lightning can't strike twice? Connecticut has lost just once in the first round under Jim Calhoun -- that was in 2008 -- but Washington D.C. is the site of the Huskies most infamous NCAA defeat. It was here in 2006 that George Mason upset the No. 1 seed in the Elite Eight en route to its improbable Final Four run.
What they're saying:
"Like our coach said, Bucknell doesn't just come to the tournament to enjoy the ride. We come here to win games." -- Bucknell big man Muscala.
"We all know our roles. Not everyone can score 30 points a game. That's Kemba's role." -- Connecticut's Alex Oriakhi on handling the attention devoted to Walker.
Of note:
Walker said on Wednesday that one of the biggest benefits he received this season was working with the USA Basketball team. As part of the USA Select Team, Walker trained against the team before it traveled to the World Championships. Walker, defended by the likes of Derrick Rose, Russell Westbrook and Rajon Rondo, said, "they guarded me like nobody ever guarded me in my life.''… Freshman
Cameron Ayers
, son of current NBA assistant coach Randy Ayers and brother of one-time Notre Dame player, Ryan, has 38 points and 13 rebounds during Bucknell's run to the Patriot League title.
Cincinnati vs. Missouri, 9:50 p.m. ET


What to watch:
Mizzou hasn't been very good defensively all season but its frenetic style could upset the Bearcats' comfort zone. On the flip side, Cincinnati has been rock solid defensively all season, their bruising and brute power holding teams to just 59.2 points per game.
Who to watch:
How
Cashmere Wright
and
Dion Dixon
handle the pressure from Mizzou will be key for the Bearcats. As a team, Cincinnati averages 14.5 turnovers per game, a number they have to keep in check in this game.
Kim English
's recent performance has coincided with the Tigers' late slide. He is just 9-of-37 in his past five games. Missouri needs English to be a legitimate threat and a productive scorer to get its game back in order.
Why to watch:
The slumping Tigers, who have lost four of their past five games, were ranked as high as eighth in the country. This team isn't your typical No. 11 seed. Missouri can be either disruptive or disastrous on the defensive end and depending on which team shows up will dictate how this game goes. Cincinnati, on the other hand, rides a late-season push back to the NCAA tournament. The Bearcats won five of their last six to secure a bid.
What they're saying:
"Being here is big for me. I'm from Cincinnati and when I was recruited there people thought I'd be the guy to take them to the NCAA Tournament. It went from that to people saying my career was over. I got booed in my gym and now everyone is smiling at me in my home gym.'' --
Yancy Gates
on his roller coaster ride to the NCAA tournament.
"At this time of year, everyone's record is 0-0. What you've won, lost, your ranking, all of that doesn't matter. It's about survive and advance.'' --
Marcus Denmon
on weathering Missouri's late-season slide.
Of note:
Cincinnati has not lost to a non-conference opponent all season. The Bearcats are 13-0 against non Big East teams. … The West Region has been kind to Mizzou. The past two times the Tigers were pushed toward the West Coast, in 2009 and 2002, Missouri rolled to the Elite Eight. ... In 2002, the Tigers were an unheralded 12 seed.