College Basketball Nation:

2011 NCAA Bulldogs-Panthers
March, 20, 2011
3/20/11
12:03
AM ET
WASHINGTON, D.C. --
Matt Howard
stepped to the line while bedlam and hysteria broke out around him.
One side of the Verizon Center booed its displeasure; the other screamed its joy.
Pittsburgh players, who just seconds before were euphoric, now stood with faces paralyzed in disbelief.
Butler players, who only seconds before stood frozen, smiled in euphoria.
"It was weird, I was really calm,'' Howard said.
He was a lone resident of that island.
Emotions were stripped bare in Butler's
71-70 upset
of No. 1 seed Pittsburgh, leaving even the winners feeling like wrung out dishrags.
[+] Enlarge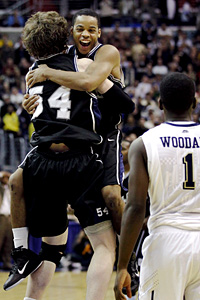 Rob Carr/Getty ImagesMatt Howard and Ronald Nored celebrate the unlikely ending in Butler's win over Pittsburgh.
Pitt players sat quietly at their lockers, staring into the distance. They were more lost than hurt -- trying to figure out how they could lose a game that they should have won, or at least sent to overtime, with two seconds remaining.
In Butler's quarters, there was joy but just as much head-shaking as the Bulldogs tried to figure out how they won, lost and won again all in the span of three seconds.
"I can't believe it,'' Butler's
Ronald Nored
said. "I've never felt like that in a game before in my life. I don't even know what to say.''
For Pittsburgh, a team that missed the Final Four on an end-to-end buzzer-beater two seasons ago, the loss adds another improbable finish to its resume of woe.
"I've never been through anything so crazy,'' said
Gilbert Brown
, whose terrific game (24 points on 8-of-11 shooting) will instead be remembered for the single missed free throw in five chances. "It's hard to fathom what just happened to us. I can't really explain it.''
There were actually three acts to this grand finale, an operatic drama that packed more action into 10 ticks of a clock than some teams can cram into a season.
Pitt had the ball and a 69-68 lead, but instead of bleeding the clock for a good shot,
Ashton Gibbs
heaved a disaster after the shot clock already expired.
With eight seconds left, Butler inbounded the ball to
Shawn Vanzant
and the player who set up the winner against Old Dominion appeared to do it again. He drove down the right side of the lane and dumped the ball to
Andrew Smith
. The sophomore laid it in and Butler led 70-69 with three seconds left.
"Here I am, I think we won it after Andrew's shot,'' Howard said. "And there were still two more possessions. How does that happen?''
How it happens is two great players make bad decisions and an officiating crew thrusts itself into the endgame maelstrom, calling two fouls in the final three seconds that put an anticlimactic finish on a game that deserved better.
"We do it every day,'' crew chief John Higgins said. "It just happened to be a crucial part of the game. You have to do what you have to do as an official.
"If we get it right, we're good. If we get it wrong, we're deadbeats and we're all over SportsCenter. We did what we think is correct.''
The truth is, it was the two teams that made the mistakes.
After Smith's would-be game-winning basket, Pittsburgh threw the ball in toward the sideline, right in front of the scorer's table and
Shelvin Mack
went with Brown when he went for the ball.
The ball went out of bounds but before it did, official Terry Wymer raised his hand, signaling foul.
"I was so mad at myself,'' Mack said. "I went to the huddle and my teammates were telling me to keep my head up, but I couldn't believe it.''
Until that point, Mack hadn't just been Butler's hero, he'd been their superhero. He scored 30 points and absolutely dismantled Pittsburgh's defense from behind the arc, where he hit 7-of-12 3-pointers.
When the foul was called, Brad Stevens looked as upset as the preternaturally calm coach has ever looked, throwing his arms and grimacing toward the officials.
But the Bulldogs have long has been a team of no excuses. Yes, their budgets are smaller. Yes, the odds are against them. But no, they don't really care. So while they may have been stunned that the officials sent Brown to the line with two seconds left, they weren't complaining.
"I told Shelvin, there's absolutely no way he can put himself in that position,'' Nored said.
Added Stevens, "If he was impeding his progress to get the ball, then it's a foul.''
Brown went to the line and sunk the first free throw to tie it at 70. But then the 78 percent free-throw shooter missed the second.
In between shots, Dixon elected to keep his players under the basket, rather than pulling them back, a decision that seemed harmless at the time but later would prove fatal to his Panthers' season.
"Everybody is going to question that, but I did what I thought we should have done,'' Dixon said. "I wanted our shooter comfortable and I didn't want to be pulling our guys off the line while he was going for his second shot.''
As Brown's missed freebie fell to the right side of the rim, Howard went up to get it.
Nasir Robinson
came up behind him and when the two landed, Antinio Petty raised his fist.
He had called Robinson for a foul 92 feet from the basket, putting Howard on the line for two free throws with 0.8 left on the clock.
The crowd, still reeling from the call against Mack, howled its disapproval while the officials checked the monitors to make sure the call and foul came before the buzzer.
They did and so Howard went to the line. He hit the first, intentionally missed the second and the game was over.
Afterward, a disconsolate Robinson -- who sobbed through an interview and had to stop after just three questions -- was not angry.
"I blame myself,'' Robinson said. "I'm smarter than that. I have been playing this game too long to make a dumb mistake like that. I blame myself.''
If anyone can appreciate how Robinson and Pittsburgh feels, it is Butler.
As the Bulldogs ready for their third Sweet 16 run in the past five years, they aren't so callous as to not empathize with their latest victims.
Eleven months ago, they sat dumbstruck in a locker room in Indianapolis, their shot at glory, and no less than history, missed by the fraction of an inch.
"I really feel for them because I know what it's like,'' Howard said. "We just sat there and couldn't believe we had lost. I can't imagine going out the way they just did, but I know how they feel.''
March, 19, 2011
3/19/11
9:38
PM ET
WASHINGTON, D.C. -- A quick look at Butler's wild
71-70 win
over Pittsburgh.


Overview:
Absolutely top-shelf basketball in this game, with two experienced and intelligent teams leaving it all on the floor. Sadly it ended in controversy, with two fouls called in the final two seconds.
Turning point:
Gilbert Brown
missed the second of two free throws and just when the game appeared headed to overtime, Petty instead signaled foul with 0.8 on the clock.
Matt Howard
went to the line and hit one to win it.
Key player:
Shelvin Mack
and Brown both need to be mentioned. It was like they were playing H-O-R-S-E. Mack finished with 30 on 10-of-16 shooting (7-of-12 from 3) and Brown with 23 on 8-of-11, 4-of-5 from the beyond the arc. Neither senior wanted to lose.
Key stat:
Butler drained 12 3-pointers to Pittsburgh's six. Long-range shooting kept Butler in the game.
Miscellaneous:
This game didn't play exactly the way as advertised. It was brutal and physical but both teams shot much better than anticipated. How about Pitt shooting 56 percent from the field and 50 percent from 3 and
losing
? … What
Ronald Nored
does for Butler will never show up adequately in the boxscore. The point guard never looks to score but instead runs his offense flawlessly. Nored finished with three assists, but he's the kind of guy you need to give out hockey assists.
What's next:
Cinderella lives again as Butler advances to the Sweet 16 against the winner of the Kansas State-Wisconsin game in New Orleans. The Panthers' run of bad luck in March ends in the worst possible and most painful way.
March, 19, 2011
3/19/11
2:37
AM ET
WASHINGTON, D.C. -- The nation's capital is John Marinatto's happy place. The Big East commissioner can cozy into a seat here, confident that at least one of his Chosen 11 will advance to the Sweet 16. Three of the four spots here have been secured by the bid-hogging conference.
Those are some good Sweet 16 odds.
No. 8 seed Butler (24-9) vs. No. 1 seed Pittsburgh (28-5), 7:10 p.m. ET (TBS)


What to watch:
The boards. Butler was able to defeat Old Dominion in part because the Bulldogs were able to beat the Monarchs at their own game: out-rebounding the nation's fourth best rebounding team. Their reward is a matchup against Pittsburgh, a team that averages 50 rebounds a game -- second in the nation.
Who to watch:
Andrew Smith
for Butler will be a key against Pitt just as he was against ODU. The one-time passive sophomore, who had to be urged to take over by his teammates, had 11 points and six rebounds and the critical tip to set up
Matt Howard
for the winner. He'll have to be every bit as active against a very physical Pittsburgh team.
For the same reason, Pitt's
Gary McGhee
will be every bit as critical for the Panthers. The big man deserves far more credit than he ever receives but he could get his due here. McGhee's ability to control the inside against Howard and Smith, plus work the boards, will be a huge key for the Panthers. He averages 7.7 rebounds and 6.9 points.
Why to watch:
En route to their Final Four run a year ago, Butler knocked off a No. 1 seed from the Big East. It was a different round (Sweet 16) and a different team (Syracuse), but the parallels are nice.
More than the unrelated history, of course, is the fact these are two similar teams. Both like to defend. Both like to rebound and both refuse to cede an inch on the toughness meter.
This has been billed as a terrific game and should play that way.
What they're saying:
"They're definitely similar to us. They're a spitting image, almost. Both teams are very tough, play very good defense and rebound.''
Ashton Gibbs
on Butler.
"It's great to still be going, but my mindset this morning when I woke up, I was thinking about breakfast. That was about it. I moved on.'' Howard on whether he took time to enjoy his game-winning shot against Old Dominion.
Of note:
Butler has had a first-round draft pick more recently than Pittsburgh. Gordon Hayward went ninth last year to the Utah Jazz. The last Panther? Vonteego Cummings in 1999. … McGhee and Howard played in the same conference on rival teams growing up in Indiana. Howard played for Connersville and McGhee at Highland Senior. … Gibbs and
Shelvin Mack
played together and for Jamie Dixon on the Under-19 USA Team at the FIBA Championships this summer.
No. 6 seed Cincinnati (26-8) vs. No. 3 seed Connecticut (27-9), 9:40 p.m. ET (TBS)


What to watch:
Contrasting styles at work in this game. Connecticut relies on its backcourt -- wisely, I might add -- while Cincinnati's strength lies on the inside. UConn is much happier getting out on the break and Cincy prefers to bang bodies and play more physically.
The Huskies have decent, if not dominant, players on the inside and the Bearcats have good, if not Kembaesque, guards.
Who to watch:
Alex Oriakhi
will have to stand his ground against the immovable force that can be
Yancy Gates
. The sophomore needs to control Gates when the Bearcats have the ball and somehow clear some space for
Kemba Walker
& Co. to work on the offensive end. When the two teams met during the regular season, Oriakhi was an ineffective 1-for-5 while Gates had 14 points. The Huskies won, however.
Cashmere Wright
and
Dion Dixon
will have the unenviable task of containing Walker, but also will have to look out for
Jeremy Lamb
, who has been sensational in the past six games. The freshman is averaging 14.5 points per game. Wright and Dixon are quick enough to keep up with Walker and Lamb but need to be disciplined.
Why to watch:
Familiarity is a rare commodity in the NCAA tournament. Most coaches spend the day between games frantically cramming about their upcoming, and usually unknown, opponent.
These two teams know each other quite well.
Typically the selection committee tries to avoid league matchups until the regional finals, but with 11 Big East teams in the bracket, the committee clearly threw its hands up in exasperation early. Hence, the Bearcats and the Huskies meet in the first weekend.
What they're saying:
"We know we're in for a tough grind. They're the type of team that's bothered us this season because of their physicality." -- UConn coach Jim Calhoun on Cincinnati's contrasting style.
"When I was with Coach Huggins, we had great teams but the question was always, Cincinnati is good but how good are they because they play in Conference USA. You don't have to worry about that any more. They say a bullet tells the truth. The Big East Conference tells the truth." -- UC coach Mick Cronin
Of note:
In the only meeting between the two teams this season, Connecticut won 67-59 on the road. … Calhoun apologized for insinuating that Mick Cronin was the Big East coach who did not vote Walker conference Player of the Year. "It's all cleared up. We had a good conversation. … I said maybe they didn't vote for him or something and I shouldn't have said that and I did. So I called Mick to just let him know that."
March, 17, 2011
3/17/11
5:55
PM ET
WASHINGTON, D.C. -- A quick look at
Pittsburgh's 74-51 win
over UNC Asheville.


Overview
: UNC Asheville threatened to continue the afternoon's run of wild games and upsets but the Bulldogs couldn't pull the ultimate upset. Pittsburgh eventually proved too tough, especially on the glass, and kept alive the NCAA tournament's perfect streak for No. 1 seeds.
Turning point
: Up only 32-29,
Ashton Gibbs
drained a 3-pointer, igniting a 10-0 run for Pittsburgh. Though the Bulldogs refused to go quietly, that distance proved enough to allow the Panthers to ultimately exhale and advance.
Key player
: Gibbs. Overshadowed in the loss to Connecticut thanks to Kemba Walker's buzzerbeater (he had 27 in that game), Gibbs got his spotlight back here. He scored 26 points on 9 of 17 shooting, torching UNCA from the outside, where he was 6 of 10.
Key stat
: The Panthers owned the Bulldogs on the glass. They had a critical 44-24 advantage that allowed Pitt to overcome a sluggish start.
Miscellaneous
: Matt Dickey's run in the NCAA tournament might be over, but the UNC Asheville junior made a few fans along the way. The guard plays like he believes no one can guard him and he's not entirely wrong. Dickey had 21 points in the losing effort. … It goes without saying that Pitt is going to have to play a lot better in its next game. Butler, the Panthers' next opponent, plays terrific defense and won't give Pittsburgh anything.
What's next
: The Panthers will meet Butler on Saturday. Plenty of people have circled this as a potential upset pick and it's not a crazy thought. Both teams play great defense and have on-court and NCAA experience. Should be an entertaining one.