College Basketball Nation:

2011 NCAA Cleveland
March, 20, 2011
3/20/11
11:42
PM ET
CLEVELAND -- In the middle of the celebratory Marquette locker-room scrum stood Buzz Williams, stripped down to an undershirt over his dress pants. Williams then ripped off his tank top and went into the coaches' area. A moment later, he ran back into the locker room, bare-chested and sweaty, to shout "Sweet 16!"
Maybe that's not the demeanor or behavior you'd expect from Mike Krzyzewski or Jim Calhoun after a big NCAA tournament win. But Williams is not the typical college basketball coach. And Marquette is not your typical Sweet 16 team.
It's a collection of former junior college players and other under-the-radar guys playing in the nation's premier league, for a coach who understands humble beginnings.
"We're a great team with a bunch of no-names," guard
Dwight Buycks
said.
Syracuse might agree with the first part of that statement, but not necessarily the latter half. The No. 3 seed Orange lost to the No. 11 seed Golden Eagles for the second time this year in
Sunday's 66-62 East Regional third-round upset
.
Marquette got it done with effort. Syracuse shot 55.3 percent from the field. But the Golden Eagles hounded the Orange into 18 turnovers by doubling the post and pressuring the ball. They raced up the court every time they got a stop or even after a made bucket, getting good looks before the 2-3 zone could formulate. They outrebounded their bigger opponent 30-24, including 12 offensive rebounds.
"Our goal was not to let them set up," guard
Junior Cadougan
said. "We wanted to push it down their backs and make something happen while their backs were turned."
Jae Crowder
hit a 3-pointer to tie the score at 59, and
Darius Johnson-Odom
nailed the go-ahead 3-pointer with 25.1 seconds left. Both guys came to Marquette from junior college, as did Buycks and defensive stopper
Jimmy Butler
. Cadougan is from Canada.
Now this group is heading to a blueblooded Sweet 16 in the East Regional, joining the likes of North Carolina, Kentucky and Ohio State.
"It's four junior college guys up here," Williams said on the postgame podium, sitting next to Crowder, Butler and Johnson-Odom. "We were trying to figure out if we could eat at McDonald's or Burger King. We weren't sure what Sweet 16 meant other than it was our 16th birthday."
Williams is understandably drawn to those types of players. He got his start as a student assistant at Navarro College and Oklahoma City University. On Saturday, he recounted the story of how he got his first paying job at Texas-Arlington, which included all but stalking the UTA coach, sleeping in a U-Haul and conniving Oklahoma City into giving him his diploma early.
So the underdog nature comes naturally. Marquette needed it coming into this tournament after going just 7-8 in its previous 15 games and carrying 14 losses on the résumé. The Golden Eagles were the last of 11 teams from the Big East to make the field, and if the committee had to rethink things based on the way the league has fared so far, maybe they would be in the NIT. Ironically, the East Regional semifinals will be played in Newark, N.J., on the same court where Marquette lost to lowly Seton Hall on the last day of the regular season.
Yet here this team is after an impressive win over No. 6 seed Xavier on Friday and after toppling a No. 3 Sunday. The Golden Eagles played with an edge all weekend in Cleveland.
"Buzz is a great coach, and his toughness shows in us," Johnson-Odom said. "As much as he's been through, and as much as the players have been through, the only way we can show it is on the court. I think that's why we play so hard."
After the final horn sounded, Williams made the TV crew wait for the postgame interview. He ran up through the press seating and into the Marquette cheering section, where he hugged his wife, Corey, and their children. He later talked about how they met when he was a Division II assistant and how he took a job at Colorado State 18 days after she moved in with him as his wife.
"He went to juco and has been through that experience," Buycks said. "We've all come in through different paths, and he can relate to that. He knows how it feels to not be granted success right away."
Clear some room in the Sweet 16 for these Golden Eagles. They made their own way there.
March, 20, 2011
3/20/11
9:58
PM ET
CLEVELAND -- A Big East team got through Cleveland to the Sweet 16, just not the one most people expected.


No. 11 seed Marquette took advantage of No. 3 seed Syracuse's mistakes and its knowledge of the Orange's 2-3 zone to score a
66-62 victory
. The game was tight throughout, and the Golden Eagles took the lead for good on
Darius Johnson-Odom
's 3-pointer with 25.1 seconds left. Marquette's ball pressure, transition game and rebounding proved too much for the Orange to handle as they beat Syracuse for the second time this year.
Turning point
: With the score tied at 59, Syracuse called timeout to set up a shot with 51.6 seconds left. But the inbounds pass resulted in a turnover as
Scoop Jardine
strayed over the midcourt line to retrieve it. That typified Syracuse's night, as Johnson-Odom hit his go-ahead shot on the next possession.
Key stat
: Syracuse committed 18 turnovers, which Marquette turned into 23 points. That helped neutralize the fact that the Orange shot 55.3 percent to just 41.2 percent for the Golden Eagles.
Star player
: Hard not to vote for Johnson-Odom, who had 17 points and the game's biggest shot. But don't overlook
Jae Crowder
. The forward slithered his way inot the gaps of the Syracuse zone for 16 points, added seven rebounds and played excellent defense on Syracuse big man
Rick Jackson
, who had only seven points.
Miscellany
: Syracuse guard
Brandon Triche
suffered a bruised tailbone early in the second half when he took a hard fall on a charge. He did not return to the game.
What's next
: Marquette advances to the Sweet 16 in Newark, N.J., where they will take on No. 2 seed North Carolina on Friday.
March, 20, 2011
3/20/11
8:43
PM ET
CLEVELAND -- On Saturday night, Ohio State senior and Cleveland native
David Lighty
took all his teammates to his family's church. The parishioners treated the Buckeyes to a feast of soul food.
Then at Sunday morning's shootaround, four Ohio State players were presented their diplomas. They couldn't walk in the school's winter graduation ceremony held at the same time a few hours south in Columbus, so they put on some mortarboards at half court of Quicken Loans Arena and spelled out O-H-I-O.
The Buckeyes might have been on the road this weekend, but they made Cleveland feel like home. And boy did they ever look comfortable here.
In an NCAA tournament that has already seen one No. 1 seed (Pittsburgh) lose and another (Duke) barely hang on, Ohio State emphatically showed why it deserved to be the top overall seed. Sunday's 98-66 destruction of No. 8 seed George Mason said it all.
"We're trying to make a statement," guard
William Buford
said. "We want to let everybody know we mean business."
Message transmitted. The Buckeyes won their two games here by a total of 62 points. They shot 58.6 percent from the field in the two games and 56 percent on 3-pointers.
There were no squeaky parts on this machine. Ask George Mason. Patriots coach Jim Larranaga's strategy was to try and slow down center
Jared Sullinger
and sharpshooter
Jon Diebler
, hoping Buford wouldn't go off like he did against Texas San-Antonio. Buford didn't, but Lighty -- normally the team's defensive stopper and glue guy -- erupted for 25 points on 7-of-7 3-point shooting.
George Mason couldn't concentrate on the perimeter because of the presence of Sullinger, who had 18 points and eight rebounds in just 22 minutes. Point guard
Aaron Craft
came off the bench to dish out 15 assists, including a 40-foot wraparound dart out of a trap to Sullinger for a dunk in the first half. Diebler and Buford still got their points, and Ohio State hit 16 of its first 23 3-point attempts.
How can you stop all of that?
"You've got great shooters outside and you've also got power post men sitting in the block," George Mason guard
Cam Long
said. "So when you're trying to shut down one thing, they've got other things that open up. And if you try to shut down the block, they've got the 3s that open up. So it's definitely a hard thing to guard."
"Just so many weapons on our team," Lighty said. "And everyone was clicking on high cylinders tonight. When that's happening, it's pretty hard to beat us."
Championship teams also catch some breaks along the way, and the Buckeyes got one when George Mason starter
Luke Hancock
-- who had 18 points and the winning 3-pointer against Villanova on Friday -- fell ill. Hancock apparently picked up a stomach bug that had him vomiting in the team hotel all Saturday night, and when he tried to go to the arena on Sunday, he got dizzy and had to stay back.
Even without Hancock, George Mason jumped out to an 11-2 lead. The Patriots were fired up -- a little too much so for the Buckeyes' tastes.
"They were talking a little bit of junk, and that ticked us off," Buford said.
A bear when poked roars back. Ohio State outscored George Mason 50-15 the rest of the first half, allowing only one field goal the final 10 minutes in a devastating 26-4 run before intermission.
"We finished the game pretty well," Ohio State forward
Dallas Lauderdale
said in an understatement. "It was a wake-up call seeing Butler knocking off Pitt. We're on a mission."
In order to derail that mission, somebody is going to have to make the Buckeyes feel a lot less comfortable than they were in Cleveland.
March, 20, 2011
3/20/11
7:14
PM ET
CLEVELAND -- Ohio State didn't need to survive any scares this weekend. Heck, the Buckeyes barely broke a sweat.


After cruising by Texas-San Antonio by 29 points on Friday, the tournament's No. 1 overall seed
crushed short-handed George Mason 98-66
in arguably the most impressive effort of the third round. The Buckeyes shot 61 percent from the field and 61.5 percent from 3-point range. Only an act of sportsmanship at the end kept the score from reaching the century mark.
The Buckeyes are rolling into the Sweet 16, and if they keep playing like this, it's hard to see who will beat them before they get to Houston.
Turning point:
George Mason came out strong and grabbed a quick 11-2 lead. But that was about the last good thing to happen for the Patriots. Ohio State outscored the No. 8 seed 50-15 the rest of the half, including a 26-4 run over the final 8:30, for a 52-26 advantage at halftime. It only got worse from there for George Mason.
Key stat:
Ohio State went 16-of-26 from the 3-point arc, and that was after missing their final three attempts from that distance in garbage time. The 16 3-pointers set a school tournament record.
Star player:
David Lighty
clearly enjoys playing in his hometown. The senior made all seven of his 3-point attempts and finished with 25 points. George Mason dared him to shoot early, and he had 17 first-half points to help jump start his teammates.
Miscellany:
George Mason played without starting guard
Luke Hancock
, who had 18 points and hit the big 3-pointer in the win over Villanova. Hancock was ill with flu-like symptoms and stayed back at the team hotel. Normal sixth man
Isaiah Tate
started in place of Hancock. ... Ohio State freshman
Aaron Craft
had 15 assists off the bench.
What's next:
Ohio State will play Kentucky on Friday in the Sweet 16 in Newark, N.J. George Mason must settle for being the second-best team in school history. Nothing wrong with that.
March, 20, 2011
3/20/11
8:02
AM ET
CLEVELAND -- The four remaining teams in this East Region pod know how to move on in March. All four have been to a Final Four since 2003, and three of them have national championship trophies encased in glass back home.
Beyond that, we've got the top overall seed (Ohio State) taking on a mid-major power (George Mason). Then it's a Big East grudge match between Syracuse and Marquette in which the lower seed had the upper hand earlier this season.
Let's rock and roll in Cleveland.
No. 8 George Mason (27-6) vs. No. 1 Ohio State (33-2), 5:15 p.m. ET


What to watch:
The 3-point arc. Ohio State has been on fire from the outside lately, and the Buckeyes are nearly impossible to beat when
William Buford
and
Jon Diebler
are as dialed in as they've been from 3-point range. George Mason was a good shooting team this season (39.4 percent on 3s) but struggled with shot selection against Villanova. The Patriots were able to turn that into a defensive slugfest, but that's probably not going to work against Ohio State. The Buckeyes are holding opponents to 32 percent shooting on 3s in four postseason games.
Who to watch:
Jared Sullinger
didn't have to do a whole lot in the romp against Texas San-Antonio on Friday, but the Ohio State big man will be a key player against George Mason. The Patriots had a hard time keeping Nova's post players off the glass in the last round, and Sullinger is much more of a load than any of those Wildcats. George Mason will have to clamp down on Buford and Diebler like they did against the Wildcats'
Corey Stokes
and
Corey Fisher
in the second half while still accounting for Sullinger inside.
You can bet the Bucks will keep a close eye on George Mason guard
Luke Hancock
, who had 18 points and the clinching 3-pointer with 20 seconds left in Friday's win against Villanova. Forward
Mike Morrison
also had a big game on Friday, and the Patriots will need the 6-foot-9 junior to help contain Sullinger.
Why to watch:
George Mason is tired of the 2006 comparisons, but that Final Four team beat some of the sport's heavyweights on its way to glory, including a No. 1 seed in UConn. This team will have to take the same path through a powerful Ohio State club that is firing on all cylinders. And the crowd will be heavily on the Buckeyes' side.
What they're saying:
"I don't think you want to be an underdog. You probably want to be in Ohio State's position of being the No. 1 overall [seed]. But we're ready to play against a good team. We have confidence in ourselves. We're not worried about being called the underdog." -- George Mason's Hancock.
"Our defense needs to be at its very best on first shots. We've got to limit second shots. But the biggest thing is, based on the way we played yesterday, we've really got to encourage our guys to understand that we're going to have to put the ball in the basket [Sunday]." -- George Mason coach Jim Larranaga
"With us, it's pick your poison. Whatever you want to do, we have a way to counter it." -- Ohio State's
Dallas Lauderdale
.
"I think they're kind of similar to us. They've got a lot of different guys that can do a lot of different things, from driving the ball, to 3-point shooting, to post-ups. They've got a lot of trigger-pullers within the course of their offense. They do a good job moving the basketball. I think that's the big key -- you have to defend all five guys. And with a one-day prep, you've got to have a great understanding of what all five guys on the floor are capable of doing, because, as I said, they're multi-dimensional players." -- Ohio State coach Thad Matta.
Of note:
A win by George Mason would set the school single-season record for victories. The 2006 Final Four team won 27 games. ... Sunday is the winter graduation ceremony at Ohio State, and Diebler,
David Lighty
and Lauderdale all earned their degrees last week. They'll be a bit too busy to walk in the ceremony, however. ... Watch the pace. Ohio State is 23-0 when scoring at least 75 points. George Mason is 3-5 when opponents score at least 70.
No. 11 Marquette (21-14) vs. No. 3 Syracuse (27-7), approx. 7:40 p.m. ET


What to watch:
We went to Cleveland, and a Big East tournament semifinal broke out. These teams might be league rivals, but because the Big East is so big, it's not like they play each other all the time. In fact, they met only once this season, and Marquette won 76-70 back on Jan. 29. The Golden Eagles guards penetrated the Orange's 2-3 zone and got to the rim, shooting 33 free throws and getting the Syracuse post players in foul trouble. They even outrebounded the Orange that night in Milwaukee. Syracuse has a distinct size advantage, but Marquette hopes to neutralize that with quickness.
Who to watch:
Syracuse's
Rick Jackson
had a big night against Indiana State on Friday with 23 points and seven rebounds. Marquette doesn't have many guys who can match his 6-foot-9, 240-pound body. But Golden Eagles forward
Jae Crowder
had 25 points and seven rebounds in the first matchup of the Orange.
Guards
Jimmy Butler
and
Darius Johnson-Odom
will be key for Marquette against the zone. Syracuse guards
Scoop Jardine
and
Brandon Triche
will have to do a good job handling the Golden Eagles' pressure on the perimeter and slowing down Butler and Johnson-Odom.
Why to watch:
Syracuse is a dangerous tournament team because of its length in that zone, which can overwhelm unfamiliar opponents. But Marquette knows the zone and is coming off a terrific performance against Xavier on Friday night. This might be an 11 vs. 3 matchup on paper, but this has all the makings of a hard-fought, Big East-style game.
What they're saying:
"You've got to move the ball more than once, and we can't fall into taking quick shots. The key thing is to get it in the middle or behind the zone. We pretty much know where we can get into the gaps and make plays for each other, by us already having seen it." -- Marquette guard
Dwight Buycks
"The first time around, our defense wasn't as good as it is now. Our defense is much improved, and it should mess them up a little because we'll be quicker in getting to spots we weren't able to get to in the game we lost to them." -- Syracuse guard Brandon Triche.
"I told one of our assistants, when we were leaving [Madison Square] Garden, after Louisville beat us the [in the Big East tournament], I'm so thankful that we don't have to talk about or prepare or play against a Big East program until next Christmas. And so on Sunday we're doing the Selection Show and they show Xavier first, they're the higher seed, then they show us. Everybody's like rah, rah, rah. And then the next team that pops up is Syracuse." -- Marquette coach Buzz Williams.
Of note:
The Jan. 29 game was the last of a four-game losing streak for Syracuse. Orange players said their strong second-half effort in that game helped them get their season back on track by playing with more effort. ... Marquette has lost its second game in the NCAA tournament in each of the last two years and hasn't won two games since the 2003 Final Four run. ... If Marquette hits a big 3, you can be sure to see players making the "3-point goggles" gesture. The Golden Eagles claim to be the first college team to adopt the new trend, which started with the Portland Trail Blazers this season. Marquette grad Wesley Matthews told the Golden Eagles about it, and they have run with it. The goggles made an appearance in Friday's win against Xavier.
March, 19, 2011
3/19/11
12:49
AM ET
CLEVELAND -- Larry Bird is not walking through that door.


Indiana State played with a lot of heart, but Syracuse was the team with a lot of size. And that made a literal huge difference.
A team with four starters 6-foot-5 and under simply can't combat the length in Syracuse's 2-3 zone without burying a bunch of 3s. Indiana State was only 7-of-21 behind the arc. Syracuse used its superior size to pull away late, making the
77-60
final score look worse than how the game actually went most of the night.
With that, the first -- whoops, make that second -- round of the NCAA tournament is officially over. Syracuse avoided another Big East loss and ensured that the two non-Dayton days ended with the top three seeds in each region advancing.
Turning point:
Indiana State's best counterpunch came early in the second half, when it closed the gap to 42-38 by driving to the basket and drawing contact. The Orange then turned to their strength on offense -- going down low --- and reeled off a 9-0 run. From there, it was a methodical dismantling, as the lead never again reached single digits.
Key stat:
Syracuse shot 52.3 percent and got to the free-throw line 31 times, both indicators of how its size advantage played out.
Star player:
Rick Jackson
was far too much of a load for the smaller Sycamores to handle. The Orange big man scored a season-high 23 points, including 9-of-11 from the free-throw line, and pulled down seven rebounds.
Miscellany:
There were some very questionable whistles in the second half, and calls that went against both teams, but Indiana State seemed to get more rattled by the refs. Several Sycamores spent more time barking at the zebras than they should have. ... Indiana State guard
Jake Odum
has a lot of flair to his game, reminiscent of Jason "White Chocolate" Williams. He made some sweet wraparound passes in the lane and finished with six assists. He could have had more if his teammates would have finished better around the rim. Credit Syracuse's defense for that. ... Thank goodness for the George Mason-Villanova finish. The subsequent three games in Cleveland were all decided by at least 11 points.
What's next:
The Orange are headed for a Big East rematch with Marquette, whom they lost to in the regular season, on Sunday. That wouldn't have happened under the old tournament rules designed to prevent conference mates from meeting this early. But with 11 Big East teams in the Big Dance, it was almost inevitable.
March, 18, 2011
3/18/11
11:27
PM ET
CLEVELAND -- If you go by the seedings, Marquette was the 11th -- and last -- Big East team to make the NCAA tournament field. Appropriately enough, the selection committee awarded the Golden Eagles a No. 11 seed.
"We were just happy we got in," guard
Junior Cadougan
said.
They sure didn't look like a team just happy to be here Friday night. Talk about hot in Cleveland. Marquette thoroughly dismantled a good Xavier team, one that went 15-1 in the Atlantic 10 regular season. The Golden Eagles shot a blistering 57 percent in the first half, made half their shots in the second half and led by as many as 18 in
a 66-55 victory
.
The offensive effort wasn't a surprise for a team that led the Big East in scoring this year. Defense made this look like a dangerous tournament team.
[+] Enlarge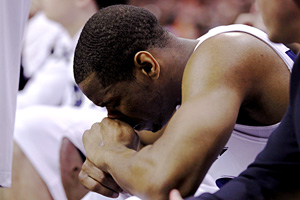 Gregory Shamus/Getty ImagesMarquette limited Xavier guard Tu Holloway to 5 points on 1-of-8 shooting.
Xavier's star guard
Tu Holloway
went just 1-for-8 from the field, not making his lone shot until about 12 minutes left. Marquette threw multiple defenders at him, doubling him off ball screens and thoroughly frustrating him the entire night. The rest of his teammates didn't fare much better.
"That was one of our best defensive efforts ever," Marquette guard
Dwight Buycks
said. "We took their star out of the game, which was everything. They didn't really have any response."
That kind of defense hasn't been a staple for Buzz Williams' team this year, which is why it remained maddeningly inconsistent. Marquette came into the NCAA tournament just 7-8 in its last 15 games, and it lost its final regular-season contest to lowly Seton Hall. It was also good enough to beat Notre Dame, Connecticut and Syracuse this season.
The Golden Eagles certainly own the tools to be a good defensive team. They are blessed with quick guards who can pressure the perimeter and disrupt sets.
Jimmy Butler
, at 6-foot-7, can bother shooters with his length, and he really hounded the shorter Holloway on Friday night.
It's more of a concentration thing. Forward
Jae Crowder
said the team rarely practices offense in practice anymore. The majority of the sessions are focused on getting stops. Williams called Friday's effort the best performance relative to the scouting report his team has had all year long.
"We've got a lot of people who can score the ball," Buycks said. "Defense will get us where we're trying to go."
Where they're going is to Sunday's third round. And if they get a rematch with Syracuse, whom they've already beaten this year, that might not be the end. Not bad for the last team from the Big East to get in.
"We want to be the last one to stay in," Crowder said.
March, 18, 2011
3/18/11
10:08
PM ET
CLEVELAND -- Forget that "No. 11" by Marquette's name. This is officially a Team No One Wants To Play in this NCAA tournament.


At least, that is, if the Golden Eagles can duplicate Friday's effort against Xavier. They were simply terrific from start to finish in a commanding
66-55 win
over the Atlantic 10 regular season champions.
Marquette shot 53.3 percent from the field and shut down Xavier star
Tu Holloway
, who had only one field goal and five points. Buzz Williams' team is a threat to get to the Sweet 16 if it can match this performance on Sunday.
Turning point:
Marquette was in control most of the way and built an 18-point lead in the second half. But then Xavier finally got a little feisty, going on a 14-4 run to get back within eight. The Musketeers had a chance to get closer, but Holloway's difficult night continued when he was called for a charge. Marquette scored the next seven points to end the threat.
Key stat:
Marquette's top two guards,
Darius Johnson-Odom
and
Jimmy Butler
, outscored Xavier's backcourt duo of Holloway and
Dante Jackson
by a count of 34-15
.

Star player:
Just about everybody played well for Marquette, but Johnson-Odom
had the best night.
He scored 19 points and hit 4-of-6 3-pointers.
Miscellany:
With Holloway and Jackson struggling, Xavier needed someone to pick up the scoring slack. Surprisingly, that was
Andrew Taylor
. The senior finished with 16 points; his previous career high was seven.
What's next:
Marquette will take on the Syracuse-Indiana State winner Sunday. If the Orange prevail, that means there will be a Big East rematch in the second round. The Golden Eagles beat Syracuse 76-70 in the teams' lone meeting this season.
March, 18, 2011
3/18/11
7:08
PM ET
CLEVELAND -- Ohio State did what No. 1 seeds are supposed to do in their first NCAA tournament game:
Squeeze the life out of a No. 16 seed
and eliminate any possible drama.


We didn't learn a lot new about the Buckeyes, except that they weren't nervous or tight under the expectations that come with being the tournament favorite. What Texas San Antonio learned is that when Ohio State is nailing outside shots, it's almost unbeatable.
The Buckeyes shot over 60 percent well into the second half and hit nine of its first 17 three-pointers. A 16-point halftime grew to as many as 38 in the second half. The only disappointment for the heavily pro-Ohio State crowd was that little-used reserve
Eddie Days
missed a shot near the end of the 75-46 victory after fans chanted his name.
Turning point:
Not that the game was ever really in doubt from the moment the pairings came out, but Ohio State went on a 13-1 run early in the second half to break things wide open. From there, Thad Matta could empty his bench, and the Buckeyes could have some fun.
Key stat:
Ohio State shot 62.5 percent in the first half and likely would have finished over 60 percent if Matta didn't play his reserves most of the final eight minutes. The Buckeyes also made half their 24 three-point attempts.
Star player:
Guard
William Buford
had 15 of his team-high 18 points at halftime, sinking three of four three-pointers in the first 20 minutes.
Miscellany:
UTSA's
Melvin Johnson III
, who had 29 points in the team's win over Alabama State in the First Four, was held to just five points and 1-of-9 shooting. ... For those keeping score, Ohio State won by fewer points than fellow No. 1 seed Duke (which beat Hampton by 38) but by more than No. 1 Pitt (which beat UNC-Asheville by 23).
What's next:
The Buckeyes will take on No. 8 seed George Mason in Sunday's third round. The Patriots will have to execute a whole lot better than they did against Villanova to have a chance, and they'll be playing a virtual road game at Quicken Loans Arena.
March, 18, 2011
3/18/11
6:34
PM ET
CLEVELAND -- The current George Mason players have nothing but respect for the 2005-06 Patriots team that made it to the Final Four. Many of them are at the school now at least partly because that team raised the profile of the program.
But, honestly, talking about the past gets a little tiring sometimes.
"Every interview you do, every person you talk to wants to talk about the '06 team," sophomore guard
Luke Hancock
said. "We're definitely trying to make our own name."
While these current Patriots have a long way to go to match the 2006 legacy, they've finally made a new March memory.
Friday's
61-57 win
over Villanova wasn't an upset, since George Mason was the No. 8 seed to Villanova's No. 9. But it was the school's first NCAA tournament win since that 2006 run, and it came in pretty dramatic fashion.
[+] Enlarge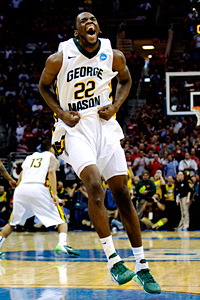 Rick Osentoski/US PRESSWIREAfter celebrating a victory over Villanova, Mike Morrison wore a shirt that read "We are this year's George Mason."
Down 10 late in the first half, the Patriots kept hanging around until
Mike Morrison
's rebound dunk with 55 seconds left gave them their first lead of the second half. After Villanova's
Corey Fisher
was fouled on a 3-pointer and made all three free throws, Hancock provided the play that can be added to the George Mason highlight library.
The play was designed as a double high ball screen. Hancock, though, refused the screen and jabbed to his right, intending to cut back left and then either look for teammate
Cam Long
in the corner or shoot. Villanova's
Corey Stokes
was determined not to let Hancock go right, however, and he overplayed that side. As Stokes went flying by toward the lane, Hancock calmly stepped back, paused and then drained the clinching 3 with 20 seconds to go.
"I wasn't the first option coming off the screens," he said. "I was definitely looking to penetrate and pitch, because we've got such good shooters on this team."
Neither team shot all that well or even took good shots most of the game. For a while, it looked like George Mason's season would get canceled by an episode of The Two Coreys. Villanova's Stokes and Fisher dominated the first half, combining for 22 of their team's first 23 points and 24 overall by halftime. Fisher was getting into the lane easily, opening up 3-point shots for Stokes, who made three in a row at one point.
The Patriots then concentrated on picking up the two guards closer to half court, giving into their chests defensively and fighting through ball screens more ferociously.
"When we got down early, we wanted to try and speed them up a little bit," forward
Ryan Pearson
said. "Their guys were taking their time, and we were letting them run their offense. We had to keep Fisher out of the lane and not give up second shots."
Stokes and Fisher went 0-for-8 combined to start the second half and would finish 11-of-32 from the floor. The ending had to seem like a recurring nightmare for the Wildcats, who closed their season with six straight losses and a 5-11 mark from Jan. 17 on. They blew leads and were unable to close out games in many of those defeats.
"In our program, we talk about each class's legacy, and this class has been to the Sweet 16, final eight, Final Four," Villanova coach Jay Wright said. "But they've endured a really tough season that would have crumbled a lot of guys personally."
The 2006 legacy has hung over every George Mason team since. Morrison wore a T-shirt that read, "We are this year's George Mason," to the postgame news conference, anticipating the inevitable questions about the school's most famous team.
"We've been forced into a lot of comparisons," he said. "And this is why it's my favorite shirt. I just like to ignore what everybody says and just worry about my own team."
It's not 2006 anymore. But 2011 is worth talking about.
March, 18, 2011
3/18/11
4:48
PM ET
CLEVELAND -- For George Mason, it was shades of 2006. For Villanova, it was more of the same.


The Patriots won their first NCAA tournament game since their magical 2006 Final Four run with a
61-57 victory
over No. 9 seed Villanova on Friday afternoon. Trailing most of the way, they closed with a flourish thanks to
Luke Hancock
and
Mike Morrison
.
Morrison's follow-up dunk with under a minute to play gave George Mason its first lead of the second half. Moments later, Hancock hit a 3-pointer to regain the lead for good. In the final seconds, Hancock picked up a loose ball and found Morrison for a breakaway dunk as the Patriots fans in Quicken Loans Arena went nuts.
Turning point:
There were plenty of turning points in the final minute, but the biggest change was the improved defense George Mason played in the second half. After allowing Villanova's
Corey Stokes
and
Corey Fisher
to combine for 24 points in the first half -- and falling behind by double digits late in the half -- the Patriots started picking up the Wildcats' guards further away from the basket and making others beat them. Fisher and Stokes had only three field goals in the second half.
Key stat:
Villanova went just 7-of-22 from the field and scored only 22 points in the second half. The defensive effort allowed George Mason to climb back in it despite some questionable shot selection.
Star player(s):
Hancock and Morrison share the honor. Hancock finished with 18 points and five assists and hit the biggest shot for George Mason in five years. Morrison had 10 points and 11 rebounds.
Miscellany:
George Mason got a big lift off the bench from
Johnny Williams
. The forward came in averaging just 2.1 points. He made 4-of-5 shots to finish with a season-best eight points, which were crucial in a close game.
What's next:
Barring an earth-shattering upset by Texas-San Antonio, George Mason will get No. 1 overall seed Ohio State on Sunday. It will be a virtual road game as Quicken Loans Arena was packed with Buckeye fans on Friday afternoon. Villanova coach Jay Wright will have to figure out what went wrong with his team, which started out 16-1 but lost 11 of its final 16 games, including the last six to end the season.
March, 18, 2011
3/18/11
7:01
AM ET
CLEVELAND -- Here's a look at Friday's evening action from the East Regional at Cleveland's Quicken Loans Arena:
No. 6 seed Xavier (24-7) vs. No. 11 Marquette (20-14), 7:27 ET (truTV)


What to watch:
Two basketball-obsessed, big-city, Jesuit schools known for their outstanding guard play and March success. Yes, please. Xavier dominated the Atlantic 10 and has a legitimate superstar in guard
Tu Holloway
. Marquette was just 7-8 in its final 15 games but had the highest scoring attack in the Big East. If the shots are falling, the Golden Eagles can beat anyone.
Who to watch:
Holloway. Marquette players saw some great guards in their league, including UConn's
Kemba Walker
and Providence's
Marshon Brooks
, and they say Holloway compares favorably. "Kemba from what I can tell is a little faster, but they both have their scoring mentality," Golden Eagles guard
Jimmy Butler
said. "They both can shoot it. They both get to the line extremely well, and they both run their team extremely well." Butler is no slouch, either, averaging 16 points and 6.1 rebounds as a dangerous penetrator.
Why to watch:
They say guards win in March, which is a debatable cliché. But this matchup should ensure an entertaining game. These are different types of teams, though. Xavier excels on defense and has better big men than it gets credited for, while Marquette usually needs to shoot well from the outside and get to the free throw line to win. Either one could pose a difficult potential opponent for Syracuse in Round Two.
What they're saying:
"I think the biggest focus for us would be the ball screen. Focus a lot on that because every possession they're going to set two to three ball screens and try to get into the paint and distribute off of a ball screen, that being a side or flat ball screen, or to the baseline or things like that. So we've got to be ready for many types of ball screens they'll throw at us." -- Butler, on the defensive keys for Marquette.
"New York is full of great point guards every year. And I was fortunate enough to play against and with Kemba. And it's not new to me what he's doing in the college basketball world. I watched him do it firsthand in the backcourt. He never had a game like that against me, I'll say." -- Holloway, on the Kemba Walker comparisons.
Of note:
The Golden Eagles have made more free throws than their opponents have attempted this season. "And it's odd in a way, because they don't necessarily have Shaquille O'Neal in the low post that's drawing fouls left and right -- they do it by committee," Xavier coach Chris Mack said. "They do it by driving the basketball." ... These two teams met early last season, with Marquette winning by 10. Xavier went on to win two 2010 NCAA tournament games on Marquette's home court, the Bradley Center.
No. 3 seed Syracuse (26-7) vs. No. 14 seed Indiana State (20-13), Approx. 9:57 ET (truTV)


What to watch:
If you want to boil this down to a simple storyline, it's Syracuse's size and 2-3 zone against Indiana State's four-guard attack. All but one Sycamores starter stands between 6-foot-3 and 6-foot-5, and they spread the floor with their abundance of ballhandlers and shooters. How will that work against the Orange, who shorten the court defensively with guys like
Rick Jackson
and
Kris Joseph
? In an effort to simulate Syracuse's length, Indiana State practiced against a six-man zone this week, with the sixth defender standing in the low post holding up a hockey stick. The actual game may be even more difficult. On defense, the Sycamores can switch every screen, but they could get pounded on the glass.
Who to watch:
The 6-foot-10 Jackson, who was named Big East defensive player of the year, could dominate the paint. Indiana State will have to use its quickness to neutralize him. The Sycamores define balance; they have seven players averaging between six and 11 points. Point guard
Jake Odum
will have to get in the lane against that 2-3 zone and kick out to shooters.
Why to watch:
Never underestimate the Missouri Valley champion, even in a down year for the league. Just ask Kansas last year. Syracuse's 2010 tournament run came to an end in the Sweet 16 against another mid-major from Indiana: Butler. The Orange made this year's motto "Unfinished Business" in remembrance of that defeat.
What they're saying:
"[On] selection Sunday, all we know about Indiana State was Larry Bird went there. And after watching film on them and reading the scouting report, they're a good team just like us. ... And I can tell you one thing, they can all shoot. And when a team all can shoot, that's kind of tough for our zone." -- Syracuse guard
Scoop Jardine
.
"It's pretty hard to prepare for the type of athleticism that they have. I mean, in the [Missouri] Valley, it's very few teams that have that type of frontcourt lineup. You can't really simulate that type of stuff. It's really just about willpower." -- Indiana State swingman
Carl Richard
.
Of note:
Syracuse coach Jim Boeheim will be coaching in his 71st NCAA tournament game. This will be the first one for Indiana State coach Greg Lansing. ... The Sycamores played in the 2000 and 2001 tournaments, but they will always be remembered as the 1979 runner-up led by Larry Bird. Lansing said the first thing he did when he came to Indiana State was to watch tapes of that '79 team to get a feel for what the heyday was like. "He wished us luck," guard
Jake Kelly
said of Bird. "He had some nice comments in some of the news coverage. We walk down the halls everywhere and there's pictures and stuff still. That gets us excited that somebody like Larry Bird is following us and wishing us luck."
March, 18, 2011
3/18/11
7:00
AM ET
CLEVELAND -- This city has known more than its share of sports disappointments, from The Drive to The Decision, from Jordan over Ehlo to Modell's moving vans. Maybe this weekend can provide a little brightness.
Two Ohio schools are here for the East Regional second and third rounds of the NCAA tournament, including the bracket's No. 1 overall seed. Xavier coach Chris Mack, who was born in Cleveland, wasn't above a little pandering for support.
"If it helps sway the Clevelanders to come to the game ... Drew Carey, forever; Art Modell, never," he said.
Ticket sales shouldn't be a problem for the afternoon slate of events, as No. 1 Ohio State takes the floor in its home state. Starter
David Lighty
is from Cleveland, while big man
Dallas Lauderdale
and reserve
Eddie Days
hail from just outside the city limits. They spent the past several days scrambling for extra tickets.
"I got a couple extra tickets, but I know 80 million people here," Lighty said.
The Buckeyes would love nothing more than to begin a championship run in their home away from home. But first things first. Let's take a look at the Friday afternoon session:
No. 8 George Mason (26-6) vs. No. 9 Villanova (21-11), 2:10 p.m. ET (TBS)


What to watch:
Which Villanova team shows up -- the one that began the season 16-1 or the one that wheezed to a 5-10 finish, including a first-round upset in the Big East tournament to South Florida? George Mason knows something about streakiness, too, having won a school-record 16 straight games before bowing out of the Colonial Athletic tournament against VCU. This shapes up as a good matchup of athletic, guard-oriented teams that like to get up and down the floor.
Who to watch:
Like with 1980s teen movies, you have to watch the two Coreys when it comes to Villanova. Senior guards
Corey Stokes
and
Corey Fisher
make the Wildcats go, but both battled injuries during the team's slide -- Stokes had turf toe and hamstring problems, while Fisher dealt with knee tendinitis. They will have had nine days off before this game to get well, and both they say they are healthy now.
Cam Long
is George Mason's top scorer and a guy who can stroke it from long range.
Why to watch:
Villanova looked like it was heading for a No. 1 or No. 2 seed before its late-season malaise. George Mason probably would have been seeded higher than No. 8 if it had won its conference tournament. So both these teams are talented and could get on a roll if everything comes together. It should be an entertaining game to watch. And the last time George Mason earned an at-large bid was 2006, when the Patriots advanced all the way to the Final Four.
What they're saying:
"I never get tired of talking about '06. Who would get tired of people talking about a great time in your life? It just brings back great memories every time it's mentioned. And whether I'm at the barber shop getting a haircut or in the airport or restaurant, someone always comes up to me or even the guys on my staff or the players on the team, and they talk about, 'Hey, I was at the game,' or 'I met my wife at a bar the night you guys beat Connecticut.' And our president, Dr. Alan Merten, uses the quote that it's the gift that keeps on giving." -- George Mason coach Jim Larranaga on remembering the magical 2006 run.
"Being the underdog is good, but we don't consider ourselves being the underdog. We know how good we are." -- Villanova guard Corey Fisher.
Of note:
Larranaga said he wasn't concerned about the ankle injuries that starters
Andre Cornelius
and
Luke Hancock
suffered during Tuesday's practice before the team left for Cleveland. Both practiced during the public workout Thursday at Quicken Loans Arena. ... The two teams played last season in Puerto Rico, with Villanova winning by one point.
No. 1 Ohio State (32-2) vs. No. 16 UT San Antonio (20-13), Approx 4:30 p.m. ET (TNT)


What to watch:
The top overall seed in the tournament begins what it hopes is a six-game run. Texas-San Antonio won its first-ever NCAA tournament game on Wednesday in Dayton but will need a miracle to upset the Buckeyes in a virtual road game.
Who to watch:
Take your pick among the star-studded Buckeyes starting lineup, but the guy to keep an eye on is freshman
Jared Sullinger
. On an otherwise veteran team, he's the newbie, and he said he feels like a high school freshman all over again this week. Still, UTSA doesn't have the size inside to handle him. For the Roadrunners, guard
Melvin Johnson III
scored 29 points in the First Four win over Alabama State. If he gets hot again, he could shoot his team into the game.
Why to watch:
Because you want to see how Ohio State comes out in its first game, since many of you picked the Buckeyes to at least make the Final Four in your bracket. Realistically, this should be little more than a warmup game for nation's top-ranked team.
What they're saying:
"Anything is possible in the tournament. If you're not ready to play, you'll end up getting beat. Every team is in the tournament for a reason. They wouldn't be here if they weren't great." -- Ohio State guard David Lighty.
Of note:
A No. 16 seed has never beaten a No. 1 of course, but Ohio State coach Thad Matta was an assistant on the Western Carolina team that nearly shocked top-seeded Purdue in the 1996 first round. "I definitely know what those guys are thinking over there," he said of UTSA. ... Wednesday's win by the Roadrunners was the first NCAA tournament victory in any sport in the 30-year history of the school.