College Basketball Nation:

2011 NCAA Cougars-Terriers
March, 17, 2011
3/17/11
11:43
PM ET
By
Diamond Leung
| ESPN.com
DENVER -- The buzz from upset wins by Morehead State and Richmond still lingered when BYU took the court at the Pepsi Center. The Cougars knew all about what had happened earlier in the day and certainly didn't want it to happen to them.
By the time BYU got done with Wofford, order had been restored. It was business as usual, with
Jimmer Fredette
scoring 32 points in a
74-66 second-round win
on Thursday.
And unlike last season when Fredette's monster game against Florida gave BYU its first NCAA tournament victory in 17 years, the Cougars hope this is just the start of a march to the Sweet 16.
[+] Enlarge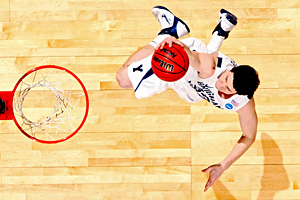 Doug Pensinger/Getty ImagesJimmer Fredette still notched 32 points despite decent defense by Wofford.
"Last year was a euphoric atmosphere," BYU coach Dave Rose said. "Guys were jumping around.
"Guys today were happy with the win and look forward to the next challenge. This team is pretty business-like."
Wofford actually felt it did a decent job on Fredette, a sign of just how dangerous the nation's leading scorer is. He was 10-of-25 from the field and only 2-of-9 from beyond the arc, but other players stepped up for BYU.
Charles Abouo
scored eight straight points at one point to extend the lead to 14 while
Noah Hartsock
and
Logan Magnusson
knocked down two 3-pointers apiece. Fredette finished with seven assists.
"Those assists come to those guys who are ready to make a play." Rose said. "We had three or four guys able to knock them down."
Said Fredette: "They were trying to force me left, so I kept going left and went to the basket."
His passing helped showcase once again that no, the Cougars are not just a one-man team. Abouo, Hartsock and Magnusson scored 10 points apiece, and
Kyle Collinsworth
collected 11 rebounds. These are players who still have to prove that there's a successful future after Brandon Davies was lost for the season.
Wofford kept the game close, with
Noah Dahlman
scoring 22 points, but the No. 14-seeded Terriers didn't shoot well from the perimeter and couldn't come up with baskets when they needed them.
Jamar Diggs
(5-for-14),
Cameron Rundles
(5-for-14) and
Brad Loesing
(3-for-10) all struggled.
"Had you told us our team would do a great job on Fredette, I thought we would have won the game," Wofford coach Mike Young said.
Diggs felt he did a good job on Fredette, but it wasn't enough. "He's deceptively quick," Diggs said. "You look at him and think you're in front of him, and then he's by you."
BYU wasn't going to suffer an upset, not with Fredette leading the way and not with the team's complementary players performing their best. After witnessing Louisville and Vanderbilt go through it, the Cougars collectively told themselves the ride wasn't going to end.
"A lot of the guys saw it and said, 'Let's not let that happen to us,'" Magnusson said.
March, 17, 2011
3/17/11
9:41
PM ET
By
Diamond Leung
| ESPN.com
DENVER -- BYU pulled away from a scrappy Wofford team late in the game,
74-66 to advance
. The Cougars were led by
Jimmer Fredette
's 32 points and seven assists, as the national player of the year candidate could not be stopped by the Terriers.
Noah Dahlman
scored 22 points for Wofford, but the Terriers struggled to get offense out of their backcourt.


Turning point:
BYU forward
Charles Abouo
scored eight straight points in a run that gave the Cougars a 14-point lead with 3:47 left. Wofford had been hanging around up until then, but couldn't recover after Abouo went to work.
Key player:
Fredette was 10-for-25 from the field, and despite struggling from beyond the arc, (2 of 9), he got to the line for 12 free throw attempts.
Key stat:
Wofford's three starting guards --
Jamar Diggs
,
Cameron Rundles
and
Brad Loesing
-- went a combined 13-for-38 from the field. BYY got a good defensive game from freshman
Kyle Collinsworth
, who had four steals.
Miscellaneous:
BYU once again showed it's a team of more than just Fredette, and with the win, they won a game without Brandon Davies against a team with Dahlman as an excellent post presence. Abouo and
Noah Hartsock
had 10 points and five rebounds apiece.
James Anderson
was saddled with foul trouble and sent to the bench after picking up his third foul on a technical.
What's next:
BYU moves on to play the winner of tonight's St. John's-Gonzaga game, and the Cougars are one win away from their first Sweet 16 appearance in 30 years.
March, 17, 2011
3/17/11
7:06
AM ET
By
Diamond Leung
| ESPN.com
DENVER -- Here's a look at the evening games taking place at the Pepsi Center in Denver:
BYU (30-4) vs. Wofford (21-12), 7:15 p.m. ET


How they got here:
Senior
Jimmer Fredette
led BYU to a co-Mountain West Conference regular-season title, led the country in scoring and had a national player of the year-type season. The Cougars took a gut punch when leading rebounded Brandon Davies was suspended for the season after an honor code violation, but have had five games to rework their offense. Wofford split its regular-season SoCon title with College of Charleston and then beat its rival in the conference tournament championship game.
Storyline:
BYU is on a mission to reach its first Sweet 16 since Danny Ainge led the Cougars to the Elite Eight in 1981.They finally have another program-changing player in Fredette and there is an urgency to capitalize on his talents while they have him. The Davies suspension hurt the team, and it will be interesting to see if struggles in the paint cost the Cougars. Wofford, which nearly upset Wisconsin in the opening round last season, wants to spoil BYU's fun and has the personnel to do it with a strong post presence in
Noah Dahlman
.
Players to watch:
Fredette, averaging 28.5 points per game, is expected to carry the scoring load but the Cougars will need contributions from others.
Jackson Emery
is solid as Fredette's backcourt sidekick, and the big men --
Kyle Collinsworth
,
Noah Hartsock
and
James Anderson
-- will have to step up in place of Davies. "I think that's a mistake people make is it's Jimmer, Jimmer, Jimmer," Wofford coach Mike Young said. For the Terriers,
Jamar Diggs
is the top defender who will be the primary player on Fredette with
Cameron Rundles
providing help. The Terriers will look to feed the post, where Dahlman is a dangerous scorer who averages 20 points per game.
What to look for:
If Fredette goes off, it's going to be a long night for Wofford. If the Terriers can contain him and exploit the interior with Dahlman, they have a chance even as the Cougars try to go up and down the floor.
"We know they're a great team, very efficient," Emery said. "We're going to have to really run and play hard because that's the way we like to play. That's the style we feel most comfortable at."
St. John's (21-11) vs. Gonzaga (24-9), 9:45 p.m. ET


How they got here:
In his first year at St. John's, head coach Steve Lavin turned around a program by using a senior-laden roster and finished tied for third in the Big East. The Red Storm earned their at-large bid by notching wins against Duke, Georgetown, Notre Dame, Connecticut and Villanova. Gonzaga began its season 4-5 and struggled to handle a brutal stretch in their non-conference schedule. But the Bulldogs bounced back to share the West Coast Conference regular-season title and win the conference tournament.
Storyline:
St. John's is making its first NCAA tournament appearance since 2002, and winning a tournament game would mean a lot to the nine seniors on the team. "My first three years here, we haven't really done so well," guard
Malik Boothe
said. "Turning it all the way around our senior year makes it all the more special for us." A win for a tournament-tested Gonzaga team would also mean a lot considering the team at one point was a full three games out of first place in the WCC.
Players to watch:
With St. John's losing
D.J. Kennedy
for the rest of the season with an ACL injury,
Sean Evans
and freshman
Dwayne Polee Jr.
have to step up. The Red Storm can also relay on
Dwight Hardy
to get to the rim and
Justin Brownlee
to score and rebound. Gonzaga relies on a trio of players --
Steven Gray
,
Robert Sacre
and
Elias Harris
-- for a balanced scoring attack. Also look out for young players like
Sam Dower
,
Marquise Carter
and
David Stockton
, the son of Hall of Famer
John Stockton
, to make key contributions.
What to look for:
St. John's has been battle-tested in the Big East. It'll be interesting to see how it's up-and-down style works against a Gonzaga team that can play in the half court and get out in transition.
"We don't want to get in an up-and-down match where we're making silly turnovers, doing thing out of character," Gray said. "It's going to be really interesting to see who can control the tempo."