College Basketball Nation:

2011 NCAA Huskies-Bulldogs
March, 19, 2011
3/19/11
2:05
AM ET
CHARLOTTE, N.C. -- In the regular season, Washington was easy to pick apart and poke at, leaving observers wondering whether or not it could truly be a special team in March.
The Huskies demonstrated an inability to win consistently on the road, and at times a failure to win games played below 70 points.
Yet, something has happened with this team when games matter more -- the Huskies seem to play with more purpose.
Washington has become a postseason team, a squad that can suddenly defend when it needs to, board when it has to, and lean on star junior guard
Isaiah Thomas
to make the big play when he must.
Criticizing the Huskies was fair and justifiable during the regular season. Washington had chances to prove it was an elite team but couldn't win two games in Maui, lost at Texas A&M and then couldn't win slow games at Stanford or Oregon State. It even fell apart down the stretch in its usually vaunted homecourt against Washington State and USC.
[+] Enlarge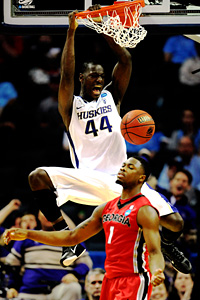 Bob Donnan/US PRESSWIRESo far, Darnell Gant and the Washington Huskies have been flying high in the postseason.
So why should there have been optimism?
"I just told our guys, 'Dudes if we don't win and play well right away, we're going home,''' Thomas said of his pre-Pac-10 tournament conversation.
Well, they must have listened because the Huskies won the automatic berth in thrilling fashion with a 3-pointer at the buzzer to beat the Wildcats in the Pac-10 tournament final. Thomas took that shot. He wasn't in position to take a game-winner against Arizona in Tucson a few weeks earlier as
Derrick Williams
blocked Washington from a victory.
And then the NCAA tournament selection committee took the No. 7-seeded Huskies and shipped them farther away than any other team when it sent the Seattle-based school to Charlotte to take on nearby No. 10 Georgia.
Yet Washington's fans seemed to be in greater numbers than Georgia fans, and were certainly louder. And with good reason. Washington played UGA's halfcourt game and beat the Bulldogs by staying strong on the backboard and running the break effectively, earning a
68-65 win
and a date with No. 2 seed and hometown favorite North Carolina on Sunday at 12:15 p.m.
"We understand now that we have to play defense to win games,'' said Washington senior
Justin Holiday
. "Sometimes we haven't been as focused on defense toward the end to win games.''
Thomas said the momentum from the Pac-10 tournament did have an effect on the Huskies' confidence here. Washington was the aggressor to start the second half after the two teams were tied 28-28 at halftime, the first close half of any of the three previous games in Charlotte on Friday.
"They're a team that scores in bunches and they know their strength,'' said Georgia's
Trey Thompkins
. "They like to play the game fast-paced. They came down in the second half and started knocking down shots. They were contested. That just shows the quality of shooters and the quality of team that they have.''
Georgia extended a great deal of respect to Washington on the postgame podium. UGA coach Mark Fox, a former Nevada assistant and head coach, is familiar with UW's success in the past six years under coach Lorenzo Romar.
"We got the game we wanted, but we didn't defend well in the second half,'' Fox said. "We gave up almost 54 percent and didn't rebound well enough. Even though we got the game we wanted to, you still have to make the plays at both ends and we didn't do that. It was frustrating.''
The balance Washington displayed was the reason the Huskies advanced to play the Tar Heels.
Aziz N'Diaye
,
Matthew Bryan-Amaning
and a collection of guards led by the recently reinstated
Venoy Overton
gang rebounded, according to Amaning, in a way that made it harder for the Bulldogs to focus on one player to keep off the glass.
And, of course, when the Huskies needed a big shot they turned to Thomas. He finished with 19 points, seven assists and two turnovers and made all seven free throw attempts.
Now the trick will be how Washington fares against a UNC team that has length and runs as well as any team in the country. The Huskies will get looks but if they don't knock down shots and get some putbacks, then the Tar Heels certainly could run them out of the building. And this will be a road game for Washington with Carolina blue dominating the arena.
"I think we have a great chance because we like to get up and down,'' Thomas said. "We both like to play the same style. It's going to be a great game.''
March, 19, 2011
3/19/11
12:26
AM ET
CHARLOTTE, N.C. -- Washington has proven to be tournament tough under coach Lorenzo Romar.


The Huskies are suddenly the hot team after winning the Pac-10 tournament, and for the second season in a row -- following a much-maligned regular season -- Washington is poised to make a possible run to the Sweet 16. Washington had to travel further than any other team this weekend and pulled off a
68-65 win
over a taller, and what appeared to be a stronger Georgia team.
A year ago, Washington went to San Jose and reached the Sweet 16 in Syracuse. The Huskies haven't always represented the Pac-10 well in the non-conference the past few seasons, but have found the right mix in the postseason to be quite a pest.
Washington looked like it could have been in trouble early against Georgia and had to scrap for a tie game at the half. But the Huskies were able to use their defense to start the break and continued to be the aggressor at the offensive end as Georgia's offense sputtered.
Georgia hung tough in the final few minutes, pushing Washington to the final possession and forcing the Huskies to make free throws.
Star player:
Washington's
Isaiah Thomas
has taken over games in the past month. He took and made the shot to beat Arizona at the buzzer in the Pac-10 tourney final. And it was Thomas who was the difference once again for Washington, making shots to silence Georgia runs and energize the Huskies. He finished with 19 points and seven assists.
Welcome back?
Washington's suspended guard
Venoy Overton
, who missed the Pac-10 tournament for serving alcohol to a minor, gave the Huskies a stable presence off the bench and scored a key basket in the final two minutes to stretch the lead to 10. Romar said that he was going to use Overton (six points, four rebounds) off the bench and it gave the second unit an infusion.
Key stat:
I found it rather odd that Washington was able to win this game despite shooting six more 3s than Georgia. The Bulldogs played smart and kept the game in the half court offensively while the Huskies were jacking up too many shots. A difference for the Huskies ended up being the ability to hang with the Bulldogs on the boards. Washington got spirited rebounding from
Matthew Bryan-Amaning
,
Aziz N'Diaye
and to some extent
Darnell Gant
and
Justin Holiday
. The Husky guards also rebounded well.
What's next:
Washington plays North Carolina in an intriguing third-round game Sunday at 12:15 p.m. at the Time Warner Cable Arena. The Huskies would love to run with the Tar Heels. That's more their game. Sunday's contest has the makings of being similar to the Huskies' close games with Arizona within the past month.
March, 18, 2011
3/18/11
7:03
AM ET
CHARLOTTE, N.C. -- Here's a quick preview of Friday's night-session games.
No. 2 seed North Carolina (26-7) vs. No. 15 seed Long Island (27-5), 7:15 p.m. ET


ABOUT THE TAR HEELS
Coach:
Roy Williams (640-162 overall, 222-61 in eight seasons at North Carolina)
Last NCAA tournament appearance:
2009
All-time NCAA record:
55-18
Player to watch:
Freshman forward
Harrison Barnes
has found his groove. Barnes was a bit off against Duke in the ACC tournament final, but still managed to score 16 points. He went for 40 points against Clemson in an overtime win in the ACC semifinal. Barnes will still be a tough matchup for Long Island and every other team in this bracket as long as the Tar Heels advance.
ABOUT THE BLACKBIRDS
Coach:
Jim Ferry (225-158 overall in 13 seasons, 125-139 in nine seasons at LIU)
Last NCAA tournament appearance:
1997
All-time NCAA record:
0-3
Player to watch:
Julian Boyd
. The sophomore forward didn't play last season due to a heart condition. But Boyd has played like a seasoned vet this season for the Blackbirds. He had 11 double-doubles this season with 12.9 points and 8.8 rebounds on average.
THREE THINGS TO WATCH
1. The Carolina break:
UNC point guard
Kendall Marshall
is going to be pushing the basketball from the opening tip. LIU can't run with North Carolina. The Blackbirds are 4th in the country in scoring, but it would be a major mistake if they try to match the speed and quickness of UNC. The Blackbirds also can't hang with the Tar Heel bigs.
2. John Henson:
Tyler Zeller
had a solid past few weeks of the regular season. But for the Tar Heels to win a national title they must get more out of Henson. He can be a tough matchup defensively, but he has to do a bit more on the offensive end. Carolina needs one more offensive option.
3. The crowd:
Charlotte is UNC territory. This may be the loudest home court of any of the eight-regional sites. North Carolina may have a 99-1 ratio in the nightcap crowd after Duke plays in the afternoon.
No. 7 seed Washington (23-10) vs. No. 10 seed Georgia (21-11), 9:45 p.m. ET


ABOUT THE HUSKIES
Coach:
Lorenzo Romar (287-189 in 15 years, 194-101 in nine years at UW)
Last NCAA tournament appearance:
2010
All-time NCAA record:
17-16
Player to watch:
Isaiah Thomas
. The Pac-10 tourney's most outstanding player didn't hesitate to take ,and then make, a game-winning 3-pointer to beat Arizona in the Pac-10 title Saturday. Thomas has emerged as the Huskies' go-to player for the big-stage moment. He was the headline player going into the season but it took some time for him to dominate like he did in the Pac-10 tournament.
ABOUT THE BULLDOGS
Coach:
Mark Fox (158-71 in seven seasons, 35-28 in two seasons)
Last NCAA tournament appearance:
2008
All-time NCAA record:
7-10
Player to watch:
Trey Thompkins
. Thompkins was the SEC player of the year -- in the preseason. A high-ankle sprain hurt his development and prevented him from a bust-out season. He still is a force and has a chance to be a double-double performer. But his Bulldogs teammates sometime still forget too often that he's in the post.
THREE THINGS TO WATCH
1. Pace.
The Huskies are going to want to push the pace. Georgia would rather get the game in the half court, and that would benefit Thompkins much more. If Thomas is running the point and creating havoc, Georgia could be in trouble, even though the Bulldogs have high-flyers like
Travis Leslie
to finish on the break.
2. Point guard play:
Thomas is a scoring point. The Bulldogs have a scoring point as well in
Gerald Robinson
Jr., but he's not as explosive as Thomas. The question will be which one of the two will be a better playmaker and get their teams into the offense.
3. Sleepers:
C.J. Wilcox
has proven to be a break-out scorer for Washington. If he is on his game that could spell trouble for Georgia. The Bulldogs could have a sleeper in
Jeremy Price
, who is the only Bulldog who has tournament experience.